How I Started A $25K/Month Content Writing Services Business
•
Published: April 22nd, 2021
Start A Content Writing Company
Hello! Who are you and what business did you start?
I am Bhavik Sarkhedi, philosophical by nature and storyteller by heart. And, well, I am one of the privileged content writers with Google Knowledge Panel.
I head Write Right, a content writing agency in India, catering B2B and B2C for all types of content.
Since its inception in May 2016, Write Right has completed 1200+ projects on creative content, copywriting, blog writing, website content, PR content, and social media writing to clients and businesses across the globe. After 3 successful years, Write Right introduced 2 subsidiaries, Taletel and Estorytellers, in the core content and blog writing niche
What's your backstory and how did you come up with the idea?
I was passionate about writing, be it, for schools or assignments or any competition in my college. Although I pursued a full-time Mechanical Engineering course, I continued to write for money to increase my pocket money. That continuity helped me in the future when I left my full-time job as Production Executive.
I thought, at first, I should write and publish a book. So, I did. The Weak Point Dealer. It failed miserably. Well, no one bought it. Unfortunately, most of my savings was drained in that self-publishing gig and I had to join a part-time job to survive.
Soon, I found that content writing is a good career for me if I do it with zeal and determination. Thus, I worked for 4 years as a copywriter cum content writer and simultaneously created the foundation for my future. Simultaneously, I wrote 3 more books: Will You Walk A Mile?, The C To T of Content Marketing, and The Unproposed Guy.
The industry was booming and I jumped into it right now as I started writing for Huffington Post and Entrepreneur as a contributor author and I gained hell lot of fame.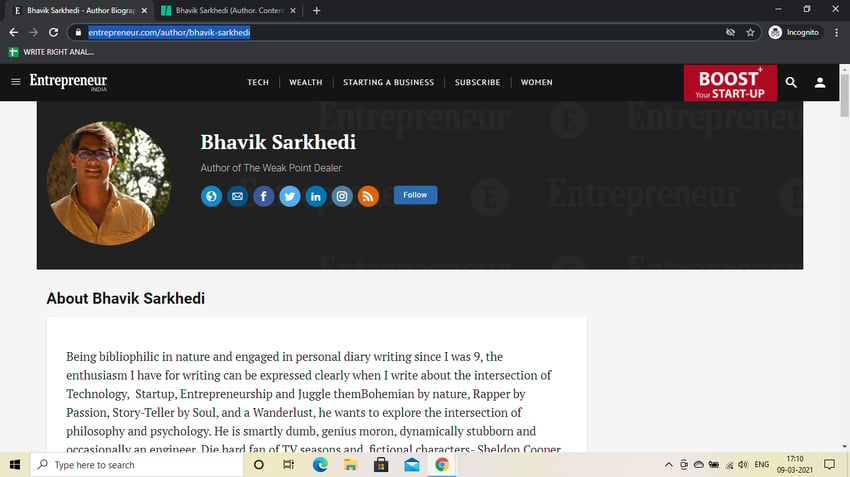 It was one of the right moments when I thought I should start my own content writing and/or marketing agency. Thus, Write Right.
Big websites and magazines started approaching for interviews and I felt amazing thinking I am going uphill after a lot of downhills.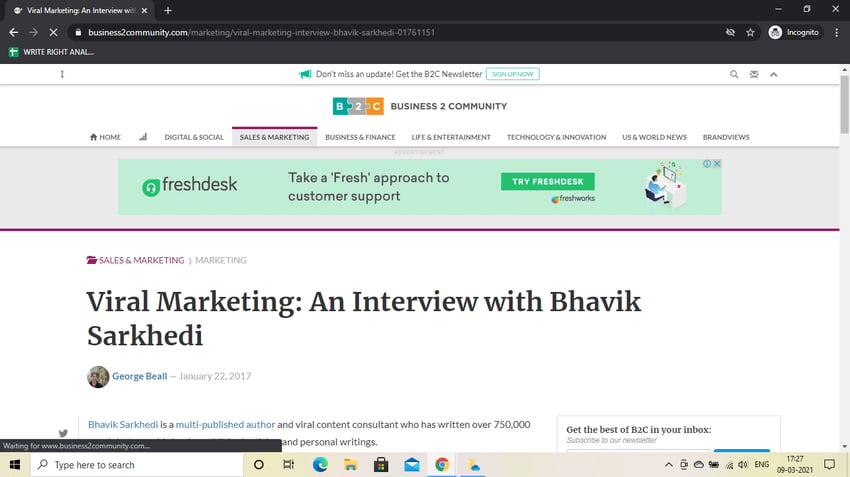 Finally, organically, my name started to pop up in 'Best Content Writers in the World' list: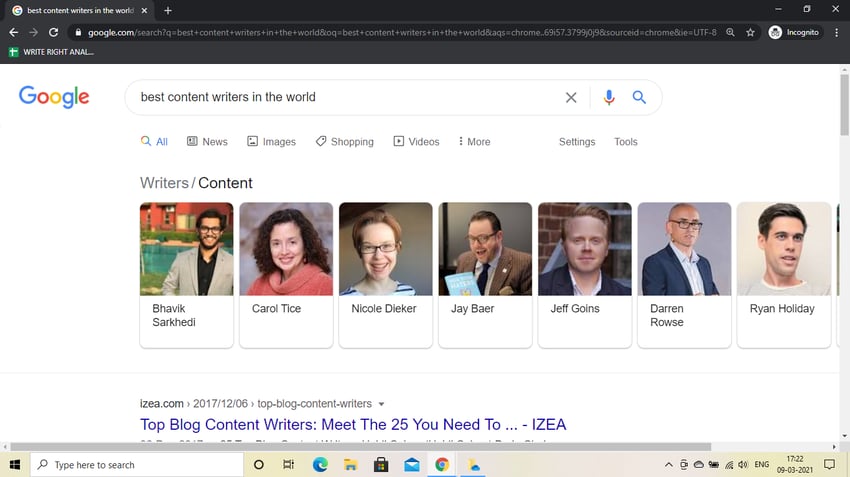 Take us through the process of designing, prototyping, and manufacturing your first product.
When I started Write Right in 2016, it was all me and 5 freelance writers working from home. The market demanded good quality of raw and fresh content but people could not find it because of plagiarism issues and all the writers in India were just paraphrasing it.
That sounded bad and felt sad. I started with Google My Business Page, dug deep, and started distributing offline brochures to IT hubs in my city Ahmedabad, shared business cards in conferences and any big events I go to.
I started with $1000 to run the writers and SEO cost, I had no other option but to do most of the marketing by myself and I did it. I started getting calls and emails from the city and soon, the word spread out and boom, we were earning profit.
Since our business had no logistics cost and no office rent as it was WFH, we saved a lot of money. I recommend people to reduce or minimize those costs as it would drain your savings at godspeed.
Within 2 years, we had 15 writers who dedicatedly wrote thousands of original, plagiarism-free, personalized, and/or customized content as per the requirement, and the most common sounding name 'Write Right' gave me a hope that it will go BIG one day. It is big for me as there are really fewer businesses today which are bootstrapped and Write Right is one of them.
Describe the process of launching the business.
Write Right is bootstrapped so I never believed in going exaggerated with the money in showcasing or showing off. We delivered more than we promised but we never did the opposite. Thus, launching was more or less the process for me and not a specific day event.
Go Bootstrapped and don't run behind funding - it is your business, own it.
Write Right started getting visitors. Contact us page was no longer receiving zero views but 10-15 inquiries every day. Also, not to mention the USD 5000 borrowed from my friends and family to run/sustain the business, I had to repay them as early as possible.
Therefore, those leads were like diamonds for me and I went for it like anything.
For me, the big day was when I saw Google Knowledge Panel for my website in 2019. It felt incredible as I know it's automatic and only a few businesses get it. The right side panel is called 'Google Knowledge Panel'.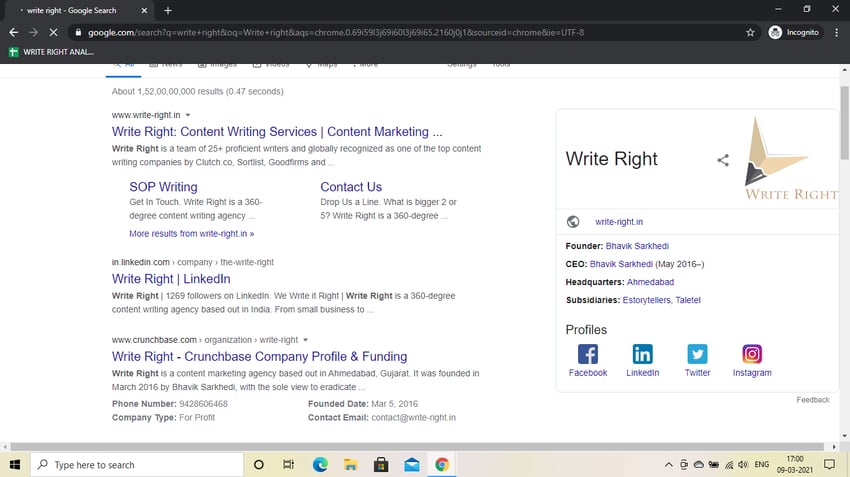 Despite having no office even after 2 years, people considered my business a temporary freelancing gig and that was a mental setback for me when they would talk behind my back about it. I overcame that soon when I knew this industry is going to be a revolution soon.
Since launch, what has worked to attract and retain customers?
The first and foremost thing I would mention here is 'Google My Business. It helped the business grow a lot. The original and raw reviews from our clients and customers from across the globe enhanced our revenues, daily traffic, and lead conversion ratio. Currently, it is at 338 and we receive 30-35 reviews a month.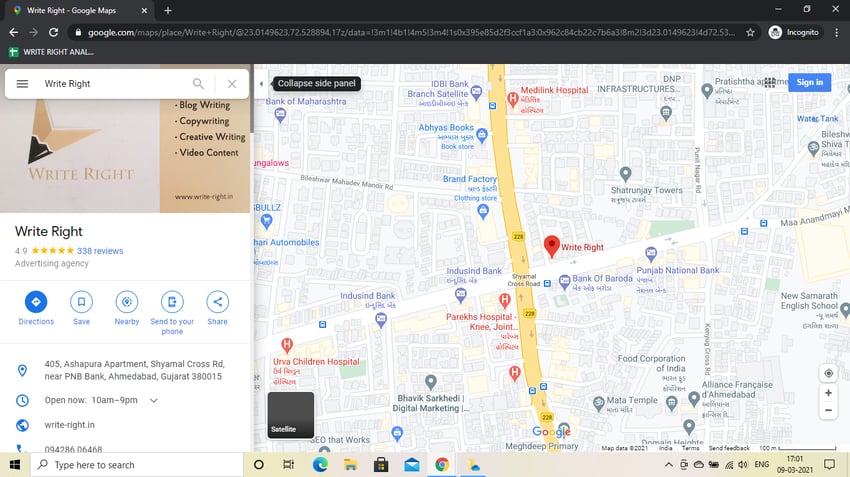 I think without reviews, your business becomes trash. I learned that more when I started analyzing Google Analytics and figured out the ins and outs of my website. I optimized it 3-4 times with trial and error in design and landing page.
Gather legitimate and real reviews in the form of video or testimonials.
Here are the current statistics of last month: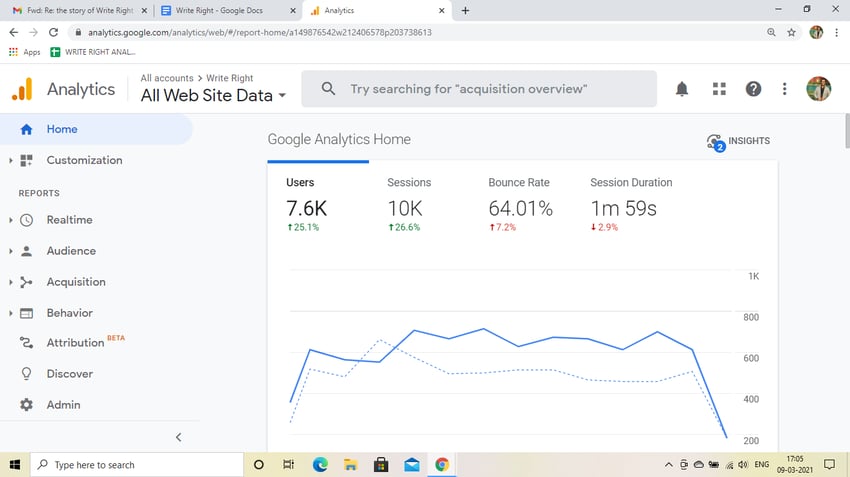 You can see below that most of the users are organic. In today's cut-throat competition, if you get more than 70% of your business organic and you are bootstrapped, I guess that is one heaven of motivation and I feel proud today of all the steps and fumbles Write Right had to face in the past.
The inquiries and traffic are from across the globe:
How are you doing today and what does the future look like?
I am doing fantastic. Recently, I was featured in Forbes India and Hindustan Times, 2 reputed names in India.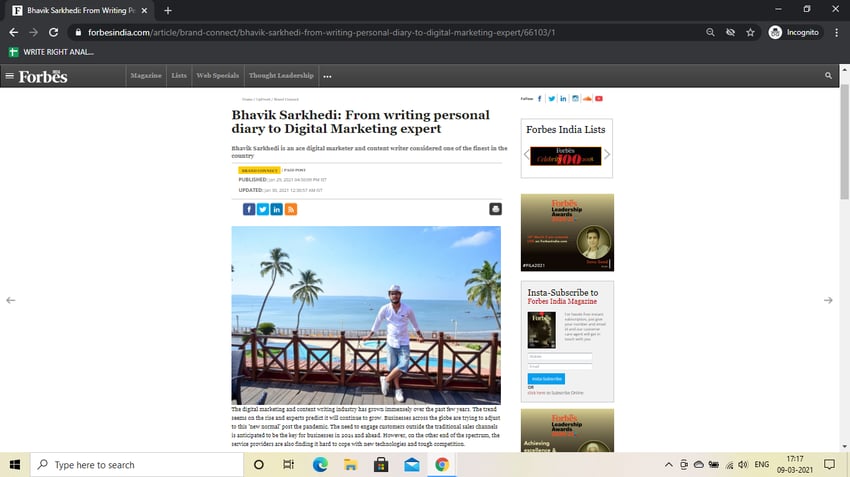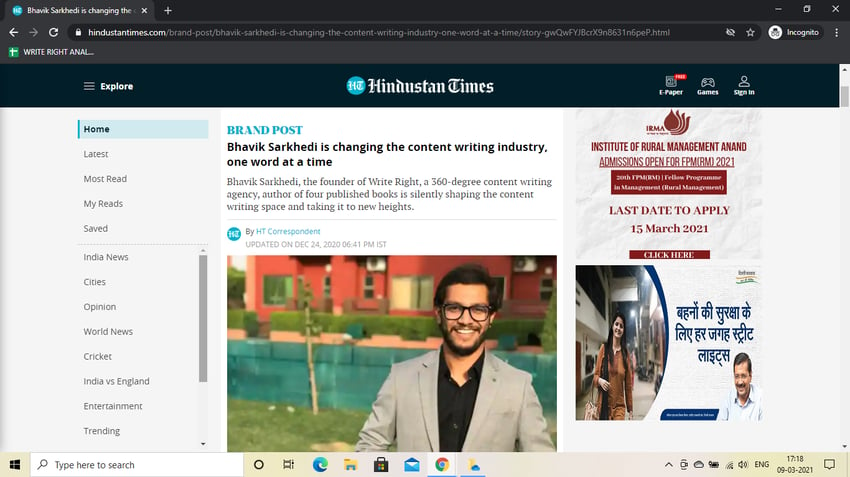 The business revenue is cost and above $25000 with 125 recurring clients for content marketing, digital marketing, content consultancy, and public relations. We have 50+ writers with us. Estorytellers and Taletel recently got their own knowledge panel.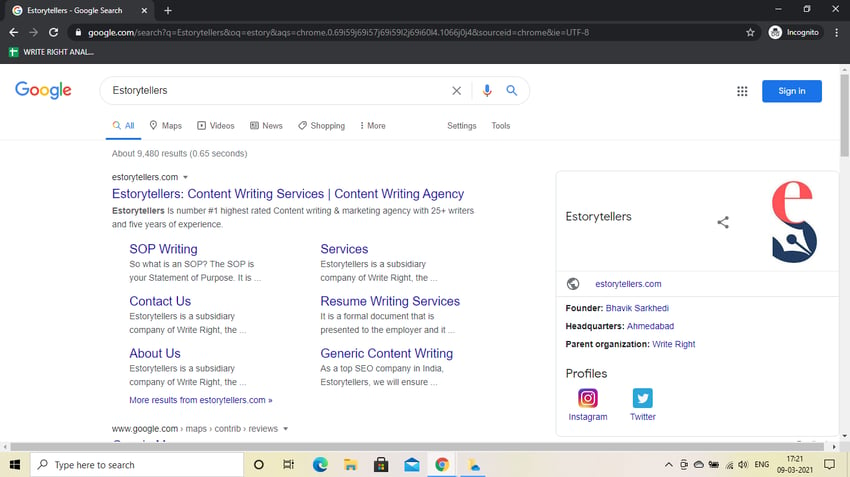 Luckily, finally, in mid-2020, this happened and I can't be more overwhelmed.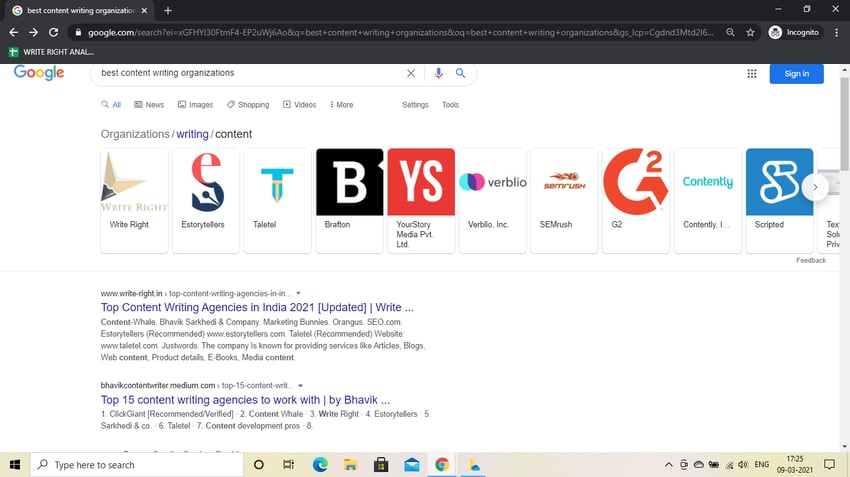 All my 3 brands in the list of the most renowned lists. WOOW! And the top 2 results are of my brand 'Write Right' and my medium.com profile.
Through starting the business, have you learned anything particularly helpful or advantageous?
Money attracts money. That's a brutal truth. Accept it. Move on. Start earning to earn more.

Professional Contacts and referrals are very helpful in increasing business opportunities. Don't underestimate it.

Users and Clients come and go, their thought process remains the same.

Funding is a myth; Go Bootstrapped.
What platform/tools do you use for your business?
What have been the most influential books, podcasts, or other resources?
Good To Great, The Lean Startup, The Power of Influence, Psychology of Money, Atomic Habits, and The Alchemist.
This combination of fiction and non-fiction helps me survive realistically and spiritually.
Advice for other entrepreneurs who want to get started or are just starting?
5 Simple Things:
Go Bootstrapped and don't run behind funding - it is your business, own it.
Don't spend more money on renting costly office space in the beginning.
Try to go raw and vocal offline about your business.
Gather legitimate and real reviews in the form of video or testimonials.
Don't be afraid to take bold decisions.
Are you looking to hire for certain positions right now?
Yes, absolutely. I am looking for a collaborative partner in the UK and Dubai to expand Write Right virtually and make an impact with our contact in those regions. I am already onto it but the sooner the better, of course.
Where can we go to learn more?
-
Bhavik Sarkhedi, Founder of Write Right
Want to find more ideas that make money?
Hey! 👋 I'm Pat Walls, the founder of Starter Story.
Get our 5-minute email newsletter packed with business ideas and money-making opportunities, backed by real-life case studies.