On Starting An Affordable Sport Watch Brand
My name is Simon Pennell. I am the founder and CEO of Momentum Watches (by St. Moritz Watch Corp.)
We make high-quality analog sports watches at affordable prices. Outside Magazine's influential Gear Guide said it best when it called Momentum a "Killer Value".
We are known for our rugged waterproof watches. We built the business selling dive stores, outdoor stores, and specialty watch stores and are known for straightforward, waterproof watches. Today many of our customers do not dive or surf or hike: they are just people who value simple design and reliable function... A lot of our story is about sustainability and products that last.
Online sales have allowed us to reach a new customer base, with customers, dealers, and distributors in countries all over the world. Nothing is cooler than hearing from a Momentum customer who has bumped into someone else with a Momentum watch on their wrist, trekking in the Himalayas, or diving in the Antarctic.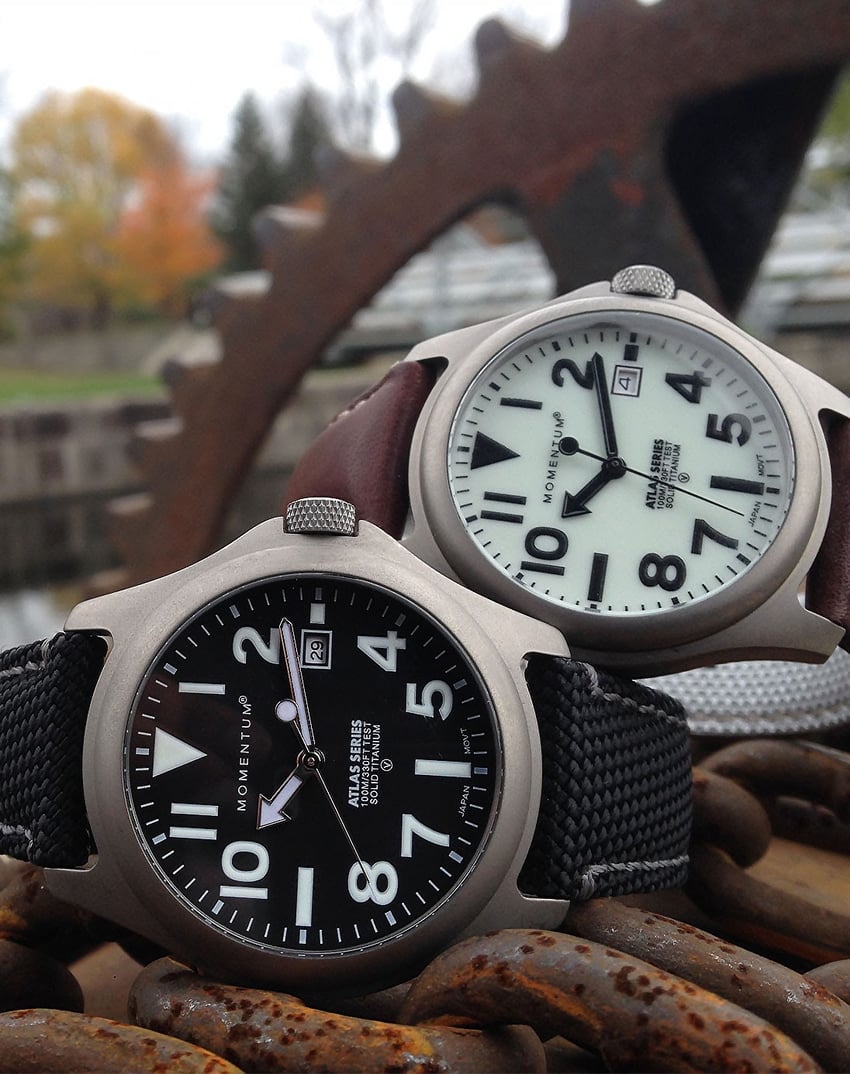 What's your backstory and how did you get into entrepreneurship?
Growing up, I studied languages. Through family friends in the watch industry, I worked a lot of summer jobs that were connected with the watches…working in hand factories, movement factories, case factories, plating factories, watch distribution companies and high-end watch retail stores. I had no plans to go into the business, but this was a great way to practice my languages in real-life situations.
Surround yourself with smart people you enjoy working with, so you enjoy going to work every day.
Attending university in Vancouver, I fell in love with the west coast of Canada. It offers an almost ideal combination of city & wilderness, mountains & ocean. After graduation, I worked in California, then in Europe...but found myself drawn back to Vancouver and the west coast of Canada. I always enjoyed being my own boss, so moved back to Vancouver and set up a new company to combine my passion for outdoor sports with my connections in the watch industry.
Take us through your entrepreneurial journey. How did you go from day 1 to today?
When I set up the company in 1980, the main business was working as an agent/ distributor for established watch brands from Switzerland. We were Canadian agents for Breitling watches when they were little known and the new owners were working to rebuild the brand, in the early '80s. We were also agents for Revue Thommen of Switzerland when they launched their "Giallo" line of colorful, aluminum watches at affordable prices… before the launch of the first Swatch watches.
Early years: working as an agent/ distributor for major watch brands.
In the first few years of operation, we did not have much money to design and produce our own watches. Working as an agent was a great opportunity and a real learning experience. It allowed us to gain a better understanding of the market and develop great connections. But we found that working as a distributor brought two major disadvantages with it:
Firstly, as a smaller distributor, we had little or no influence on design, pricing, or the direction taken by the brands we represented. (This was driven by the brands themselves and their larger distributors);
Secondly, traditional distribution agreements assigned distribution rights for a given country or national market, so we were allowed to work within Canada, but were blocked from selling or following up on numerous leads from larger markets, like the US.
Re-Invention #1: Growing as an OEM watchmaker.
We did produce a couple of more affordable Momentum/ St. Moritz models, while we worked as an agent. A buyer from Eddie Bauer happened to see some of our watches at a dealer we had opened in Seattle and liked them. He connected with us and asked us if he could try selling a few of our watches as a new category in a couple of his stores. To cut a long story short, our quality and simple, functional designs seemed to resonate with Eddie Bauer's customers, so the initial test order sold through quickly and repeat orders rolled in. As they realized the potential of this new product category, they asked us to switch to producing our designs under their brand. Eddie Bauer had just been purchased by General Mills and was expanding quickly, with new stores opening every week, so we grew with them. While we still had a small group of specialty Momentum/ St. Moritz dealers, we became a predominantly OEM company, designing, producing and servicing watches for several well-established, non-watch brands. Eddie Bauer was the largest of these, but over time, we grew our client list to include brands like Land Rover and REI.
Re-Invention #2: Building our brand through specialty retailers.
When a couple of our biggest OEM customers were bought by new owners, buyers changed and the customers changed direction quite abruptly. We realized that, as an OEM supplier, we had no direct connection to most of our end-users. With no direct connection to the end-users and no brand-equity, our business was very vulnerable. While we knew it would take time, we decided to build up the dealer network for watches under our brand, concentrating on specialty stores: dive stores, outdoor stores and watch stores, where quality, waterproof-performance, and durability counted. Over several years, Momentum became the watch brand of choice at dive stores and outdoor stores throughout North America. We gained a solid reputation as an "insider's brand", offering real value for money and backing our product with unmatched after-sales service.
Re-invention #3: Growing new markets with B2C sales.
In recent years, significant numbers of our traditional, brick & mortar retailers decided to close. This was largely due to growing online competition and increasing rents for prime retail locations. Buyers' habits and shopping methods continue to evolve. We had always viewed ourselves as a manufacturer and distributor but realized several years ago that online sales and digital marketing could provide us with a new opportunity to speak directly to end-users and provide information to our dealers much more directly and effectively. This has allowed us to open up a much broader customer base for Momentum watches.
How are you doing today and what does the future look like?
As a manufacturer, we had several key advantages which positioned us well to take advantage of the rapid growth in B2C:
We have run our after-sales service departments for many years, so we have considerable experience dealing with end-users on an individual basis.
We are unique in that we do all the final assembly and QC of our watches in our own offices. This gives us better quality control, but also allows us to offer an exceptionally large number of different versions of our watches - changing the dial colors, the bezel colors, offering bands in metal, rubber, leather, nylon, Cordura, etc., upgrading watches to scratch-proof sapphire crystals and even custom engraving the case backs.
Watches are small and easy to ship but have a relatively high unit value, so they are an almost ideal product for online sales.
B2C sales offer attractive margins for a manufacturer like ourselves. Even though a good part of the extra margin is absorbed for customer service, free shipping, etc..
While many of our brick & mortar retailers have closed, and we believe this trend will continue, our online sales are growing steadily and Momentum is reaching more and more new markets.
Through starting the business, have you learned anything particularly helpful or advantageous?
The brand is very important. When we started, we sold under the St. Moritz brand but did not trademark the brand outside our home markets. As we began to sell in new markets where we had no registered trademark rights, we found our sales blocked in many markets. Eventually, about 15 years ago, we decided to switch all our production to the Momentum brand. This was extremely challenging and took many years. If you can secure rights to your brand in major markets from the outset, we strongly recommend it!
It may be a cliche, but markets, consumer tastes, and business tools change all the time. Change is a constant and I believe businesses need to constantly reinvent themselves to survive and prosper.
What platform/tools do you use for your business?
We use Shopify as our web platform.
We do our fulfillment because a general fulfillment partner would not be able to provide all the final assembly and customization we do.
We use Shipstation for shipping.
Our email is run through Klaviyo.
What have been the most influential books, podcasts, or other resources?
The biggest influence and inspiration is input from our customers… listening carefully to what they like, what they do not like and what they want. Give them what they want at a fair price and business will grow.
Advice for other entrepreneurs who want to get started or are just starting out?
Surround yourself with smart people you enjoy working with, so you enjoy going to work every day.
Do something you feel passionate about and your customers will know it.
Think about the footprint you leave in the world.
A throwaway plastic product is not good, nor is a product that will be completely outdated and need updating or replacing within a couple of years.
A recyclable product is certainly a lot better, but…
The best thing you can do for the planet is to make useful things that are designed to last: practical, functional and durable products are products that stand the test of time..
Where can we go to learn more?
-
Simon Pennell, Founder of MOMENTUM by St. Moritz Watch Corp.
Want to start your own business?
Hey! 👋I'm Pat Walls, the founder of Starter Story.
We interview successful business owners and share the stories behind their business. By sharing these stories, we want to help you get started.
Interested in starting your own business? Join Starter Story Premium to get the greatest companion to starting and growing your business:
Connect + get advice from successful entrepreneurs
Step by step guides on how to start and grow
Exclusive and early access to the best case studies on the web
And much more!
Together With Semrush
If You Don't Rank In Google, You Don't Exist.
In order to be successful, you need to be visible online. If you're not, then your competitors might be stealing customers from you.
Semrush lets you quickly create content that ranks, and compete with the biggest brands in your niche.
Try Semrush Free Today ➜