On Creating A Plush Toy Brand From $10K In Savings
Start An Ecommerce Retailing Business
Hello! My name is Dr. Ronak Mehta and I've created handcrafted adorable plush organ toys. My company is called Nerdbugs.
My story starts about the better part of a decade ago, while I was still in medical school I decided to write a Dr. Seuss like children's book teaching young kids about the human body. I hoped to someday create the organs from the book into plush organ toys. My thought was these fun plush organs would be a fun supplement to the book or they could serve as a cute get well gift for someone who was under the weather, hospitalized, post-surgery, or an infectiously adorable gift for a medical professional.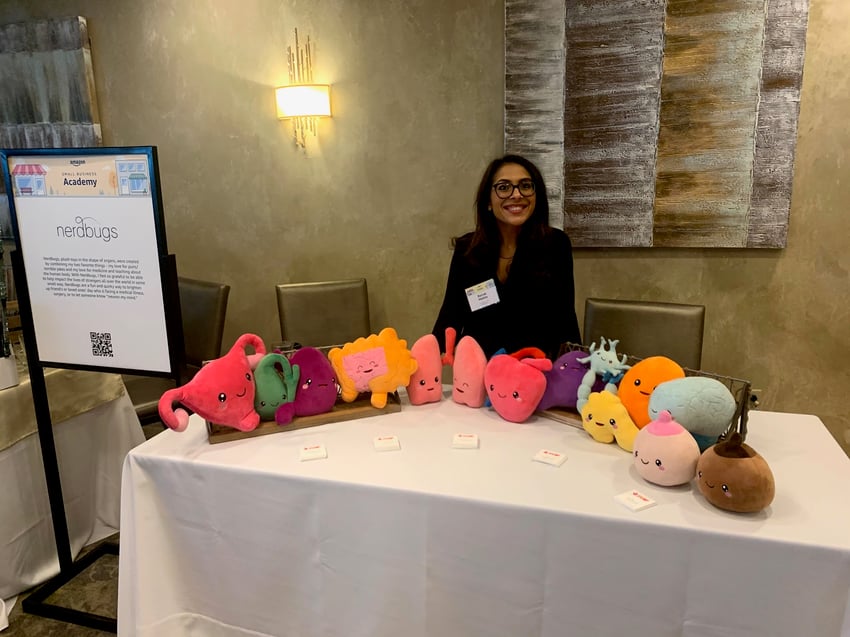 What's your backstory and how did you get into entrepreneurship?
I think during my time in medical school I had an itch to tap more into my creative side. I think it was an outlet that helped me to cope with the stressors in life at the time. During my medical school/residency training, life sometimes felt that work was all-encompassing and although it was incredibly rewarding, it was also challenging to maintain some sort of normalcy outside of studying and the long work hours at the hospital and clinic. Throughout my training when I would come home, I would often try to find different creative outlets to explore. It was at this time, I had decided to write a Dr. Seuss type children's book about the human body. I thought it would be a neat way to teach kids (and adults) about the human body. It was my ultimate hope that I would be able to take the organ characters from the book and turn them into adorable organ plushies that could help promote health education surrounding disease and illness as well as prevention. I had also thought it would be a fun and quirky get well gift for a loved one or a medical professional.
Get clear and have a vision. You don't need to figure out how you're going to do it, but knowing what you want to do and trusting that the "how" will figure itself out once you start to take one step at a time.
I was super excited and jazzed about this idea, however, medical school and residency consumed much of my time so the idea was shelved for a while. In reality, I think outside of my lack of time, I often thought, "well this is a great idea, but I have no idea how I would start this, or how I could even get this launched." I felt that even though it sounded like a great idea, in theory, I didn't know the first thing about starting or running my own business. It all felt quite overwhelming and thus, the idea stayed with me for almost another 10 years before I decided to give it a shot.
In early January 2018, while sitting on the couch with my now-husband, I confided in him this cheesy little secret that I had been carrying around with me all these years. I told him about the children's book I had written many years before and how I wanted to take a chance, invest my time and money and try to create a line of plush toys modeled after the book. I don't know what it was about that moment, maybe the way that he looked at me having more confidence in me than I had at that moment, but something clicked. He wholeheartedly supported me and told me to go for it. It was at that moment I decided, "ok, I'm going to do this."
At the time, I was still on a resident's salary and I had set aside the savings that I had, about $10,000 toward this endeavor. It was more money than I had ever spent on anything at the time but I had decided early on that If I was going to commit, I wanted to give it a fair shot. I also had told myself that regardless of how this situation panned out, that I had to be ok with likely never seeing that money again.
The next few months felt sort of like a blur. I spent my time immersed in books, podcasts, youtube videos, blogs, you name it. I tried to spend any time that I wasn't at work or studying medicine to devote to inching forward on getting this idea launched. I had committed myself that no matter what, without fail, no matter how busy I was or how much I didn't feel like it, I would spend at least 10-15 minutes a day, every day trying to focus on my new project.
At the time, I was still on a resident's salary and I had set aside the savings that I had, about $10,000 toward this endeavor. It was more money than I had ever spent on anything at the time but I had decided early on that If I was going to commit, I wanted to give it a fair shot. I also had told myself that regardless of how this situation panned out, that I had to be ok with likely never seeing that money again. With the money I had set aside, I decided that I would start with about 5 products and build on that slowly.
Take us through your entrepreneurial journey. How did you go from day 1 to today?
Once I had decided to make that commitment to myself to pursue Nerdbugs, I started to work on it daily. I was spending all my free time learning from audiobooks, podcasts, youtube videos, blogs on how to get this started. One of the things I had learned early on was utilizing freelancing websites to help delegate the tasks that I wasn't an expert on. I kept in mind that I had a budget which was limited because most of it was dedicated to producing the actual product. Another major habit I prioritized early on that really helped me was to get a daily planner/journal that would outline my day. I would focus on the 3 daily goals of the day and 3 tasks that needed to get done that day. I think this helped to direct my vision of where I wanted to take this and what the next step was. In the early days, it was as simple as:
1)build a website
2) create a logo
3) find a plush toy manufacturer
I then broke down each task on what I could do that day to help progress on that goal. So "build a website" ended up first becoming, "create a board of ideas/websites that are appealing to me." Instead of re-inventing the wheel and creating something from scratch, I found website design ideas that I felt I was drawn to and tried to implement those ideas into my own brand. This went very granular to the details of the exact font, layout, color scheme, and look I was going for. Once I was able to have a clear vision of what I was looking for, I sought out expert freelancers that could help me execute these ideas. I used the same method when trying to create a logo, and finding a manufacturer, and each new project within Nerdbugs that I was doing at the time. I continue to use this method to this day. I find that once you're able to get a very clear idea and vision of what wanting to create, it's easier to communicate those ideas to others and find the right people to help you accomplish your tasks that you may not be as well versed in.
Since I already had the children's book done from years ago, I had the illustrations of what I wanted the characters would look like. I then reached out to almost 100 different toy manufacturers and started to begin having conversations about a prototype of several plushies that I wanted to create. We would discuss in detail each aspect including size, shape, color, material, each aspect was incredibly important to me. From a plethora of suppliers, I was able to narrow it down to one supplier with who I felt I would be able to have a good long term working relationship.
We worked together with several iterations of the plushies, he would send out the prototypes and we would go back and forth with the changes that needed. The initial prototypes were a bit rough, the colors, materials, sizing, and what I like to refer to as "snuggle factor" were not up to par so we definitely had revisions before we were able to get it perfected.
In the meanwhile, as this was being done, I had decided early on that anything that I felt I wasn't an expert on. I decided to start the process of building out a website and figuring out the logistics of how these products would be shipped. I had started to create a sort of vision board on Pinterest and my desktop of each detail of what I wanted the logo to look like, the website to look like, the overall look and feel of what I wanted the brand to represent. I was very invested in the details of every step of the process because I felt that the details were critically important to get my vision across.
During this process, my time commitment to Nerdbugs had definitely increased. I would wake up between 3-4 am start working on Nerdbugs early in the morning, during my lunch hour, and in the evenings and weekends after work. I found that as I was able to get the website launched, I would learn about how for the website to succeed I should also implement SEO, social media, and email marketing into the equation. Slowly, this is how I was able to learn about not only the importance of having a website but also having multiple avenues to be able to find it. I have always thought, you may have the greatest idea/product/service in the world, but if people don't know how or can't find it, there's no way it'll be able to get off the ground.
While the Nerdbugs plushies were being created and being brought to life, I tried to stay true to my core principles and values of why I wanted to create Nerdbugs in the first place. Although there was challenge after challenge that presented itself, I tried to maintain a sense of clarity regardless of the circumstances to always do the right thing, even if it wasn't the easy thing to do.
How are you doing today and what does the future look like?
Today, I'm a little over 2 years into Nerdbugs and my life has completely been transformed. On a personal level, I sometimes am quite surprised at how much has happened in the last few years.
I am continuing to work as a physician these days, however, very recently I have been able to have a little bit more balance in my schedule to focus on Nerdbugs as it has continued to grow. Before this very recent change, I had been working a full-time job as a physician so it has been quite chaotic at times to keep up with both parts of my life.
As I grew, I tried to maintain a clear focus on where I wanted to take the business on the path ahead. I knew my skills were best used to help direct the big picture and creative vision of how I could help Nerdbugs grow. Within the last 6 months, I have been able to better delegate my time and tasks by hiring some help. I now have an amazing small team that is 100% consisting of women that help me with customer service, a social media marketing expert, a photographer, and graphic designer/animator, and an SEO expert. I take a lot of pride that all our Nerdbugs family consists of this tight group of women, and we really couldn't be where we are today without every one of them.
In the future, I'm hoping to continue expanding the Nerdbugs line and add some fun new educational resources. I am also hoping to partner with hospitals, educational institutions, and organizations such as the American Heart Association, the National Kidney Foundation, and MS Society just to name a few to help raise awareness of different medical conditions and illness and promote health and wellness.
Through starting the business, have you learned anything particularly helpful or advantageous?
I have tried to make my personal motto of "why not" and I think this has led me to pursue opportunities that I would have felt otherwise "not qualified" for. I feel that if there is an opportunity in front of you, no matter what your self-doubt is telling you just go for it, give it your all, but release any expectations of the outcome. Having this approach has opened a lot of doors for me.
For example, one of my favorite podcasts is How I Built This by NPR. While on my mini-honeymoon with my husband as we road-tripped to the national parks, we were listening to his podcast when they had announced the How I Built this fellowship and how a few lucky individuals would be able to attend this event, have the opportunity to meet with incredible founders from Sara Blakely from Spanx, to Stacy of Stacy's Pita Chips. It was also a great opportunity to meet like-minded entrepreneurs like myself that were on their own journey. Unfortunately, the deadline to apply was just a few days away, so that day as my husband drove, wrote a few essays and completed the application and trusted it would work out if it was for me. A few months later, I found out I was accepted, and going to the HIBT summit felt like such a once in a lifetime opportunity. This is the same approach I took when I had received an email in my inbox from Amazon that mentioned they were hosting an Amazon's Small Business of the Year contest. At that time, I was a little over a year into Nerdbugs but I decided I had as good a chance as anyone else, and why not Nerdbugs?! I had applied and tried my best with writing some compelling essays describing our mission and the story of our brand. To my complete surprise, from thousands of applications, Nerdbugs was of 6 finalists that were chosen for Amazon's Women's Owned Small Business of the year. Because of that opportunity, media outlets had reached out to me to share my story of Nerdbugs on various platforms such as ABC, NBC, CBS, Business Insider, the Wisconsin State Journal, etc. Having that opportunity with Amazon and How I Built This, really opened the doors of what I felt was really possible.
Creating a routine and set of habits. When you're first starting, having this discipline will keep you focused and on track. If it seems impossible and overwhelming, start to simplify things to the most basic "what is the next best step" and then do one step at a time. I would also say, be as grateful for your setbacks and failures as you are for your successes and continue to try to learn from all of your "failures" without being paralyzed by them. Exercise and take some time out to be mindful every day. Life will get busy, it inevitably gets busier when you least want it to and starting entrepreneurship is a constant learning experience. To give your best self to your business and brand, you have to take care of yourself first. Making time every day to take care of your mind and body will not only help your physical wellbeing, but it will help your mental and emotional wellbeing in the long run.
One of the most important things I have tried to become really comfortable with rejection and embracing setbacks while continuing to maintain a positive outlook. I have made a ton of mistakes throughout the process of building Nerdbugs. I have hired the wrong people, partnered with the logistics companies that were just incredibly poor at providing their services, and have been rejected on partnership opportunities on more opportunities than I can count. Although it feels incredibly stressful, overwhelming, and disheartening at the moment, I try to take these moments and use them as opportunities to analyze what's not working in this situation anymore, and how can I pivot, learn and grow from this.
What platform/tools do you use for your business?
I have used both Shopify and Amazon for my business. For fulfillment this was one of the areas I had tried to outsource early on, I had a lot of trial and error with a few fulfillment companies before discovering the one I currently am working with. I fulfill my products in two ways. One is through Amazon FBA fulfillment, and the second is a fulfillment company I work with out of the Midwest. They can take care of all my domestic and international shipping from both Shopify and Amazon Merchant Fulfilled
The freelance platforms that I use regularly are Upwork and Fiverr. I have also used Instagram to help find freelancers for photographers and videographers. I've had a lot of good luck with these platforms to find pretty exceptional talent. For social media, with the help of my team, I use Later to help to schedule my social media posts. I also use Omnisend which integrates with Shopify for my email marketing. I have also recently started to use Trello to help keep the multiple projects that we're working on at Nerdbugs organized. It is an incredible tool for project management, especially when working in a collaborative environment.
For productivity tools, I use my High-Performance Planner. I honestly don't know where I would be without it. It allows me to check in with my most important to-do's and focus on the things that absolutely need to get done that day/week/month. It also has this neat mindful component where you can rate yourself daily on how you're feeling in multiple different areas such as clarity, productivity, energy, influence, courage, etc. I think the planner helps me be grounded and intentional about how I set up my day what areas of my life/work I'm focusing on.
What have been the most influential books, podcasts, or other resources?
This is a great question. I use books and podcasts often to keep me motivated and often they are the best learning resources I have had. As far as podcasts are concerned I would say some of my favorites include: How I Built This by NPR, Side Hustle School by Chris Guillebeau, and On Purpose by Jay Shetty.
As far as books I would suggest, some of my favorites include the following:
-You are Badass - Jen Sincero -An Astronaut's Guide to Life on Earth - Chris Hadfield -Atomic Habits -James Clear -Never Split the Difference - Chris Voss -Start with Why - Simon Sinek -The Year of Yes - Shonda Rhimes -The Power of Now - Eckhart Tolle -The Four Hour Workweek - Tim Ferriss
I think many of these books have the same guiding principles but listening to them from different perspectives really helps me to stay motivated and in a positive headspace where I feel like anything is possible.
Advice for other entrepreneurs who want to get started or are just starting?
The biggest advice I would give would be, to get clear and have a vision. You don't need to figure out how you're going to do it, but knowing what you want to do and trusting that the "how" will figure itself out once you start to take one step at a time. I would also suggest, at least in the beginning, to work on your project every day for a minimum of 10-15 minutes without any exception. Surround yourself with books, audio, whatever form of learning that resonates with you that leads you in the right direction.
One of the things I did early on that worked for me, was that I told no one about Nerdbugs (except my now husband). I knew myself, and I knew that I tended to start projects, then when things got difficult or challenging or I just felt too overwhelmed at what the next step was or I had to even do any self-promotion, I became incredibly uncomfortable and quit altogether. I felt that I was disappointing myself and others when this was happening, so from early on I decided this time it would be different. I would keep my new project to myself and wouldn't tell anyone else until I had already launched. I didn't want the judgment and opinions of others to cloud my own vision in the beginning as I was working towards trying to figure out what that vision was. I think having that time to really build on my clear focus of what I wanted to do, helped grow my confidence to continue to push myself to new areas of learning.
I would encourage entrepreneurs to spend some time every day with yourself, getting quiet, and still. I would suggest that anyone that is just starting, focus on the why of what you're doing and most importantly trust yourself. There are days it's going to be challenging and you're going to want to quit and throw in the towel, but if you have a strong enough conviction of why you're doing it, you'll be able to get through all of it.
Get a planner and write in it daily about what your top goals/tasks are for that day. I can't emphasize this enough. I think just having some clarity and direction can go a long way and when you have an overflowing to-do list it can feel like you're in over your head quickly.
Finally, when you can, hire out your weaknesses or the parts of your business that consume your time or that you're not an expert on which do not bring you the most fulfillment. For me, I wanted to focus on the creative vision, big picture, and direction of where I wanted to take Nerdbugs as we continue to grow.
Where can we go to learn more?
You can find us at the following:
-
Dr. Ronak Mehta, Founder of Nerdbugs
Want to start your own business?
Hey! 👋I'm Pat Walls, the founder of Starter Story.
We interview successful business owners and share the stories behind their business. By sharing these stories, we want to help you get started.
Interested in starting your own business? Join Starter Story Premium to get the greatest companion to starting and growing your business:
Connect + get advice from successful entrepreneurs
Step by step guides on how to start and grow
Exclusive and early access to the best case studies on the web
And much more!
Together With Semrush
If You Don't Rank In Google, You Don't Exist.
In order to be successful, you need to be visible online. If you're not, then your competitors might be stealing customers from you.
Semrush lets you quickly create content that ranks, and compete with the biggest brands in your niche.
Try Semrush Free Today ➜