Thank you Klaviyo for sponsoring Starter Story ❤️
Turn one-time buyers into repeat customers. Try the platform loved by 265,000 brands
On Creating An App To Help Families Record Their Memories As It Was A Podcast
Start An Audio Sharing App
Hello! Who are you and what business did you start?
I'm Amelia Lin and I'm the CEO and co-founder of Saga. Saga is an app that helps families save the life stories of loved ones on audio.
We turn your family's memories into a private family podcast. Here's how it works: 1) Answer fun question prompts like "What's the biggest trouble you got into as a kid?", 2) record stories in your voice, 3) hear each other's collected answers - it's like getting a podcast of your family's best stories. We've been featured in publications including Forbes and CNET, and we are the winner of the 2020 Innovator Award from End Well and the AARP.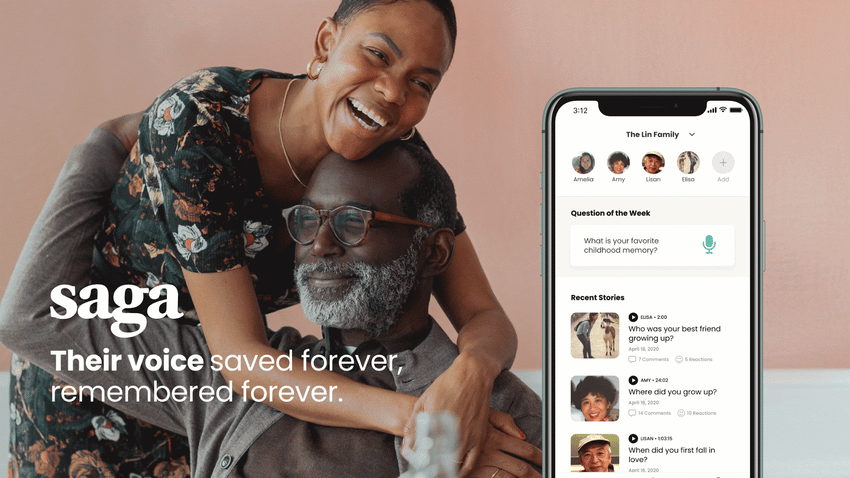 What's your backstory and how did you come up with the idea?
I started Saga for my mom and dad, so it comes from a very personal place. I'm Chinese-American, and when my sister and I were kids, my mom and dad used to tell us stories about growing up, how they met, why they came to America. So, for years, I'd begged my parents to find some way of recording these stories, not just for me but for my kids someday, and their kids. I wanted to create something easy for them for use, something fun, and something we could use together as a family even when we're apart.
I think a lot of the founder's journey is, really, can you hold on long enough for things to turn around--can you just keep holding on?
I knew there was something special about the idea of Saga when I started telling others about it - it lit up people's eyes, and captured their imagination. I wasn't sure then exactly what kind of product I would end up building, but I knew this was a problem that was incredibly meaningful to me, and I thought I could use my background working in technology to create something great not just for my family but for families everywhere.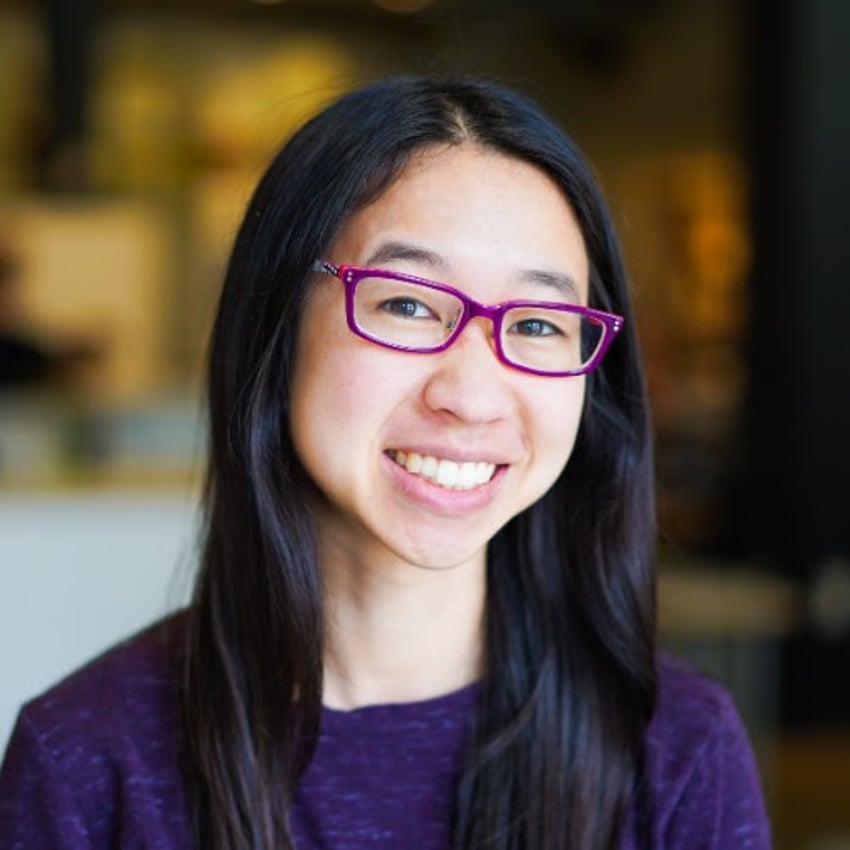 Take us through the process of designing, prototyping, and manufacturing your first product.
I started literally by interviewing my own families and friends' families. I'd call them on the phone, or video calls them or send them interview questions. I experimented with so many different ways of recording the stories - video, written stories, live interviewing. I would run batches of ads that described different versions of this imaginary product and watch clickthrough rates to my dummy landing page.
Don't be shy about sharing your imperfect product and asking for help and feedback. If you can let go of your ego and self-consciousness, you will learn and make progress much more quickly.
My co-founder and I come from tech and so some of the early versions had these fancier features that we thought would be a hit. One of the early versions of the product was about automated speech-to-text transcription. We thought we'd audio record people's answers and would send your family the transcriptions, which we thought was nifty.
But what happened was families started asking us, "Well, this transcription is cool but, actually can you send me my Grandma's recording? I'd love to hear it," and we realized that just hearing a loved one's voice was powerful. So we set up this number where people could call into the record. And that ended up being the hit feature that got people excited, not the fancy transcription.
The whole process taught us to put people before the tech--meaning, to think about how our parents and users would feel most comfortable, rather than trying to do the thing that impressed us the most from an engineering perspective.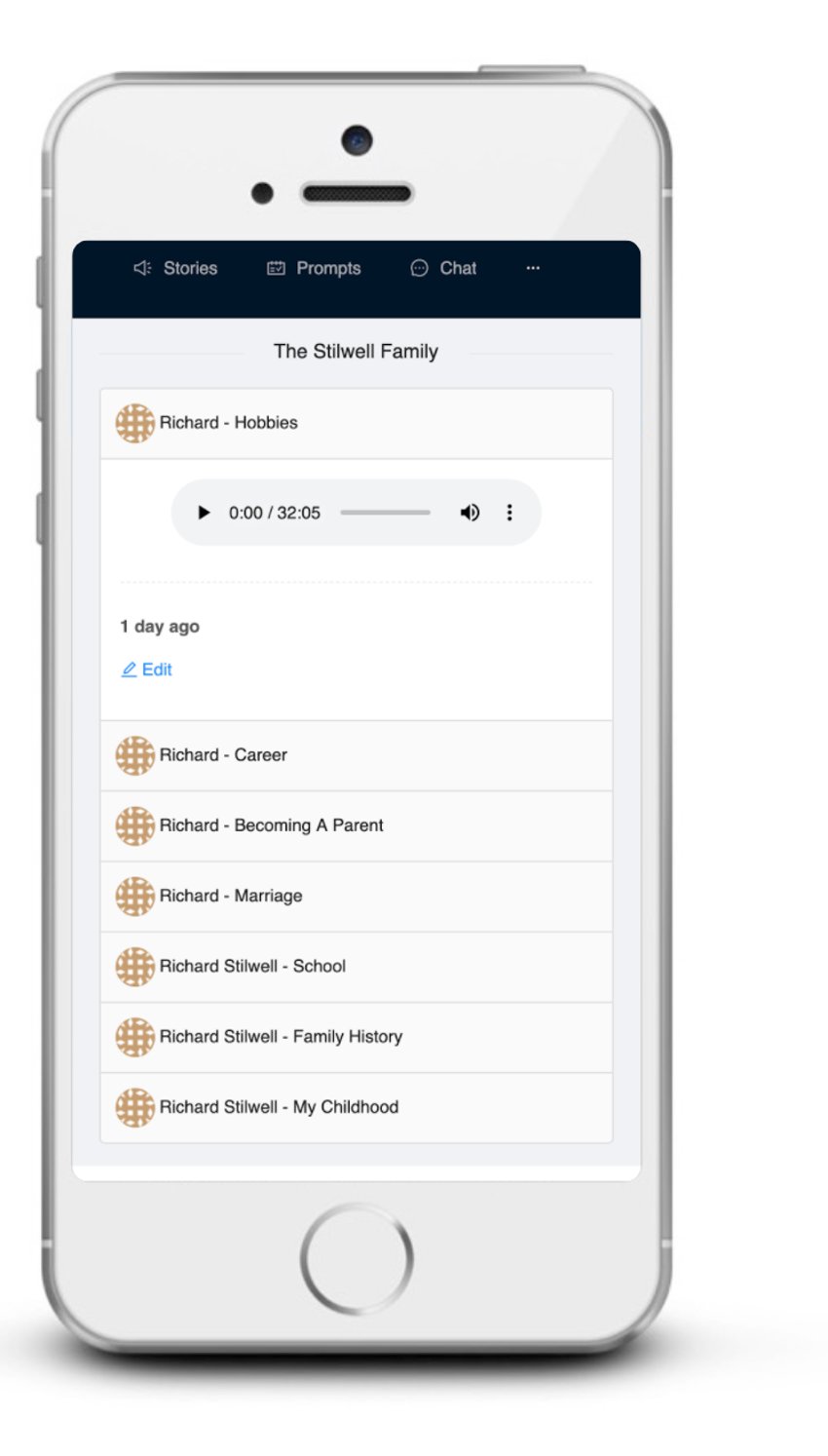 Saga started as a list of audio files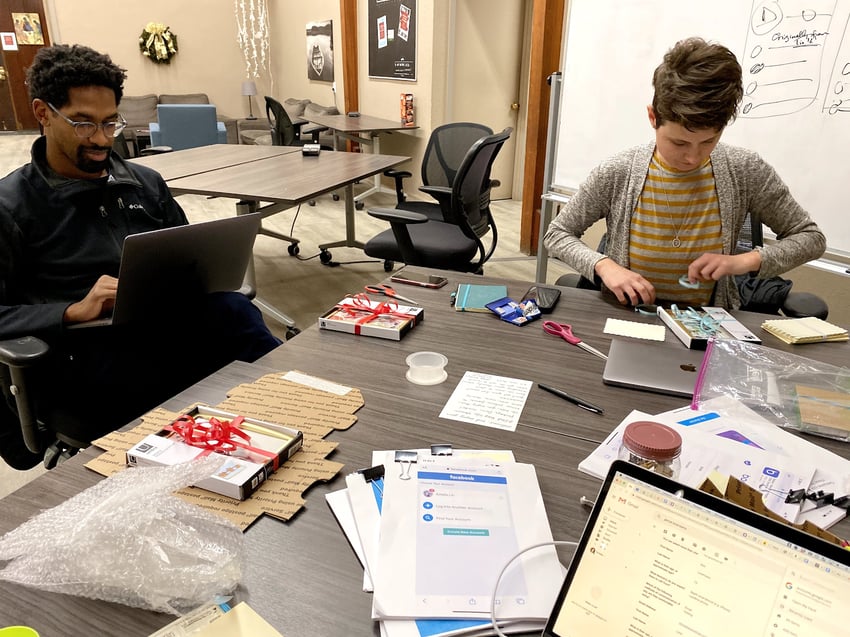 Sending personalized thank you gifts and notes to each new customer!
Describe the process of launching the business.
Our "launch" was forced, you could say, three months in when a stranger found our website and asked to buy the imaginary product. I can't even tell you how exciting that was. I thought it was a joke, that it must be a friend on the site! Especially early on, I didn't know how to tell whether I was crazy or not for leaving my comfortable job. It was really hard to tell. Is this a great idea or the dumbest idea in the world? I'd tried a lot of things by then.
But, that's when things turned around: A real person wanted what I was building, and wanted to pay money for it. At that point, we had not written any code. That became our first paid customer. And then two weeks later, she made a second purchase from us.
About six months later, our traction and potential led to use raising what became an oversubscribed seed round, led by Bling Capital and DCM. This funding allowed us to grow our team, acquire new users, and launch Saga on iOS.
My lesson learned was I'm glad I kept holding on. I am a very stubborn person by nature, and if I decide I am going to try to do something, I will do everything I can to try and make it happen. I think a lot of the founder's journey is, really, can you hold on long enough for things to turn around--can you just keep holding on?
Since launch, what has worked to attract and retain customers?
I don't think there's a silver bullet here--for every one thing we've tried that worked, there were a hundred things we tried before that didn't. Maybe my one big takeaway is just to go in expecting that, that it is about trying and trying and trying again, to squeeze out the 1 or 2 wins.
My strategy at the beginning was to ask everyone I knew who I should talk to about the problem that I was trying to solve, take every intro that came my way, and just be a really good student at learning as much as possible and listening and observing as much as possible.
One of the best things we did early on was adding a field on the website's signup form asking how someone heard about us. It showed us marketing channels we might not have thought of otherwise. For example, shortly after we started recording audio as part of the product, we noticed that a podcast we were interviewed on early on referred us to an unexpected number of signups, and we realized that podcast listeners would be a natural audience for us.
For us, one powerful dynamic is that users invite each other to our product, because they want to share the stories they are recording - we're a social product. That's a huge advantage for us because it means people are incentivized to tell each other about Saga without us paying.
Lastly, we were able to attract press coverage in publications like Forbes and CNET. This is another one of those "it takes lead bullets" things - we pitched a lot of other places too that said no! We did learn to always try to go through intros to reporters, and my lesson learned was to heavily tap advisors who had experience with PR - I made them give me homework to do to prep materials for pitching press so that I could try to learn as quickly as possible how to do it well when it wasn't in my prior experience.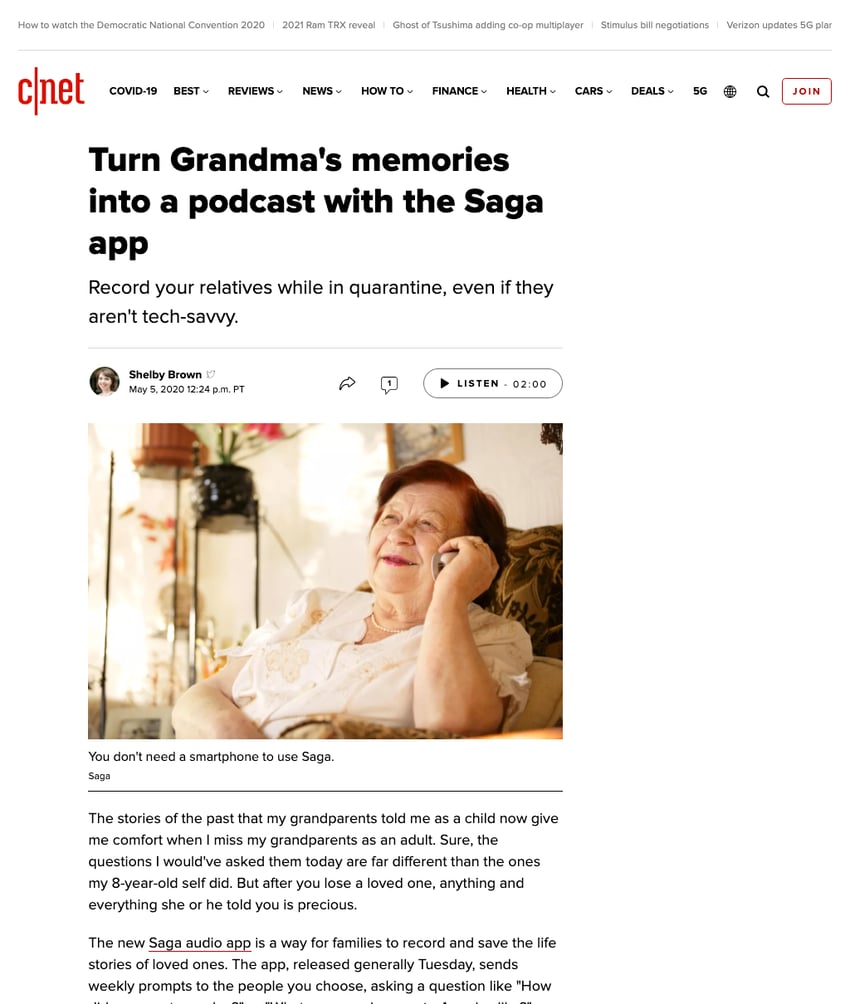 How are you doing today and what does the future look like?
By the numbers:
We've raised $1.8M in seed funding to date.
We're currently a team of 5 people, across engineering, design, and product.
We've launched on iOS, with thousands of users across North America, Europe, Asia, and Africa -- Android coming!
After winning the 2020 Innovator Award from End Well and the AARP, we're looking forward to releasing some new features in the works, continuing our growth, and partnering with organizations, especially for the upcoming holidays.
Through starting the business, have you learned anything particularly helpful or advantageous?
I had never fundraised before or been a founder before, and I would say I went about fundraising twice: once without a plan, which went poorly as you might expect, and the second time with a plan, which went about 1000x better.
The main difference was that the second time, I went and shared my plan with everyone I possibly could who had ever successfully gone through fundraising, and asked for feedback. Then I'd go and take their advice, and come back with a new plan, and ask for feedback again. Rinse and repeat. We had an enormously much more tactical plan for how to successfully fundraise.
The lesson learned for me was, the first time around I thought since no one seemed to like my pitch, I must just be bad at this. What I realized is that for just about every successful pitch, they'd iterated through a dozen earlier versions of that pitch before getting to something good. Once I realized that I could get there if I just kept at it, I got over myself and just started asking for feedback and help so I could iterate as quickly as possible.
Every day now, I work on something new I've never had to work on before - I'm constantly a beginner. It's part of being at a startup, but it also means that I've had to get good at how to learn to do things quickly - making that skill has paid off enormously.
What platform/tools do you use for your business?
We wouldn't be able to run our business without tools like Slack, Notion, Segment, and Figma.
What have been the most influential books, podcasts, or other resources?
Founders at Work has remained one of my favorites. Even when I first read it in college, inspired me and captured my imagination to read real stories, from real people, about the true ups and downs of building something great from nothing. It showed me just how much the path twists and turns behind the scenes - all the things that can go wrong, and lessons learned before they ever go right.
Similarly, I love How I Built This. I never get tired of hearing stories of how real people have built things, whatever the product may be. I suppose it's not a surprise, considering that Saga is all about capturing everyday stories from everyday people!
30 Lessons for Living: Tried and True Advice from the Wisest Americans is a book I've loved ever since I was in high school. It's advice from seniors on living life, and it changed my outlook on what matters in life - so far, I don't think any of their advice has led me wrong.
Surely You're Joking, Mr. Feynman!: Adventures of a Curious Character was my original inspiration for Saga. It's a transcription of some of Richard Feynman's best stories, in his inimitable voice. It's one of my dad's favorite books and one of mine too, and I always imagined having something like it for my parents.
Advice for other entrepreneurs who want to get started or are just starting?
Get over your ego and tell people what you're working on.
Don't be shy about sharing your imperfect product and asking for help and feedback. If you can let go of your ego and self-consciousness, you will learn and make progress much more quickly. I meet a lot of founders starting who are self-conscious about telling others what they're working on - they think it's too broken or half-baked, etc. I probably had to practice trying to explain Saga 200 times before it started sounding any good or making any sense - but every one of those times was an opportunity to practice the pitch. You're going to be bad before you get any better, so get out there and get started!
Don't do it for the money.
Early on, a founder friend of mine told me about how he'd had a previous startup in a hot space, but that he wasn't interested in. "The business was going great, but I was miserable going into work every day," he said and advised me to work on something I cared about. In the end, passion for what you are working on is what will keep you going. Startups are hard and uncertain, and you will need more than the promise of a payout to stay motivated through the ups and downs. Take my friend's advice: Work on a problem you care about.
Are you looking to hire for certain positions right now?
Yes! We're currently hiring, learn more at our jobs page here.
Where can we go to learn more?
If you have any questions or comments, drop a comment below!
-
Amelia Lin, Founder of Saga
Want to start your own business?
Hey! 👋I'm Pat Walls, the founder of Starter Story.
We interview successful business owners and share the stories behind their business. By sharing these stories, we want to help you get started.
Interested in starting your own business? Join Starter Story Premium to get the greatest companion to starting and growing your business:
Connect + get advice from successful entrepreneurs
Step by step guides on how to start and grow
Exclusive and early access to the best case studies on the web
And much more!
PROMOTED
Did you know that brands using Klaviyo average a 95x ROI?
Email, SMS, and more — Klaviyo brings your marketing all together, fueling growth without burning through time and resources.
Deliver more relevant email and text messages — powered by your data. Klaviyo helps you turn one-time buyers into repeat customers with all the power of an enterprise solution and none of the complexity.
Join Brumate, Beardbrand, and the 265,000 other businesses using Klaviyo to grow their online sales.
Together With Klaviyo
Companies using Klaviyo see a 95x ROI (yes, 95x)
Use Klaviyo to turn hard-earned customer data into hard-working emails and texts.
Try the platform that 265,000 brands use to grow their business.
Try it now (it's free) ➜