Creating A Program For Ecommerce Founders That Makes $60K/Month Thanks To Phone Sales
•
Published: May 25th, 2021
Start A Success Coaching Business
Hello! Who are you and what business did you start?
Hey, my name is Lucy Bloomfield and I am the CEO of 10k Customers. We have helped hundreds of Australians build profitable, leveraged product companies and are now turning our sights to helping non-product-based companies (like coaches, consultants, and service providers) build self-liquidating front-ends as lead generation.
The product or program we have the most renowned for is our 12-month program called Volume Mastery. People have used this program over and over again to create multi-million dollar companies within a twelve-month period in so many different niches - witchcraft, designer shoes, cashmere, skincare.
The beautiful thing? We have spent the first two years of the company focusing solely on helping women build these companies. If you're not familiar with the stats, prepare yourself for a sobering reality -
Only 3% of women that start businesses ever build successful companies.
When I first read about this, I felt compelled to use the expertise and knowledge that I gained from building my first company (Trefiel - you can read about that Starter Story here) to help more women become more successful. And that's how 10k Customers was born.
Is a coaching company led by a woman that's on track for $1m in revenue impressive? Sure, it makes me part of the top 3%. But I think the most important part of the work we do is that so many of our clients hit the same milestone.
I have a process, a lot of people (both men and women) have used it to build companies that allow them to quit their jobs, work full-time in their businesses and live a really incredible life.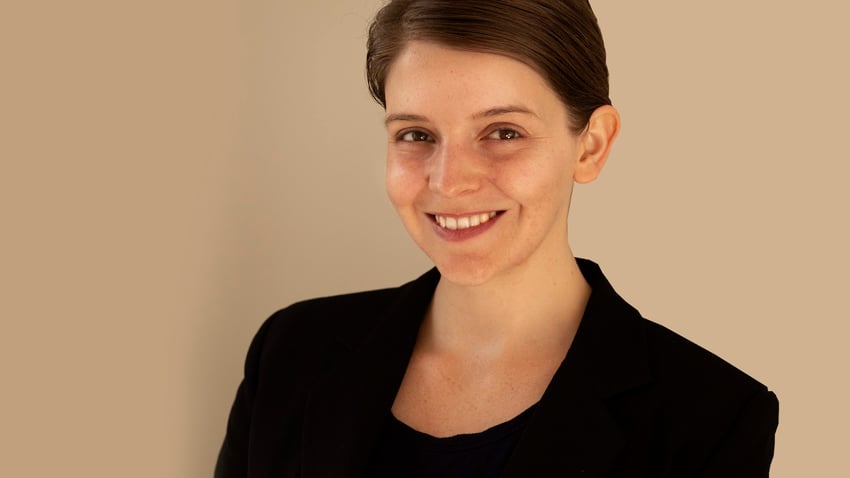 What's your backstory and how did you come up with the idea?
When I walked away from my first company with $500 in the bank, I had a full-blown identity crisis because I didn't know who I was without a business, or without being the skincare girl.
It was a really scary chapter of my life because I'd garnered so much a) meaning and b) identity from running a business, that when I didn't have that business anymore, I lost my sense of self.
I knew deep down that I only wanted to be running my own companies, but I also knew that I didn't have the capital or the desire so soon after walking away from Trefiel to start another product business. And I also knew, like to my bones, that the skillset I'd gained from building that company was going to be incredibly valuable to the world.
So I started freelancing, then I started coaching, then I started consulting and 10k Customers has grown from there.
In a lot of ways, I had my back up against the wall - this business had to work, just like my first one did. But I think the real difference is that I knew that no one was teaching building product companies like I was and when people started flocking to my business and buying all different kinds of programs and events, that I was onto a winner.
My Facebook Ads don't advertise a product or program, they always talk about solving a problem.
Take us through the process of designing, prototyping, and manufacturing your first product.
I sold the programs before I built them.
Yes, you read that right.
For me, I really don't believe in putting a lot of time into creating something when you don't even know if it's going to sell. It's the whole MVP concept, but taking it to a different level.
When you sell information or ideas, there is absolutely NO point in creating the information or idea before you sell it. Because you don't even know if someone wants it.
But the thing that people get stuck on is they think that it's the product that people want to buy (this is especially true when you come from a background of selling actual physical products). People don't care about your product, they care about what you can help them overcome - and that's true whether you sell services, coaching, or skincare.
So as far as designing goes, I designed a sales process (a sales script, really because my entire business is built off phone sales) that gave huge distinctions to people about the places they were going wrong. That sales process helped them workshop why their businesses weren't making as much money as they wanted to, and by the end, the goal was to have delivered so much transformational value that they were like "SO HOW DO WE WORK WITH YOU?"
And that's when I pitched - a product that hadn't been created yet - and started closing sales.
The beautiful part of this strategy if you're in services or information businesses is that the first people who buy from you get an incredible experience - you need to be super hands-on with those first few cohorts so you can help them as much as possible for their investment.
And through that work, they get to help you create an amazing product for future people.
It's not a downside at all to not have a product or program completely built - it's a massive upside for both parties involved.
Describe the process of launching the business.
I guess our launch was a little different in the sense that I'm not a physical product business. My launch wasn't "my site's live, everyone comes to buy my stuff". Actually, my launch was a lot less sexy than some of the other articles I read on here.
If you're looking at building a coaching or consulting company, the first thing you need to realize is that you actually have to be valuable to someone or some industry. Having a certificate doesn't make you valuable. Knowing how to do things is valuable.
Basically, after I left my first company, I started freelancing and helping eCommerce brands with a skill set I'd had from building my first company.
Then, I changed to selling coaching sessions.
Then I changed again to selling coaching programs.
Then I started selling consulting.
With coaching and consulting company, it takes time to build momentum. My first year was quite slow, then I met my coaches and things started to ramp up really quickly. I became one of their best-performing clients - I did my first $50k month 5 months into their program - and that was when I was still selling 8 Week programs, which meant none of it was recurring and I started at 0 again the next month.
Because my entire business is built off phone sales, my website hasn't played a big part in my acquisition at all (bar storing marketing posts and sending traffic to those). I don't really bother with creating an online presence - I have some followers on LinkedIn, some Instagram, some on Facebook - it's not a strategy that works the same as running ads and picking up the phone (and I know which one I'd rather spend my time doing).
As far as how I backed the beginnings of this company - it's all bootstrapped and the most credit I've ever had was a $6k credit card. I've never taken any money from investors, I've never borrowed money from family. I'm very proud of that.
Since launch, what has worked to attract and retain customers?
Without question, one of the best ways I had of attracting customers initially was through my success with Trefiel. I was really grateful that I had so many people that saw the work I did with that company and wanted me to help them do that with their business.
But other than word of mouth, two things have worked beautifully for growing my company:
Facebook Ads
"Phone Getting" Email
I've mentioned a few times in this post that the entirety of my business has been built off phone sales. I think for a world that's dominated by eCommerce and funnels, this is a really unusual way to grow a company - most people expect you to be doing some kind of 50 step funnel of Doom.
But honestly, having done an eCommerce business myself, helped hundreds of clients grow their product companies, AND having grown a successful company, I know how to make money - whether on the phone or the internet - and I can tell you which one I'd choose if I had to make $20k in a week.
I know that Starter Story loves specifics, but if I gave you my sales script, I'd have to kill you so instead what I'll do is talk about how I use Facebook Ads and emails to get on the phone with people.
My Facebook Ads don't advertise a product or program, they always talk about solving a problem. Which problem I talk about solving is dependant on what I'm marketing and doing at the moment with my ads - at the moment, I'm running ads talking about:
Cloning yourself (to attract clients for my high-level consulting)
Selling Luxury Products (to attract clients for my lower-level programs)
And then I give them an opt-in that solves a specific problem. So for the Cloning Yourself ads, I give leads the report I created about how to clone yourself. And the same is true for the Selling Luxury Products campaigns I'm running at the moment.
My "phone getting" email is super simple. It's basically -
"Hey, you opted into my stuff for <X, Y, Z reasons>. Are you still interested in that? I've had a few spots open for my strategy sessions and this is what we do in those sessions."
If I send that out to my list, I always get people responding and sending me their number to get on the phone with me.
This is probably one of the most simple strategies I've seen listed on this site, but it really does work.
How are you doing today and what does the future look like?
The future is looking so exciting! Over the last 12 months, I was furiously building the backend of my company so that it could handle 200 people joining my program overnight without completely breaking apart.
I'm finally at the point where I can say that is now a reality for my business.
This means all of my work at the moment is on growing out the client list so I can re-break my business with too much growth. Because I'm not a product company, that's not going to be shipping thousands of orders. I need to do things slightly differently:
Spending more on advertising to get more phone leads
Spending as many hours as I can on the phone until I have no more time left to dial
Hiring an appointment setter so I'm only showing up to calls that are prequalified
Building a sales team
My company has been profitable since its first year, so for me, I'm not overly concerned about profitability - I'm really happy with where I'm at right now. Last year, we averaged 17.5% net profit (which is FANTASTIC), so I'd be happy to keep that profitability but continue growing the revenue.
Through starting the business, have you learned anything particularly helpful or advantageous?
I don't think anyone who starts a company and does well can say there isn't anything they've learned. Since I started 10k Customers, I've spent thousands of hours on the phone talking to business owners about their product companies and that has taught me so much from several levels.
Human behavior and closing sales were a huge learning curve for me coming from eCommerce and hiding behind a screen to make money.
Product companies are infinitely complex and every time you reach a new milestone in the business, you have new problems to solve.
I will say that some of the worst decisions I've ever made have been taking money from people that I knew I shouldn't. One of the biggest nuances of phone sales is knowing when to accept someone as a client and when to not. I would say that I've made an awful lot of mistakes in that area, mostly because I was obsessed with vanity metrics and every sale was like a dash against my name of how much of a badass I was.
Over the last two years, I've gotten significantly better at that and I would say most of the people I speak to now, I turn away because they're not the right fit or I think they display red flag behavior which means they will have some terrible behavior later down the line.
I would say that easily one of the best decisions I ever made was working with my coaches. They helped me skip many years of barely making any money in coaching and I'll always be incredibly grateful for the opportunity to work with them at higher and higher and higher levels as each year goes by.
What platform/tools do you use for your business?
For all of my clients, it goes without saying that there is some base-level software that I love. Shopify is one of them. I also think Stamped, Pathfinder and Gorgias are the best in their fields.
For me personally, I can't get enough of Monday. It's a task management tool that is essentially my virtual office and I can see literally every part of the business, without having to go and check emails or follow up a team member or anything like that. It's an incredible tool if you know how to use it well.
What have been the most influential books, podcasts, or other resources?
I think one of the best eCommerce podcasts around is Chloe Thomas' eCommerce Masterplan. Full disclosure: I've been on that podcast a few times, but I think Chloe is an excellent interviewer and she has this wonderful way of getting the most information that's useful from guests on her show. Definitely worth a listen.
As far as books, I have a few:
Advice for other entrepreneurs who want to get started or are just starting?
If you're looking at building a coaching or consulting company, the first thing you need to realize is that you actually have to be valuable to someone or some industry. Don't be like all those coaches that got a certificate and are now "somehow" qualified to coach.
Having a certificate doesn't make you valuable. Knowing how to do things is valuable.
If you're looking at starting a product business, don't muck around with cheap products. Go and get something that's actually genuinely valuable to the world and go straight to where it matters - running advertising and selling it.
Are you looking to hire for certain positions right now?
Yeah - if you want to learn phone sales, I'm building my sales team. Fair warning though - this is not for the faint-hearted. Phone sales are one of the most challenging, rewarding, triggering, fulfilling ways to make money and grow businesses. It'll push all your buttons, but you'll grow 1000% more than clicking some buttons on a screen.
Where can we go to learn more?
If you have any questions or comments, drop a comment below!
-
Lucy Bloomfield, Founder of 10k Customers
Want to find more ideas that make money?
Hey! 👋 I'm Pat Walls, the founder of Starter Story.
Get our 5-minute email newsletter packed with business ideas and money-making opportunities, backed by real-life case studies.