Ask For Product Feedback By Email: A Guide
•
Updated: October 6th, 2022
Ask For Product Feedback By Email: A Guide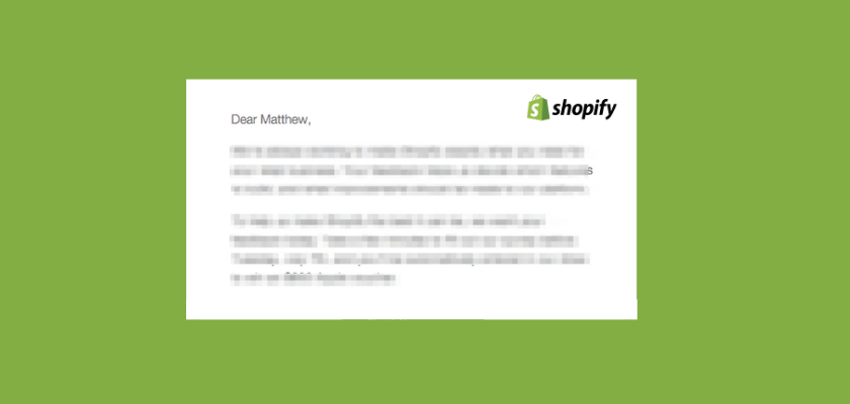 Cost Details
Asking for feedback should not cost you anything.
What Are Product Feedback Emails
Product feedback emails are emails used to collect reviews and feedback on a specific product or service.
Your product feedback email should have a clean design and a clear call to action.
Key Takeaways
These emails are sent to specific subscribers to gain feedback and insight on a product or service
Feedback should be used to improve your product or process
Product feedback emails should generally be sent once every six months to a year. Don't over-do it!
Understanding Product Feedback Emails
Feedback is an important piece of improving your product and service, and this shows your customers that you care about their opinion which can boost engagement.
Although you may think you know your product inside and out, your customer may actually have valuable insight that you wouldn't have otherwise thought of.
When you decide to send out a product feedback email, you should first decide what you actually want feedback on.
Try not to overload your survey or questioner with necessary questions - stick to what you actually want to gain clarity and feedback on.
Keep in mind that you are taking time out of your customers day, so there's a few things you may want to consider to get them to engage:
Tell them why you're asking for feedback
Keep your survey short and tell them how long it will take them (ie. under 1 minute)
Offer customers a gift or discount in exchange for their feedback. This will incentivize them even more to provide their insights.
To collect feedback, it's as easy as creating a survey or questioner. You can do this for free using Google Surveys
Real World Example: Ask For Product Feedback Through Email
1. Shopify
Shopify often sends out product feedback emails to gain insight from their audience.
This can be general feedback on the platform in general, or specific feedback on a new feature/product.
Here's an example of an email they sent out to gain general feedback about Shopify as a whole: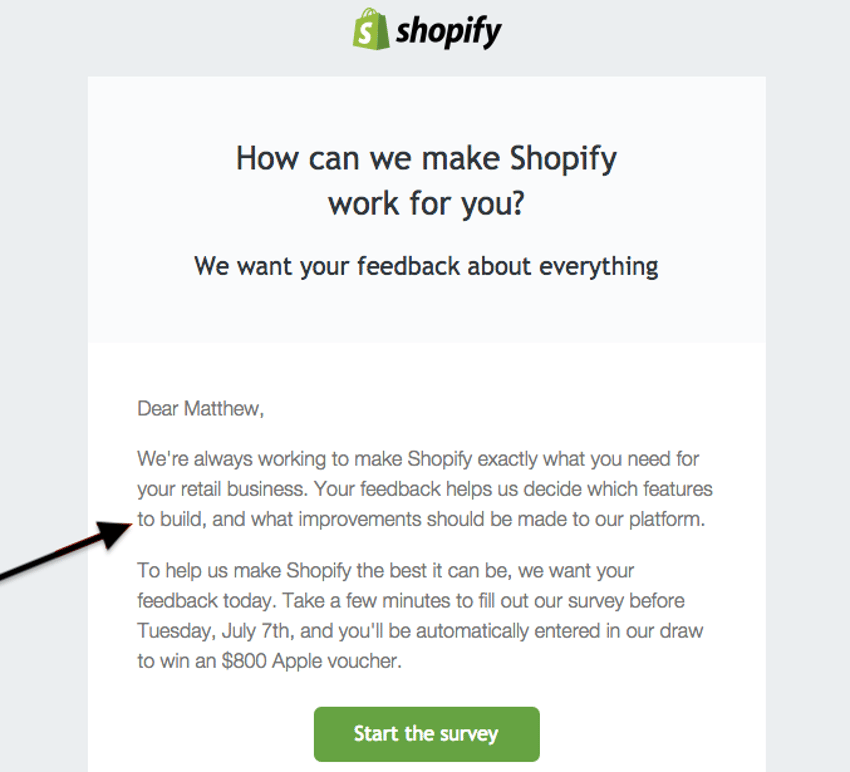 Not only does the style of the email show their authenticity and care for their customers, but they also offer an incentive to provide feedback - a chance to win an $800 apple voucher.
This is critical as not all customers want to take the time out of their day to take a survey.
2. Kate Spade
Kate Spade sent out a bright and eye-catching email to collect feedback on their products:
A few things they do really well:
Bright, design-forward email
Catchy text adds light and humor to the email: "Tell us how you really feel!"
Clear CTA to take the survey
Offer 25% off - not only will this incentivize users to take the survey, but they may also get some sales out of it, too.
How To Create A Product Feedback Email
Use a click-worthy email subject.
Start with a personalized message
Tell them WHY you are asking for feedback
Explain how you're going to use the results to benefit them
Tell them how long it will take them to complete
Create a clear CTA
Thank your customers and provide them with something in exchange!
Contributors
Contributors to this article:
Pat Walls, Founder @ Starter Story
Want to start your own business?
Hey! 👋I'm Pat Walls, the founder of Starter Story.
We interview successful business owners and share the stories behind their business. By sharing these stories, we want to help you get started.
Interested in starting your own business? Join Starter Story Premium to get the greatest companion to starting and growing your business:
Connect + get advice from successful entrepreneurs
Step by step guides on how to start and grow
Exclusive and early access to the best case studies on the web
And much more!