Thank you Klaviyo for sponsoring Starter Story ❤️
Turn one-time buyers into repeat customers. Try the platform loved by 265,000 brands
Product Line Expansion: What Is It And Why Does It Work?
•
Updated: June 30th, 2022
Product Line Expansion: What Is It And Why Does It Work?
This article is a part of our encyclopedia, and is editable by you. Edit ➜
What Is Product Line Expansion?
Product line expansion simply refers to a way of focusing on your customer's requirements and offering them variants of the current products that they already love.
Before undertaking the product line expansion strategy, consider listening to customers' feedback. Focus on understanding their current pain points and look at ways to make your products appeal to a broader market.
It's important to note that adding new products and diversifying may not be in the cards for you right this moment, and that's okay. You can always consider it down the road.
Product Line Expansion Key Takeaways
Product line expansion does not necessarily mean you will keep the same customers. You could introduce a brand new product targeting a brand new audience.
When expanding the product line, it is imperative to focus on product quality. Sacrificing any of the quality of your product in order to expand, sets your brand for failure in the long term.
Before choosing the product expansion strategy, research and understand the upcoming trends. Remember, some trends fade quicker than others. It's important to find and create a sustainable solution for your audience.
Understanding Product Line Expansion
After small business gains traction in the market place, the business owner can take advantage of brand strength by pursuing product line expansion.
Product expansion strategy may include the vertical or the horizontal products to your original:
Vertical product line expansion features creating new variations of your original product.
Thus, you could add new colors or materials to the existing product.
Horizontal product line expansion entails the introduction of complementary products.
Therefore, horizontal product expansion allows the company to make more products targeting the current or new customer base.
Although both product expansion strategies are viable, each method depends entirely upon your business goals and resources.
Real World Examples of Product Line Expansion
1. Uber
Uber Technologies Inc was founded in San Francisco in March 2009 as a ridesharing app.
Twelve years later; the company is active in over 900 cities, with millions of users relying on the ridesharing app. To ensure customer satisfaction, Uber provides a wide range of ride preferences.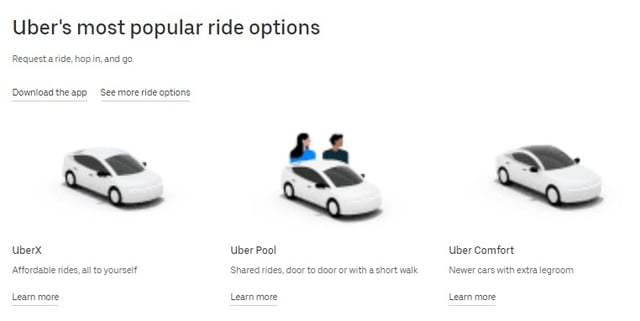 Thus, a customer can enjoy a personalized comfort level by selecting from the wide range of options available on Uber.
For Uber, changing how people can request rides from point A to Point B was just the beginning.
Today, customers can request food delivery service through Uber Eats, while the company is also committed to improving public transport for all, as well as provision of health care to those who need it.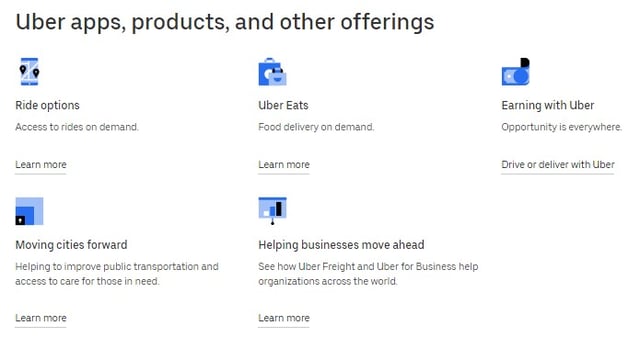 2. Coca-Cola
Coca Cola is another example of a company that has practiced product line extension.
Over the past century, the soft drink company has introduced variations of its coke soda. These variations range from packaging to flavor.
Coca cola`s product extension strategy has made sure that customers can enjoy their favorite drink regardless of the preferred flavor or packaging.
How to Get Started with Product Line Expansion
To ensure a successful product line expansion, follow these tips:
Listen to your customers for ideas on improving your existing offerings and suggestions for completely new products or services
Look at ways your product or services could appeal to a broader market and look at what you can offer new markets
Get the inside scoop on what is happening in your industry to see where the market is headed
Expand your product distribution channels to attract more customers and appeal to new markets
Having a scalable infrastructure and foundation is crucial when expanding the product vision
Contributors
Contributors to this article:
Pat Walls, Founder @ Starter Story
Samantha Walls, Head Of Content @ Starter Story
David Gitonga, Writer @ Starter Story
Discover the best strategies of successful business owners
Join our newsletter and receive our handcrafted recap with the best insights shared by founders in Starter Story each week.
Useful, convenient, and free:
PROMOTED
Did you know that brands using Klaviyo average a 95x ROI?
Email, SMS, and more — Klaviyo brings your marketing all together, fueling growth without burning through time and resources.
Deliver more relevant email and text messages — powered by your data. Klaviyo helps you turn one-time buyers into repeat customers with all the power of an enterprise solution and none of the complexity.
Join Brumate, Beardbrand, and the 265,000 other businesses using Klaviyo to grow their online sales.
Starter Story
Wanna see 52 business ideas you can start with less than $1,000?
Join our free weekly newsletter and get them right now.