The Ultimate Guide To Getting A Press Release Published
•
Updated: September 24th, 2022
The Ultimate Guide To Getting A Press Release Published
What Is A Press Release?
A press release is a marketing strategy that involves sending out a newsworthy bulletin.
Targeting journalists and potential customers, the press release provides a popular approach for getting immediate brand exposure.
For startups, getting more press is an attractive approach to gain traction, so that target customers know who you are, and what you are offering them.
Press Release Key Takeaways
Press releases provide immediate brand exposure
If done right, a press release could potentially increase sales
New startups should focus on issuing press releases that provide an opportunity to gain some initial traction to their website, shop, or products
Understanding Press Releases
The first step when preparing a press release is defining a clear objective and outlining reasons why you think the release is important.
Focus on putting together newsworthy content, which will catch the attention of your target audience.
Do include a provocative and SEO-friendly press release headline.
In addition, the press release should include a strong call to action so that your audience knows what to do next.
There are dozens of press release tools you can use to write a headline and format the press release. Examples include PRNewswire and PRWeb.
Real World Examples: Press Release
1. Upwork
Upwork is a great example of a company that uses press releases to reach their target audience.
Recently, Upwork released a press statement about the companies earnings.
During the press release via CNBC, the CEO of Upwork took the opportunity to let their users know about the companies new industry category dubbed "the work marketplace".
Further, the company emphasized that companies in the US are facing employee shortage, and so, there is the need for those companies to source freelancers through their platform which connects them to global talent.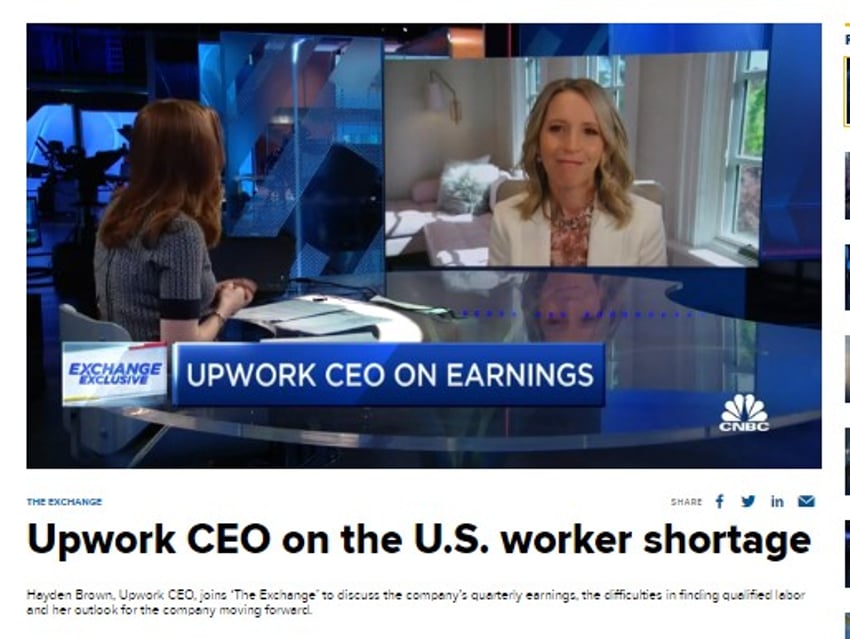 From the above example, it's clear that the announcement of company earnings is a newsworthy topic that is interesting, hence attracts the target audience.
Want to learn more about Upwork?
2. Nestle
Another example of companies that gets more press through news releases is Nestle. The company made a bold decision to announce the recent acquisition of Essentia.
During the press release, Nestle makes it clear their intention to reform the global water industry.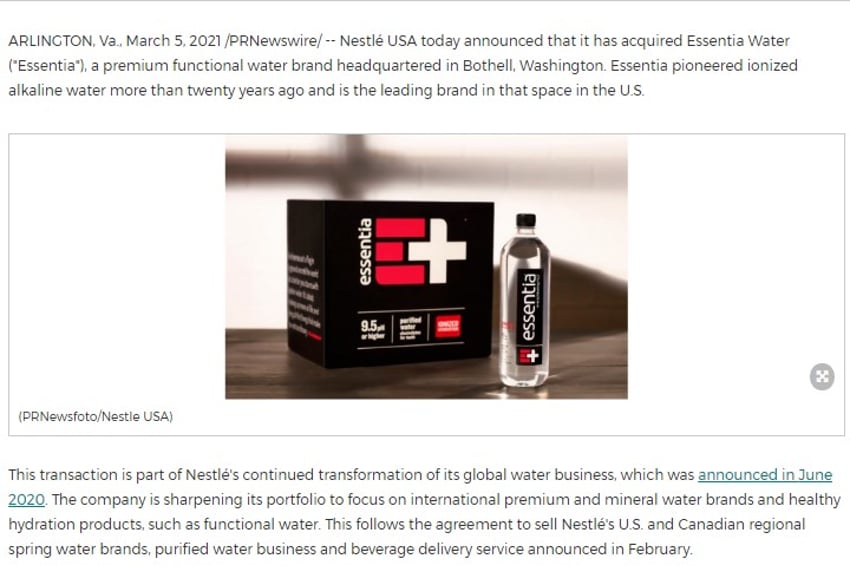 The press release not only talks about their acquisition but also explains to customers what to expect in years to come.
This provides a great opportunity for the company to inform their customers of the recent acquisition, and also to builds customer trust.
How to Get Started
To create a press release, follow these steps:
Come up with a powerful headline
Go straight into the details of your presser
Offer a choice quote to backup the arguments
Supply appropriate background information
Keep the details of the press release clear and accurate
Include mixed media to enrich your press statement
Distribute the press release to specific media outlets
Give reporters adequate lead time to create the writeup
Share the press release on your channels, and encourage others to do so as well!
Contributors
Contributors to this article:
Pat Walls, Founder @ Starter Story
Samantha Walls, Head Of Content @ Starter Story
David Gitonga, Writer @ Starter Story
Want to start your own business?
Hey! 👋I'm Pat Walls, the founder of Starter Story.
We interview successful business owners and share the stories behind their business. By sharing these stories, we want to help you get started.
Interested in starting your own business? Join Starter Story Premium to get the greatest companion to starting and growing your business:
Connect + get advice from successful entrepreneurs
Step by step guides on how to start and grow
Exclusive and early access to the best case studies on the web
And much more!
Starter Story
Wanna see 52 business ideas you can start with less than $1,000?
Join our free weekly newsletter and get them right now.