Podcast Advertising: Everything You Need To Know In 2022
•
Updated: September 30th, 2022
Podcast Advertising: Everything You Need To Know In 2022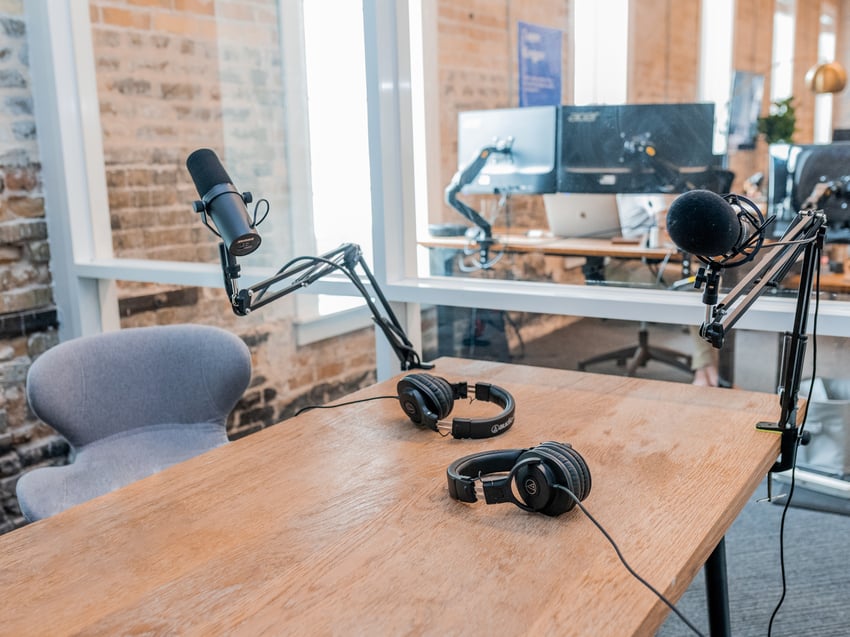 Topic
Social Media - (Paid)
Cost Details
$15 for a 10-second ad CPM. $18 for a 30-second ad CPM. $25 for a 60-second ad CPM
What Is Podcast Advertising?
Podcast advertising refers to promoting your brand during a podcast.
According to Buzzsprout, podcasts currently reach over 68 million Americans on a weekly basis, and the number will continue to increase.
With so many Americans listening to podcasts, it is easy to get your message in front of potential customers. Therefore, embracing podcast advertising can boost your brand awareness.
Podcast Advertising Key Takeaways
Podcasts tend to be a highly engaging medium for delivering advertisement messages.
Podcast advertising gives businesses the ability to produce highly tailored content and to attract a highly engaged audience.
According to Edison Research, podcast consumers are more likely to consider the brands they hear advertised on their favorite shows.
Understanding How Podcast Ads Work
During a podcast, the host will talk about the sponsors at the beginning (15-seconds pre-roll), or the middle of a podcast (60-seconds mid-roll).
However, some podcasts offer end-of-show advertising as well. The end of show podcast advertising includes a call to action in a way, guiding the listener to take action.
The heightened podcast engagement creates great opportunities for targeted advertising. However, plenty of things could go wrong if you do not know what you are doing.
If you are getting into podcast advertising, ensure you understand your target audience and align your efforts with their expectations.
Real World Examples of Podcasts Advertising That worked
1. Blue Apron
Blue apron is an American ingredient and recipe meal kit service which exclusively operates in the United States.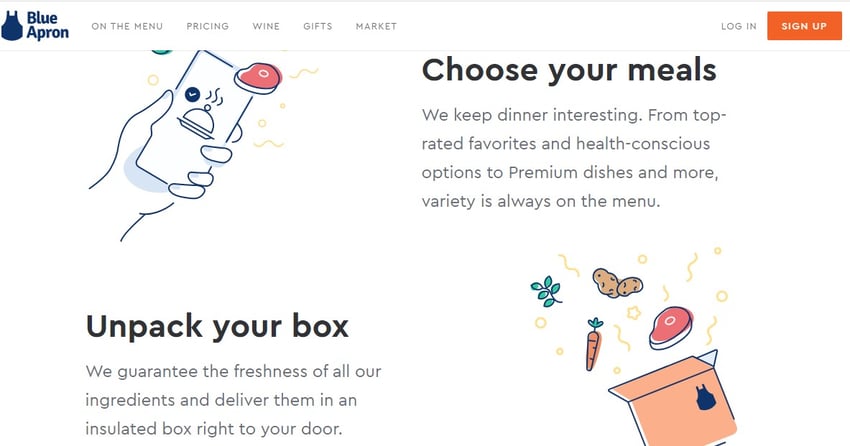 The podcast why We Eat what We Eat, is a good example of how to deploy podcast advertising.
The show encourages listeners to forget they are listening to a corporate product by saving the branding for the credits.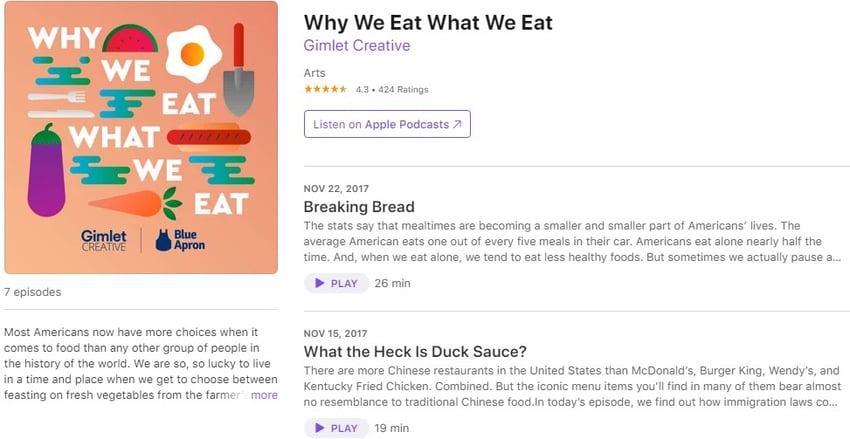 Besides, the host remains focused on entertaining while discussing food trends and the origins of cultural and societal eating habits.
The podcast shows position Blue apron as a source of nutritional and cultural knowledge as well as a place that delivers quality eats.
2. Rachel Hollis
Rachel Hollis an American entrepreneur and bestselling author, uses podcasts to reach her audience.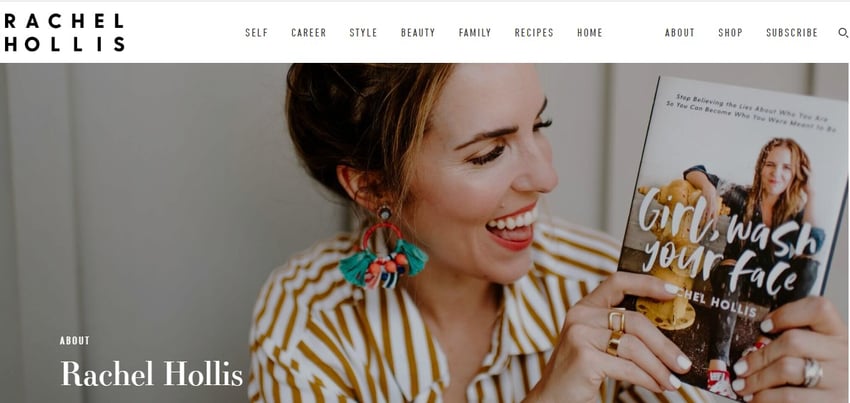 In her podcasts, she interviews entrepreneurs and offers her audience applicable tactics and advice for running a business or becoming a better entrepreneur.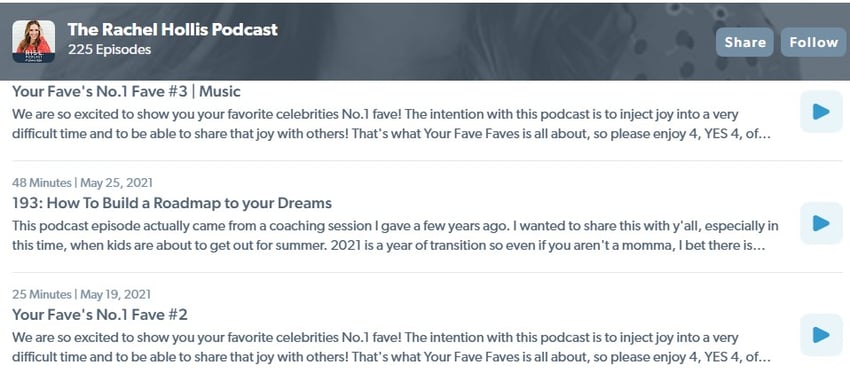 Running weekly podcast shows has been one of the top secrets behind the success of her brand.
How to Start Podcast Advertising
Plan the podcast goals and objectives
Come up with a relevant name and topic
Plan the podcast episode format
Record the podcast using the right gear and software
Edit the podcast using the right software
Publish the podcast to the best podcast directories

Here are some of the best tools for podcast editing:
Audacity
Free, open source, cross-platform audio software for multi-track recording and editing.
Businesses using Audacity:
22 successful businesses are using Audacity ➜
We Edit Podcasts
A female-led podcast production company that helps new and seasoned creators produce high-quality episodes.
Businesses using We Edit Podcasts:
You can publish your podcasts on the following platforms:
google podcasts
A new podcast player for Android users, where they can discover and listen to the world's podcasts.
Businesses using google podcasts:
10 successful businesses are using google podcasts ➜
PodHero Podcast App
A set of tools provided by Apple to developers who want to build podcast player apps.
Businesses using PodHero Podcast App:
Contributors
Contributors to this article:
Pat Walls, Founder @ Starter Story
David Gitonga, Writer @ Starter Story
Want to start your own business?
Hey! 👋I'm Pat Walls, the founder of Starter Story.
We interview successful business owners and share the stories behind their business. By sharing these stories, we want to help you get started.
Interested in starting your own business? Join Starter Story Premium to get the greatest companion to starting and growing your business:
Connect + get advice from successful entrepreneurs
Step by step guides on how to start and grow
Exclusive and early access to the best case studies on the web
And much more!