On Starting A Plant-Based Beverage Company
Hello! I'm Hana James, Co-Founder and Director of Community at Greenhouse, an organic, plant-based beverage company. Our mission is to offer widespread, sustainable access to plant-based nutrition and wellness of the highest quality. We have been in business for 7 years (we just celebrated our birthday on January 8th!) and in that time have expanded from our flagship store at 5 Macpherson Ave to five additional stores around the GTA.
At all our stores, you can find our cold-pressed juice, plant-milks, kombuchas, probiotic hydrators, boosters, and superfood smoothies. Not only can you find out products in our own stores, but we have expanded to grocery retailers across Canada as well as many foodservice outlets including coffee shops, cafes, and restaurants. We are excited to continue our growth across Canada!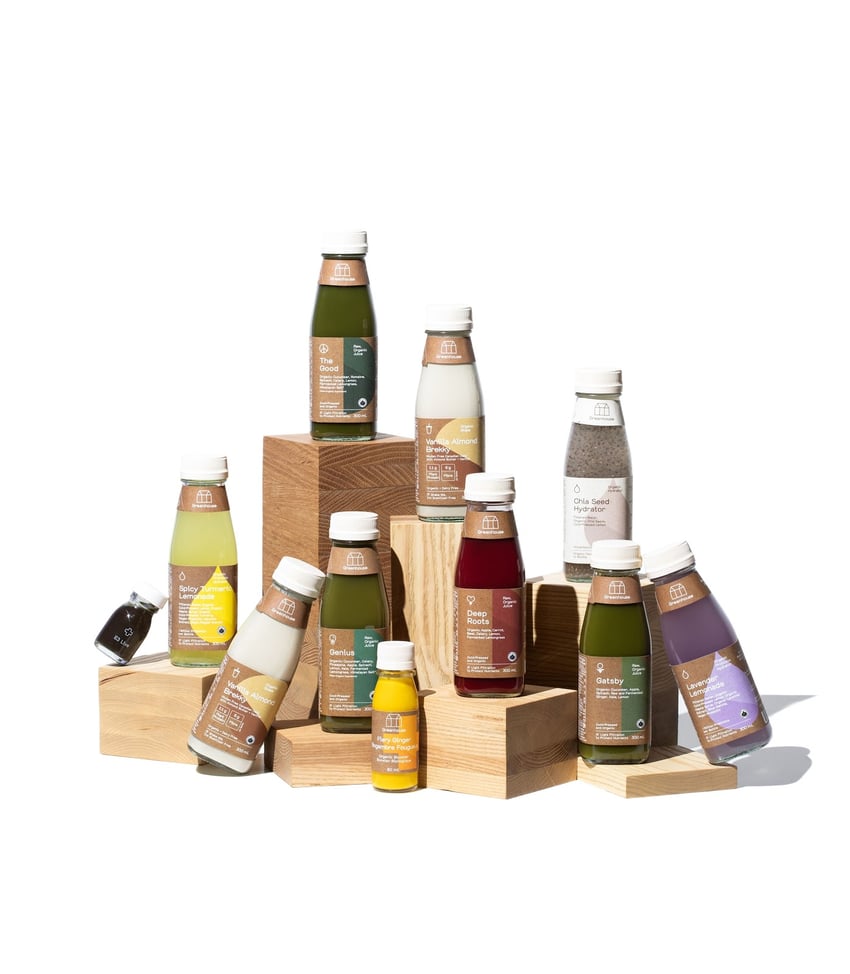 What's your backstory and how did you get into entrepreneurship?
I have always been very interested in health and a big foodie, but entrepreneurship was not always my plan. During university, I took Anatomy and Cell Biology at McGill and I planned to go to medical school after undergrad. During my undergrad, I took many nutrition electives and really found myself drawn to how food worked in our body (and how it affected us).
In starting a new business, there will be many roadblocks, but being successful as an entrepreneur is figuring out how you get around those obstacles and learning for the future.
After I graduated, I took a year off to write my MCATs and apply to medical school. During this time, I got a part-time job in a small, health-focused cafe. I loved waking up at 6 am to open the store and chat with the customers. At the same time, I was trying to write my medical school applications and realized I couldn't write the essays honestly. I found it difficult to answer questions like "why do you love research and what can you offer the medical field?" In all honesty, I hated research. What I did realize though, as I loved interacting with people and discussing their health, especially as it pertained to food.
After much thought (and discussions with family and friends), I decided not to pursue medical school (I could always apply later in life if I wanted!). I realized that although there were options for healthy food, Toronto was really lacking in options for quick, on-the-go health food. In my part-time job at the cafe, I saw that customers were hungry for more. After speaking to friends and family (and neighbors in my area), I realized there was a need for it in the Summerhill area - especially for juices and smoothies. This led me to my first entrepreneurial adventure - opening a healthy cafe and juice bar inside of a gym, Totum Life Science.
Take us through your entrepreneurial journey. How did you go from day 1 to today?
I opened Cafe Shu inside of Totum in 2010.
With Cafe Shu, I was able to experiment with my offering and get a feel for running a business - at a much lower capital investment. It was just me running the space and I split profits with the gym (as opposed to having to carry a commercial rent). The business went well and I opened a second outpost inside another Totum location downtown. I realized there was a definite need for healthy, accessible products - especially in the juice category. I also realized that being inside a gym was not ideal for customer traffic. After running the business for three years I decided to move onto my next venture - Greenhouse.
Previous to Greenhouse, my co-founders, Anthony Green & Emma Knight, was living in LA. They were exposed to the never-ending supply of cold-pressed juice that was available but was surprised to see that Toronto had not yet caught up. Cold-pressed juice was not only great for your health but also tasted great - seemed like a no-brainer! We had all known each other from high school and they knew I was looking to move on in my entrepreneurial career, so they approached me about starting Greenhouse with them. It seemed like the perfect fit after my experience with Cafe Shu. I had been selling juice, but not cold-pressed, and I saw the incredible demand for it. I had also built a solid customer base and had made many contacts in the Summerhill area (where we planned on opening Greenhouse).
We started planning in the spring of 2013 and our first step was to secure a location in our desired neighborhood. We had all grown up in the area, and there was a cute little white house just off of Yonge St that was available (it had been an ice cream shop when we were growing up), and we thought it would be a perfect fit. Once we secured the little house on Macpherson, the name Greenhouse just fell into place. We started our renovations and were hoping to be ready for our opening by the fall.
During our renovations, we worked on our recipes and offering and the type of business we wanted to create. For us, we knew that being organic always was key - selling a product based on health, we couldn't imagine going non-organic. Since sustainability was so important to all of us (and the health of our customers and product), packaging in the glass was also a commitment we took early on. Both of these decisions were not the "easy" way - both would mean higher expenses and a more costly product, but both were of the utmost importance to us.
As with any large renovation project, we were not ready to open in the Fall of 2013, but by the end of the year, we were ready to open. We decided to open after the New Year in early 2014. Opening a juice business with "cold" in the name during the middle of winter in Toronto was probably not the smartest decision, but we figured we would have a nice slow start, get familiar with the business and be experts by the time Spring (juice) season rolled around.
We opened our doors on January 8, 2014. Within the first hour, we sold out. We wanted to get the most use out of our little house, so during the day we were selling juice and at night it became our production facility. We doubled our production, and the following day, we sold out again. This continued for the first few weeks until we could get the proper team in place (we had only opened with three team members!) It was a whirlwind launch and we were blown away by the reception.
Since then, we have continued to grow - moving into larger production facilities, opening new stores, refining our technology, and improving our product. Through our journey, we realized we needed to increase our shelf-life (which started at 3-5 days) if we wanted to expand our business beyond Toronto. In 2018, we received a grant from the government of Canada to commission our most recent product facility and use a novel food technology which we describe as light filtration. This uses cold-UV light to kill bacteria and pathogens but leaves the integrity of the nutrients in-tact. This has enabled us to expand our distribution across Canada.
How are you doing today and what does the future look like?
Today we are focusing on our national expansion while continuing to innovate and expand our product line. We have recently released new family-size products (946ml) as well new plant-milk shakes like our Matcha Brekky.
We are continuing to grow our brand outside of the GTA - last year we launched our home delivery program in Vancouver and hope to expand this to other cities as well. We are continuing our growth in the grocery retail space as well.
Through starting the business, have you learned anything particularly helpful or advantageous?
One thing we learned early on is timing is everything (and not always in the way you think it is). We opened in one of the coldest winters Toronto has seen in a long time, but we were first to market in the cold-pressed category and were able to build strong brand loyalty. By the summer of that year, multiple cold-pressed juice companies began popping up. Even though the timing didn't seem "ideal", it ended up working in our favor. Conditions may not seem perfect, but continue to push forward in your business!
Another thing that proved really beneficial for us when we were just getting started was events and partnerships. In our first year of being in operation, we participated in over 200 events. For most of these, our only expense was the product (and our time), but the exposure was invaluable. Emma and I personally were at most of these events, and it was incredible to speak about our business to new customers and have them try the product first-hand. We worked with local, like-minded businesses and many of those partnerships still exist today.
What platform/tools do you use for your business?
We transitioned relatively recently to Shopify for our e-commerce solution and are big fans of the platform and the connectivity it has with other parts of our software stack, like local delivery app Zapiet and our email platform, Klaviyo. For eCommerce analytics, we're big fans of Glew.io and for social we leverage Later as well.
What have been the most influential books, podcasts, or other resources?
I really enjoyed The Power of Habit by Charles Duhigg. It is really interesting to get an understanding of how habits are formed and changed - which is especially important in business.
I have always listened to the podcast "How It's Made" because it is really great to hear other entrepreneurs' stories. Everyone's journey is so different, so I'm continuously learning from other entrepreneurs.
Advice for other entrepreneurs who want to get started or are just starting?
Find a mentor. Having someone who has experience (and it doesn't necessarily have to be as an entrepreneur) that you trust is really valuable. It is easy to get stuck in your own head, so being able to bounce ideas off of someone (who isn't a family or friend) makes a huge difference.
Be patient and persistent. Sometimes businesses explode and things ramp up really quickly, but sometimes things take longer. In both instances, it is important to stay focused on what you set out and continue forward. In starting a new business, there will be many roadblocks, but being successful as an entrepreneur is figuring out how you get around those obstacles and learning for the future.
Where can we go to learn more?
-
Hana James, Founder of Greenhouse
Want to start your own business?
Hey! 👋I'm Pat Walls, the founder of Starter Story.
We interview successful business owners and share the stories behind their business. By sharing these stories, we want to help you get started.
Interested in starting your own business? Join Starter Story Premium to get the greatest companion to starting and growing your business:
Connect + get advice from successful entrepreneurs
Step by step guides on how to start and grow
Exclusive and early access to the best case studies on the web
And much more!