On Starting A Plant-Powered Beverage Brand
Hi! We are Siwat Siengsanoah and Susan Buckwalter, Co-Founders of Recoup. We are building a plant-powered wellness company, starting with our first product, a ginger-powered beverage for post-workout recovery and daily wellness. We are shaking up the sports drink industry with an all-natural product that goes beyond hydration to deliver health benefits.
Every bottle contains 2 tsp of pressed organic ginger: the amount of ginger clinically proven to aid muscle recovery, aid digestion, and support immunity.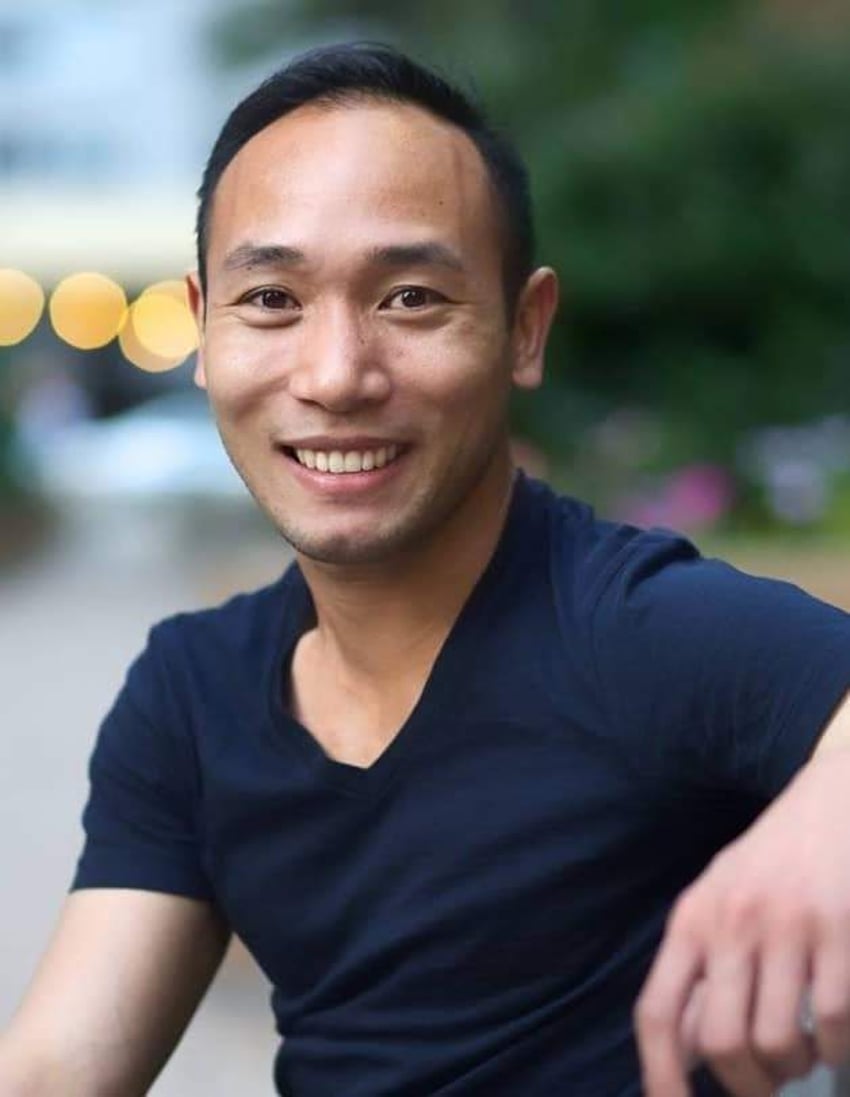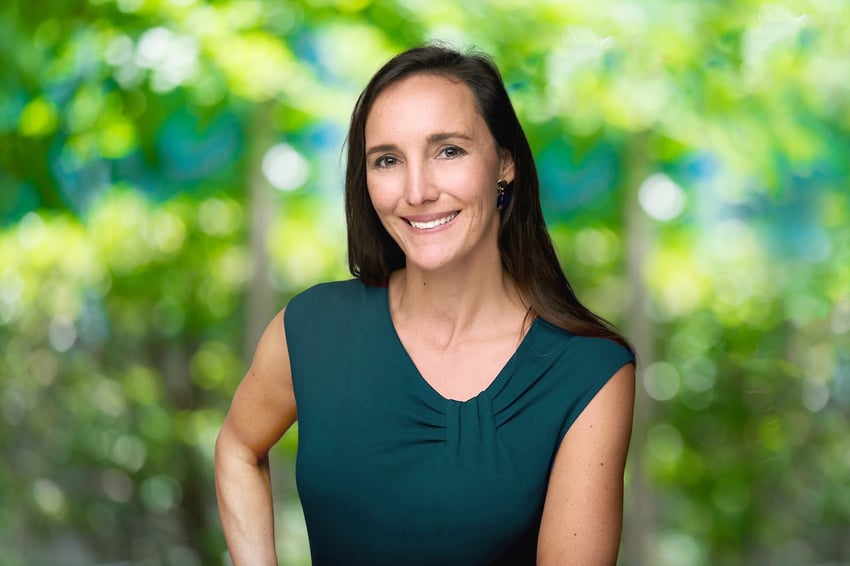 What's your backstory and how did you get into entrepreneurship?
Siwat: I was born in the East Village in New York City. My parents are both immigrants who immigrated from Thailand. I spent the first 3 years of my life in a hospital and by the time I was 12 years old, I had undergone 10 major surgeries, one of them being open heart. My mom's ginger-based home remedies played a big part in my recovery. Once the doctors felt that I could be taken care of at home, my parents moved to New Jersey. I spent most of my childhood growing up in a town called River Vale, which is a suburb of Northern Jersey. During that time I fell in love with soccer, and overtime soccer would become my tool which allowed me to express myself freely without judgment. I ended up playing soccer in college at Drew University, a small liberal arts school. From there, I seriously considered going to medical school.
When I graduated from Drew, I got a job at The Children's Hospital of New York-Presbyterian/Columbia Medical Center, the same hospital where I spent the first 3 years of my life in. During the day I was training to be a clinically applied physiologist, I worked for hand in hand with doctors who cared for children with heart and lung disease. In the late afternoons/evenings I was getting my master's degree in applied physiology at Columbia University.
During my time working at the hospital, I had this itch to identify problems and find solutions to them. I then started a magazine company, a social networking website, and a music discovery mobile app to satisfy this itch. As time progressed, I realized that my passion was to create solutions to solve problems regardless of the industry. Overall, I just really enjoyed the process of creating things. I ended up going back to school again to get my MBA at Cornell University. From there I jumped around doing some consulting work and ended up working at a digital healthcare startup accelerator called Blueprint Health. That was an amazing and eye-opening experience: I got to see first-hand what startup founders had to go through daily. After my time at Blueprint health, I revisited my book of ideas and the concept of Recoup stood out to me more than any of the other ideas I had written down over the years.
Susan:
I've always been a problem solver and independent thinker. As a kid, I was fairly creative and entrepreneurial. I set up lemonade stands, sold handmade jewelry, and even made a "carnival" for kids in the neighborhood when I was in grade school. Several of my family members were entrepreneurs, so from an early age, the idea of building your own company made sense to me. The only thing is I didn't know where to start and I was interested in so many other things. I followed my passions, attending Gettysburg College for a B.A. in Psychology and continuing my love of sports by competing in NCAA Track & Field. I was always fascinated with human behavior and brand perceptions but never thought of myself as a business-person. (I didn't even take a business-related class until I went to grad school.) However, my early jobs, traveling around the world selling and teaching a study-skills course, and later running an outdoor retreat center for the YMCA taught me a great deal about managing a business, communicating a value proposition, and leading a team.
I started to see a path for myself in the field of marketing and pursued my MBA at Cornell University to make the career change into Brand Management. Through my studies in business school and work experience at Campbell's, Unilever, and eos products, I realized my passion for innovation and building meaningful brands that people love. Throughout this time, the desire to build my own company was always on my mind, but it was hard to dedicate the energy. Finding a co-founder who complimented my skill set was the last little push I needed to leap into full-time entrepreneurship. Recoup allowed me to create a brand and products that can have a meaningful, positive impact on people's lives.
Take us through your entrepreneurial journey. How did you go from day 1 to today?
Siwat: The origins of Recoup go all the way back to my childhood healthcare experience. Health and wellness have always played a major part in my life. As I've mentioned before I spent the first few years of my life in the hospital and by the time I was 12 I had undergone 10 major surgeries. It was my mother's ginger-based remedies that played a big part in my recovery and the memories of these home remedies that inspired me to create Recoup. In the years to come, I would pursue a degree in physiology and during this time, I discovered numerous studies using a dose of 2 tsp of ginger to promote muscle recovery, digestion, and immunity.
From there, I started working on the first version of Recoup in the kitchen of my tiny Manhattan studio. I started having my close friends try our beverage. After a handful of iterations, my friends began to ask if I would sell the beverage directly to them. My friends started recommending the drink to their friends and we started to grow from there.
With the advice from close friends, I began asking store owners at natural grocers, gourmet grocers, and cafes if they would give me a shot on their shelf. Some said yes, others said no initially but later relented once they had the chance to try it themselves. By this point in time, we were making our beverage out of a commercial kitchen in the city and I would have to wake up around 3:00 am to drive our finished product to a beverage processing facility that was two and half hours away. Once our beverage processing was complete, I would drive back into the city to deliver to all our stores. As our growth began to exceed what we could realistically produce at the commercial kitchen I decided to hire a formulation company to create a scalable formula. With the amazing help of my co-founder Susan Buckwalter, we redesigned our label, identified a co-packer, and relaunched our product in January 2020.
Susan: We launched our product right before COVID-19 began to change the course of daily life. It was an interesting time to be a new brand, but we rose to the challenge, took the chance to perfect our label and formula, and ensure we were there for our community in any way we could be. We have grown significantly in the last year and are excited for what is ahead
The thing that excited me about Recoup was the opportunity to build a brand from scratch, rooting it in the values and beliefs that were important to me. Recoup sits at the intersection of fitness and wellness. A place that aligns with our personal passions and is positioned to have a positive impact on the world.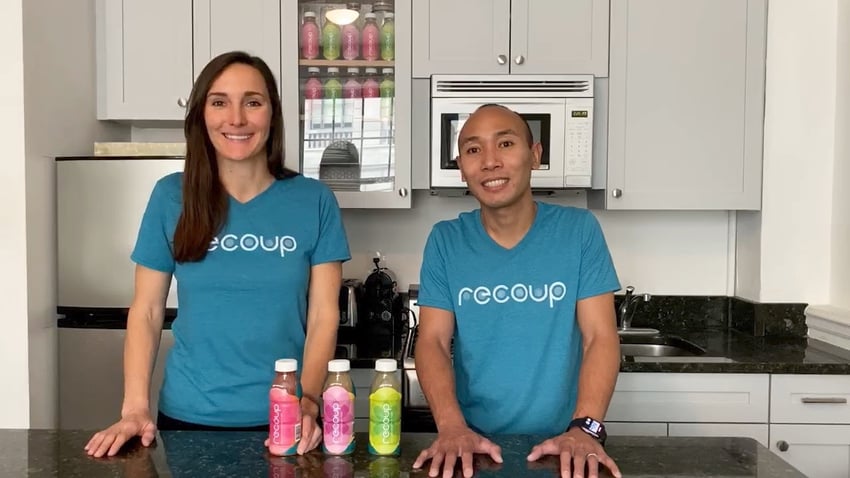 How are you doing today and what does the future look like?
Siwat: We are very excited about our progress and we are even more enthusiastic about what we have planned for the upcoming year. Our goal is to grow our brand and follow through on our mission which is to provide healthy ways for people to improve their daily wellness and get back to their best selves.
As an entrepreneur you really need to be comfortable with not having all the answers all the time. At least, in the beginning, it's ok to not have all the answers as long as you're taking all the necessary steps to figure out the answers. That's progress!
Susan: Our production costs are still a bit high, but every time we increase our volume and do a larger run we can reduce costs and increase our margins. The scale is really important in this business. What I'm most excited about is our ability to scale our core and develop a new product pipeline. We have a few new formulas in the works and will be excited to share the news.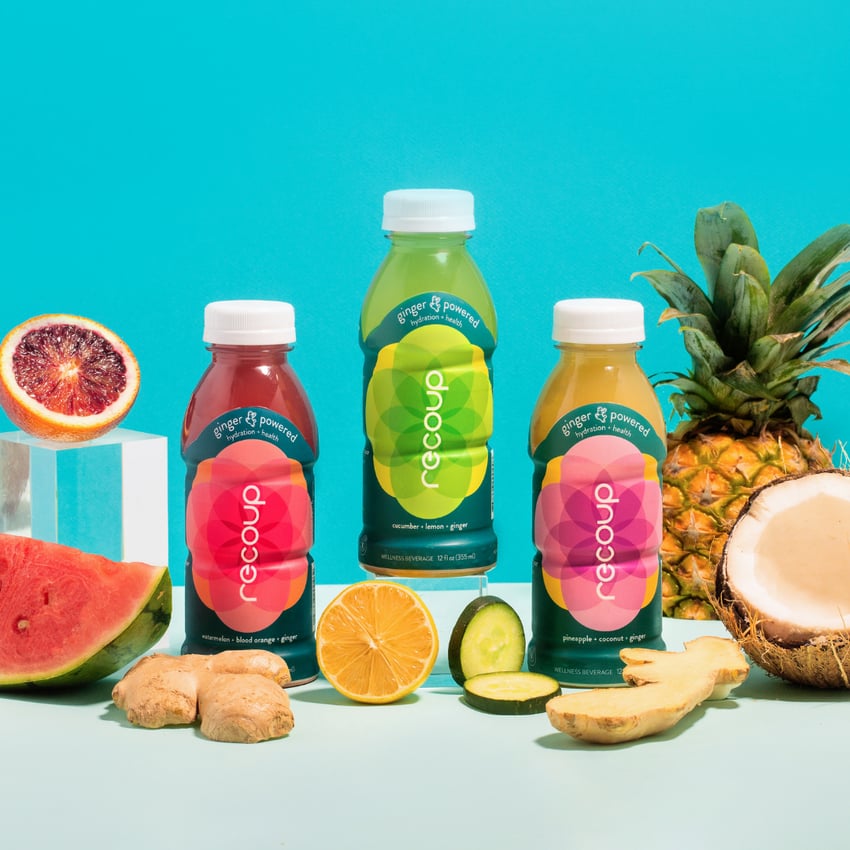 Through starting the business, have you learned anything particularly helpful or advantageous?
Siwat: One of the greatest lessons I've learned since starting Recoup is that as an entrepreneur you really need to be comfortable with not having all the answers all the time. At least, in the beginning, it's ok to not have all the answers as long as you're taking all the necessary steps to figure out the answers. That's progress!
I once heard an entrepreneur shared this statement with me "an inch or a yard." He told me that he has this statement hanging in his office. There will be days when you've progressed only an inch and other days when you've progressed a yard or even more. Progress is progress and you should be happy with what you've been able to accomplish so far.
I really appreciate this quote "We do our best when our destinations are beyond the "measurement," when our reach continually exceeds our grasp when we have immortal finish lines. When we do this, the race is never over. The journey has no port. The adventure never ends because we are always on our way. Take the lid off the man-made roofs we put on ourselves and always play like an underdog." - Matthew McConaughey.
What platform/tools do you use for your business?
Susan: We use several tools in our marketing ecosystem. Our website is hosted on Shopify and we use Klaviyo for our newsletter, Secomapp for an ambassador program, Judge.me for reviews, Quick Announcement Bar for banners, Pagefly, and Azeko for page formatting.
My favorite is Canva which allows you to easily create social posts, brochure templates, and other visual content.
What have been the most influential books, podcasts, or other resources?
Susan: Siwat has so many great recommendations, we actually wrote a blog post about it. My podcast favorites are How I Built This, and Entreprenista, a female entrepreneur-focused podcast started by inspiring co-founders Steph Jill Cartin and Courtney Spritzer. A foundational book on how to build a company culture is The Method Method.
Siwat:
Advice for other entrepreneurs who want to get started or are just starting?
Siwat: Having an idea is not enough. You need to have something to show, something tangible for people to use, to try, to test, and get feedback. I think the best advice I can give to anyone who is looking to start something is to figure out the fastest way to get from your idea to something tangible. It doesn't have to be perfect or pretty but you need to have something tangible.
Susan: Find partners that can help you along the way. Having a co-founder was an unlock for me to be able to bring my ideas from the idea stage to market. We often reach out to our friends in the industry for advice. Having mentors with relevant experience is key.
Where can we go to learn more?
-
Susan Buckwalter and Siwat Siengsanaoh , Founder of Recoup Beverage, Inc.
Want to start your own business?
Hey! 👋I'm Pat Walls, the founder of Starter Story.
We interview successful business owners and share the stories behind their business. By sharing these stories, we want to help you get started.
Interested in starting your own business? Join Starter Story Premium to get the greatest companion to starting and growing your business:
Connect + get advice from successful entrepreneurs
Step by step guides on how to start and grow
Exclusive and early access to the best case studies on the web
And much more!
Together With Semrush
If You Don't Rank In Google, You Don't Exist.
In order to be successful, you need to be visible online. If you're not, then your competitors might be stealing customers from you.
Semrush lets you quickly create content that ranks, and compete with the biggest brands in your niche.
Try Semrush Free Today ➜