How We Started A $420K/Month Online Forms And Surveys Tool
•
Published: March 13th, 2020
Start An Online Form Builder
Hello! Who are you and what business did you start?
Hey, guys! I am Florin Cornianu and I am an entrepreneur. First things first, I must confess that I've been a bit reluctant to write these answers. It's not that I don't enjoy sharing my experience - I do - but I feel like the stories truly worth telling are already being told by the work, the teams I've helped build, and the value we bring to our clients. In any case, my colleagues at 123FormBuilder argued quite persuasively that I should open up to you guys, so I must oblige, and I will do so wholeheartedly.
I co-founded and am currently acting as the CEO of a growing SaaS called 123FormBuilder. In case you haven't figured it out by glancing over the brand name, our cloud platform provides users with the ability to build and publish any type of online form, streamline workflows and notifications, and, most importantly, easily collect and manage accurate data.
We are based in Timișoara, which is the most western city of the most eastern EU country: Romania. However, most of our users are based in North America. We have almost 100 employees, some of whom are working from Bucharest, Oradea, London, and other European cities.
123FormBuilder has well over a hundred thousand active users, ranging from school teachers, artists, SMBs, and NGOs to fully-fledged Enterprises, and they span almost every field imaginable.
The one idea that kept the headlines of our whiteboards when we started 123FormBuilder, about twelve years ago, turned out to be completely valid and is still fueling our growth efforts: everybody needs to collect and manage data.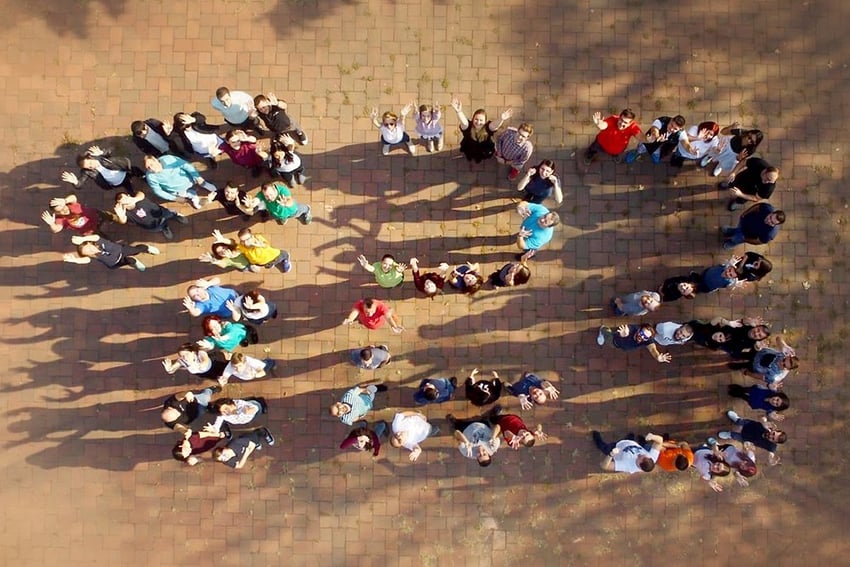 What's your backstory and how did you come up with the idea?
As a boy, I used to sell bell peppers at the local market with my nana. I have so many beautiful memories from back then, and I suppose that's where the original entrepreneurial seeds originated. During college, I used to work with Tudor (who eventually co-founded the company) on a myriad of web and software development projects that supplemented our survival-mode student budgets and kept us hopeful that one day we would be able to build a real internet company.
As soon as I graduated from college, I started working as a software developer for a multinational company, here in Timișoara. It was a truly great environment for that former pepper salesman and I learned and grew a lot, eventually earning a team leader position. However, it wasn't long before I felt the urge to build something from the ground up.
I didn't quit my job. Like most newbies, both I and Tudor became part-time entrepreneurs for a couple of years and experimented with a lot of ideas and projects that didn't quite hit the mark, at least not as well as we wished.
Build and keep the customer care team in-house. I cannot stress this enough: retention reflects how relevant and useful your product is but, once you have a good product, it is all about customer care.
Even so, it was early 2008 and we were bringing in revenue from three or four projects at the time so, when my employers offered me to take on a better position and more responsibility, I was faced with a big choice. Looking back, that is when it happened. That is when I consciously chose to become the entrepreneur I had always wanted to be.
It was not easy at all, especially since projects crashed and a few months afterward we were making less than a fifth of the money our employers had been paying us, but we were extremely enthusiastic and kept working 12, 16-hour days. Our breakthrough came thanks to an early, yet promising script that began to bring in paying users.
People were paying monthly subscriptions to use our contact form builder.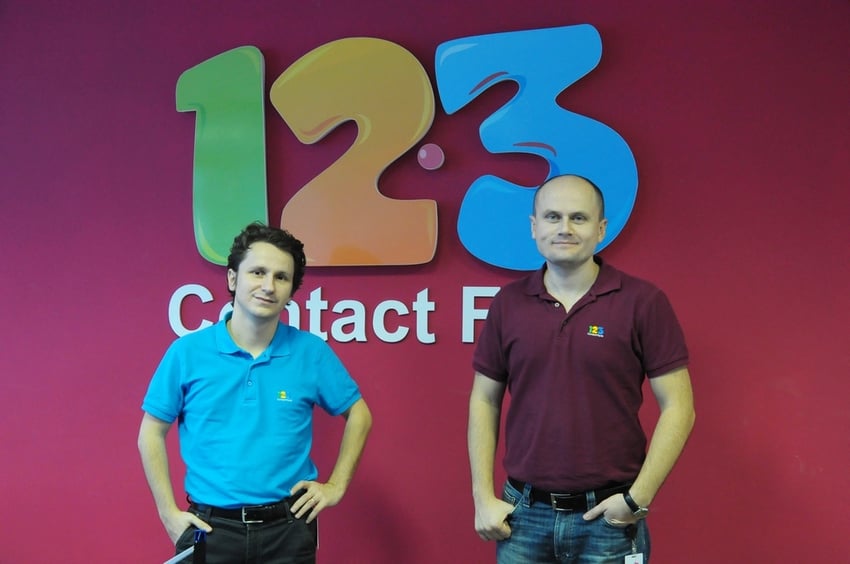 To sum it up, alongside Tudor Bastea, I founded the company in 2008.
Five years later we broke the $1M annual recurring revenue (ARR) mark.
Hold on to your trousers, though. It didn't just happen. Many incredibly talented people made it happen and many more pros helped us bring 123FormBuilder to where it is today.
Take us through the process of designing, prototyping, and manufacturing your first product.
This one is as simple as they get: we had identified an actual necessity in the market, and, at least at first, we designed it to work at the level of our particular expectations from such a product. We created the product we wanted to use. Needless to say, we had truly high opinions about our critical-thinking abilities.
The goal? A user-friendly form builder that anyone could use to collect and manage data. How hard can it be?
A hundred or so iterations later, I can safely say that it is not as easy as we thought. Nonetheless, that initial string of code that started bringing in customers, I must confess, did not take that much time to write.
Describe the process of launching the business.
Come to think of it, I don't believe we've ever had an official launch, but here is one thing that begs to be mentioned: the product and company were initially named 123ContactForm. We went through a rebranding process in 2017. The immediate drops in traffic and adoption rates were a real spook, but that's a story for another time. All in all, we recovered and started seeing positive results in no time.
I realize now that we didn't go through the standard phases of a SaaS start-up. Nonetheless, in 2015, after breaking that elusive $1M ARR milestone, we attracted a $1M round of investment from a Bucharest-based investment fund called 3D Capital. Marius Ghenea, who made the investment possible, is now a treasured member of our board and we have a lot to thank him for in terms of our achievements during these past 5 years.
So, no launch, just sustained growth, my friends. From zero to over a hundred thousand users in one decade. Steady as she goes.
Since launch, what has worked to attract and retain customers?
I could go on and on about the processes that were involved but, frankly, at least in the first few years, our success was rooted in a lot of trial and error. Even though we were making money, by 2010, Tudor and I realized that, if we were going to build a real internet company, we needed to bring in people who know a lot more about internet business. The enthusiasm hadn't faded away, we were perfecting the product to best fit our users' requirements but, business-wise... we were in over our heads.
It was 2010 when we met Adrian Gheară, our late founder, who put us on the right track. When Adrian joined the company, it was a true turning point for 123FormBuilder. It was our a-ha moment. We made a lot of changes but most of them were related to our entrepreneurial mentalities. Retrospectively, here are the main four things that we did to consolidate our growth:
A market-centric, data-driven approach to product design and product marketing. Instead of only looking at the needs of our current users, which were, surprisingly, coming in organically, we started researching the market thoroughly, understanding our competition, and tweaking our products and services to open up new opportunities for our company.
A solid channel partnership strategy. Salesforce, Wix, WordPress, these are all incredibly entrepreneur-friendly platforms that would allow us to compete in their app. Fair enough? Marketplaces bring our services closer to the users that most needed them, while not spending a fortune on advertising. If we were doing our jobs properly, our users' reviews would propel us to the top. And they did.
Aggressively reinvesting our profits. Apart from a couple of salaries that would allow us to live decent lives, I and Tudor started pouring every single cent back into the business. I still drive a ten-year-old, anything-but-glamorous sedan, by the way. We knew it had to be done, of course, but 2010 was when we decided that it completely stops being our cash. It is the company's capital, and this simple switch in mentality changed everything for us.
Build and keep the Customer Care team in-house. I cannot stress this enough: retention reflects how relevant and useful your product is but, once you have a good product, it is all about Customer Care. Availability and resolution times are key in the case of the latter. Sure, we can explore further retention tactics that go as far as to delight and evangelize the user, but proper Customer Care is the foundation of an awesome relationship with your paying customers.
Many of our ex-employees have started their own businesses and I am so, so happy to have been part of and to have contributed to their journeys.
How are you doing today and what does the future look like?
We still have big plans for 123FormBuilder. Relying on a stable, fully mature Customer Care team, we are now concentrating more on our efforts toward improving our product and attracting customers that would push 123FormBuilder to the limit. It is a joy to see how much use these companies can pull out of our platform. From HR operations to field data collection and everything in between, the proper information reaches the appropriate pros, precisely when needed.
In any case, some of the most satisfying results originate in the SMB wing of our platform. Let me show you what I mean. This is an excerpt from one of our user reviews, fresh out of the oven:
"I have been looking for a way to integrate Events and tickets into my website for all of the art events we host every week. Every place I have looked either requires me to use their website instead of my own, or doesn't have all the features I want, or has broken aspects to them. I first didn't look at 123FormBuilder because I thought it wouldn't fit my needs. But I started looking into it, and lo and behold, I can customize things to make my own Events pages and ticketing system. And the Premium account costs less per month than I would be paying on all of the ticket fees. We have hundreds of customers every month, which means at least $1, if not more, for ticket fees per person. That means I am paying hundreds of dollars a month for a ticketing system. But with this software, I can get it done for a flat fee of about $45 per month. And I have more customization options. Very pleased."
I guess disrupting the online event ticketing market is a byproduct of our business acumen. Hehe, who would have thought that a notification automation feature and a few payment gateway integrations can do so much damage?
As for the future, I am just looking forward to seeing more reviews like that.
Through starting the business, have you learned anything particularly helpful or advantageous?
It has been quite the ride, guys. I am not going to bore you with inspirational stuff, but I will tell you this: My job as a CEO is to bring in people that are a lot better than me at their jobs and provide them with the resources and the environment to thrive.
Many of our ex-employees have started their own businesses and I am so, so happy to have been part of and to have contributed to their journeys. I have been lucky enough to meet and hire truly talented pros and they have taught me a great deal about both community and business.
It is safe to say that I have grown along with my teams and my business.
What platform/tools do you use for your business?
We use a fair deal of tools to get through our daily tasks. We use the Google cloud suite for all the office stuff like email, calendars, docs, video conferencing, etc. The Ahrefs SEO toolbox has also been particularly helpful. We use Slack for internal real-time communication and we collaborate and keep track of everything through Atlassian's extremely useful Confluence and Jira apps. HiBob has also been popular with our crowd, as sort of an online HQ.
Anyhow, we are open to suggestions.
What have been the most influential books, podcasts, or other resources?
There is a lot of incredibly useful literature out there, and I imagine a new groundbreaking book exits the printing press every quarter, but I will stick to only three eye-opening titles that have brought value to my perspective when I most needed it:
Scaling Up by Verne Harnish. This tightly written book completely changed my perspective on business efficiency. It helped me reevaluate and nuance my approach on HR, allowing me to get closer to and ultimately consolidate my teams; it helped us simplify our strategies in clearer, more relatable terms; it tightened and brightened our research and development processes, and it smoothed out the way to a more sound and relaxed business environment within the company.
Lost and Founder by Rand Fishkin. It helped a lot to see that others also struggled to move the needle. You know, there are books out there that, to you, will mean much more emotionally than in educational terms. I am not saying that Mr. Fishkin's book is not insightful. It is, but it was truly valuable to me because it helped me push through my frustration and persevere.
Topgrading by Bradford D. Smart. This one is a goldmine for recruiting tips & tricks. Wanna build those awesome teams? There's your starting point.
Advice for other entrepreneurs who want to get started or are just starting out?
My advice? There is no universal recipe for success in business. You need to try your best to push the business forward. You will fail most of the time. But don't despair, a small part of your initiatives will bring value. If you manage to adapt, if you manage to overcome the daily challenges, you will move the needle. Time and again.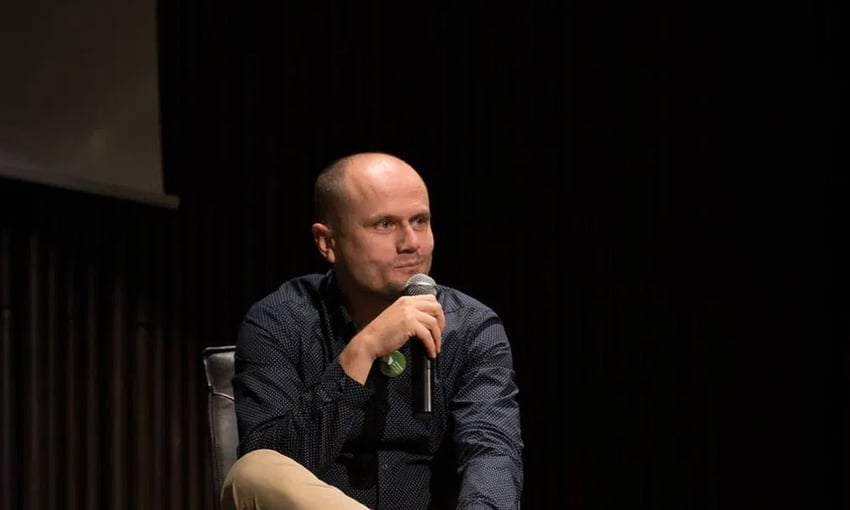 Are you looking to hire for certain positions right now?
We are constantly looking for new talent, so do not hesitate to drop us an email. My colleagues in HR tell me that there are a few open positions that they want me to tell you about. They are all listed on our careers page.
In any case, our recruiting patterns do not stick to whatever positions open up at certain times. If you want to work with us, we might be able to find a spot for you, if not immediately, at some point in the near future. Drop us an email.
Where can we go to learn more?
-
Florin Cornianu, Founder of 123FormBuilder
Want to find more ideas that make money?
Hey! 👋 I'm Pat Walls, the founder of Starter Story.
Get our 5-minute email newsletter packed with business ideas and money-making opportunities, backed by real-life case studies.