Business Networking Event: What Is It And Why Should You Attend?
•
Updated: September 30th, 2022
Business Networking Event: What Is It And Why Should You Attend?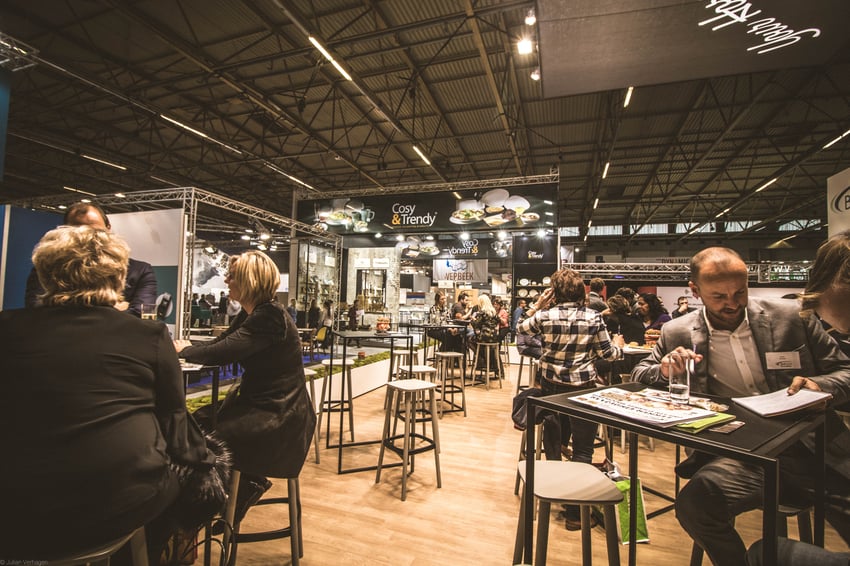 What Is A Business Networking Event?
Networking event refers to social or economic activity where entrepreneurs meet with intention of forming business relationships, recognizing, creating, or acting upon business opportunities.
As an entrepreneur, creating connections and putting your brand out there is critical to the success of your business.
Attending a networking event you will meet like-minded people, exchange a business idea or two, and leave knowing you brought your brand some exposure.
Networking events could provide you a once in lifetime opportunity or connection that could take your business to the next level.
Business Networking Event Key Takeaways
Networking events give entrepreneurs a chance to hone in their business mission and vision
The first-hand connections you make at the networking events is incredibly important
Attending a networking event provides you a platform where you can shut down any negative voices about your brand
Understanding How Business Networking Events Work
No matter how big or small your business is, as an entrepreneur you need to attend networking events. By attending industry-relevant networking events, entrepreneurs, get a chance for communicating with other like-minded and motivated people.
Essentially, by attending a networking event or conferences you could acquire the tools required to ensure your business is successful.
It is through meeting business leaders that owners of startups can gain inspiration and learn about the industry. However, turning up to a networking event is not just enough. You must put in as much effort as possible by talking to as many people as you can.
During the networking event, collect as many business cards and remember to follow up with your new connections via email or a phone call.
Real-World Examples Showing why Networking Events Matter to Entrepreneurs
1. James Fallon
James Fallon is our first example of how networking events can help entrepreneurs.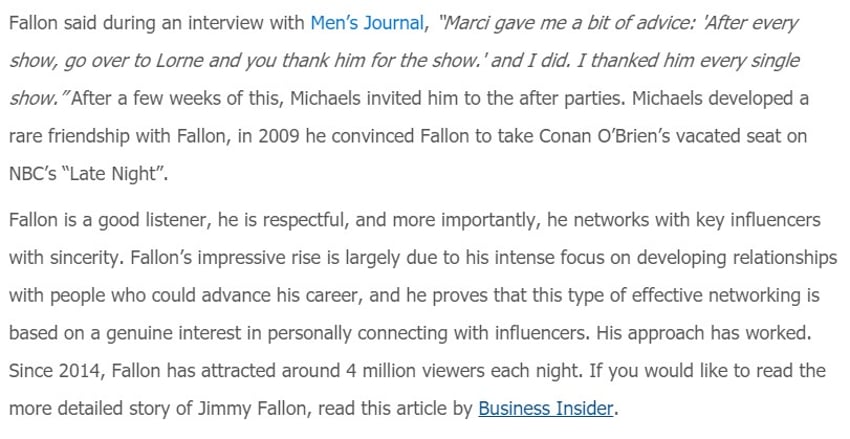 The talented comedian had networking skills, setting him apart from the other struggling comedians.
For James, being successful in the entertainment field depends not only on marketing yourself but also, how well you connect with the people who matter.
According to business insider, Fallon's rise is due to his focus on networking with people.
2. Eloqua
Eloqua marketing automation and intelligence platform, was sold to Oracle in 2012, a deal, which saw the owners pocket up to $871 million in 2012.
According to Entrepreneur, the entire deal went through seamlessly because Paul Teshima, Eloqua co-owner, had built strong, shared relationships with the people at oracle.
Owing to the great networking skills, Eloqua was purchased for more than 200 percent of its estimated public market value.
How To Get Started With Business Networking Events
Find upcoming potential networking events where you can make connections
Take time to define your networking goals

Know your worth
Identify conversational icebreakers
Bring a friend to the professional event
Focus on strategies for overcoming introversion, so that you are ready to speak to strangers
Remember to collect business cards and share contacts
Find a reason to follow up so that you keep the relationships going
Entrepreneurs can make use of different tools to find local and international networking events. Examples include Lets Lunch and LinkedIn.
LinkedIn
A business- and employment-oriented social networking service that operates via websites and mobile apps.
Businesses using LinkedIn:
592 successful businesses are using LinkedIn ➜
Contributors
Contributors to this article:
Pat Walls, Founder @ Starter Story
Samantha Walls, Head Of Content @ Starter Story
David Gitonga, Writer @ Starter Story
Want to start your own business?
Hey! 👋I'm Pat Walls, the founder of Starter Story.
We interview successful business owners and share the stories behind their business. By sharing these stories, we want to help you get started.
Interested in starting your own business? Join Starter Story Premium to get the greatest companion to starting and growing your business:
Connect + get advice from successful entrepreneurs
Step by step guides on how to start and grow
Exclusive and early access to the best case studies on the web
And much more!