On Starting An SEO Content Agency & Platform
My name is Mike Leonhard and I run Compose.ly.
In a nutshell, Compose.ly is a premium content creation agency that strives to help businesses develop and execute their content strategies by matching them with vetted, industry-expert freelance writers. We have the honor of producing content for businesses both large and small and from across a wide variety of industries. Since our modest beginning in 2018, we've managed to create content for notable blue-chip companies like Atlassian, Avvo, Dolby, Mailchimp, Pacific Life, and WebMD.
Our dedication to creating highly engaging, SEO-friendly content helps deliver tangible ROI for our clients by driving traffic, leads, and better search engine rankings for their businesses. For instance, we created highly optimized blog content for the education curriculum company Caduceus International Publishing—within just eight months, its total organic ranking keywords increased by 265%.
And that's just one example! We're incredibly excited and proud to report successful results for many industries and verticals, like SaaS and B2B audiences. In case you'd like to see more of our work, you can check out Compose.ly's case studies.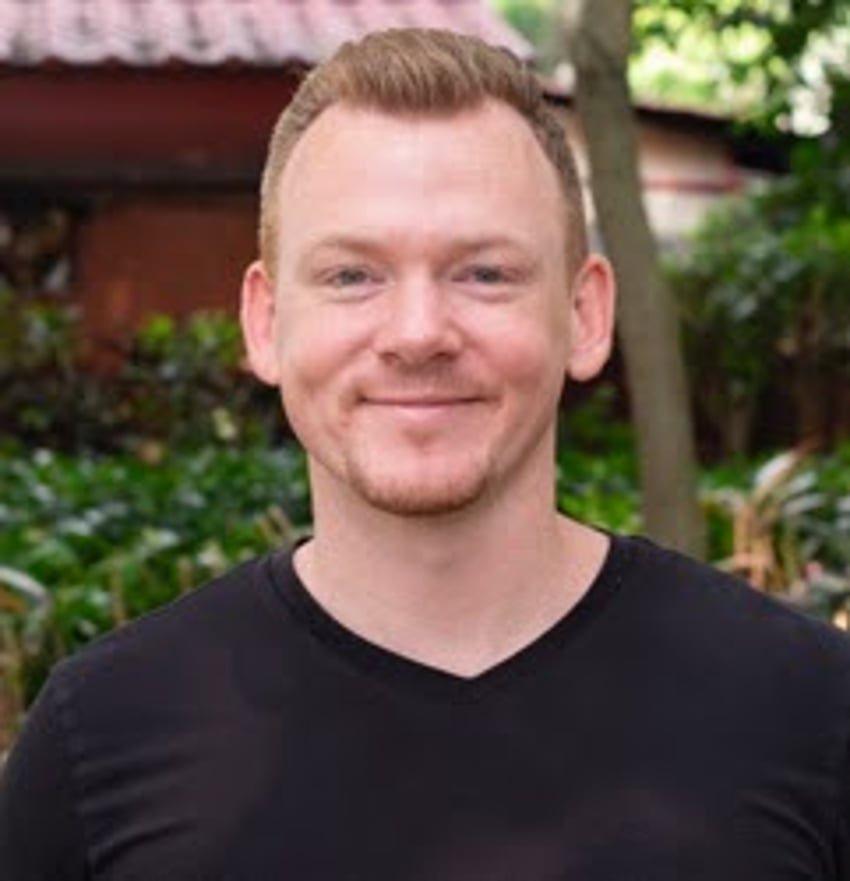 What's your backstory and how did you get into entrepreneurship?
After graduating from Carnegie Mellon University with a degree in Information Systems, I joined Accenture as a consultant, where I worked mainly with telecommunications companies. The "big company" environment and experience helped me to understand the value of scalability and process creation/improvement—but I was left feeling like a small cog in a huge machine. Simply put, I wanted to see my efforts impact the bottom line.
In 2008, I joined a small mobile accessories company based out of Asia that was looking for help building its business in the U.S. It was a big move from Accenture: I was brought on as the President of its Americas business and responsible for expanding the brand into a whole new continent. I started out working on a kitchen table and packing customer orders right in my living room.
Fast forward two years, and we had grown into a $40M annual business with major customers like Apple, Amazon, AT&T, and BestBuy. There were many mistakes along the way, but it was the most challenging and satisfying learning experience I've ever encountered.
Later on, in 2018, my longtime friend and colleague reached out to me about an idea that piqued my interest. He had been building SaaS businesses for years and a key part of his success revolved around building high-performing content marketing teams to drive leads to his businesses. The idea was to turn this into a service for other companies, large and small, to help them effectively outsource and execute their content marketing strategies.
I was hooked. I flew out to meet him, we hashed out the business plan, and we were off to the races!
Take us through your entrepreneurial journey. How did you go from day 1 to today?
Compose.ly started with a small team of content enthusiasts and our first challenge was determining how to assemble the best community of content writers possible. After finding a talented pool of writers, our core focus was creating a system/process for the writers to develop SEO-friendly content that adhered to writing best practices.
Don't be afraid of getting feedback and criticism from others. Actively seek it. You need to leave your bubble to get valuable feedback.
We quickly realized that balancing our writer community with the demand for content from our clients was going to be a huge challenge. We modified our recruiting process to align with our demand for content and were able to keep a great community of expert writers to service our growing list of clients needing content.
How are you doing today and what does the future look like?
That's an interesting question given the context of everything going on right now.
A few months ago, during the U.S.'s first major outbreak of COVID-19, things looked uncertain for Compose.ly. A number of our clients needed to scale back their spending due to the pandemic's economic toll—a business decision that I completely understand as a reflex to cut costs. But the reality is: a crisis like COVID-19 makes content marketing more important than ever, especially if you want your company to stay relevant and continue engaging with customers.
Persuading companies of content's importance was our biggest challenge in light of the pandemic, and needless to say, it was a rough but eye-opening time for Compose.ly. Like many other businesses, we were forced to take a closer look at our strategy and hone in on how to better communicate our value.
I'm extremely grateful to say that we survived that initial setback. Business is now better than ever.
Though some businesses pulled back from content creation, others went full-force—and for good reason. Apart from making it harder for businesses to use traditional marketing methods, the coronavirus pandemic highlighted the urgency of creating a strong web presence. This trend was ongoing even before the onset of the pandemic, of course. Thanks to the internet and widespread use of smartphones, content and digital marketing have virtually become indispensable. More than ever, brands need content to drive brand awareness, especially eCommerce businesses that never had a physical presence, to begin with.
I'm happy to share we've never had a better pipeline of customers and have doubled our overall revenue in less than 4 months. Of course, we don't take anything for granted. 2020 has been a whirlwind; looking ahead, we are cautious but optimistic about our plans to continue expanding Compose.ly.
Through starting the business, have you learned anything particularly helpful or advantageous?
Every stage of business comes with its challenges, whether you're just starting with 1-5 people, expanding to hire in the double digits, and so on. Along the way, I've learned this simple fact: the hurdles and roadblocks never stop.
You may think that once you've reached a certain point, Problem X will disappear for good—but not so fast. There's a chance it'll return in another form, or will simply be replaced by Problem Y or Z. In any case, there's no specific point or juncture where your company will magically become successful. Problems are destined for every step of the way.
Discouraging as they may be, I've learned the value of reframing my mindset to welcome these challenges. I embrace them as another sign of growth and more importantly, an opportunity to learn.
The challenges specific to Compose.ly have revolved around finding out how to balance the needs of everyone we serve. To clarify, Compose.ly is a service and platform for connecting businesses with professional writers. Both halves of the equation—our business clients and writers—are equally important. Initially, however, we struggled to balance their competing needs. For instance, early on, we had many talented writers using Compose.ly but simply not enough client work to offer them. Conversely, we struggled when we needed to rapidly scale our operations to accommodate an influx of new customers or huge projects.
The biggest takeaway here: the importance of forecasting and predicting the volume of new business. We've since learned from this challenge and are continually adapting to meet both our client's and writers' demands.
What platform/tools do you use for your business?
Where to begin? We use a wide variety of tools, and I'm happy to share our favorites:
CRM: HubSpot
Processes and Documentation: G Suite, particularly Google Docs and Sheets
I highly recommend taking advantage of tool integrations so you can consolidate all of your processes and maximize your productivity. For instance, you can connect Slack with your Google Calendar and Zoom accounts—it's a fantastic way to reduce the amount of time toggling between separate apps or browser windows.
What have been the most influential books, podcasts, or other resources?
Here are three of my favorite books:
The first two are specific to business and focus on how to grow a successful company. They've got a valuable insight into running an organization efficiently and building a cohesive team and culture—a must-read for anyone looking to understand the drivers of sustainable business growth.
As for the third book, I recommend How to Win Friends and Influence People to any and everyone, regardless of your entrepreneurial interests. I don't necessarily agree with or support all of Carnegie's tips, but there's a lot of wisdom in his underlying principles about human relationships.
Advice for other entrepreneurs who want to get started or are just starting out?
There's a lot that I'm still learning every day. However, to anyone just starting or interested in testing the entrepreneurship waters, here's what I've found most helpful:
Use data-driven decision-making whenever possible. Avoid letting only emotion or personal preference guide your thinking. This applies to major business decisions like what new products or services to offer, as well as smaller decisions like what works best for your email subject line. Conduct A/B testing and research to support your decision-making process.
Don't be afraid of getting feedback and criticism from others. Actively seek it. You need to leave your bubble to get valuable feedback.
Maintain a constant dialogue with your clients and listen closely. Doing so will help you learn not only how to better satisfy them, but to thrill them.
Find people from different backgrounds, styles, and perspectives. At the expense of sounding cliche, our differences make us stronger. A like-minded team may be cohesive and get along well, but it'll suffer from a tendency to groupthink.
On a similar note, build a team of entrepreneurs. Encourage your team to think creatively rather than within the bounds of what's already been done. After all, your company's potential to create and innovate is nothing without your people.
Where can we go to learn more?
We've also got a lot of helpful content geared toward business owners, digital marketers, as well as freelance writers on our blog.
-
Mike Leonhard, Founder of Compose.ly
Want to start your own business?
Hey! 👋I'm Pat Walls, the founder of Starter Story.
We interview successful business owners and share the stories behind their business. By sharing these stories, we want to help you get started.
Interested in starting your own business? Join Starter Story Premium to get the greatest companion to starting and growing your business:
Connect + get advice from successful entrepreneurs
Step by step guides on how to start and grow
Exclusive and early access to the best case studies on the web
And much more!