Thank you Klaviyo for sponsoring Starter Story ❤️
Turn one-time buyers into repeat customers. Try the platform loved by 265,000 brands
These Co-founders Met On Reddit And Started A $4K/Month Plastic-Free Spring Salt Business
Start A Spring Salt Business
Hello! Who are you and what business did you start?
Hey all! My name's Steven Petrillo and I'm based out of Washington, DC - my partner, Josh, and I run OnlySalt.co. We met via Reddit as I was looking for a brand identity designer and, fun fact, we've never actually met or seen each other.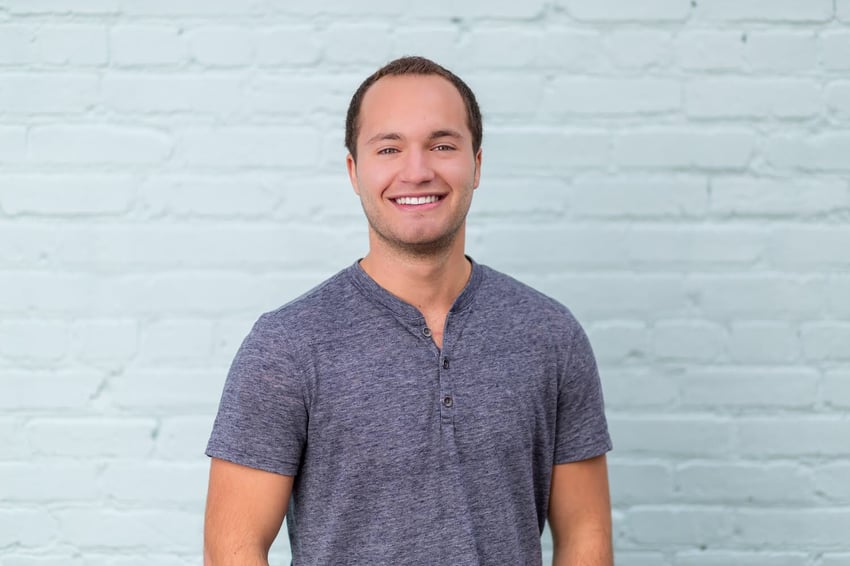 Did you know most of the salt we eat is sourced from polluted seawater and contains a nasty cocktail of microplastics and other toxins? Most don't. Our spring salt is hand-harvested from a pristine spring tucked away 10,000ft in the Andes Mountains - far from human pollution. Microplastic-free and toxin-free. Goodbye sea salt, hello spring salt.
We're a direct-to-consumer eCommerce company specializing in one product only - spring salt! Well, and handcrafted pinch bowls, for our spring salt.
We launched our first brand in June of 2020 and spent the next couple of months focused on getting feedback from customers for our rebrand. In December of 2020, we officially launched the new brand that you see today.
We did roughly $5k in sales with brand V1 - not quite something that'll pay the bills but it was enough to learn what we needed to learn about our audience. With the launch of our current brand, we shifted from DTC -> B2B and have done ~$20k in sales over the past two months, with another $30k partnership in the works.
What's your backstory and how did you come up with the idea?
After graduating college from the University of Maryland I started selling software for your typical San Francisco tech company. After just a few days I realized the next many years of my life would be working down a call list and selling a product I wasn't passionate about. So I quit.
Like most founders on here, I always knew I wanted to start my own business and figured, hey, if I'm going to do it I might as well do it while I'm young. I'd rather spend my early years pursuing my passions and learning than being a cog in a machine working solely for a paycheck. And if it ends up failing I really don't have much to lose.
At this point, there were a couple of things I knew I was passionate about. Traveling, consumer products, food, and eCommerce. I spent the past couple of years traveling around the world in short stints, and every country I visited had tons of amazing, artisanal food products that haven't really been introduced to America.
America is one of the few countries around the world that's dominated by low-quality processed foods and has no emphasis on quality food and ingredients. Corporations dominate and small artisan producers are almost nonexistent… I was determined to take one of these small-batch, high-quality products and introduce it to America.
I started thinking about the products I've seen on some of my trips and kept circling back to the salt ponds I stumbled upon during a solo trip to Peru. The local community of Maras has been harvesting salt using the same processes as they have for hundreds of years. And the quality of the salt is unlike other varieties - it's one of only a handful of places on earth you get salt produced from spring water. Everything about it was spectacular and decided I'd test my luck at introducing spring salt to the American market.
I knew to sell a commodity like this it'd need to have a very, very strong brand. I took to Reddit to find a brand identity designer. After around 20 different interviews I met my co-founder Josh. He was by far the best designer of the bunch and fortunately he was just as excited and passionate about branding spring salt as I was. He came on as a freelancer and within a few months became my 50% partner.
Partnering with subscription boxes has been a game-changer for us.
So, in October of 2019, we started building the company. Neither of us had any previous experience in eCommerce or anything at all like this. All we had to work off of was a plastic bag of spring salt and the question of 'okay, now how do we sell this?'
Take us through the process of designing, prototyping, and manufacturing your first product.
It took us 8 months of constant iterations to finally launch our trial brand in June of '20. Unlike a lot of other companies, we didn't have too much to do on the product side. Spring salt is salt, we just needed to decide how to package it and other logistical things. 80% of our time during these months was spent designing the brand.
Most salt companies around are fairly boring. There's no life or excitement injected into any of them - they're all sold in pourable or grindable containers. Meanwhile, any respectable cook always pinches and tosses their salt. We decided to embrace pinching by selling our spring salt in packets designed to refill pinch bowls.
For the first brand, we put a large emphasis on social sustainability - giving back to the community of Maras, Peru. We soon realized that social sustainability is something people 'care' about when you ask them, but behind closed doors, most aren't actually willing to pay a higher price because of it.
Pinch Bowls: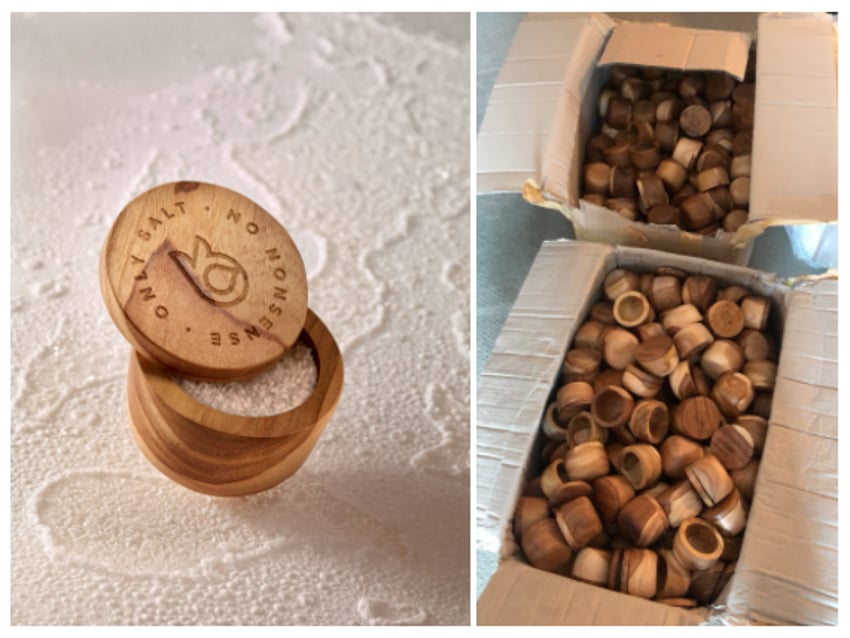 We spent the first few months looking for manufacturers within the US that could produce these small bowls. We ended up working with a CNC company up in Rhode Island whose owner really liked the project. He made a couple of different designs for us (design 1, design 2) but we ultimately decided to go the minimalist route - a bowl with a lid. Two months later we were ready to place an initial order with them for 1000 units and had them send over the final version. Needless to say, we couldn't in good conscience sell that quality of the product.
Immediately after receiving that sample, we realized these bowls aren't something that could be feasibly made in America nor on a CNC machine. We decided now was a good opportunity to bring business back to artisans around the world - we expanded our search for wooden pinch bowls.
A few weeks later we had samples from artisans in many different countries - Guatemala, Serbia, Kenya, India, Pakistan, and Indonesia. Ultimately we found a small artisan community in Indonesia that produced a phenomenal quality pinch bowl handcrafted from teak wood. We immediately knew those bowls were perfect for our brand. Four long months later we finally got our first batch of 500 pinch bowls. They arrived with the lids separated from the bowls and took multiple days trying to match them back together. We now make sure all bowls are secured during shipping!
Packets: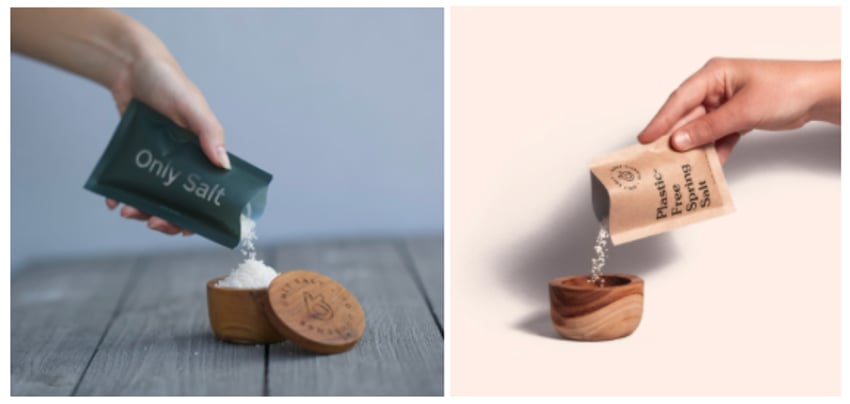 We spent a few weeks looking for manufacturers of stick packs that had a low enough MOQ for us to do a limited run. And thanks to a fortuitous random connection on Reddit, we were given the info of a company that was exactly what we needed. They've been phenomenal and have given us the creative freedom to do whatever we wanted to do with the brand. We shifted from plastic packets from the first brand to 100% compostable packets with the new brand.
Describe the process of launching the business.
Once we finally had all the packaging in our hands and our first website designed, we were ready to launch. Like any fledgling business we immediately took to friends, family, and Reddit to get that first influx of sales. People tended to love the salt once they got it in their hands, the hardest part was figuring out the why that resonated most with people. We spent the next few months after the launch collecting feedback from customers. We realized that microplastics were by far the most memorable component of this first brand, so we decided to rebrand to focus on that component.
One of the biggest things we learned is to get the product in front of people as early as possible and talk to each customer.
All said and done, it took around $35k to get the business up and running and have some leftovers to try our luck with marketing.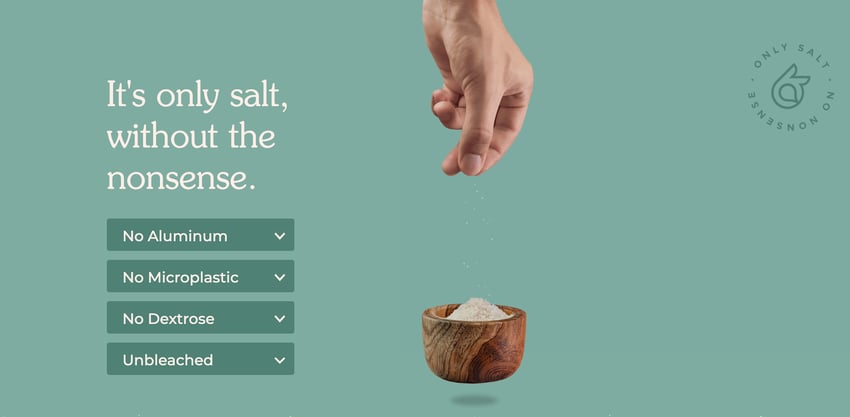 Since launch, what has worked to attract and retain customers?
Since launch, we've been trying to hone in on a marketing strategy that'll work with us. We tried a direct mail campaign and sent a postcard to a few thousand homes in DC -
with no success. We tried our hand at FB/Instagram ads ourselves and brought on a digital marketing firm - with no success. Had 20-30 "influencers' post about us - with no success.

See above screenshots of the postcards we sent to homes in DC
We're realizing that when you Google "how to market your business" you should probably do the exact opposite as what the results say. If everyone else is doing it, it probably won't work.
As soon as we shifted our strategy to some more unorthodox marketing ideas, we started seeing success. Partnering with subscription boxes has been a game-changer for us.
How are you doing today and what does the future look like?
Today we're still trying to figure out what audience really resonated with our spring salt and how to effectively market to them. We've also had a few opportunities to go into retail stores but we aren't convinced just yet that skewing away from eCommerce is the best route to go.
Haven't yet hit a point of profitability as we're still trying to find our footing. Hard to answer this question since everything has been so volatile and spontaneous since we launched!
Through starting the business, have you learned anything particularly helpful or advantageous?
We've learned tons along the way. I'd say one of the biggest things we learned is to get the product in front of people as early as possible and talk to each customer. There's a lot of decisions to be made that sound good in your mind, but at the end of the day, the customer knows best. You're not building a product for yourself, you're building it for someone else.
What platform/tools do you use for your business?
We're currently built and hosted on Webflow. Anybody launching an eCommerce site will preach Shopify. We spent months and months debating whether or not we should make that switch to Shopify but ultimately we stuck with Webflow purely for design freedom. Shopify is fantastic on the backend but you're more or less stuck with cookie-cutter themes or hiring a developer to produce something custom. With Webflow we're able to build a phenomenal site but without the bells and whistles of Shopify's backend.
Other than that, we use Shippo for shipping. Slack for daily communication. We're a pretty 'tool lean' operation.
What have been the most influential books, podcasts, or other resources?
Reddit! I can't even count the number of times I've had very specific questions that I'd spend days and days researching only to end up getting exactly what I was looking for from a stranger via a Reddit post.
Advice for other entrepreneurs who want to get started or are just starting?
Just do it! If you don't it'll be in the back of your mind forever and you'll always wonder what could have been.
Are you looking to hire for certain positions right now?
Actively looking for a marketing co-founder to join the team! Feel free to reach out if you're interested in what we're doing and think you could be a fit.
And quite honestly, anyone at all who's interested in being a part of what we're doing should reach out. Happy to build roles around the right people.
Where can we go to learn more?
If you have any questions or comments, drop a comment below!
-
Steven Petrillo, Founder of Only Salt
Want to start your own business?
Hey! 👋I'm Pat Walls, the founder of Starter Story.
We interview successful business owners and share the stories behind their business. By sharing these stories, we want to help you get started.
Interested in starting your own business? Join Starter Story Premium to get the greatest companion to starting and growing your business:
Connect + get advice from successful entrepreneurs
Step by step guides on how to start and grow
Exclusive and early access to the best case studies on the web
And much more!
PROMOTED
Did you know that brands using Klaviyo average a 95x ROI?
Email, SMS, and more — Klaviyo brings your marketing all together, fueling growth without burning through time and resources.
Deliver more relevant email and text messages — powered by your data. Klaviyo helps you turn one-time buyers into repeat customers with all the power of an enterprise solution and none of the complexity.
Join Brumate, Beardbrand, and the 265,000 other businesses using Klaviyo to grow their online sales.
Together With Klaviyo
Companies using Klaviyo see a 95x ROI (yes, 95x)
Use Klaviyo to turn hard-earned customer data into hard-working emails and texts.
Try the platform that 265,000 brands use to grow their business.
Try it now (it's free) ➜