How Leading Brands Work with Loyalty Partners
How Leading Brands Work with Loyalty Partners
Result
Trust & Credibility
Cost Details
The ongoing cost of a loyalty partnership program varies, however it is generally very affordable
What Is A Loyalty Partnership Program?
Loyalty partnership marketing provides customers with rewards through partner websites if they complete the desired action.
The desired action could be anything from a customer signing up to your email list, purchasing a product or service, or doing a free trial. The reward is typically a partner brand discount or freebie.
This approach allows you to partner and to connect with another brand, which will overall improve customer retention.
Loyalty Partnership Program Key Takeaways
75% of consumers will favor a brand if there is a loyalty program that rewards members.
According to Clarus commerce, 90% of consumers would likely choose a retailer where they hold a premium loyalty membership over retailers offering lower prices.
More than 90% of companies have some sort of loyalty program.
Understanding How Loyalty Partnership Programs Work
Loyalty partnerships come in several forms. Generally, the loyalty partners are often websites, applications, or companies that actuate potential consumers with a reward for taking the desired action.
The actions that lead to a reward could be a sale, accepting a free trial offer, signing up for an event, filling the contact form, and other valuable actions.
Just like the rewardable actions differ, the rewards offered also vary. However, some common reward programs feature:
Cashback
Redeemable points
Special gifts and offers
Airline miles
College fund accounts
Gift cards.
By partnering with the loyalty sites, brands reach consumers in a specific market that may offer high-value returns to the brand.
Typically any brand can work with loyalty partners.
Due to the specific targeting found within the loyalty program, loyalty partners are quite effective in driving new customer growth.
This is especially since the loyalty partners leverage customer data in different ways.
As the brands work with loyalty partners, new strategies are formed that enable the loyalty partner to deliver a high number of customers.
Top Examples Of Loyalty Partners
Here are some of the popular loyalty partners available to brands looking to reward their customers through a loyalty partnership program.
Real-World Examples Of Effective Loyalty Partnership Programs
Here are cool examples of effective loyalty partnership programs for your inspiration.
1. How Cupshes Loyalty Program Increased Its Member Spend By 40%
Cupshe is a Swimwear brand providing suitable wear for people who want to live on the beach.
The brand wanted to reward the existing customers while increasing their revenue.
To enhance campaign reach, the brand community created a tiered loyalty program structure that complemented brand identity.
The loyalty program allowed members to progress across four tiers dubbed shore, sand, seas, and the sun. Cupshe partnered with LoyaltyLion and created a data-centric loyalty program.
The loyalty program led to a 40% increase in members' spending and achieved a 50% higher repeat purchase rate.
2. How Evy's Tree Saw 83x ROI And Significantly increased Repeat Purchases Through A Loyalty Partnership Program.
Evy's tree is a luxurious fashion brand. The brand wanted to increase its repeat customer rate, and choose a loyalty partnership program with Smile.io.
The loyalty partnership program is aimed at creating a sense of community around the brand with points.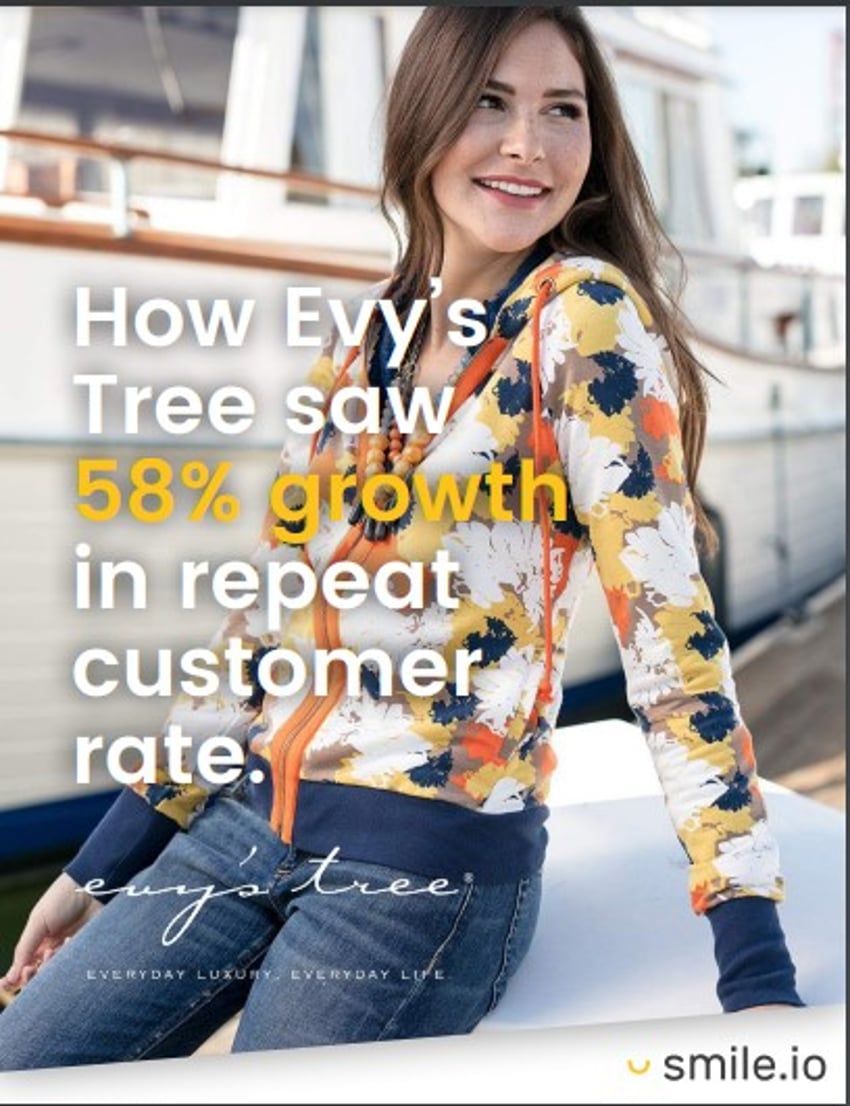 With the help of the loyalty partnership program, the brand has seen a 58% increase in customer rate growth.
For Evy's tree, the loyalty program gave their customers the tools to do the marketing for them.
How To Create An Effective Loyalty Partnership Program
A loyalty partnership program is one of the effective ways of encouraging customers to buy more and to maintain a long-term relationship. Here are important steps to guide into creating an effective loyalty partnership program.
1. Define Clear Goals
The objectives of your customer loyalty program should be clear.
Therefore, come up with the one goal that will have a huge impact on your customers when you introduce the program.
What do you want to change in terms of customer perception?
2. Focus On The Customer
The success of any loyalty program depends on your ability to focus on the customer.
Therefore, it's important for the brand and the loyalty partners to understand the customers and manage the loyalty program around what matters to the customer.
In addition, it is necessary to spot the target group and structure the loyalty program according to the identified group.
3. Utilize Customer Data
Loyalty programs allow the program partners to generate customer data.
The data may include consumer behavior and the overall wellbeing of the business. You need to analyze the needs of the customer based on the data you collect.
The marketers need to target buyers through popular channels and offer deals on recent purchases.
4. Meet Customer Needs
Once you identify the target customers and understand their needs, you then need to meet the needs. this means aligning the loyalty program with these customer needs. Effective loyalty programs align with what the customers want and the brand messaging.
5. Use Simple And Clear Rules
The customer loyalty program should be based on simple and easy-to-understand rules, with minimal restrictions.
Ideally, a simple customer loyalty program should encourage customers to participate.
You need to focus on the things you can offer consistently and avoid promising those you cannot sustain.
Conclusion
A customer loyalty program is one of the core tactical mechanisms for driving return sales and increasing your business revenue.
However, the approach for implementing a loyalty program depends on the business model and the competitive situation.
Loyalty partnership programs provide more opportunities for crafting the best applicable marketing method.
Contributors
Contributors to this article:
Pat Walls, Founder @ Starter Story
David Gitonga, Writer @ Starter Story
Ankita Ghosh
Want to start your own business?
Hey! 👋I'm Pat Walls, the founder of Starter Story.
We interview successful business owners and share the stories behind their business. By sharing these stories, we want to help you get started.
Interested in starting your own business? Join Starter Story Premium to get the greatest companion to starting and growing your business:
Connect + get advice from successful entrepreneurs
Step by step guides on how to start and grow
Exclusive and early access to the best case studies on the web
And much more!