The Six Step Guide To Creating Great List-Based Content
•
Updated: September 27th, 2022
The Six Step Guide To Creating Great List-Based Content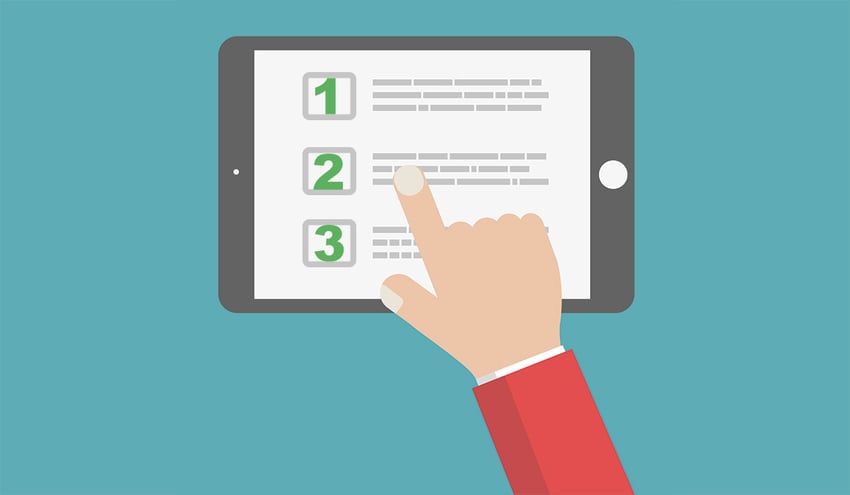 What Is A Listicle?
Listicle refers to a Short-form writing format that uses a list as its thematic structure. In a listicle, each item includes a few sentences or has multiple paragraphs. Ideally, listicles help marketers to present a large amount of information in small., easy-to-scan sections.
In this post. we share important updates relating to listicles, and explain why you need to consider creating listicle content.
Listicle Key Takeaways
A listicle is the most popular blog post format among business blogs
listicle format has been around for centuries
List posts can cover all kinds of topics
Listicles are a convenient way of presenting information in a bite-size portion
36% of readers prefer titles with numbers over other title types.
Understanding How Listicles Work
Listicles present information in a simple and easy-to-scan format. Therefore, listicles are a great option when you want readers to present your marketing content in a summarized manner.
With the average human attention span down to about 8 seconds, writing your content in listicle format can be a great idea. This is considering that using long-form blogs to catch audience attention, can be a difficult task especially when competing for attention.
Why Are Listicles Important In Writing?
Here are some reasons listicles are a great idea for your web content.
Listicles stand out from millions of blogs published every single day
Presenting listicles helps your audience to know what the content is about
Compared to other formats, listicles are easier to write
Listicles help content writers deal with information overload
Blogs written in listicle format are attractive to the readers
Real World Examples of Brands That Present Blogs In Listicle format
Here are examples of brands that have attained success by including listicles as part of their content strategy.
How Hubspot Delivers Easy To Read Content In Listicle Format
Hubspot's go-to content typically involves a list - and people love it.
They are able to accomplish their list-based content in a way where it is easy to read, but still full of information and data.
Here's a great example of an effective piece of content titled: "6 Secrets to Achieving Work-Life Balance, According to HubSpot Marketing Managers"
A few things Hubspot does really well here:
The title is clickable and captivating for any audience relating to this subject
The list is short and sweet: 6 interesting tips with a short description under each one
The insight provided is unique and different - not something you would see on every blog post on this topic
Opt-ins and related content suggestions are shown throughout the blog post. This has the reader clicking through the site and potentially providing Hubspot with their contact details.
How Nomadic Matt Uses Listicle Format To Keep Readers Engaged
Many readers love short and quick-to-scan content. Nomadic Matt uses listicles to present to outline specifically what the reader is interested in.
In this post, nomadic Matt intends to present a step-by-step guide. Using listicles, they are able to present go-to content that people love.
https://i.imgur.com/8UNvIlB.jpg
In this listicle, they ensure a clear breakdown, which attracts the target audience to the content. Besides, the title is short and encourages the audience to read.
How To Start Creating Listicles
Pick the right listicle topics
Do proper keyword research
Outline the content in points form
Number the list items
Add interesting images
Avoid creating clickbait headlines that don't deliver
New content marketing strategies are coming up almost on a daily basis. The only constant you need to put in mind is ensuring high-quality content. To ensure high-quality listicles, hire experienced writers on freelancing platforms such as:
Upwork
The largest freelancing website, where businesses connect with talented freelancers.
Businesses using Upwork:
320 successful businesses are using Upwork ➜
Fiverr
Freelance services marketplace at affordable costs.
Businesses using Fiverr:
292 successful businesses are using Fiverr ➜
Contributors
Contributors to this article:
Pat Walls, Founder @ Starter Story
David Gitonga, Writer @ Starter Story
Ankita Ghosh
Want to start your own business?
Hey! 👋I'm Pat Walls, the founder of Starter Story.
We interview successful business owners and share the stories behind their business. By sharing these stories, we want to help you get started.
Interested in starting your own business? Join Starter Story Premium to get the greatest companion to starting and growing your business:
Connect + get advice from successful entrepreneurs
Step by step guides on how to start and grow
Exclusive and early access to the best case studies on the web
And much more!