Thank you Klaviyo for sponsoring Starter Story ❤️
Turn one-time buyers into repeat customers. Try the platform loved by 265,000 brands
How We Created A $40K/Month 1-Click Integrations Platform
Create An Integration Platform
Hello! Who are you and what business did you start?
I'm Abhishek A Agrawal and I'm the founder of Integrately and CompanyHub.
Our first product was CompanyHub CRM - the world's easiest CRM. Most salespeople hate using CRMs because they are complex and time-consuming. CompanyHub is as easy as excel. They can do most of the things from a single page. It is ranked in top CRMs globally by G2, the leading software rating site.
Recently we launched Integrately - 1 click integration platform. Companies need to integrate different apps that they use for different purposes. But most integration platforms are very complex. Integrately provides ready integrations. So you can automate your processes in 1 click!
Integrately acquired approx. 1,500 paid customers within 1 month of launching the beta. This validated our idea that people are looking for an easy way to automate their processes.

What's your backstory and how did you come up with the idea?
I started with a friend in 2009. We both wanted to build a product based company. My friend suggested a product for static code analysis and we started working from our homes.
Choose a market that you understand well.
But we didn't have any business plan. We didn't know whom to sell and how to sell.
So after almost a year, he suggested that we can start a service business. This will give us income and experience both.
So we started a software services company with 2 developers and a small office in Jan 2010.
We used freelancing sites to get projects. Since he was a freelancer from college days and had an established profile on the site, it was easy for us to get new projects.
The company did well and we moved to a bigger office by June.
Unfortunately, due to certain reasons, we decided to split.
Since I was looking after development, I didn't have any experience in sales. So I struggled with getting new customers.
Then I hired 2 experienced salespeople. In a few months, we started getting customers and business started growing.
But I wanted to focus on only one technology so that we can build more expertise and competitive advantage.
In 2012, I decided to focus on Salesforce development. Since there were few Salesforce development companies in the market, we got a very good response and we started growing well.
Once business became stable and we had proper processes in place, I decided to work on the products side by side.
Our first product was like an email for resumes. Since we didn't have much knowledge of the HR/recruitment domain, we didn't understand the needs of the market and couldn't fulfill customer needs and innovate. So we decided to shut down the product.
Lesson learned - choose a market that you understand well.
In the meantime, we tried many CRMs for our sales team. But they were either too basic or too costly. We wanted an easy, customizable, and affordable CRM. Since we couldn't find any CRM that met our criteria, and since we understood the CRMs decently well, we decided to build our CRM - CompanyHub.
We took 1 - 1.5 years to build a decent version of the CRM as there were already many CRMs in the market.
Based on customer feedback, we realized that people hated their CRMs. Most CRMs were too complex. So we rebuilt CompanyHub such that people should be able to do most of the things from a single page - just like excel.
Our catchphrase "Sales team hates CRM?" resonated well with the audience and we started growing at a good pace.
Lesson learned - It is important to describe your value proposition/problem that you are solving in a single sentence.
CompanyHub got rated as one of the top CRMs globally by G2.
Recently we built another product, Integrately, which helps you integrate various apps and automate your processes.
The idea of Integrately came from CompanyHub customers. A lot of CompanyHub customers wanted to integrate CompanyHub with other apps that they used. It is not usually feasible for a SaaS company to build so many integrations. So most companies refer their customers to Zapier, to integrate with other apps.
We used to also refer our customers to use Zapier, to integrate CompanyHub with other apps. But customers complained that it was very difficult to set up Zapier. They would keep asking us for help. So my support team kept asking me if we could build integrations for the customers. This got me thinking.
One of the main challenges of creating an integration platform is that you need to build 100s of integrations. And each integration is time-consuming. But our team has almost a decade of experience in building integrations. So we figured out a way to create integrations with minimal code in minimal time. We realized that we could build multiple integrations every day.
We have a strong UX team. CompanyHub is known for its simplicity. We analyzed complex parts of Zapier and figured out how we can simplify Integrately.
From my experience with promoting CompanyHub, I had realized that to grow a SaaS company, opportunity in SEO is very important. Since CRM has so many established players, it is very difficult to rank on Google. So we have to depend a lot on paid acquisition.
So I had set this as criteria - any new product should have an opportunity to rank on Google and get organic traffic. We did SEO research and realized that the search volume for integrations is high and there is not much competition. So we were sure that we can rank on google and get good organic growth.
Since we had everything:
Proven market
Well defined problem/opportunity with a solution
Scalable customer acquisition channel
We decided to build Integrately.
Take us through the process of designing, prototyping, and manufacturing your first product.
Before launching our first product, we were once considering an idea of a time tracker where people could check in & check out by sending a message on a chat to a bot.
Till then, we didn't have an inhouse designer. Since the app was simple and had a minimal number of pages, I got it designed from a good freelancer and gave it to my developer. I assumed that it would turn out to be good.
When the product was kind of ready, I realized that the "user experience" was different from the "design". I realized that if I want my apps to have just user experience, just giving design to the developer will not work. I need a good designer inhouse. And the designer and I have to be involved in the process till the end.
So I hired a good designer.
But even that didn't turn out as expected. The designer had a website design experience. He had never designed a SaaS application. So his entire focus used to be on highlighting the design.
It took me nearly 3 months to make him understand that the focus of good design should be to help the users achieve what they want to achieve. Though the design should be good, the focus should not be on just highlighting the design.
Once we were on the same page, things became much easier.
As my team became more experienced, I didn't have to look much into technical aspects. So I started spending more time with my designer, than with my developer.
For every feature, we would first do the design. And the designer would ensure the final user experience was as planned.
When we launched CompanyHub, we struggled with user onboarding at the start. We tried many things to improve the user experience.
We started using Hotjar to record user sessions. We would watch the recordings to find what was not obvious to the users and then improve it. This helped us in making the app more user friendly.
We realized that irrespective of how easy you try to make it, people still need help. So we added in-app help like videos etc. We also developed a concept of gradual engagement. Wherein we started tracking what all users had done. And then the app would smartly guide/educate the user.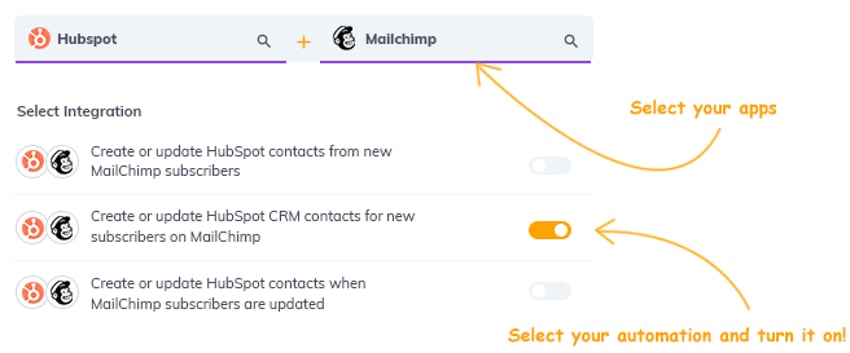 Describe the process of launching the business.
For our first product, CompanyHub, we didn't do a special "launch".
It is important to build a strong team and to delegate - give them ownership and power.
We started by sending outbound emails to find people who might be interested in it.
The issue with outbound was that we didn't know who is looking for a CRM currently.
Then we started online advertising to find leads. This had a good amount of learning curve. We had to select a few channels, learn the nuances, experiment, and improve.
After a good amount of effort, we could make this work.
Integrately, our main goal for the launch was to get a lot of active users quickly. We know this will make the product mature fast and will also help us in spreading the word.
So we decided to launch with a lifetime deal, wherein we gave lifetime subscription to Integrately for a one-time payment.
This helped us acquire close to 1,500 customers in less than a month.
These early adopters gave us a lot of feedback, which helped us improve the product. They also mentioned about Integrately in other communities, thus spreading the word.
Integrately turned out to be one of the biggest lifetime deals ever. So we also got good cash, which we can use to promote the product.
Since launch, what has worked to attract and retain customers?
Many blogs and articles try to give you a long list of various channels that you could use to acquire customers. What they don't tell you is that each channel has a learning curve and requires decent effort and experimentation to produce results.
I read an interesting book called Traction. The book talked about various channels. But the key point that they tried to make is that if you can get the right channel working, just 1 channel is usually enough to help you reach 1 million annual recurring revenue. So instead of using lots of channels, it is better to master 1 channel that is right for you.
We initially started with Google ads. They were fine to start. But the cost per click is very high on Google.
So we started looking for other channels.
After researching various channels, we felt that Facebook might be the right channel for us. Even though it is not a professional social network, they have a lot of data about the users and it uses that data well for targeting.
I did a few courses to learn about FB ads and started experimenting with them. It took me more than 2 months and a lot of experimentation to taste a little bit of success. After that, it was easier to scale.
One of the reasons for success was that we found a hook/value proposition that resonated with the customer. Since the ad appeared in the feed of the users, the right pitch was important to attract their attention and interest. We experimented with various messages and picked the winner. Our winning hook was - The sales team hates CRM? Get easy as excel CRM.
Once we were sure about the value proposition, we improved the product and user onboarding to live up to the promise. The goal was to show the ease of use as quickly as possible. And data showed that the users who engaged in the first session had much higher chances of becoming paid customers.
So the formula that has worked well for us is:
Make a promise that matters to them
Quickly deliver on the promise / prove that you can deliver.
Through starting the business, have you learned anything particularly helpful or advantageous?
Here are some of my important learnings :
Prefer proven markets
Avoid saturated markets
Have a clear differentiating factor, but it should matter to the customers
Test different messaging / USPs to see which one appeals more to your customers
You should know how you will acquire customers and how the economics will work out
In the start, it's fine to do things that don't scale
Focus on learning fast
It is important to build a strong team and to delegate - give them ownership and power.
What platform/tools do you use for your business?
Intercom: Intercom is great for communicating with customers. It has chat, engagement tracking, and automated emails, based on engagement.
Hotjar: Hotjar lets you see what users are doing on your website and app. This helps you identify issues and make them user friendly.
Google Analytics: If set up properly, you can track your user engagement in detail on Google Analytics, for free.
CompanyHub CRM: We use our own CRM as the backend as it can be easily customized for our needs.
Profitwell: Profitwell shows you your numbers. This helps you keep track.
Paddle: Paddle takes care of our payments. They also collect and deposit taxes, eliminating the hassles of international taxation.
What have been the most influential books, podcasts, or other resources?
Lean methodology - I strongly follow the lean methodology suggested by Eric Ries in his book - The Lean Startup.
Customer Acquisition - I liked the book Traction. They rightly highlighted that for the first million, you just need 1 good channel. This is an important piece of advice.
SaaS - I have also been reading content on SaaStr, which shares the experience of building a fast-growing SaaS.
Where can we go to learn more?
If you have any questions or comments, drop a comment below!
-
Abhishek A Agrawal, Founder of CompanyHub
Want to start your own business?
Hey! 👋I'm Pat Walls, the founder of Starter Story.
We interview successful business owners and share the stories behind their business. By sharing these stories, we want to help you get started.
Interested in starting your own business? Join Starter Story Premium to get the greatest companion to starting and growing your business:
Connect + get advice from successful entrepreneurs
Step by step guides on how to start and grow
Exclusive and early access to the best case studies on the web
And much more!
PROMOTED
Did you know that brands using Klaviyo average a 95x ROI?
Email, SMS, and more — Klaviyo brings your marketing all together, fueling growth without burning through time and resources.
Deliver more relevant email and text messages — powered by your data. Klaviyo helps you turn one-time buyers into repeat customers with all the power of an enterprise solution and none of the complexity.
Join Brumate, Beardbrand, and the 265,000 other businesses using Klaviyo to grow their online sales.
Starter Story
Wanna see 52 business ideas you can start with less than $1,000?
Join our free weekly newsletter and get them right now.