5 Mobile Auto Detailing Service Success Stories [2022]
•
Updated: September 15th, 2022
5 Mobile Auto Detailing Service Success Stories [2022]
Start A Mobile Auto Detailing Service
A mobile carwash business reaches clients whenever possible and offers its services at great convenience. Therefore, car owners do not need to drive to different locations looking for a car wash, as the mobile service provider is there for the client.
The advantage of offering a mobile car wash business is that clients will call you to their location whenever they need their vehicles cleaned. Based on the convenience, you have the opportunity of serving more customers compared to an immobile car detailing business.
Here are some real life success stories of starting a mobile auto detailing service:
1. Fresh Look Mobile Auto Detailing ($60K/year)
Matt Paskow (from Carlsbad, CA, USA) started Fresh Look Mobile Auto Detailing over 1 year ago.
Team
1 founders / 1 employees
Case Study
My name is Matt Paskow. I started a mobile auto detailing business called Fresh Look Mobile Auto Detailing which services North County, San Diego.
2. Belk Mobile Detailing ($72K/year)
Josh Belk and Austin Belk (from Springfield, MO, USA) started Belk Mobile Detailing almost 3 years ago.
Team
2 founders / 0 employees
Case Study
My name is Josh Belk and I'm the founder of Belk Mobile Detailing. Belk Mobile Detailing is a mobile automotive detailing business in Springfield, Missouri. We come directly to our customer's homes to make their vehicles look new again. I'm currently a co-owner in the business, with the other owner being my brother Austin.
We have four main types of customers that use our services: professionals, business owners, busy moms, and people looking to sell their vehicles. Our business has been generating an average of $8,000 over the past 12 months and detailing 60-80 vehicles per month.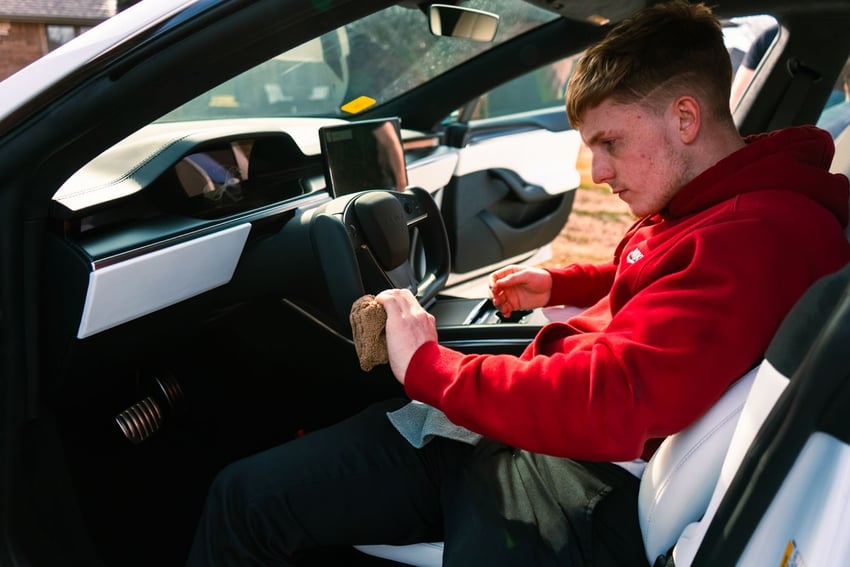 3. Mobile Car Wash
Check out their full website ➜
4. VA MOBILE DETAIL
We offer Car Detailing services in Virginia Beach, Norfolk, Portsmouth, Newsport News, Hampton,Chesapeake and Suffolk. Call today at 757-776-1034
Check out their full website ➜
5. Pristine Mobile Detail & Cosmetic Repair
Pristine Mobile Detail serves Oceanside, Carlsbad, Encinitas and San Diego County and brings exceptional mobile auto detail and at your location.
Check out their full website ➜
Want to start your own business?
Hey! 👋I'm Pat Walls, the founder of Starter Story.
We interview successful business owners and share the stories behind their business. By sharing these stories, we want to help you get started.
Interested in starting your own business? Join Starter Story Premium to get the greatest companion to starting and growing your business:
Connect + get advice from successful entrepreneurs
Step by step guides on how to start and grow
Exclusive and early access to the best case studies on the web
And much more!