4 Mobile Car Detailing Success Stories [2022]
•
Updated: November 6th, 2022
4 Mobile Car Detailing Success Stories [2022]
Start A Mobile Car Detailing
Starting a mobile car detailing business is a great way to earn money. The mobile detail business draws customers from the surrounding areas and provides an opportunity to deal with all kinds of vehicles, including classic cars and 18-wheelers.
Here are some real life success stories of starting a mobile car detailing:
1. Belk Mobile Detailing ($72K/year)
Josh Belk and Austin Belk (from Springfield, MO, USA) started Belk Mobile Detailing about 3 years ago.
Team
2 founders / 0 employees
Case Study
My name is Josh Belk and I'm the founder of Belk Mobile Detailing. Belk Mobile Detailing is a mobile automotive detailing business in Springfield, Missouri. We come directly to our customer's homes to make their vehicles look new again. I'm currently a co-owner in the business, with the other owner being my brother Austin.
We have four main types of customers that use our services: professionals, business owners, busy moms, and people looking to sell their vehicles. Our business has been generating an average of $8,000 over the past 12 months and detailing 60-80 vehicles per month.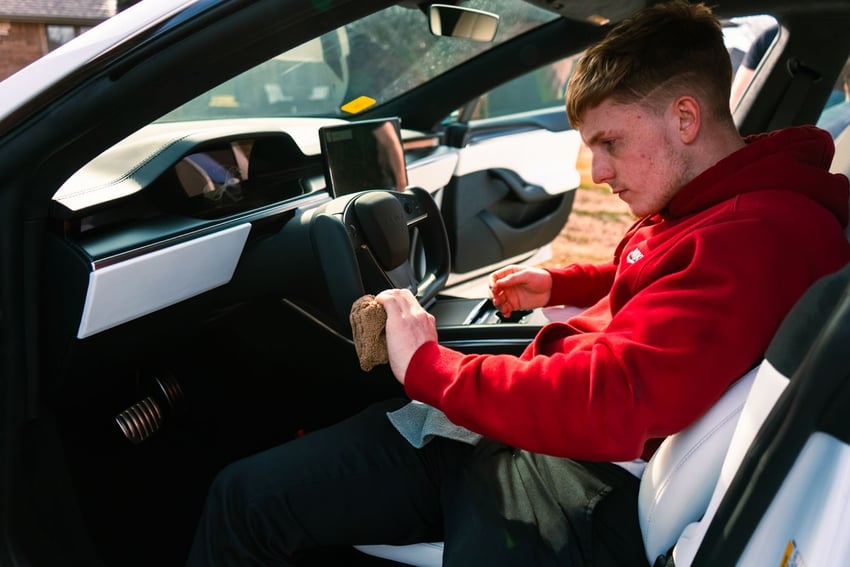 2. UENI
UENI provides marketing and advertising solutions to small businesses through tailored websites, social media pages, and managed Google and Facebook ads.
Website traffic: 1.22M/month
Business rank: #36.8K
Check out their full website ➜
3. Washos
Mobile Car Wash and Detailing. We come to you in 90 minutes. Best rated pro detailers ins Los Angeles and Orange County
Check out their full website ➜
4. National Detail Pros
Mobile Detailing Services- We provide the best mobile car, boat and RV detailing across the entire United States! "A+" Rating and Accredited with the BBB! Easily Book Your Mobile Detailing Appointment Online in 60 Seconds.
Website traffic: 90K/month
Business rank: #460K
Check out their full website ➜
Want to find more ideas that make money?
Hey! 👋 I'm Pat Walls, the founder of Starter Story.
Get our 5-minute email newsletter packed with business ideas and money-making opportunities, backed by real-life case studies.