4 Halal Online Marketplace Success Stories [2022]
•
Updated: October 21st, 2022
4 Halal Online Marketplace Success Stories [2022]
Start A Halal Online Marketplace
The introduction of online marketplaces has created an enormous opportunity for entrepreneurs. Experts estimate we will see tremendous innovation in building and running marketplaces in a few years.
If you are developer, you can build halal online marketplace focusing on particular religion or region. Halal marketplace offers a wide range of halal products. Starting a marketplace requires a sound strategy and knowing the best practices.
Here are some real life success stories of starting a Halal online marketplace:
1. HalalWorldDepot ($720K/year)
Mohamad Saad (from Dearborn, MI, USA) started HalalWorldDepot about 4 years ago.
Team
2 founders / 10 employees
Case Study
Hello, my name is Mohamad Saad, and I am one of the founders of HalalWorldDepot, America's premier Halal online marketplace. The company started three years ago as meat and grocery delivery service and slowly grew into a full-blown online marketplace offering a wide range of Halal products.
With a simple goal of getting as many Halal items listed, we also focus on building a community of Muslims around the United States to connect and come together. A home formed on a website where all can feel welcomed and comfortable shopping and finding the products they need.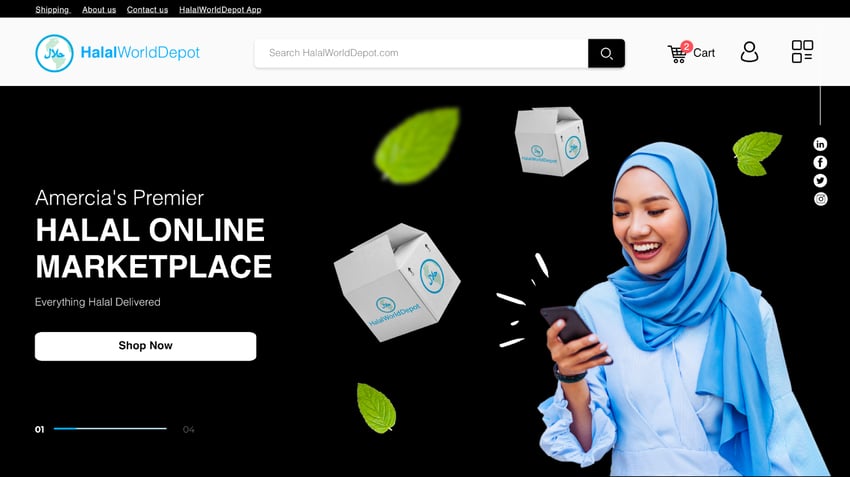 2. Yelp
User Reviews and Recommendations of Best Restaurants, Shopping, Nightlife, Food, Entertainment, Things to Do, Services and More at Yelp
Website traffic: 145M/month
Business rank: #360
Check out their full website ➜
3. DoorDash Food Delivery
Best local restaurants now deliver. Get breakfast, lunch, dinner and more delivered from your favorite restaurants right to your doorstep with one easy click.
Website traffic: 66.7M/month
Business rank: #748
Check out their full website ➜
4. Free Website Builder For Your Business
Google My Business can automatically generate a free website for you using info from your Business Profile, and you can edit it anytime.
Website traffic: 66M/month
Business rank: #885
Check out their full website ➜
Want to find more ideas that make money?
Hey! 👋 I'm Pat Walls, the founder of Starter Story.
Get our 5-minute email newsletter packed with business ideas and money-making opportunities, backed by real-life case studies.