4 Car Washing And Detailing Business Success Stories [2022]
•
Updated: October 20th, 2022
4 Car Washing And Detailing Business Success Stories [2022]
Start A Car Washing And Detailing Business
The carwash business is already a multi-billion-dollar industry with room for growth.
With the number of vehicles per household increasing daily, starting a car wash and detailing business could be a profitable idea.
If you have a piece of vacant land in the right location, you can get into the carwash business. You can set up an in-bay automatic carwash, self-washing carwash, touch-free carwash, or a wide range of other options.
Here are some real life success stories of starting a car washing and detailing business:
1. Belk Mobile Detailing ($72K/year)
Josh Belk and Austin Belk (from Springfield, MO, USA) started Belk Mobile Detailing about 3 years ago.
Team
2 founders / 0 employees
Case Study
My name is Josh Belk and I'm the founder of Belk Mobile Detailing. Belk Mobile Detailing is a mobile automotive detailing business in Springfield, Missouri. We come directly to our customer's homes to make their vehicles look new again. I'm currently a co-owner in the business, with the other owner being my brother Austin.
We have four main types of customers that use our services: professionals, business owners, busy moms, and people looking to sell their vehicles. Our business has been generating an average of $8,000 over the past 12 months and detailing 60-80 vehicles per month.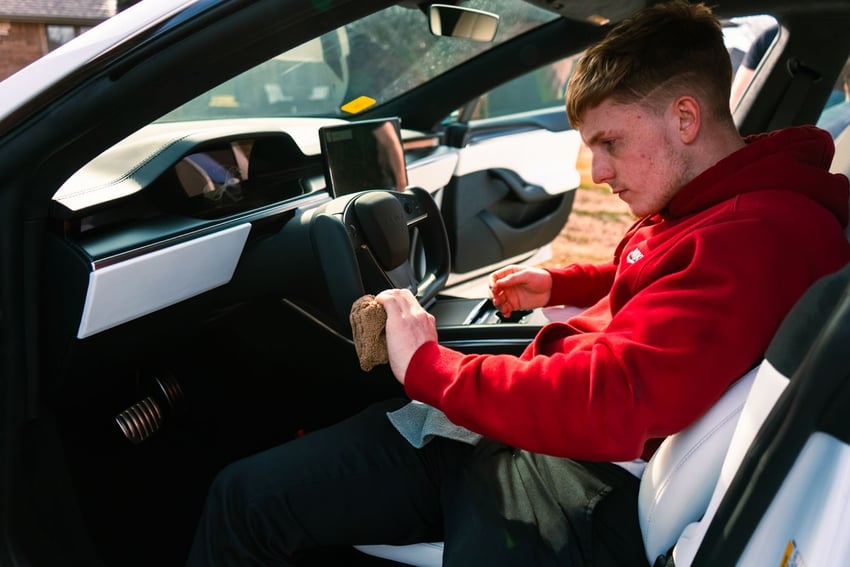 2. Adam's Polishes
Adam's Polishes provides premium detailing products designed to reduce time & steps in the process. We provide Wheel Cleaner, Microfiber towels and much more. Shop now »
Website traffic: 400K/month
Business rank: #100K
Check out their full website ➜
3. Ammo Auto Care Inc.
AMMO NYC fanatically manufactures car care and detailing products for drivers who care about the way their car looks, as much as its performance.
Website traffic: 120K/month
Business rank: #276K
Check out their full website ➜
4. R3 AUTO DETAILING
Dozens of 5-star reviews by delivering amazing results! Mobile-based car detailing company servicing the Greater Houston area and surrounding cities.
Check out their full website ➜
Want to find more ideas that make money?
Hey! 👋 I'm Pat Walls, the founder of Starter Story.
Get our 5-minute email newsletter packed with business ideas and money-making opportunities, backed by real-life case studies.