75+ HR Blog Post Topic & Ideas [2022]
•
Updated: July 19th, 2022
75+ HR Blog Post Topic & Ideas [2022]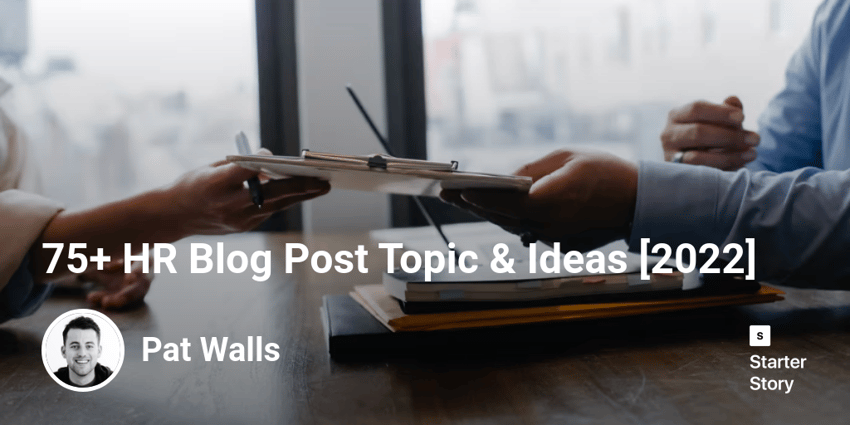 If you're working in HR, you know how important it is to stay on top of current trends and research.
Whether you're looking for inspiration or just want to put a little bit of structure behind your brainstorming process, we've put together 75+ HR blog post topics to write about.
Here they are:
HR Department Blog Post Topics & Ideas
Top 10 Ways to Show Appreciation
Dealing With a Bad Boss or Bad Managers
How to Keep your Applicant and Employee Data Secure
Should Your Company Take a Stand on Political Issues?
Everyday Life at [Your Company]
How to Build a Winning Internship Program
Build a Strategic Framework: Mission Statement, Vision, and Values
Manager's Guide to Managing Corporate Lay-offs and Downsizing
10 Best Practices for Managing a Company LinkedIn Page
Recruitment and Selection Strategies for the Modern Workforce
How to Retain Your Best Employees
Recruiting Time Management Techniques You Must Use
10 Tips for More Effective Team Meetings
Ask a Recruiter!
5 Tips for Rookies – How to Nail Your First Job Interview
3 Signs You Are an Awful Boss
Exit Interview Questions That Aren't a Waste of Time
Facebook Recruiting Guide
How to Get Your Team Out of a Creative Rut
10 Inexpensive Ways to Celebrate Office Birthdays
5 Perks You Can Offer Your Employees that Won't Break the Bank
20 Cheap Snacks You Can Stock for the Best Office Kitchen Ever
Inside View of Our Company Culture
Tips for Minimizing Workplace Negativity
More than Luck – How to Land Your First Job Interview
Why Your Professional Dress Code Might Want to Loosen Its Tie
Rethinking Reputation: How Your Employees' personal Brands Elevate Your Employer Brand
How to Get Hired at [Your Company]
How to Hire an Intern Who Can Do More Than Order Coffee
How Strong is Your Personal Brand
How to Set Your Office Up for Productivity
How to Host a Successful Take Your Kids to Work Day
5 Tips for Managing Diversity in the Workplace
How to Incorporate a Flexible Work Week Without Losing Productivity
Addressing Rumors at Work Without Removing the Water Cooler
Employee Onboarding Blog Post Ideas
Secret Tips for Onboarding New Employees Effectively: A blog with helpful tips on employee onboarding.
Hiring And Training Team Members: Top 10 Tips For Hard Workers
5 Tips for a Smooth Employee Onboarding Process
How To Make The Most Out of Your First Day At a New Job
3 Easy Ways to Learn About Your New Job: A blog around employee onboarding.
How to write your checklist: a blog around the importance of having an employee onboarding checklist.
Employee Onboarding Without The Dread: A blog that explains the process of employee onboarding.
Employee Onboarding Made Easy
How To Deal With A Large Onboarding Project: a blog about timing, prioritizing and quality.
How to Make Employees Feel Comfortable in a New Job.
Working in a new job? Here's How You Can Easily Get Along With New Co-workers
How HR can turn The Great Resignation into The Great Retention
Employee Training In A Nutshell: a basic blog on employee training.
7 Tips for Training Your New Employees: A blog about the basics of employee training.
5 Tips For Successful Training: A blog that gives you 5 tips to give your training skills a boost.
The Importance of Employee Training
How to Deal with Difficult Employees: a blog helping managers deal with troublesome employees.
Prepare For Emergencies: a blog about how to prepare for emergencies and what to do when they happen.
Why We Invest In Our Employees: A blog about our technology and training programs for employees.
Culture and influence in the workplace: Collectivism vs Individualism
Text Recruiting: How to keep your candidates engaged
7 benefits of an employee engagement software
8 things hiring managers should know about the candidate experience
6 common reasons for miscommunication at work
Top 5 Priorities for HR Leaders in 2022
Team Building HR Blog Post Ideas
12 Tips for Team Building: How to Build Successful Work Teams
Tips for Minimizing Workplace Negativity
What Great Managers Do Differently
Performance Appraisals Don't Work
Build a Strategic Framework: Mission Statement, Vision, Values ...
Top 10 Ways to Show Appreciation
How to Retain Your Best Employees
How to Demonstrate Respect at Work
How to be Considerate While Team Building
Where employees build team spirit:   a blog about the importance of team building especially in the workplace.
5 Ways To Improve Your Team's Morale: a blog about increasing camaraderie within teams.
6 Trust Building Activities Without the Team
Your Team at Its Best: How to Give A Killer Speech: a blog that focuses on how to give a speech.
You will learn a few things about your team and how to improve your team's chemistry .
10 Fun Team Building Exercises: A blog around team building exercises and how to alleviate stress in the workplace via fun.
5 Ways To Improve Team Cohesion: a blog about ways to make your team more cohesive.
Tips for Building a Strong Employee Relationship
8 Tips on How to Organize an Interactive Team Building Day
The Main Types Of Blog Posts & How To Use Them
1. How-to-guide content style
How-to-guides are a great way to share insight and knowledge across your audience.
These guides are informative and teach your reader how to complete a given task using step-by-step instructions.
The more value and answers you bring to your reader, the more they are likely to return to your site and, eventually, turn into a customer. Here a few things to remember when writing your "how-to-guide:"
Write directly to your reader with clear and concise instructions
Identify the logical order of your instructions and use numbered lists
Use headings and bold to identify key stages in your step-by-step guide
Use photos and videos as much as possible to provide context to your reader
2. List-based content style
Lists are a great way to consolidate information and provide your user with a quick and simple read.
For those that want a quick answer or don't have time to read a long article, lists are a great way to quickly answer your searcher's query.
List content is great for driving traffic to your blog, and they are often quick to create.
3. Other blog post styles
There are various other blog post styles you can use to create content.
When you combine a mix of different blog post styles into your content strategy, you create an engaging experience for your audience.
Here are some other blog post styles you should consider experimenting with:
Ebooks
Infographics
Video content
Case studies
Interviews or Q&A's
Guide: How To Find Content Ideas
Finding the right content type and topic for your blog is critical. The last thing you want is to spend hours and days writing a piece of content that doesn't end up performing well.
We've outlined tips to help you find the right blog post topic
1. Find Blog Post Topics Using Google
Google search is a great (and free) tool for finding a content type and topic.
You can actually use google autocomplete to see what people are searching for: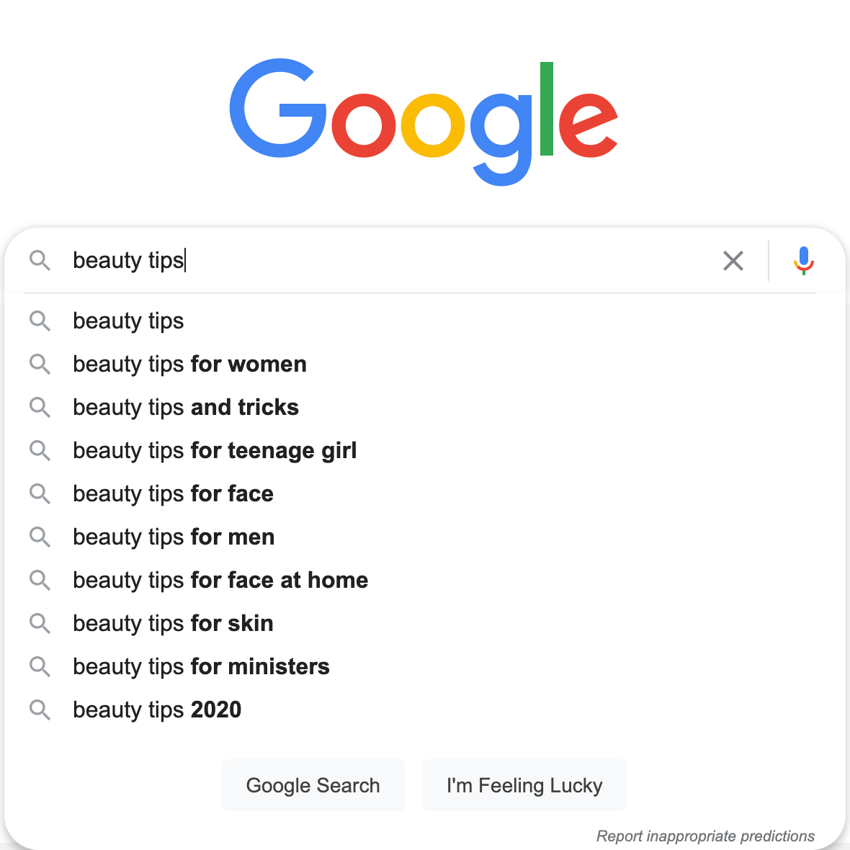 2. Find Blog Post Ideas Through Competitors and Useful Websites
A great way to find content types is by seeing what your competitors with similar audiences are doing.
There are a few different ways you can do this:
Manually going through different websites to see what others are writing about
Use a tool like ahrefs to see top-performing websites and topics
3. Find Content Ideas Using Google Search Console
Google search console is a great and free way to see what your audience is searching for: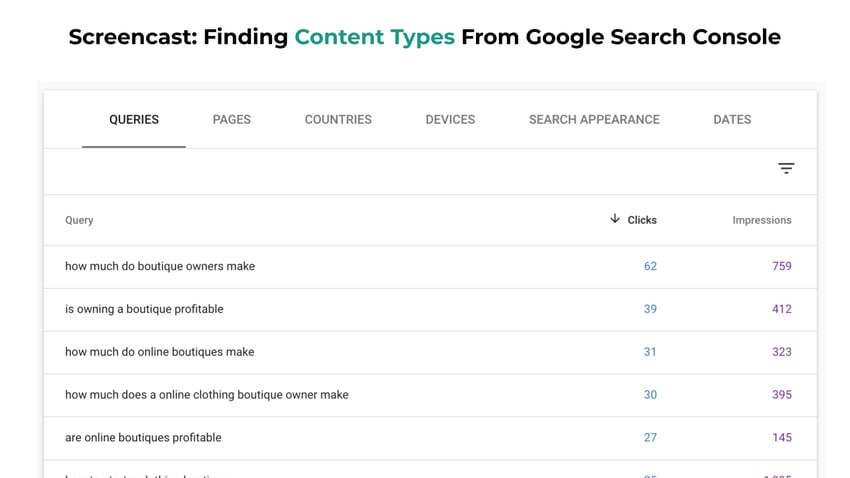 4. Make Sure You Can Perform Well For The Content
Just because your audience is searching for something, doesn't always mean you can win for that content.
Consider looking at existing search results and other top-performing websites. Then, ask yourself a few questions:
Are these top-performing sites massive businesses? If so, what would it take to rank for something like this?
Is the existing content in the search results good quality?
Are there ways that I can improve this content type? (ie. adding photos, videos, optimizing keywords, making the posts longer and more valuable to the reader, etc)
Want to start your own business?
Hey! 👋I'm Pat Walls, the founder of Starter Story.
We interview successful business owners and share the stories behind their business. By sharing these stories, we want to help you get started.
Interested in starting your own business? Join Starter Story Premium to get the greatest companion to starting and growing your business:
Connect + get advice from successful entrepreneurs
Step by step guides on how to start and grow
Exclusive and early access to the best case studies on the web
And much more!