How I Started A $7.5K/Month Tailored Tax Services Business
•
Published: April 14th, 2020
Start A Tax Service Business
Hello! Who are you and what business did you start?
Yvette Sadovoy here, founder of Savvy and Suite, a bespoke tax and accounting firm. In reality, though, it's so much more. Savvy and Suite is a honeypot for successful and money-minded individuals.
We tailor tax plans specifically for your business, educate on how to optimize your tax savings, advise on the best management practices, and just for fun, a resource for luxury travel itineraries and destinations. We have a passion for helping entrepreneurs thrive on and off-hours. We believe in working smart so that you can enjoy that work-life balance.
This lifestyle is possible through intelligent and diligent accounting and it is our main mission to help you live it.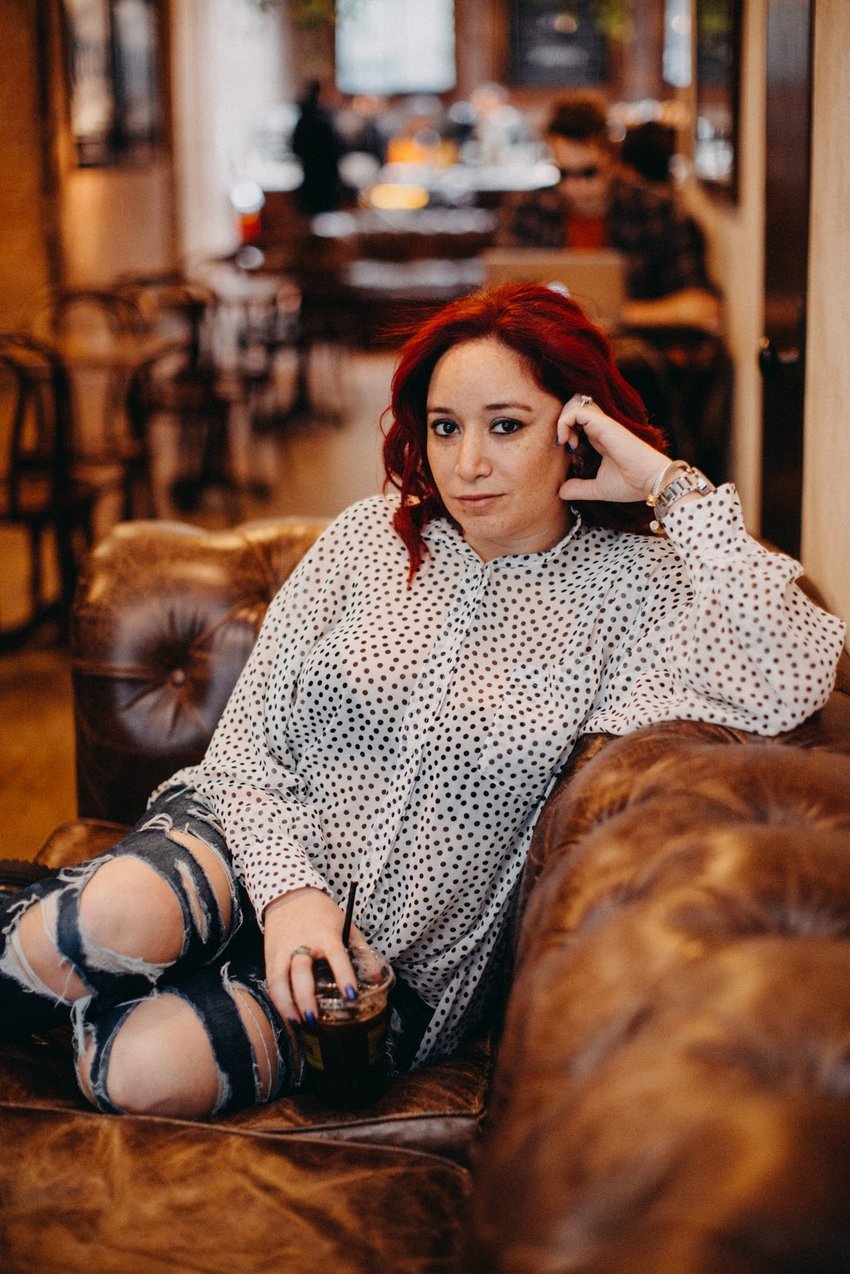 What's your backstory and how did you come up with the idea?
Unknowingly, Savvy and Suite has been brewing for the last 15 years. I began working in my father's accounting firm when I was 12 doing basic data entry of the tax forms. Every year I learned more and more until 18 when I was able to complete a full tax return on my own. Since then I have dedicated myself to developing my skills and really crafted my own approach to tax preparation.
Stay true to yourself and committed even during the low times, your success will come.
Over the years I have worked with companies from so many different industries and I learned that every company, even in the same industry, operates differently. Every entrepreneur has their own method of growing their business and respectively, spend their money that way. By getting to know each and every one of my clients to the smallest detail of their habits, I am able to create a tax return that reflects their true expenses. In this way, I am ensuring that no deduction is overlooked and the tax savings are optimized. The cookie-cutter approach just doesn't cut it for anyone. No pun intended!
Of course, this requires a lot more time dedicated to each case and I am more than happy to give it. I am so passionate about educating business owners on how to save their hard-earned money. This means the majority of the time is in the office during tax season where days can be over 14 hours long. EVERY DAY. My clients are professionals who work long hours themselves so it's crucial that I make myself available to them so everything about Savvy and Suite is tailored to my clients.
When it's over, my second life begins. To offset the rigorous tax season work schedule I spend a good amount of time traveling with my family and friends to the lesser-known but equally beautiful parts of the world. I so strongly believe in a work-life balance and recognize it is only attainable with proper accounting and tax planning.
Savvy and Suite was born of this lifestyle. It's a mirror reflection of my dedication to helping others afford the life they want.
Take us through the process of designing, prototyping, and manufacturing your first product.
Over the years I learned that tax preparation is not as rigid as many believe. There's a lot of room for creativity based on the unique spending habits of each business. Through this realization, I developed an "investigative approach" to tax preparation. In this process I have my clients walk me step by step through their entire business practice so I can understand exactly where their money goes and why. Mixed with my extensive history working with different industries, I am able to cross habits and deductions for my clients in ways that they didn't even consider. I speak a lot about how I go through this process in my Instagram posts.
All of my clients' receive a unique handling of their finances as well as yearly maintenance where I keep track of their status for them. I take the worry off them by running an analysis of their profits every quarter. This allows me the ability to make adjustments to their tax liability as we go, instead of being stuck at the end of the year.
Describe the process of launching the business.
Launching your own business is scary for sure but you have to maintain confidence in your service. It's about getting your message out there clearly, letting the right people know what you could do for them, building your personal brand, and as a result, not money-driven. If the quality of your work is good, the money will come.
In the very beginning, I was challenged to articulate exactly what my services are and who I am. Who benefits from the skill set and how I deliver this to them. Then I realized that I wasn't tied down to one small niche. I've worked with so many different industries I could tell you the primary expenses for most of them. Businesses or individuals, it doesn't even matter. My investigative approach to tax preparation is a built-in unique system. I've never researched my competitors because I believe you only have to compete with yourself. But the most common feedback I get from new clients is "My accountant never did this!", which definitely tells me I'm on to something.
Creating a website was probably the most difficult part for me because I found it hard to represent myself on a page. What color scheme do I want? Which pictures do I like best? It was redesigned at least 7 times and I'm certain there will be several more revisions. I've come to terms that this will probably be an ongoing process and that's something I just have to be OK with. The only advice I have for entrepreneurs just starting out is to not get stuck creating the perfect website. It will gradually evolve over time along with all of your creative presentations.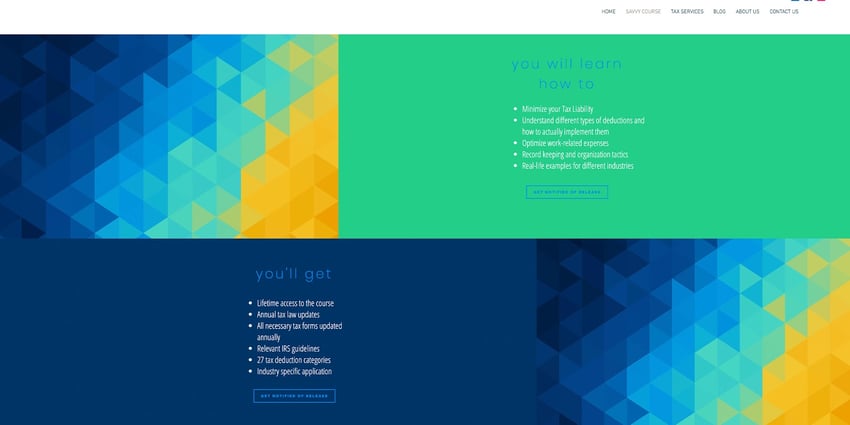 Since launch, what has worked to attract and retain customers?
Word of mouth has been the absolute best method of gaining new clients. Until this current year, I didn't advertise at all and all of my clients were referrals from existing clients. There is no better advertisement than a happy client. Your quality of work will always speak louder than anything else in your business. If you genuinely care about your clients and serving them over focusing your attention on growing your income, your business will grow exponentially faster. I treat my clients as I do my friends. I like to get to know them as individuals so that I can tailor the best tax plan specifically for them. I want what is best for them and I'll do everything I can to be proactive in their financial success. Even though I typically only see them once a year in person, they know I am always here to help them. Plus, I enjoy catching up with them when we do see each other. We chat about our kids and their latest travels, it's a much more laid back process than you would imagine it to be.
Currently, I am exploring more streams for retaining new clients. Facebook, Instagram ads, and Click Funnels are at the top of my to-do list as well as building my personal brand. I believe that the impression of you is just as, if not more powerful than the real you in the minds of the consumer market. I'm eager to grow my client base, I don't think there is a cap to how many people I can help.
How are you doing today and what does the future look like?
Every season I am gaining new clients and building long term relationships. Most importantly, I want to grow with my clients from the early stages all the way up. In 2020 I'll be launching a new business starter kit. It will include an in-depth online course on tax deductions and how to actually apply them to your business as well as one on one consultations with me. We will work together to make sure you are starting your business on a strong foundation and understand how to actually run a business.
I will also be expanding my reach nationwide. While I do have a decent amount of clients from other states that I work remotely, the majority of my clients are local to the tri-state area. I hope to be able to reach more entrepreneurs and guide them through the tax aspect of their business.
Through starting the business, have you learned anything particularly helpful or advantageous?
In the service industry, the most important lesson to remember is DO NO HARM. As much as I want to give my clients the absolute best result, you have to be comfortable drawing the line and saying no! What might benefit them today can cause them a worse situation down the road. Avoid this at all costs.
Transparency is another big one. Being honest and clear with your clients in regards to what you're doing for them, how it benefits them, what their options are, risk vs reward, and fees are essential in building a trusting relationship. I've encountered situations where I believed I had explained things clearly but it wasn't. It's always an uncomfortable situation and of course, if you could avoid it, take the extra steps.
What platform/tools do you use for your business?
I've been using Quickbooks for bookkeeping and ProSeries for tax preparation for as long as I can remember. They have all of the functions and features that you would need to complete any accounting issues. I found that Microsoft Excel is equally sufficient for bookkeeping if you don't want to invest in Quickbooks just yet.
Staying on top of social media trends is equally important for personal brand building. Having an online presence helps secure your expertise on a subject and is at no cost to you. I recommend having a Facebook and Instagram account where you can share relevant information.
What have been the most influential books, podcasts, or other resources?
I've been listening to a lot of business-focused Podcasts to help evolve my mentality and approach to entrepreneurship. The Boss Babe Podcast for scaling your business, Gary Vee for business motivation, and Jasmine Star for personal branding. I found these to be full of amazing and practical information.
Advice for other entrepreneurs who want to get started or are just starting out?
Don't give up! It always feels like someone else is becoming successful overnight while you spend months or years building your business and it can definitely feel discouraging.
But every business grows at its own rate and as long as you stay true to yourself and committed even during the low times, your success will come.
Are you looking to hire for certain positions right now?
I don't have any current positions available but the goal is to ultimately grow a team of tax professionals and media gurus.
The goal for Savvy and Suite is to serve more entrepreneurs and possibly host workshops that will educate business owners on different parts of the tax side of their business.
Where can we go to learn more?
If you have any questions or comments, drop a comment below!
-
Yvette Sadovoy, Founder of Savvy and Suite Ltd
Want to find more ideas that make money?
Hey! 👋 I'm Pat Walls, the founder of Starter Story.
Get our 5-minute email newsletter packed with business ideas and money-making opportunities, backed by real-life case studies.