How I Started A $5.4K/Month Organic, Natural And Plant-Based Skincare Company
•
Published: March 29th, 2020
Start A Skin Care Product Line
Hello! Who are you and what business did you start?
Hello! My name is Bonnie Giangrande and I am the creator and founder of The Laughing Tree Organics. A line of healthy, plant-based skincare products that are good for our health and our planet.
I began The Laughing Tree Organics because the more I read about the dangers of chemicals that go into our personal and beauty care products, the more I knew something had to be done! I was simply horrified to learn that some of the most common chemicals found in our shampoos and skincare products today, such as Cocomide DEA, Lauamide DEA, Sodium Lauryl/Laureth Sulfate (SLS/SLES) and Parabens, which create that rich foamy lather, are absorbed through the skin where they have been found to form cancer-causing nitrates and impair the normal function of the brain and nervous system.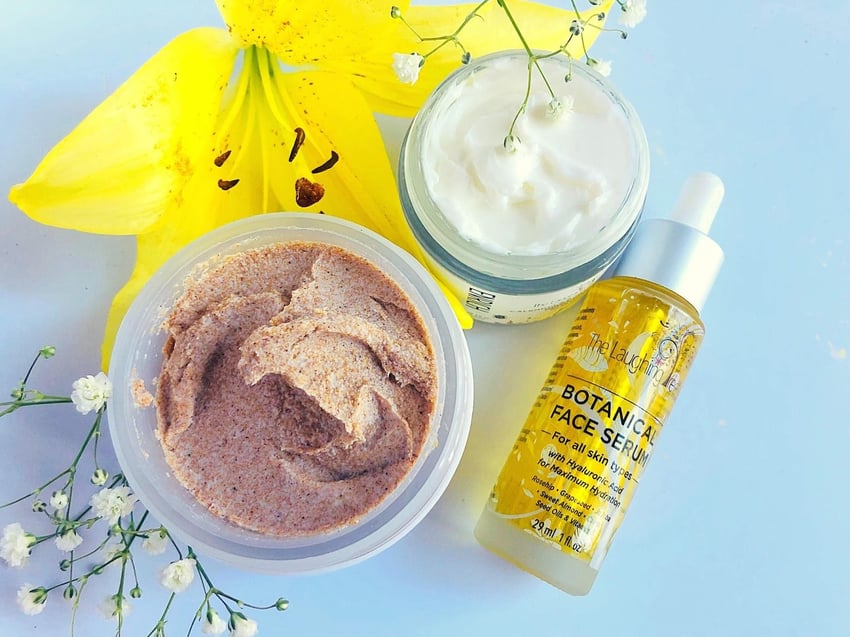 What's your backstory and how did you come up with the idea?
Researchers have even found evidence that these chemicals can interfere with the body's hormones. According to a study published in Environmental Health Perspectives about the effects of these compounds on 1,151 pre-pubescent girls in the U.S. found that the chemicals caused a variety of problems in puberty, and even triggered the early onset.
Studies show that "early pubertal development in girls can have adverse social and medical effects, including the development of cancer and diabetes later in life." Upon reading this, I strongly felt that this is not acceptable! That we can do better for ourselves and our families! We all need to be more concerned and aware of what we put into our bodies. But these studies hit home personally for me because I have young children who are living in an age where they are exposed to many more environmental toxins than we ever were growing up.
I realized that if I want to change, then I have to be a part of it; and that positive change will not only be good for ourselves, but good for our planet and our families. And this is how The Laughing Tree Organics came to be. For me, it was like the name always existed and I felt it truly represented the Company and our mission to formulate products that work with your body's chemistry, the way nature intended and were not harmful to our planet.
Take us through the process of designing, prototyping, and manufacturing your first product.
Over the past 7 years, I and my team have been working hard to assemble a line of skincare products that use only organic and all-natural oils, herbs and extracts. We adhere to all aspects of a full-cycle, sustainable eco-model that speaks to the integrity of the very genuine potential of humanity and the principles of the highest possible ideals for a sustainable future in generations to come. It has been my promise to carefully evaluate each and every product and every procedure we adopt in the process of developing this brand. The Laughing Tree Organics wants to be a catalyst for positive change in this world, one botanical product at a time.
Founding The Laughing Tree Organics has allowed me to formulate a family of face, skin and body care products that I could use for myself and my family, and recommend without reservation, to others. The Laughing Tree Organics line contains only simple, clean, purely natural ingredients, infusing the significant healing properties of fresh, hand-picked, organic and/or wildcrafted herbs. Our uncompromising quest for quality means that all creams are handmade and blended in small batches, and are fully biodegradable when they end up in our waterways.
We have a strong commitment to sustainable purchasing, efficiency, reduced waste and recycling. Many of the products at the Laughing Tree Organics are Vegan-Friendly and all are Cruelty-Free! We use recycled products for packaging whenever possible and we value every ounce of energy expended, whether human or natural, so it is our responsibility to do what we can to preserve resources. Because of this commitment, we educate and ask our team and our customers to play their part in this collective program. There is one earth and we are all on it together! As we grow we would like to seek out more innovative ways to package our products along with making an investment in plant-based inks for our labels.
You can't be everything to everybody. I have passed up a few opportunities because someone requested a synthetic fragrance or additional packaging that I felt was unnecessary. You have to stand by what you believe and be true to that mission.
Describe the process of launching the business.
I pretty much put the cart before the horse and started creating my products long before I ever really had a solid business plan in place or a test market to go on. I am not saying this is the best way to go about doing things, but for me, I knew that creating these products went beyond the "bottom line". I had to get the word out about natural, sustainable, products and how they are a healthier choice for us and our Planet. So, I just jumped right into it - feet first. It felt right.
I worked my day job and then worked nights and weekends on building my line and creating a website. We were fortunate enough to get the products into Wholefoods and I also made it a point to meet with local markets and talk about my products and secure orders for the products early on. I also hit as many Craft Fairs to get the word out. Up to now, I have only had to fund my business solely on personal credit cards. But as my company grows, I see the need for having a line of credit, and I have thought about crowdfunding or bringing in an Investor to get to the next stage. Because let's face it, you need a solid marketing budget and then the larger the order, the more money you have to put out upfront to fulfill it. You have ingredients, formulator costs, bottles and labels and of course staff. And most businesses and Distributors want terms of NET 30 days, some even 60 to do business with them. That can be a long time before you get paid.
It's fair to say, if it comes easy, you probably aren't doing it right. LOL. I can honestly say that I wasn't prepared for some of the pitfalls that I have run into. I can recall when I first got my natural shampoos into a few local stores, I was like "Wow, I finally made it!"
Haha, I soon realized that I had to personally stock 6 stores throughout New England which was a challenge considering I was a busy mother still holding down a day job!
And then, when I finally had the opportunity to pitch my shampoo line to Whole Foods, they expressed interest in carrying a natural skincare line instead. I was like "Sure! I can do that!" And what followed was the hustle to learn all I could about creating safe, all-natural skincare which took a good year to formulate and bring to market. Luckily, Wholefoods was very patient with me! When the line was picked up by two distributors, I was like "Oh my, how am I going to handle all of these orders?" But the truth is, stores will only carry a minimum number of your products, to begin with, and do test runs to see how well they perform on the shelves. So the old saying "Build it. He will come" from the movie Field of Dreams isn't necessarily true in this market.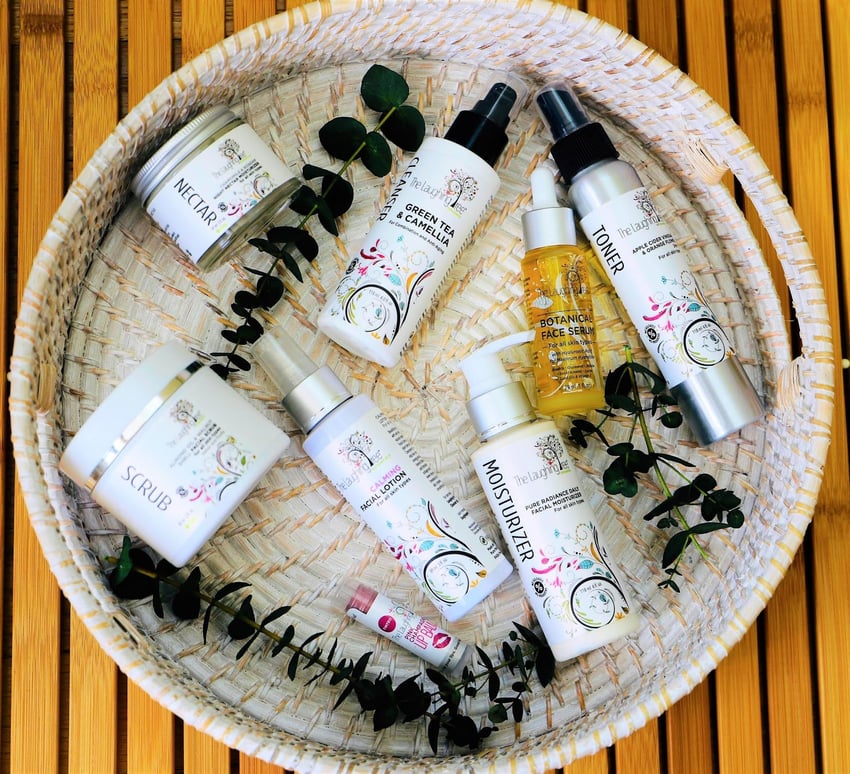 Once your products are on the shelves the real work begins. You have to do everything in your power to let people know about them, and why they need to buy them! There is a real educational piece to getting people to understand the benefits of using natural products over synthetic. The latest trends in Social Media and having the ability to connect with your followers has really helped us communicate these beliefs, which in turn has helped us grow over the past couple of years. More and more people are becoming conscious consumers and people want to hear and connect with you. They want to build a relationship with the brands they use.
I also was not prepared for the lack of FDA oversight in Personal Care Products. You can pretty much put just about anything in a product and claim "Natural" if you use only 1 or 2 natural ingredients, and fill the rest with synthetics. This was a real eye-opener for me, I wasn't prepared to see so many companies making false claims about their products. It can be frustrating. The FDA leaves it up to consumers to educate themselves, read the labels and understand the ingredients that go into the products and know whether they are safe for their family or not.
Since launch, what has worked to attract and retain customers?
With most smaller markets and Wholefoods, they want to see you at their stores doing demo's routinely and working their beauty aisle. It is a very competitive landscape and you must take every opportunity you can to inform the buyer, how they will benefit from purchasing your product over another.
My products are also sold on Amazon. It's imperative you keep up with running campaigns in order for your products to come up in buyer searches. Amazon is a competitive marketplace and standing out really takes a consistent effort. I run Google Ads and use SEMRush dashboards to view the health of my business online and how I am comparing against my competitors.
It's important to build relationships with your customers and you can do that today by sending them informative email blasts about new products, exclusives you are offering and providing them with content that is useful. You can also remain on a feed by posting thoughtful and provoking photos of your products and their uses. Some of my customers have been consistently buying from me for the seven years I have been in business. They love the products, so it's important not to give them any reason to look elsewhere. It's more costly to gain a new customer than it is to keep one.
Since aligning ourselves with Wholesale portals like FAIRE and TUNDRA we have been able to get our products into salons and retail shops throughout the United States, that we might not have been able to on our own. These portals are great for small businesses and they truly cater to the retailer offering them a credit to try your products, extended payment terms, and free shipping! We have been very happy with the growth we have seen through these channels and we are always seeking out new wholesale portals every day. We are also always working on our website to ensure that our customers have a positive experience when they visit. We have incorporated "credits" for every purchase that is made that will be applied towards future orders.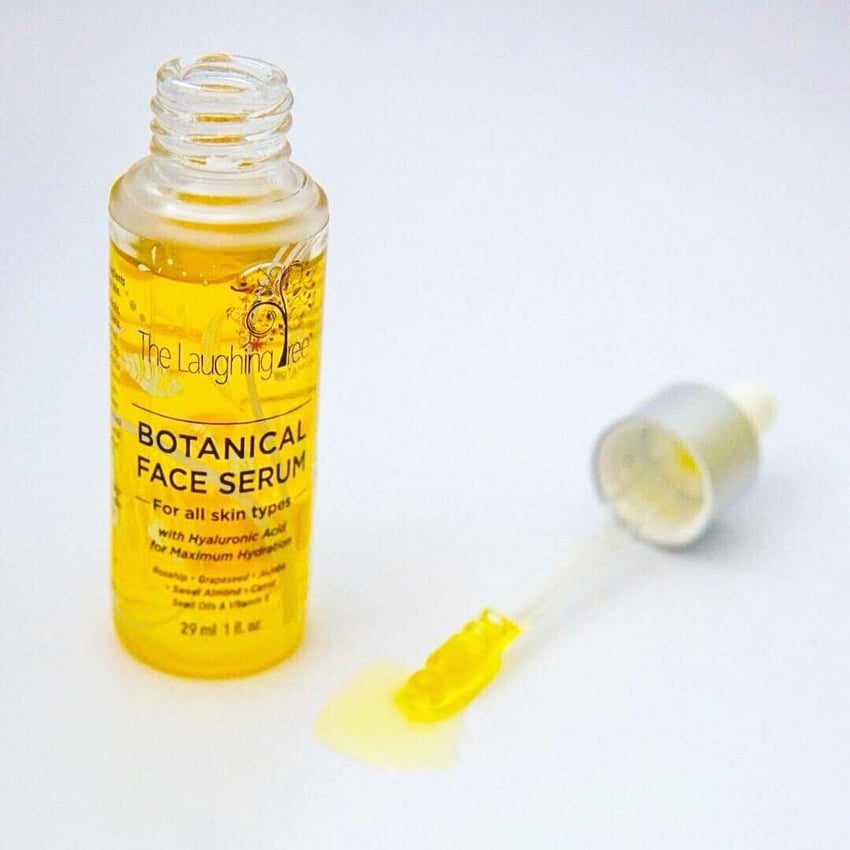 Through starting the business, have you learned anything particularly helpful or advantageous?
One important lesson is you can't be everything to everybody. I have passed up a few opportunities because someone wanted a particular product but requested a synthetic fragrance or additional packaging to house the product, which I felt was unnecessary. You have to stand by what you believe and be true to that mission. Always remember, one door closes, another opens. Our brand isn't for everyone. But there are plenty of salons and retailers out there who are seeking out clean products. If you truly live what you believe, you will be successful. You also have to have a laser focus.
Sometimes it's easy to veer off and start creating new amazing products! Because it's what we do! But you really have to stay focused and see what is working and what isn't. I have brought too many products to market, only to shelve them later if they are not gaining traction, and they are not what people are seeking out. Take the time to do your due diligence, understand who your target market is, what they are seeking out, hold a focus group and test it. Understand who your target market is, and get to know what they are looking for. You also have to be selective with who promotes your brand. There are so many influencers out there that will be reaching out to you. But you have to really understand your brand and be selective with who can best represent it.
Are you looking to hire for certain positions right now?
We have really just begun to see the success of LTO. Things have just started to take off as our products are placed in more salons and retail stores across the country, and word spreads about the performance of our natural skincare. We would love to bring new products to market, and just this past year we added an effective eye cream, as well as a moisturizer infused with healing hemp seed oil, along with a couple of new delicious organic lip balms.
I feel that what we currently offer is an uncomplicated full skincare routine, that will purify your skin and keep it looking and feeling youthful and healthy. But there's always room for more, and if we are able to secure the right funding or align with an investor who wants to be a part of the change in this market space, we will have the opportunity to do this! Perhaps even expand into a natural line for men.
As the demand for natural, herbal, and organic products that have no adverse effects is expected to boost market growth over the next few years, the organic skincare business is expected to reach 183 billion by 2025, so now is the time for anyone interested in being a part of this exciting business so reach out to us! We are always open to speak and explore opportunities with Venture Capitalists, Angel Investors or Partner Funding.
We would also love to hear from some savvy "video" extraordinary as I really have to up my game on YouTube, along with creating a few "How To" Videos for my website.
Where can we go to learn more?
-
Bonnie Giangrande, Founder of The Laughing Tree Organics
Want to find more ideas that make money?
Hey! 👋 I'm Pat Walls, the founder of Starter Story.
Get our 5-minute email newsletter packed with business ideas and money-making opportunities, backed by real-life case studies.