How We Started An $85K/Month Hot Sauce Brand
Start A Hot Sauce Business
Hello! Who are you and what business did you start?
Hello! We are Small Axe Peppers, a New York City-based hot sauce manufacturing company that sources our peppers from over 200 community gardens throughout The United States.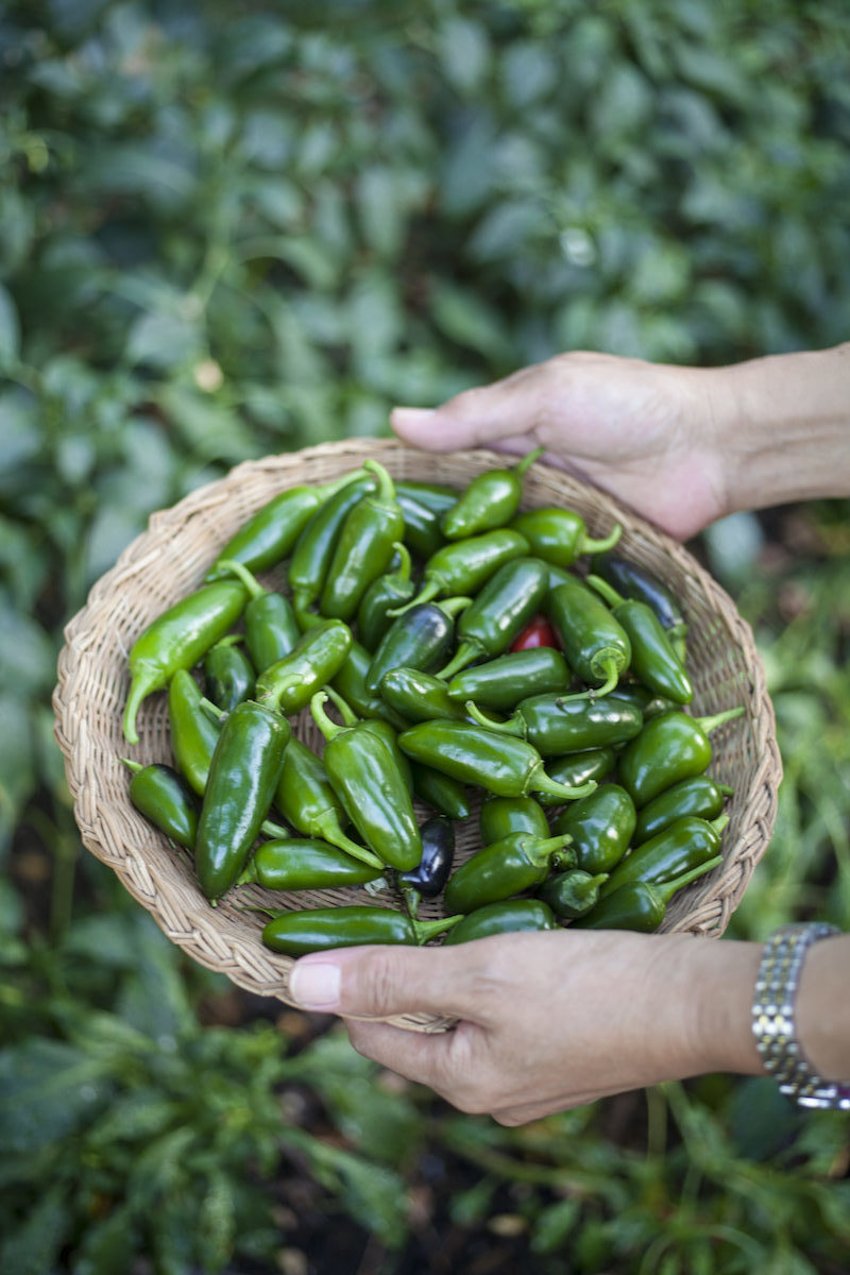 Originally founded by John A. Crotty, John Fitzgerald, Todd Snyder, and Drew Doscher, we launched with a mission to support community gardens and urban agriculture initiatives, which we believe are having a tremendous impact, revitalizing neighborhoods across America and bringing fresh, local produce directly to consumers.
The company was founded in collaboration with non-profit organizations, GrowNYC, local community gardens, and Bronx Green-Up, the community outreach program of the New York Botanical Garden.
What's your backstory and how did you come up with the idea?
It all started when our founder John Crotty was looking for a building in the Bronx for his affordable housing development organization. By chance, he spotted an empty lot with southern exposure. While others may have seen it as just another patch of urban wasteland, Crotty saw potential.
He knew the trash-strewn plot was perfect for a community garden. His next thought was about what they could grow there. His mind jumped to growing peppers and making hot sauce out of them, because, well, it was the only thing we could grow in a confined space and make more of an end product.
Turns out, one hundred pounds of peppers becomes 500 pounds of hot sauce. All other fresh produce for commercial purposes goes the other way—you grow 100 pounds to sell 75.
So, the goal was to help these gardens and make a commercially scalable product. And the vehicle to achieve this goal? Hot sauce.
It just made sense. It all worked out perfectly. After all, who doesn't love hot sauce?
With the vision fully formulated, Crotty contacted his childhood friend King Phojanakong, chef and owner of the Lower East Side's Kuma Inn, and asked him to develop some sweet, savory, spicy, and salacious sauces, which ultimately became the Small Axe Peppers line.
Take us through the process of designing, prototyping, and manufacturing your first product.
There are four main elements to the Small Axe Business model: growing, harvesting, cooking, and distributing.
It starts with growing. Small Axe Peppers donates and distributes pepper seeds to participating community gardens at the start of each growing season. Community gardeners in cities through the US dedicate a portion of their gardens to cultivating pepper plants. We are now working with over 200 gardens.
Next comes the harvesting. Local non-profits technical growing assistance to gardeners and coordinate the collection of locally grown peppers from gardens throughout the growing season.
After we harvest the peppers, it's time to start cooking. Of course, this is where the master, Executive Chef King Phojanakong comes into the picture. From our sweet'n'spicy Habanero Mango Hot Sauce to our blazing hot Ghost Pepper, he is responsible for all of Small Axe's signature sauces.
Ask any small business owner and they will tell you that cash flow is a perpetual challenge. Sure, having more orders than you can fill is a good problem to have but it is always a challenge to make sure we are always in stock in the 4 to 5 thousand retail outlets that we currently sell in.
The final piece of the process is the distribution. Socially-conscious retailers, committed to locally sourced products and sustainable community development projects carry Small Axe Peppers Hot Sauce in their stores. Each bottle purchased directly supports local community gardens and gardeners.
Describe the process of launching the business.
It all started in The Bronx in 2014. After Crotty conveyed the vision, we planted the first seeds by partnering with GrowNYC and local community gardens. Literally!
We donated 3,500 serrano pepper seedlings for distribution to five community gardens throughout the Bronx. The same year, Lehman College also grew a pepper patch in its garden for the firm. In total, 150 pounds of serrano peppers were sold, and Small Axe collected peppers from Bronx community gardens including Morning Glory Community Garden, Kelly Street Garden, Wishing Well Garden, and Pelham Organics. During the first year of production, Small Axe Peppers LLC made 5,000 bottles of hot sauce.
The following year, with the support of Bronx Green-Up of the New York Botanical Garden, twenty additional gardens were asked to participate. Together, they collectively grew almost a ton of serrano peppers, and a new economic model for urban farming was born!
Since launch, what has worked to attract and retain customers?
We believe at Small Axe Peppers that we have the best hot sauce in the entire world. Not only is the flavor great but the story behind it is even more wonderful. We source our peppers from over 200 wonderful community gardens and connect them directly with socially conscious consumers. It has been a great joy for everyone involved. Essentially, working on such a genuine mission naturally attracts and retains customers. In many ways, the sauces sell themselves.
We were limited only by our ability to tell our story. So about 2 years ago we started writing a blog that would blast out stories about the process. We covered the communities behind those gardens whether they're refugees, high school groups, church groups, essentially anyone behind the making of the hot sauce, as a way to connect customers to our purpose.
It has been one of our most successful marketing strategies because unless you've put your two feet into one of these gardens you don't know what makes them so special. With the blog, we can bring that magic, the ethos, the spirit of these gardens to the consumer and help them realize the difference they are making just by purchasing our hot sauce.
How are you doing today and what does the future look like?
We have come a long way. To give you some context, in 2016, the Bronx community gardens grew 1,500 pounds of serrano peppers, which resulted in 70,000 bottles of hot sauce, an increase from 5,000 bottles in 2014.
By 2019 we donated 1,800 seedlings to the community gardens across the Bronx, alone. As of 2020, we bought peppers from community gardens from cities including, Chicago, Detroit, Baltimore, Oakland, Dallas and Los Angeles.
As far as the future goes, it looks bright. We currently have a nationwide distribution model through the two largest distributors in the country: UFI & KeHe. We have the capacity to be in every single store in America, tomorrow.
One of our biggest ongoing battles is with cash flow. Ask any small business owner and they will tell you that cash flow is a perpetual challenge. Sure, having more orders than you can fill is a good problem to have but it is always a challenge to make sure we are always in stock in the 4 to 5 thousand retail outlets that we currently sell in. To help deal with these challenges, we've worked on our online business, selling through Amazon and our own website to make sure there is cash in the bank for when those huge 3,000 case orders come through.
Through starting the business, have you learned anything particularly helpful or advantageous?
When we started the business we didn't know too much about grocery retail at all. We didn't know about middlemen, brokers, wholesalers, or anything like this. We just knew we had a unique product with a really great story behind it. We were the beneficiaries of a ton of solicited and unsolicited free advice along the way. People who believed in what we were doing helped us along the way.
When we first got started we thought we were small but we didn't realize just how microscopic we were in the grand scheme of things. Since then, we've been able to participate in pitches, awards, media profiles, celebrity reviews, programs such as KeHe Cares, and much more. It's been an amazing journey and ride, taking this from a microscopic company to a small but fast-growing one.
What platform/tools do you use for your business?
We worked with a wonderful web development agency out of New Orleans called Lowling.com. Our site is fully built-in WordPress and is integrated with Google Analytics, WooCommerce and other tools which help sell our product and share our vision.
We sell on Amazon and our website using WooCommerce. For SEO, we use Yoast which is a great tool. We use Mailchimp for email marketing. Hootsuite is our preferred social media tool.
What have been the most influential books, podcasts, or other resources?
Our company name comes from an ancient proverb that says if you have a big tree we have the Small Axe. We believe that by all of us working together – community gardens, hot sauce makers, socially-conscious retailers, and ultimately the customer – we can achieve our mission of promoting urban agriculture and community gardens.
We work with school groups, church groups, refugees, and people of all walks of life. We are constantly hearing inspiring stories as a result. Everyone loves hot sauce. Everyone loves to talk about hot sauce. But more than that, everyone loves to play some small part in the successes of something much bigger than themselves.
Our bottle is only 5 oz but in that 5 oz, we capture a vision of coming together and building a healthier more sustainable future.
Advice for other entrepreneurs who want to get started or are just starting?
If you are an entrepreneur just starting, you are probably thinking about your business 24/7, 365 days of the year. And that was true for us. However, despite our total immersion into the business, we still found that we had relatives and close friends that didn't have a clue what we were doing.
These were people that we knew and trusted and loved. So if they couldn't grasp it, imagine the challenge we had getting our story across to the average consumer who's constantly being bombarded with advertisements and other choices. Yet, here we are, telling our story day in and day out.
The point is, don't be discouraged. Keep telling your story as often as you can to anyone who will listen. If you have a network, like we were fortunate to have with the gardeners, let them be your brand ambassador.
Are you looking to hire for certain positions right now?
Yes, we are always looking for more community gardens to work with. Last year we increased our network from 110 gardens to about 200 gardens. We want to work with every community garden or urban agricultural initiative no matter how big or how small. Some gardens grow five pounds of peppers from us, others grow 500 pounds. It doesn't matter the size, if you're willing to wield your own small axe and join and partner with us, we'd love to have you.
Where can we go to learn more?
If you have any questions or comments, drop a comment below!
-
daniel fitzgerald, Founder of Small Axe Peppers Hot Sauce
Want to start your own business?
Hey! 👋I'm Pat Walls, the founder of Starter Story.
We interview successful business owners and share the stories behind their business. By sharing these stories, we want to help you get started.
Interested in starting your own business? Join Starter Story Premium to get the greatest companion to starting and growing your business:
Connect + get advice from successful entrepreneurs
Step by step guides on how to start and grow
Exclusive and early access to the best case studies on the web
And much more!
Together With Semrush
If You Don't Rank In Google, You Don't Exist.
In order to be successful, you need to be visible online. If you're not, then your competitors might be stealing customers from you.
Semrush lets you quickly create content that ranks, and compete with the biggest brands in your niche.
Try Semrush Free Today ➜