How We Started A $50K/Month Cloud-Based CRM Software
•
Published: March 27th, 2021
Hello! Who are you and what business did you start?
My name is John Cheney and I'm the CEO of the leading cloud-based CRM and business application platform, Workbooks. The business started in 2008 with our headquarters based in Reading, UK, before expanding into the US market in 2018 following strong growth and another successful financing round.
Workbooks extend beyond sales, marketing, and customer support to include order management and fulfillment, invoicing, and supplier management, at a price that is typically 50-70% less than solutions such as Salesforce or Microsoft Dynamics. Workbooks join up the entire organization around data and processes, promoting teamwork and collaboration. It provides a single 360° view of customers and the information is accessible anytime, anywhere. Productivity is increased, operations are streamlined, insightful decisions are made, and the business is better equipped to differentiate against the competition.
Today 1,400 customers across 30 countries trust Workbooks to run their business.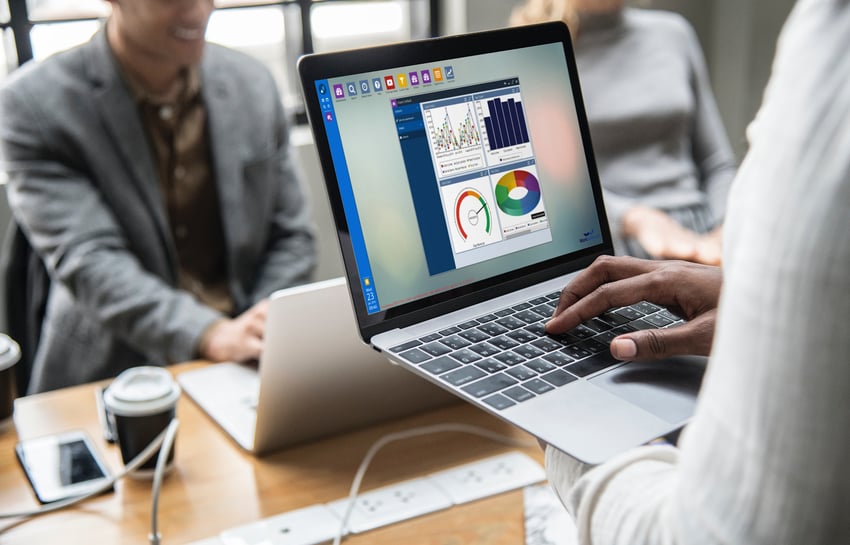 What's your backstory and how did you come up with the idea?
Having experienced firsthand the issues faced by mid-sized businesses through growing several other businesses previously, I saw a gap in the market for Workbooks; a single SaaS platform company can use to run their business. I realized that many systems fail to adequately service mid-market organizations that typically have smaller IT budgets and limited in-house IT teams - but still require depth and breadth in functionality.
In 2018, the management team saw an opportunity to enter the US market. Based in East Hartford, Connecticut, the US operations are led by Dan Collins, an early Angel Investor of Workbooks. Dan is an ex-pat Brit who has lived in the US for over 20 years. Dan is supported by Head of Delivery, Penny Lowe. Penny ensures the US team builds on the implementation best practices she helped develop whilst turning Workbooks into one of the leading CRM providers.
It is important to give something back to the industry you work in and to drive other like-minded businesses to do the same.
Our focus is the Manufacturing and IT sectors, as well as Professional Business Services, where we have extensive experience in tailoring our services to these specific sectors.
Take us through the process of designing, prototyping, and manufacturing your first product.
The CRM market isn't new, so we started by figuring out what would be the MVP (Minimum Viable Product) to go to market with, and what we would need to differentiate ourselves from other CRM vendors.
The MVP for Workbooks was a core CRM platform that allowed customers to track their client engagements (People, Organizations, Notes, Meeting, Todo, etc), a basic opportunity pipeline, and simple case management. That's what most people were using products like Salesforce.com for.
We also identified that our 'initial differentiation' would be the ability to create Quotes, Orders, and Invoices in CRM and synchronize these into our clients' account software. So we focused on building that functionality and integrating with Sage, which was the major player in the UK mid-market accounting software.
By providing a more joined-up approach to the 'Prospect to Cash' process we would help mid-size organizations grow their revenues and streamline their business processes.
We hired an excellent software development team, built our initial product, and piloted that with several 'friendly' prospects before formally launching the solution 18 months after the initial design phase.
Describe the process of launching the business.
We knew building a CRM platform could not be done on a shoestring. So we started with a business plan, estimating how much investment would be required, how many people we would need to hire when we would estimate our first sales, and so on. Fortunately, the team at Workbooks had already built and sold several businesses before, so we had a 'reasonable' idea of what efforts and costs were involved.
Knowing we would need to invest several million pounds into the business before we would even make any sales, we put together an investment document and presentation and then pretty much hit the road trying to raise seed capital.
Our initial plan was to raise £2m in the first year to fund the development and initial launch of the solution, but recognizing we would then need significantly more investment to hire sales teams, invest in marketing and then hire support and consulting staff.
Fortunately for us, we had a network of Angel Investors who had made money with the Workbooks management team in previous ventures, so we secured the initial £2m in just a few weeks, and in total the Angel Investors have provided over £8m in investment capital during the life of the business.
Once we had the initial seed capital, we initially hired engineers to build the solution. After 12 months, we hired our first marketing hire, to help us design and then launch the website, create the PR strategy and manage lead generation.
Being a small team, we outsourced most of the marketing initiatives to external agencies, which specialized in website creation, SEO, and PPC. As the business grew, we brought our marketing in-house and developed our own team.
Since launch, what has worked to attract and retain customers?
Our value proposition, compared to the biggest competitors in our target market sector, has been key in growing our business and expanding into the US market, especially as budgets have come under more scrutiny due to the pandemic. We are seeing a trend of larger companies looking at their expensive Salesforce or Microsoft solutions and realizing that there are alternatives at a much more affordable price point that can meet their requirements.
Another key factor is our approach to implementation. Although we do work with a select number of partners, most of our customer solutions are implemented by our own consultants and supported directly by our Customer Support team. Most mid-market organizations prefer to have this direct relationship with the product developer rather than through a consulting partner.
Our Shared Success Workshop is a key part of our implementation, whereby we meet with the main stakeholders of a business to define 'what success looks like for them. We discuss business outcomes, CRM requirements and help to draft a CRM project roadmap, as well as understanding resource requirements and a budget for the customer. Once we have a shared vision of success, we match our customer's investment in Workbooks licenses with free consulting days (subject to terms and conditions). This ensures our customers get started on the platform quickly and cost-effectively, shortening the time to which they will begin to see real value.
Our marketing and PR strategy has played a crucial role in creating Workbooks' brand image as the helpful, friendly CRM company and communicating the unique benefits Workbooks offers as discussed above. In terms of email marketing, we aim to provide useful and topical content for a specific audience via blogs, whitepapers, or webinars. We also collaborate with other technology businesses to exchange content and often feature guest blogs in our email campaigns and on our website.
Another tactic is comparing our products and customer satisfaction ratings to our competitors. One of the most effective ways of doing this is using the technology comparison website G2, which allows businesses to compare different platforms to find the one that best matches their needs. Customers leave reviews and in that process, help prospective buyers to make their choice. Workbooks are rated highly on G2 against competitors and we certainly leverage this in our marketing campaigns.
Social media is an important channel in terms of providing instant communication with a large audience. We promote our content via Twitter, LinkedIn, and Facebook. We are finding video content is becoming increasingly important for capturing attention and engaging the audience with the brand. Using LinkedIn and pay-per-click advertising also allows us to promote targeted content to a specific group of businesses and measure its effectiveness easily. We can monitor and tweak this over time to see what interests this audience.
SEO has proven critical in ensuring Workbooks appears high in search engines, above competitors when certain keywords are searched, particularly industry-specific search terms - vital in gaining initial attention.
We also communicate with our existing customer base to ensure our relationship with them remains strong. For example, we issue regular product updates via email campaigns and webinars to make sure customers can get the best value from Workbooks for their business. We also hold our annual customer event which brings together our customers and partners to collaborate on ideas and discuss industry trends that can be tapped into.
Our existing customers are our biggest advocates and so interviewing them about their experience of using Workbooks, which we can then promote via case study or on social media is a worthwhile tool for demonstrating to potential customers how a like-minded business has benefited from using Workbooks.
How are you doing today and what does the future look like?
Today Workbooks provides CRM solutions to well over a thousand businesses globally.
We are still investing for growth, both in sales and marketing, and product development.
We are in the early phases of expanding into the USA, however, this has already been very successful winning several large clients of both Salesforce and Microsoft. So we will continue to expand internationally.
Covid-19 has definitely slowed the rate of growth in the ½ half of 2020, but we anticipate our growth with accelerate in 2021 and we are already seeing an increase in all our key metrics:
Website Traffic
Sales Pipeline
New Sales
Customer Expansion
Through starting the business, have you learned anything particularly helpful or advantageous?
It is important to give something back to the industry you work in and to drive other like-minded businesses to do the same.
Our focus and commitment to serving growing organizations at an affordable price have given businesses that may have previously been unable to invest in a CRM platform, the ability and drive to do so.
Our ability to offer the same functionalities as some of the large enterprise platforms is allowing smaller, growing businesses to organize their business operations more effectively and be more successful.
What platform/tools do you use for your business?
Workbooks are the main platform we use daily to run our business. Each team uses the tool slightly differently from CRM to tracking new opportunities and sales, invoicing, web insights, contact management, quotations, managing workloads, and business reporting to name but a few. We use Outlook to email our clients and partners, and Microsoft teams to communicate across departments in the business.
Workbooks are integrated with the marketing automation tool, Spotler, which our marketing team uses to manage workflows, email automation, events, and report on marketing activities.
The team also uses Hootsuite as a tool to manage the content on our social media platforms.
What have been the most influential books, podcasts, or other resources?
For me, at the heart of any business is a successful management team. The most useful book I have found so far to help build teams is Patrick Lencioni's book The 5 Dysfunctions of a Team.
It is a combination of a story and management advice that describes what 'bad' and 'good' look like. At its core, it explains that to trust one another, you need to accept that sometimes you will fail and be vulnerable. But learning to accept failure, to get it wrong in a trusting team means you can all learn, improve, and achieve.
Advice for other entrepreneurs who want to get started or are just starting?
A clear mission and focus on the customer are crucial to any business success. Our five core values (Customer First, Co-operative, Committed, Creative and Competitive) drive the behavior of our employees and how they make decisions. Our leadership team is crucial in bringing these values to life and inspiring others. It is vital to surround yourself with people that have experience in managing and building strong operations and stakeholder relationships.
Another piece of advice is to be grounded. All too often there is a new trend that we must adopt, such as AI. Yet in our research last year, only 4% of respondents cited AI as a priority. I believe we can provide more value by providing Marketing Automation, Orders & Invoices, and CPQ (Configure, Price, Quote) capabilities in a tightly integrated package. Bottom line: don't lose focus and get distracted by the latest trend that supposedly the whole industry is adopting.
Are you looking to hire for certain positions right now?
We are always on the lookout for talented people who believe they can contribute to the success of our business. This is a really exciting time to join us as we are growing fast and there are plenty of opportunities for career growth and development. If you're interested in joining our thriving company and helping us shake-up the CRM market, we'd love to hear from you!
Where can we go to learn more?
-
John Cheney, Founder of Workbooks CRM
Want to find more ideas that make money?
Hey! 👋 I'm Pat Walls, the founder of Starter Story.
Get our 5-minute email newsletter packed with business ideas and money-making opportunities, backed by real-life case studies.
Together With Hired
You'd like to grow your engineering team, now what?
Having open roles is one thing, but getting qualified candidates to apply is another. That's where Hired can help.
Get instant access to a curated pool of responsive top tech and sales talent
Filter by what you need (skills, experience) and what they want (WFH, equity)
Trial Hired and pay nothing until you make a hire
See candidates now.