How 3 Professional Poker Players Started A $100M/Month Hard Money Loans Company
Start A Money Lending Company
Hello! Who are you and what business did you start?
Hi, I'm Steve Pollack, co-founder, and CEO of Anchor Loans, a private lending company that began in a spare bedroom in Pico Rivera, California, and has grown into a leader in our industry—operating in 47 U.S. states and D.C.
Our customers are fix and flip entrepreneurs who borrow capital from us to buy distressed properties and fix them up to sell to home buyers. Anchor's core mission is creating opportunities for success by improving homes and communities and our primary focus is providing an exceptional customer experience for our borrowers.
In 2016 Anchor Loans became the first private lender in the nation to fund more than $1 billion in loans to fix and flip investors in a single year, and we have met or exceeded $1 billion in loan fundings every year since.
Among our most noteworthy accomplishments is the fact that we have been profitable every year since our founding in 1998—particularly through the 2008 economic downturn when many lenders suffered devastating losses.
In 2012 we were operating in a handful of states and we set the goal of growing Anchor into a nationwide industry leader. Before expanding operations, we assembled a team of real estate and IT experts to develop a fintech platform to power our internal business protocols and provide an intuitive online portal for our customers. The proprietary fintech our team designed was our game changer.
Anchor's technology platform is now integral to all aspects of our business and allows us to fund loans in as few as 3-5 business days—even faster for rush deals. The decision to invest in IT infrastructure was critical to us being ready to handle the rapid growth that was coming—and to continue providing the exceptional customer experience we have become known for. True to our vision, we went from lending in a handful of states to serving customers in 47 U.S. states and D.C.
Anchor is proud to have been recognized in both 2018 and 2019 as one of the top 1000 on the Inc. 5000 list of America's fastest-growing companies. We are excited by our growth and scale, but as a company committed to providing an exceptional customer experience, we are especially proud of the fact that today over 85% of our customers are repeat borrowers who have completed multiple deals with us. Also, the majority of our new borrowers were referred by a current customer. This is data that tells us we are consistently providing our customers with an experience they appreciate.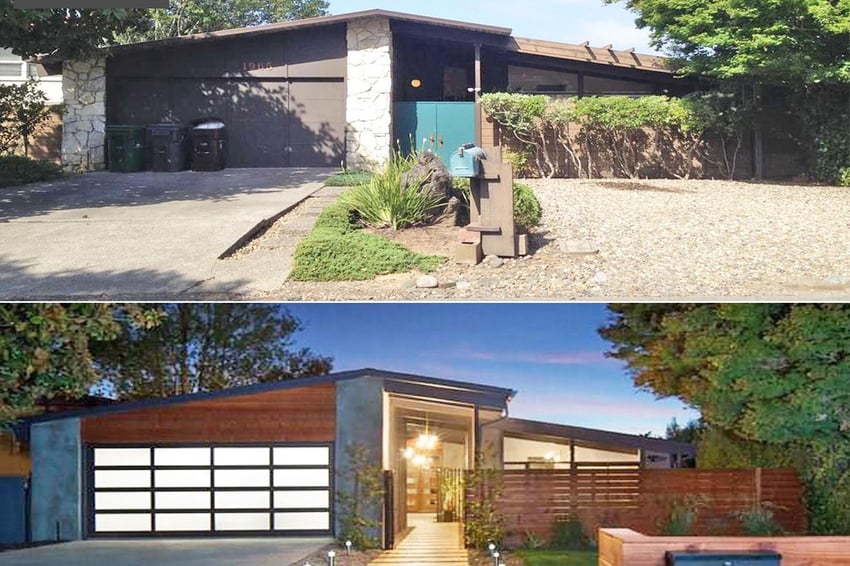 What's your backstory and how did you come up with the idea?
In college, I studied psychobiology and optometry—and I had no idea I would eventually find my calling in the real estate or finance industries. After completing my doctorate degree in optometry at UC Berkeley I ran a successful optometry practice for ten years, but I found that I was not as passionate about the career path I had chosen as I was expecting. I sold my practice and while investing in rental properties, I started buying and fixing properties for sale. Shortly thereafter, I became a professional poker player, which I did for the next seven years. During my time in poker, I met Anchor Loans co-founder Jeff Lipton and he later introduced me to his friend Dan Harrington who had recently won the 1995 World Series of Poker. Dan would also become a co-founder and Anchor's first CEO.
Along with our success playing professional poker, Jeff, Dan and I had all discovered a passion for real estate investing. Although you might not think cards and real estate are related in any way, we found that poker was an excellent training ground for real estate investing because consistently winning at either of them requires a strict reliance on numbers (never luck), a keen ability to analyze all of the available data and a firm understanding of game theory. In poker, the data are subtle cues from your opponents, their playing styles, and body language, which you must accurately read before making an educated decision. In real estate, it's housing costs, rehab expenses, and borrower demographics. To be successful at either endeavor, whether cards or properties, you must know when to bet or fold, and you can never rely on chance. The better you are at data analysis, the better the decisions and outcomes.
Many entrepreneurs don't take advantage of is learning from people who have done it successfully. Even if they are not in your specific business niche, successful entrepreneurs can offer a wealth of experience and insight.
After a few years of successful real estate investing, we realized that local fix and flip entrepreneurs needed access to capital to grow their businesses, so Anchor Loans had its humble beginnings in a spare bedroom with two computers and one dial-up modem. Within a few months, our operations grew, so we rented commercial office space in Santa Monica. Today, Anchor Loans is headquartered in Calabasas, California, and employs a staff of about 200.
Take us through the process of designing, prototyping, and manufacturing your first product.
We didn't create a product, we built a company based upon a need for a type of loan that was already present in the marketplace but was being under-delivered. We did expand upon our loan program with tweaks such as offering two-phase loan products and multi-collateral deals; all of which the industry has since adopted.
Before launching Anchor Loans, we hired an attorney who advised us on licensing; proper documentation, and business practices. Since we had all been investors (through a third-party broker), we already had a number of industry contacts and business relationships that allowed us to hit the ground running.
In 2006 we anticipated the coming downturn and strategically scaled back lending. When the downturn hit in 2008-9, we remained profitable, retained 100% of our staff, and not one of our mortgage pool investors lost money.
Our biggest hurdle at the beginning (and in the early years) was having enough capital to handle all the business that came in the door – which we didn't always have and thus, we had to turn away business!
Here is a screenshot of our first website back in 2001: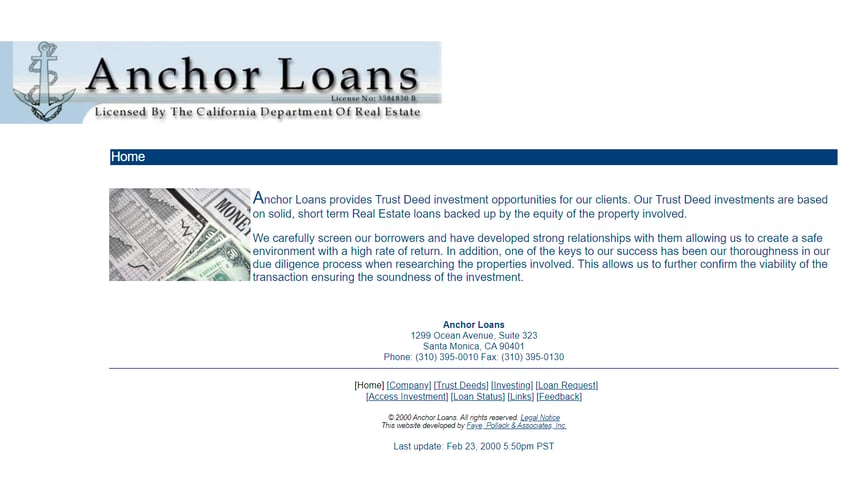 This is our website today: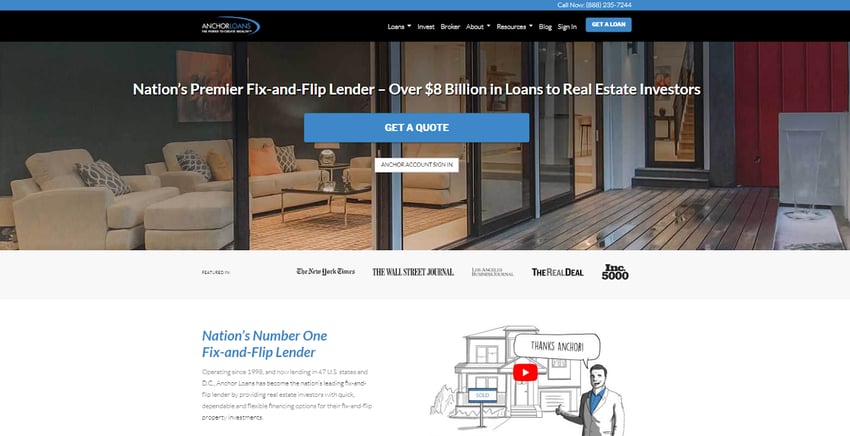 Since launch, what has worked to attract and retain customers?
Our number one business priority is developing lasting partnerships with our borrowers. Anchor was founded by real estate entrepreneurs, so we know first-hand what our customers are facing—and along with financing their projects, we also provide expert advice to help them achieve their business goals. In the event one of our borrowers falls behind on payments, we have a series of strategic interventions we offer before resorting to foreclosure.
This focus on exceptional customer experience means we attract and retain customers organically, saving us hundreds of thousands of dollars we would otherwise be spending on customer acquisition and retention.
Although the majority of our new customers are referred by current or former Anchor borrowers, we do acquire some of our new business leads through a paid partnership with privatelenderlink.com where house flippers can search for a lender online, receive a list of compatible lenders and read customer reviews. Our reviews there speak volumes about our customer focus. Here is a sample of how our customers feel about their relationship with Anchor Loans:
"I feel like I found my dream team at Anchor. I have five projects with them and closing on two more in the next couple of weeks. They have been responsive and helpful in helping create a smooth flow. I continue bringing my projects there as they have truly earned my business. Thanks, guys!" – Stacy Conkey
"I have done a series of loans with Anchor. I can't tell how pleased we were with the process. Regardless of whether it is a simple traditional loan or a complicated transaction the process was extremely fast, efficient and they delivered on each and every term proposed for our loans. I have used other capital sources but I can say without hesitation, Anchor Loans is a first-class, business-friendly lender." – John Guell
"I have been working with Anchor for the last 9 years and have closed close to 100 fix and flip loans with them. Lance, Stephanie and the team are awesome to work with and have been there when we have needed them. I have closed deals as fast as two days with them. They work really well with investors that know what they are doing. Like anything else in life, you need to invest in the relationship to get the rewards back. Keep up the good work!" – Sean Haghi
"I have worked with Anchor Loans on nine purchases since 2017. They have always responded to my requests immediately and have worked with me to get the best deal possible. They are always very professional and easy to work with. My deals have all closed quickly and with no hidden or unexpected costs. I have recommended them to fellow flippers and will continue to do so." – David Fitzpatrick
We have advertised minimally on Facebook and Instagram with some return, but our marketing department mainly focuses on providing learning opportunities for real estate entrepreneurs through our SEO blog articles and podcasts and our social media accounts.
On Instagram, we post before and after images of properties, our borrowers have transformed—along with how much they paid for their property, the cost of rehab, and how much the property sold for. We post these at @stevepollackCEO, where I personally interact with our IG followers—and we receive thousands of daily engagements (likes, comments, DMs).
We have acquired new leads through our Instagram account, but the majority of our organic social media leads come through LinkedIn, where we also post our blog articles and engage with house flippers and others in our industry.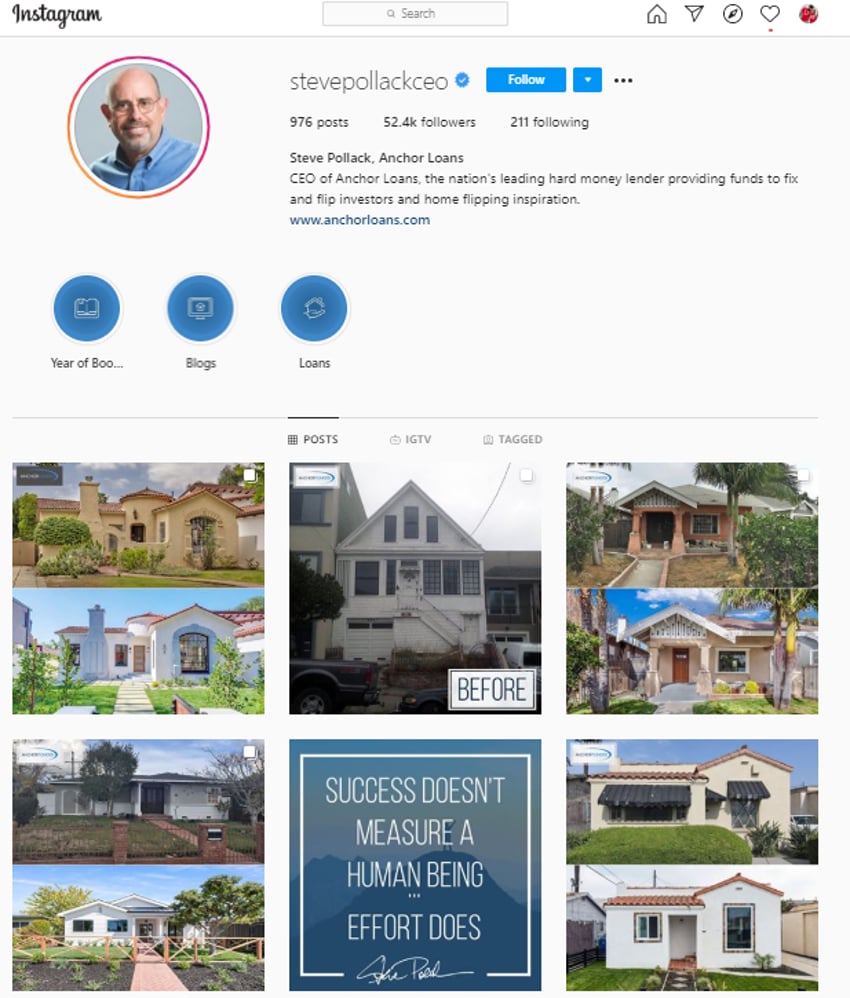 How are you doing today and what does the future look like?
Although we are number one in our lending niche, our philosophy is to focus on the long term. We're not concerned about doing one loan or making money in one month or even in one year. We want our business to be here for many many years, which is why we did so well back in 2008 and 2009 compared to other companies. We try to stay ahead of what's coming and be prepared. For example, In 2006 many of our competitors maintained high loan production levels (despite shifting economic indicators) and did not survive the crisis. At Anchor, we anticipated the coming downturn and strategically scaled back lending. At the same time, we eliminated mortgage pool fees and returned capital to our investors. When the downturn hit in 2008-9, Anchor Loans remained profitable, retained 100% of our staff, and not one of our mortgage pool investors lost money.
During the downturn we also added a construction department to our company to handle REOs (foreclosures) so that when our loan default numbers rose, instead of selling our REOs to other investors at deep discounts like many lenders were forced to do, we were prepared to rehab and sell those foreclosed properties ourselves. And we did very well.
Another example of being prepared for a crisis is the current Covid-19 pandemic that has caused many lenders to pause or drastically scale back their lending operations. We are headquartered in a high fire risk community, so we are always prepared for evacuation. Fortunately, our technology team had a plan in place for business continuity long before the Covid-19 emergency erupted. A full week prior to the stay-at-home order announced by the governor of California, we had already begun implementing company-wide work from home protocols to protect our staff and clients. Today, Anchor Loans is fully operational with our team working remotely to continue to fund flips and service loans for all of our clients—as well as our competitors' customers who are turning to us for help with funding their house flips.
So, we try to think about things on a long-term basis as we build long-term relationships with our borrowers, with our vendors, with our staff. We're not just selling something. We're not just lending money on a one-time basis to hit short term numbers. We do expect to continue our upward growth trajectory, and this summer we will be moving our operations into a new suite of offices in Thousand Oaks California.
Through starting the business, have you learned anything particularly helpful or advantageous?
The hardest problem for us was scaling up, especially in a new business that I hadn't run before. So, we actually got to a point where we were growing faster than we were capable of handling. We had more business than we knew what to do with. That sounds like a nice problem. Our biggest problem was to manage our internal growth and do it in a way that was good for the business.
The decision to develop our proprietary fintech really solidified our ability to scale our operations. Also, we took on a financial partner in 2015 who brought a considerable amount of capital to the table--allowing us to scale operations with no pause between originating and funding loans.
We learned to always make decisions with an "infinite" mindset. Meaning, don't always do what is in the best short-term interest of the company. Think for the next decade and make decisions based upon that. This allows you to maintain discipline as a lender and to develop long-term relationships with staff, clients, vendors, and investors.
What platform/tools do you use for your business?
We are active on all social media platforms. We use an automated scheduling tool that makes it easier for our team to manage multiple social media accounts. We also use free Google and Facebook tools like Google Analytics and Google Tag Manager and the Facebook Pixel to measure our efforts and set paid advertising campaigns.
What have been the most influential books, podcasts, or other resources?
I am a voracious reader and I highly recommend that every entrepreneur carves out time in their schedule for reading. This year, I launched "@StevePollackCEO 2020 Year of Books" where I review one book per week and post my review on our company's blog and on LinkedIn. Here are some of my favorite books so far:
Advice for other entrepreneurs who want to get started or are just starting out?
Any entrepreneur, regardless of what your idea or business is, whether you are starting a business according to what people have done before, or you have an idea nobody has ever done, everybody who has been in business has experienced similar problems, issues, and concerns. Whether you are challenged by marketing, or hiring staff or B2B or B2C business, whatever it is—others have successfully met these challenges. So, what many entrepreneurs don't take advantage of is learning from people who have done it successfully. In today's connected world, there are plenty of opportunities—like with what Starter Story is doing, to learn firsthand from those who have struggled with what you are currently struggling with.
Even if they are not in your specific business niche, successful entrepreneurs can offer a wealth of experience and insight. Less experienced entrepreneurs should find someone they can ask questions of, read about, and learn from. The more you learn, the faster you'll be able to grow your business. Some people let their egos prevent them from asking the questions, but you can avoid a mistake that someone already made. So, my advice is to talk to people who are succeeding in their business goals. Surround yourself with a network of other entrepreneurs with goals and successes. Get a team around you to help you.
I am happy to answer questions for those who want to reach out to me. You can either send me an email at [email protected] or DM me on Instagram @StevePollackCEO.
Are you looking to hire for certain positions right now?
We have several open positions in our loan processing department, and we are also interviewing for management positions on our valuations team. Our website features an online application where all of our current openings are listed.
Where can we go to learn more?
-
Steve Pollack, Founder of Anchor Loans
Want to start your own business?
Hey! 👋I'm Pat Walls, the founder of Starter Story.
We interview successful business owners and share the stories behind their business. By sharing these stories, we want to help you get started.
Interested in starting your own business? Join Starter Story Premium to get the greatest companion to starting and growing your business:
Connect + get advice from successful entrepreneurs
Step by step guides on how to start and grow
Exclusive and early access to the best case studies on the web
And much more!