Thank you Klaviyo for sponsoring Starter Story ❤️
Turn one-time buyers into repeat customers. Try the platform loved by 265,000 brands
125 Best Instagram Bios For Hair Stylists [+ Free Guide]
•
Updated: July 12th, 2022
125 Best Instagram Bios For Hair Stylists [+ Free Guide]
If you're looking to up your Instagram game, it's imperative that you have a great Instagram bio.
Your Instagram bio is the first thing your followers will see - it should be unique and tell users exactly what you do and who you are.
We understand how difficult it can be to craft a compelling Instagram bio, which is why we curated a list of the 125 best Instagram bios for hairstylists.
Additionally, we provide you with examples of the best hairstylist bios on Instagram and a step-by-step guide to get you started.
Looking to generate your own bio? Check out our free Instagram bio generator here.
Creative Hair Stylist Instagram Bios
Let us exceed your expectations.
Making chemistry fun.
You'll love what you see.
Free to be.
We make hair effortless.
We'll know what you like!
Sit back and relax.
Let it grow.
We do hair like Rapunzel.
We cut it all!
Get your hair on.
The essence of hair.
Be the envy of everyone.
Reveal your true self.
The science of hair.
Leave it to us.
Loving your hair for less.
We're always here for you.
A unique experience.
Be your best.
The look you want for less.
Where hairdressing is holistic.
It's your time to shine.
It's all you.
See your potential.
Cute Hair Stylist Instagram Bios
Tranquility at your fingertips.
No one has to know it's not yours.
Let it loose!
Of course it's real!
Naturally you.
Leave the healing to us.
Simply the best.
Be the life of the party.
Achieve your goals.
Take a load off.
Take a minute for yourself.
Your personal stylist.
We're always here.
Beauty in a bottle.
Create your image.
Be who you want.
Authentically you.
Your hair is our canvas.
A whole new you
Love it for less.
Treat yourself
We care about your hair.
Where blondes have more fun (if you are a blonde specialist).
Styled just right.
You'll turn heads.
Cool Hair Stylist Instagram Bios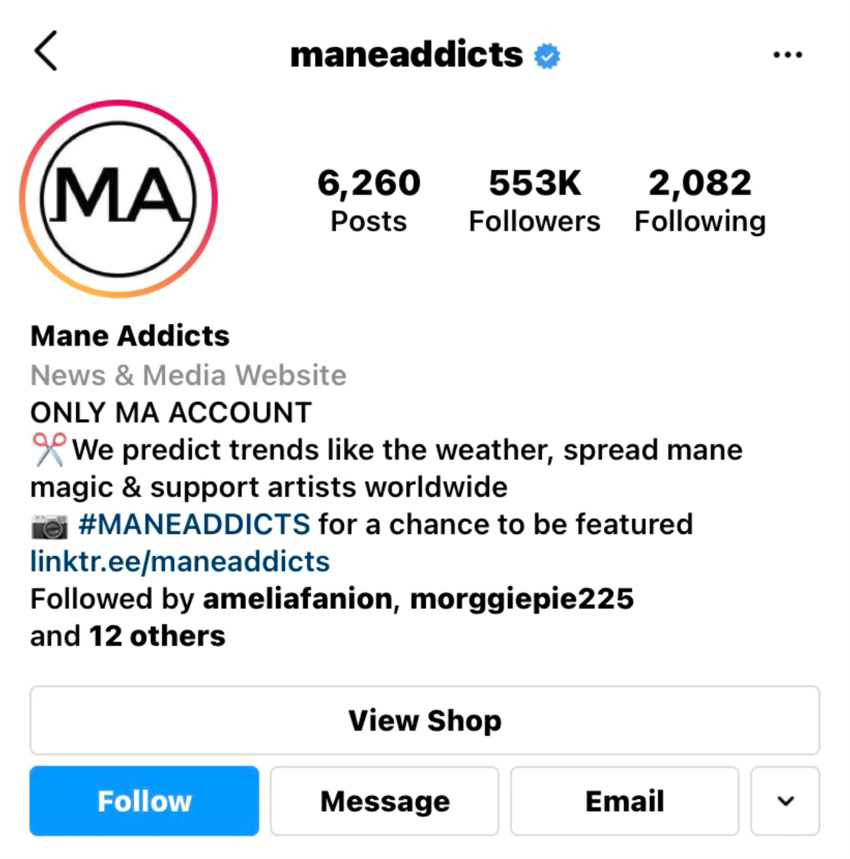 Where you can be yourself.
You deserve it.
The spa experience at home.
We make relaxing a science.
Salon on the go.
If you can dream it you can be it.
We'll treat you like family.
Lettin' it all hang out.
We can create your vision.
Calm from within.
The People Groomers.
We'll love your hair.
The sky's the limit.
Your one stop beauty shop.
Feel good about yourself.
Our products make it effortless.
Get your glow up.
Get back to the basics.
Surprising the senses.
Tame your tresses.
We'll style, you'll smile!
Your hair is our canvas!
Beautiful hair with beautiful care
Let's talk about hair!
Your hair at its best.
Where hairdressing comes alive...
Unique Hair Stylist Instagram Bios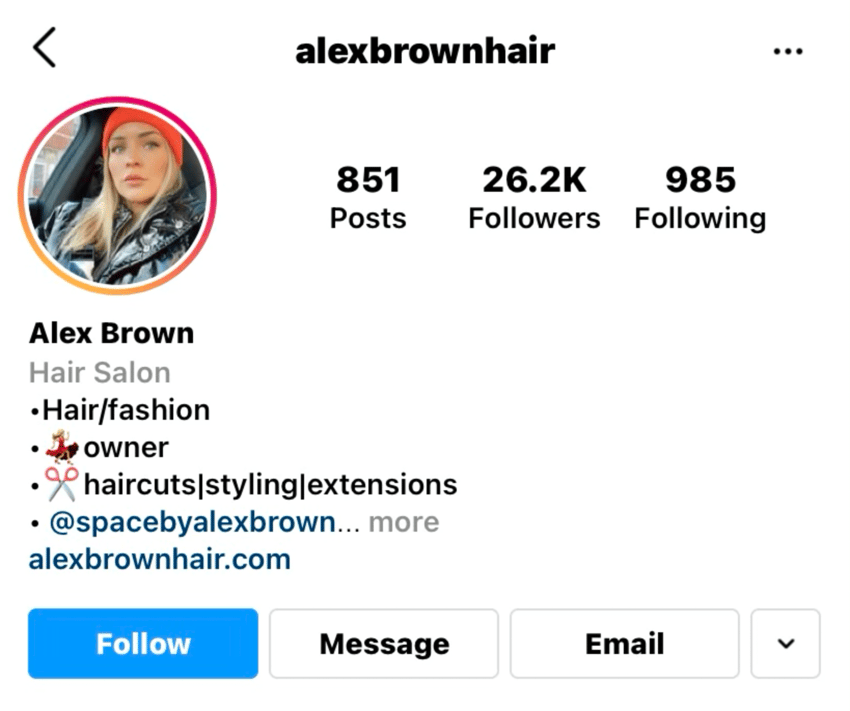 Your Best Hair Affair
We will DYE for You
Gone with the Hair salon.
A Cut above the Rest!
The cure for bad hair days!
A Reason To Dye.
Cut From The Heart
Your hair is our masterpiece!
Comb Together
Cut It Off!
Love is in the hair!
Amazing Hair Grace
Dyeing Sensation
Dyeing To Escape
Hair And Beyond
Hair Dot Comb
Hair State Of Mind
Haircuts With Happy Endings
To Trim Or Not To Trim
Your hair beauty, our duty
Our scissors are magic wands!
Creators of award winning hair.
Beauty comes from the inside, inside the hair salon
Funny Hair Stylist Instagram Bios
Where girls go to play
Hair can be red, hair can be brown, come on in and we'll change your crown.
Your hair, your crown!
Looking for a Hairgicians?
Life is too short to have boring hair!
Hairdressers bring colour to the world!
Great hair doesn't happen by chance, it happens by appointment!
Great hair don't care!
Big hair, Big dreams
You're never fully dressed without great hair!
Great hair is the best accessory
My hairdresser, my super hero!
Good hair speaks louder than words!
Proud to be a hairdresser!
Behind every beautiful women is a hairdresser that loves her!
Fueled By Passion & Hairspray
Invest in your hair, it's the crown you never take off!
Primpin Ain't Easy
Sorry I can't hear you over the volume of my hair!
Let your hair to the talking
Your hair needs me
Life is more beautiful when you meet the right hairdresser.
You're the Highlight of my life
Hairstylists are a girl's best friend
4-Step Guide: How To Create The Perfect Instagram Bio For Your Business
Instagram gives you 150 characters to tell your followers what your business is about.
This is where you are given the opportunity to summarize your company, engage your audience, and leave a great first impression.
We will break down the qualities and aspects of Later's Instagram bio, as a template for you to use.
Step 1: Highlight Exactly What You Do
Your Instagram bio should be a place where you tell your readers exactly who you are.
This should be brief, clear, and to the point. Explain what makes you unique and what you can do for your audience.
In the Later example, they do this in two different ways:
In their profile name, they showcase their company name with a clear description of what they do
They provide even more explanation and boost their brand up, saying they are the #1 marketing platform for Instagram

Step 2: Pitch Your Service [And Use Relevant Keywords]
While it's important to explain what type of company you are, it's also critical to pitch your product or service.
When creating a website, this is often the first thing people see on your site to really understand what you are offering and what makes you stand out from the rest.
Later does this using one line on their bio, and 8 relevant keywords:

Step 3: Provide A Clear Call To Action
Your call to action should be something you are encouraging your audience to do.
This could be in the form of a recent promotion you are offering, a link to a specific article you want eyes on, or just a way for users to get directed to your website.
In any case, you should always provide the user with easy access to whatever it is you'd like them to do. You can do this by providing a direct, embedded link on your bio.
For the Later example, they encourage users to check out their blog where they showcase tips and guides. This is a common strategy that brands use to get more traffic to their blog, and eventually, turn leads into customers.
Step 4: Use Emojis
Lastly, emojis are a great way to break up any text-heavy sections in your Instagram bio.
Be sure to use emojis that are relevant to your brand or to highlight the items you are discussing in your bio.
Later adds emojis to draw the readers eyes to certain aspects of their bio, such as what they do and their call to action:

Want to start your own business?
Hey! 👋I'm Pat Walls, the founder of Starter Story.
We interview successful business owners and share the stories behind their business. By sharing these stories, we want to help you get started.
Interested in starting your own business? Join Starter Story Premium to get the greatest companion to starting and growing your business:
Connect + get advice from successful entrepreneurs
Step by step guides on how to start and grow
Exclusive and early access to the best case studies on the web
And much more!
PROMOTED
Did you know that brands using Klaviyo average a 95x ROI?
Email, SMS, and more — Klaviyo brings your marketing all together, fueling growth without burning through time and resources.
Deliver more relevant email and text messages — powered by your data. Klaviyo helps you turn one-time buyers into repeat customers with all the power of an enterprise solution and none of the complexity.
Join Brumate, Beardbrand, and the 265,000 other businesses using Klaviyo to grow their online sales.
If You Don't Rank In Google, You Don't Exist.
In order to be successful, you need to be visible online. If you're not, then your competitors might be stealing customers from you.
Semrush lets you quickly create content that ranks, and compete with the biggest brands in your niche.
Try Semrush Free Today ➜