Thank you Klaviyo for sponsoring Starter Story ❤️
Turn one-time buyers into repeat customers. Try the platform loved by 265,000 brands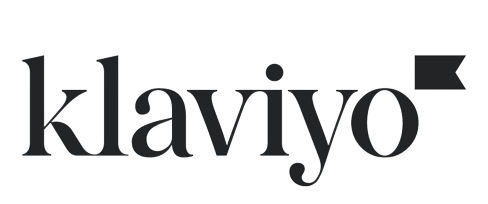 On Starting A Character Socks Business With 50 Designs
Hi! I'm Gil Kahana, co-founder of ChattyFeet. We make characterful socks, pin badges, mugs, and paper models that are designed to make people smile – and amid a pandemic, we could all use a lot more of that!
Many of our products have fun names, such as Vincent Van Toe, Frida Callus, and William Shakes-Feet. It turns out that many people share our sense of humor and the business has grown quickly. We started with just four sock characters, but now have nearly 50 products selling in around 20 countries.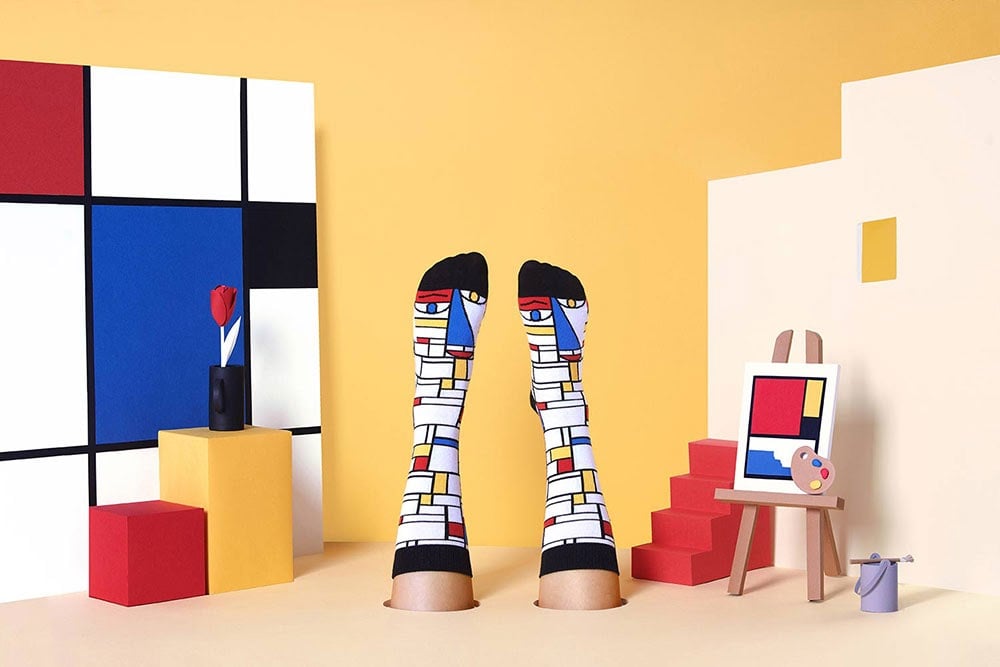 What's your backstory and how did you get into entrepreneurship?
My background is in design, but I've always been interested in psychology - particularly how design can create meaningful experiences for people. In my early career, I was introduced to user experience design and worked on several innovative projects, including a mobile app that enabled users to capture relevant information from physical objects.
A few years later, I was at a gathering with friends. I lifted my feet in the air and said, "Wouldn't it be cool if socks could talk?" I could picture a character being animated by my toes. While not everyone in the room shared my enthusiasm, Humberto De Sousa agreed to help make the idea a reality and became a co-founder.
We were both working full-time but decided to have weekly meetings to discuss the idea. We used to meet at the Barbican Centre in London, which is where we came up with the name ChattyFeet.
Take us through your entrepreneurial journey. How did you go from day 1 to today?
We started small, with just four characters, because we wanted to get it right. We also researched how people express themselves through accessories, and this helped us to feel more confident that socks were the perfect canvas for our cheerful characters.
It was important to keep costs to a minimum. Our prototype was a simple drawing on a white sock with a marker pen! We commissioned friends to create two of our illustrations, while Humberto and I also created one character each. Then we started on the branding: the logo, sock labels, fonts, business cards, and stickers. We chose Shopify for our online store because it was simple and robust – exactly what we needed at the time.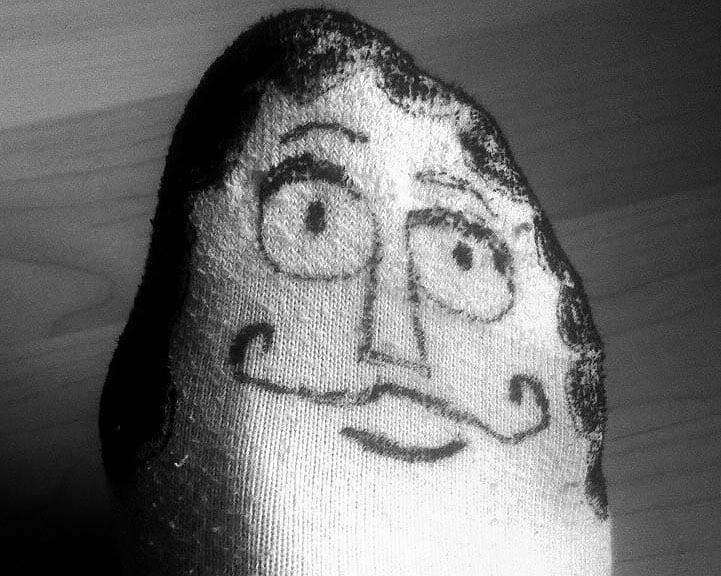 The real challenge was finding a manufacturer for our socks. It's really hard to find companies that can produce a high-quality product when you're a start-up ordering small quantities. When we did manage to find someone to make our first samples, it took far longer than we expected, which meant we had to cancel a few trade events – a big lesson learned!
However, when our first order finally arrived, it was a really special moment. We were ready to go to the next level – to tell our story and try to get exposure. After exploring lots of avenues, we realized that our product was doing well in gift shops.
Since then, we've received funding via Kickstarter, added more characters, and started to bring ChattyFeet to an international audience. Today, you can find ChattyFeet in the Tate Modern, MoMA, the Van Gogh Museum in the Netherlands, and the National Gallery of Australia. Our product range has expanded from socks to enamel pins, paper models, and mugs – and more fun is on the way!
How are you doing today and what does the future look like?
As you can imagine, when the galleries and shops closed due to Covid-19, our wholesale channel slowed down, but on the positive side, our online shop showed growth. We were very happy to see that people were buying ChattyFeet to make their friends smile during the lockdown.
We are constantly trying to find new people and organizations that can see the value in our products. As we develop new characters, we're able to appeal to a wider range of retailers.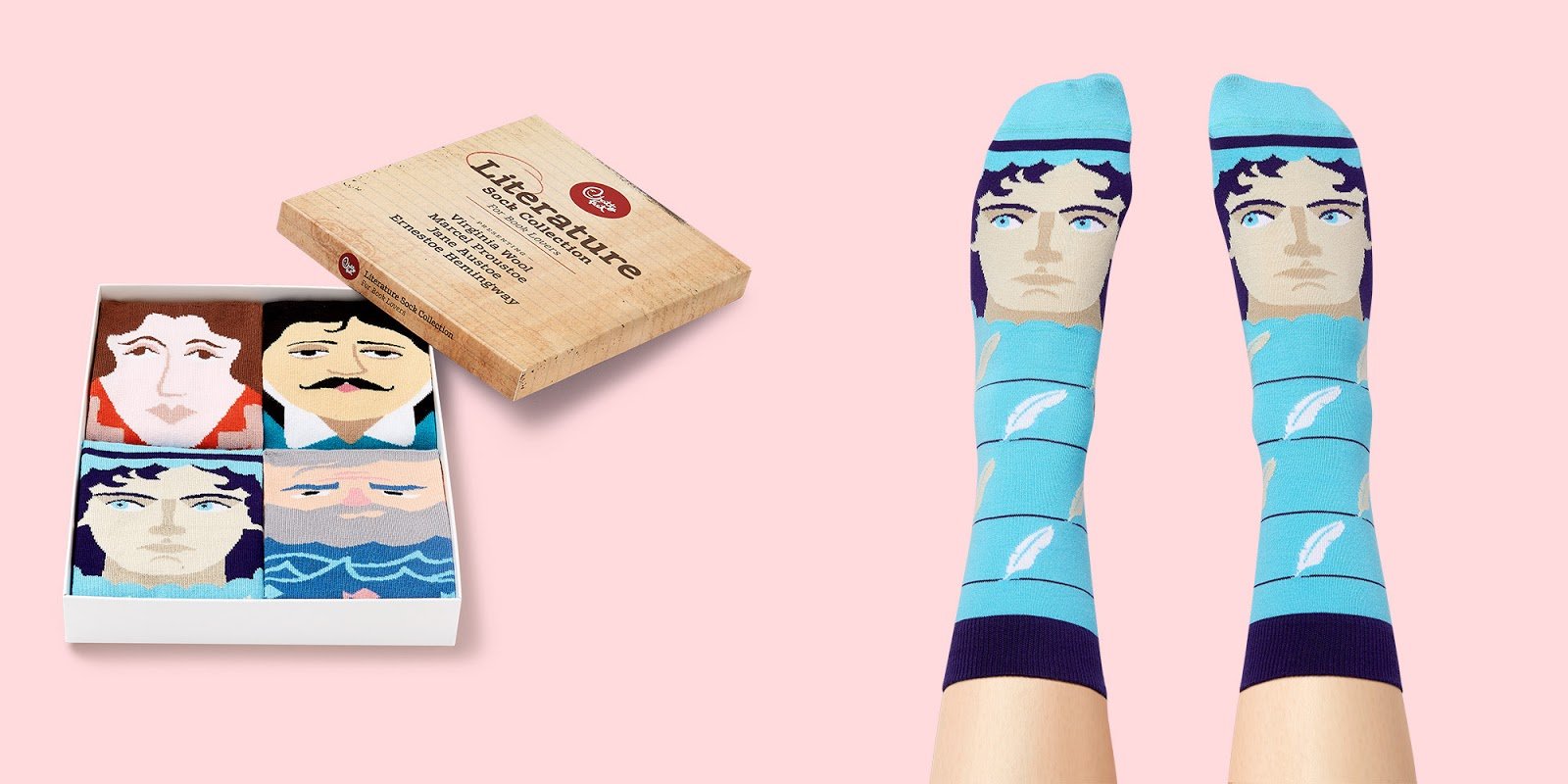 One of our latest products: The Literature Sock Set
Through starting the business, have you learned anything particularly helpful or advantageous?
Listen to your audience! When we started, our characters were based on what we thought would work, but the next collection was influenced by feedback from customers. Lots of people have ideas, but having a successful business is about being prepared to listen and adapt. It's very rare to come up with something great from day one and it's a good idea to save some energy for improvements after the initial launch.
We first started selling ChattyFeet at the Camden market, and we noticed that people loved the name Prof. Brian Sox and our brand name, ChattyFeet. This gave us the insight that a name can create an emotional response and we made sure that our next set of characters had witty names, such as Kate Middle-Toe.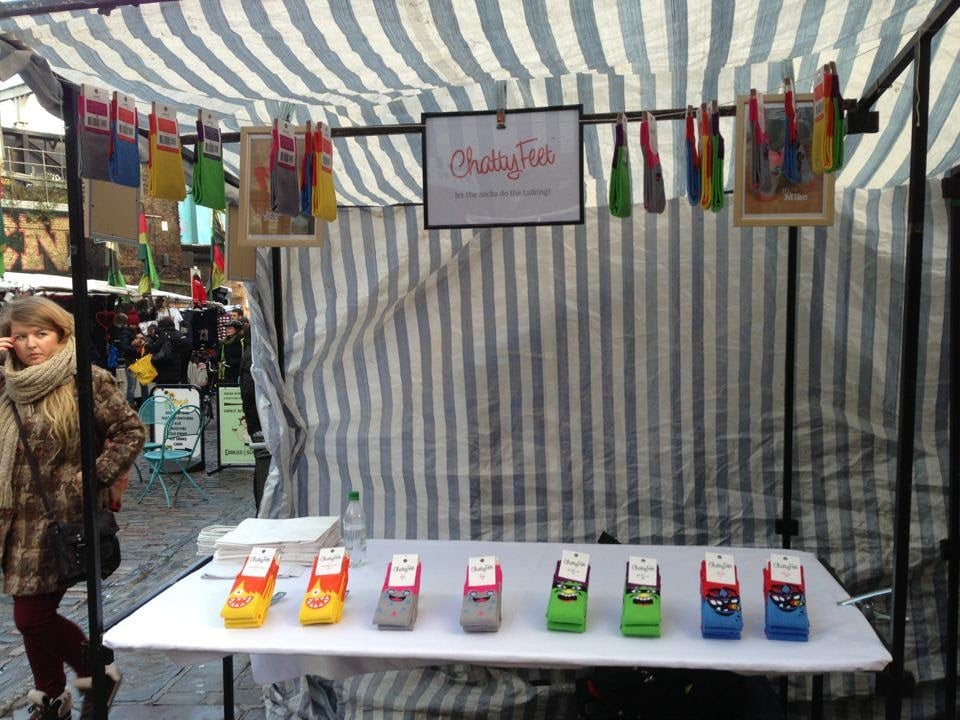 ChattyFeet at Camden Market in 2012
What platform/tools do you use for your business?
Google Analytics has helped us to understand how people use our website and to track our marketing campaigns. We use Google and Facebook advertising to reach new audiences. It can take a long time to optimize these, but they do provide surprising insights. For example, we discovered that the majority of our customers are older than we originally thought. Now we're sure that we're telling the right people about our brand.
We recently started using OrderlyEmails to brand-up our transactional emails. Getting the style right can be complicated and this app helped to make it work.
What have been the most influential books, podcasts, or other resources?
One of the books that I always like to recommend is the Art of Choosing by Sheena Iyengar. It's packed with insights into how people make choices, which is important when you sell online. I also listen to the Digital Marketing Podcast for the latest trends in marketing.
Advice for other entrepreneurs who want to get started or are just starting?
Have achievable goals. Too many ideas fail when people try to do too much in a very short time. Committing to just four sock designs initially enabled us to invest in the right things and make changes quickly.
Spend your time wisely. Sometimes you choose tasks that you like doing, rather than what the business needs. For example, coming up with characters is enjoyable for us, but it's important to know when it's the right time for a new product and when it would make more sense to invest in marketing our existing products.
Keep it fun. When you run your own business, you can get lost in a seemingly never-ending amount of work. Don't forget to celebrate your achievements and spend time with the people you love – it's not worth it otherwise. Many people measure their success by how much money they're making, but it should also be about the freedom your business gives you.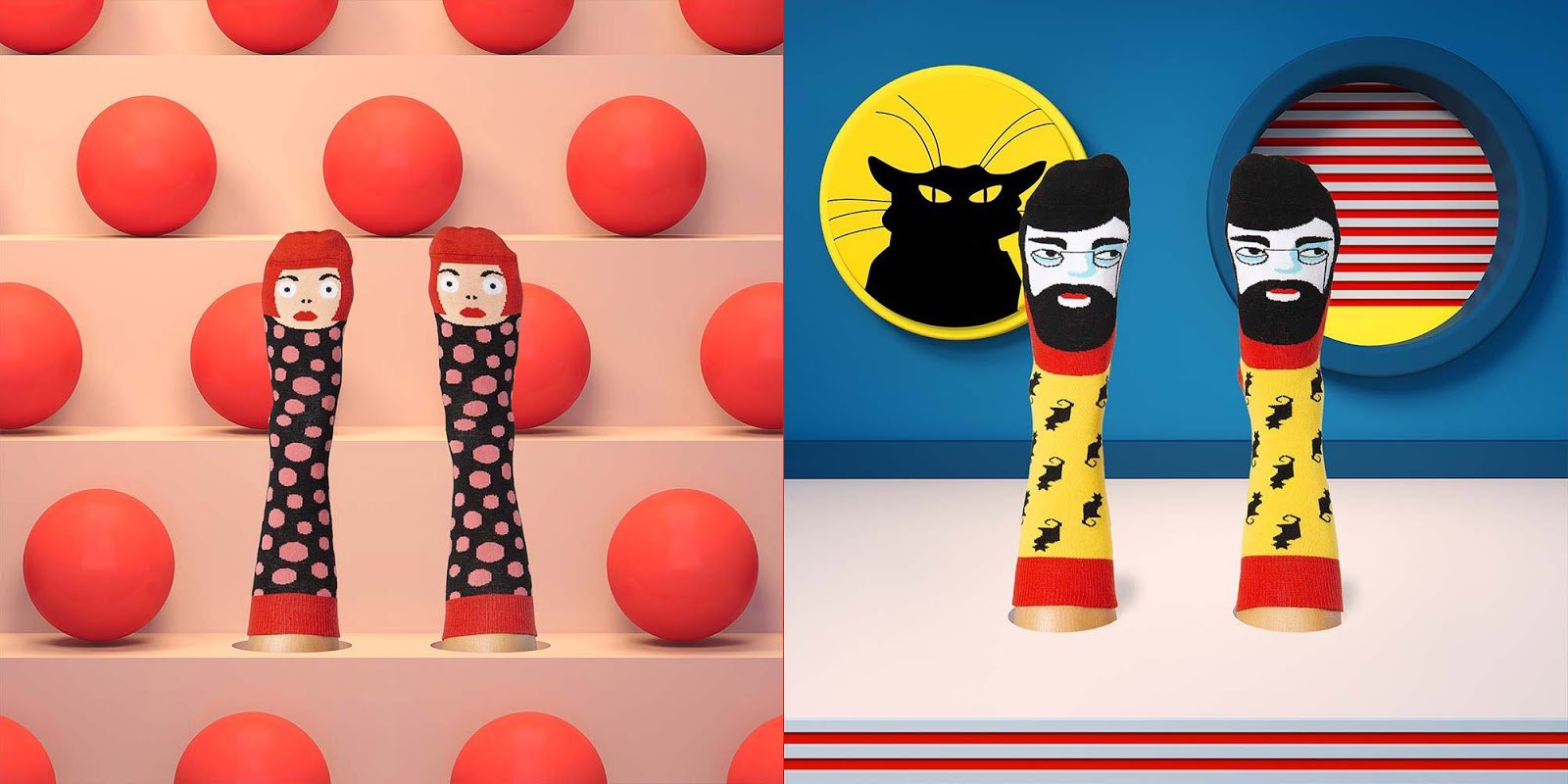 Where can we go to learn more?
-
Gil Kahana, Founder of ChattyFeet
Want to start your own business?
Hey! 👋I'm Pat Walls, the founder of Starter Story.
We interview successful business owners and share the stories behind their business. By sharing these stories, we want to help you get started.
Interested in starting your own business? Join Starter Story Premium to get the greatest companion to starting and growing your business:
Connect + get advice from successful entrepreneurs
Step by step guides on how to start and grow
Exclusive and early access to the best case studies on the web
And much more!
PROMOTED
Did you know that brands using Klaviyo average a 95x ROI?
Email, SMS, and more — Klaviyo brings your marketing all together, fueling growth without burning through time and resources.
Deliver more relevant email and text messages — powered by your data. Klaviyo helps you turn one-time buyers into repeat customers with all the power of an enterprise solution and none of the complexity.
Join Brumate, Beardbrand, and the 265,000 other businesses using Klaviyo to grow their online sales.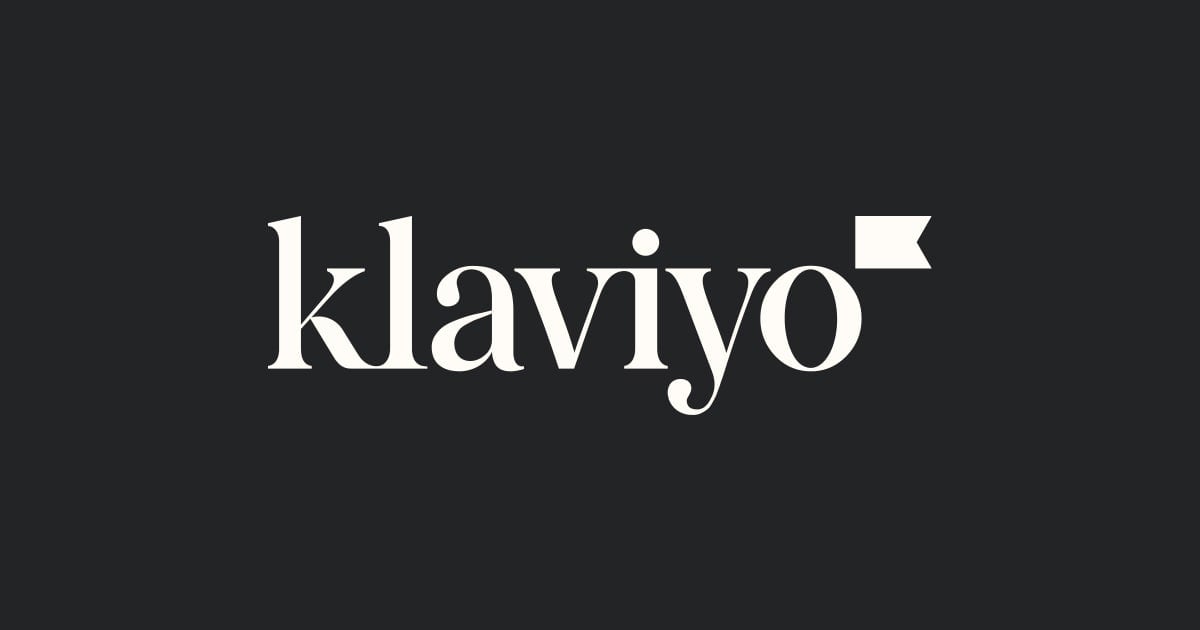 Together With Klaviyo
Companies using Klaviyo see a 95x ROI (yes, 95x)
Use Klaviyo to turn hard-earned customer data into hard-working emails and texts.
Try the platform that 265,000 brands use to grow their business.
Try it now (it's free) ➜