Thank you Klaviyo for sponsoring Starter Story ❤️
Turn one-time buyers into repeat customers. Try the platform loved by 265,000 brands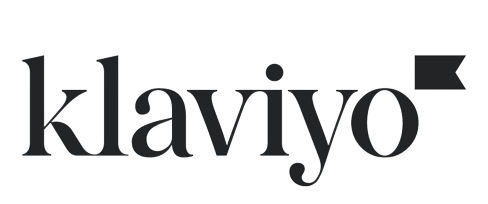 On Starting A Supply Chain Solution For Agriculture Companies Reaching 5.5K Users
Start A Supply Chain Management Business
I'm Emma Weston and I am the CEO and a co-founder of AgriDigital. I started AgriDigital in 2015 with my co-founders Bob McKay and Ben Reid with a vision to build the world's best grain supply chain technology. Between Bob, Ben, and myself, we have around 80 years of agricultural experience - we're all farmers and we've also built and exited two previous businesses in the agri-sector. This experience gives us a unique insight into the challenges faced across the industry and how we can solve them.
In 2017, we launched the AgriDigital platform in Australia. Designed for grain traders, bulk handlers, and elevators, AgriDigital manages all contracts, deliveries, inventory, orders, invoices, and payments. Today AgriDigital has over 5,500 users, and more than 18M metric tonnes of grain have been transacted on the platform at a value of over A$3B.
In August 2020, we launched our global platform for grain farmers, Waypath. Waypath has been built specifically to help grain farmers around the world digitize and optimize their farming operations and directly connect their farms and grain into the supply chain.
Using the power of digital and the cloud, Waypath helps farmers manage and value their grain inventory in real-time, optimize and report on stored grain through segregations, quality stack averages, and recording multiple ownerships meaning our customers can even store grain on behalf of other farmers.
Although we're only a month into the launch of Waypath, the response has been very enthusiastic and we've had great uptake so far. We're proud of the part Waypath will play in making the upcoming grain harvest simpler and easier for many farmers across the US and Australia.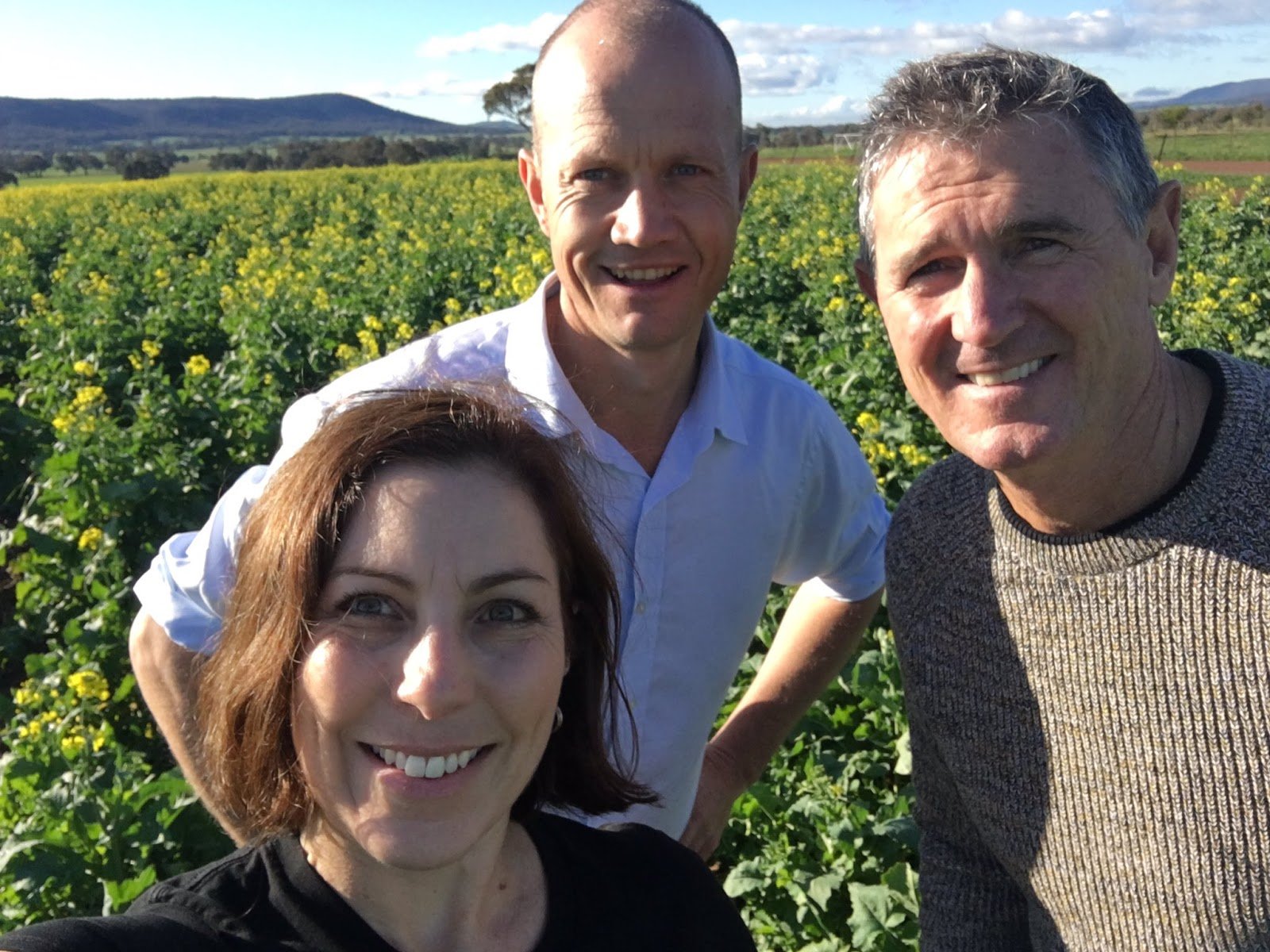 Founders Emma Weston, Ben Reid, and Bob McKay out visiting some of our customers in regional New South Wales
What's your backstory and how did you come up with the idea?
After completing my law degree and coming to the realization that I was not suited to private practice, I took a role as in-house counsel at the Australian Wheat Board ( AWB - a statutory authority that managed all Australian wheat export sales). AWB introduced me to the grains industry and agriculture more broadly and I've never really looked back. I had the opportunity to go out in the field and meet with farmers and saw the hardships they face in their everyday lives while growing the crops and livestock that will eventually end up on our dinner plates. This was the beginning of my mission to make farmers' lives easier! At AWB, I worked alongside Bob McKay and we also worked together at a business Bob started, called Agfarm, which is where we met Ben Reid - my third co-founder.
Say yes to opportunities and seek them out too - don't wait for them to come to you or you'll be waiting a very long time!
As farmers and grain supply chain experts, Bob, Ben, and I were determined to de-risk the grain supply chain for farmers, traders, and elevators. We knew we could do this by having a single source of verifiable data to underpin all supply chain transactions. This could also speed up payments and reduce counterparty risk which we passionately wanted to solve as it is one of the fundamental problems in agriculture - that farmers don't get paid for what they deliver when they deliver.
Farmers spend all year putting their heart, soul, and money into a crop - sowing it, harvesting it, managing the weather conditions as best they can. But when it comes to selling the finished product, farmers face sales counterparty risk that is very difficult and expensive to mitigate; and the longer it takes a farmer to get paid the more risk they are taking on. In the majority of cases the risk of not being paid on time or at all does not crystallize but when it does it causes direct hardship to the farmer who had delivered their grain to the buyer is unlikely to get the grain returned or get paid full price, if at all, given they are treated as an unsecured creditor. In 2014 Australian farmers were not paid for over A$100M worth of grain due to grain buyer insolvencies. Not only did the farmer lose their grain asset and not get paid at all, but there are flow-on effects to local communities - for every $1 a farmer is not paid, it is estimated that the local community loses $2.50. Bob, Ben, and I were determined that with AgriDigital we could change this forever.
For the first two years, we bootstrapped AgriDigital which enabled us to get our MVP to market, prove that it solved a meaningful problem for our customers and that they were willing to pay for access to our technology. By 2017 we were ready to grow our team and our customer base. At the end of that year, we completed a Series A funding round of A$5.5M to support our growth in Australia. In 2019 we brought on customers in the US and launched Waypath for farmers with a focus on Australia and North America in August 2020. We will be kicking off a Series A+ funding round shortly to support our entry into North America and continued scaling in the Australian grain industry where we aim to be the dominant provider of grain supply chain technology by 2022.
Take us through the process of designing, prototyping, and manufacturing your first product.
Whilst my co-founders and I have proven agricultural industry and grain supply chain experience, our skills in developing software applications from scratch were definitely not so strong! From the outset, we knew we would need to rely on highly skilled developers and product managers to help us execute our vision. These were our first key hires when we started the business.
We spent many hours meeting to discuss the challenges we were trying to solve for our (potential!) customers and how we could design a platform that could not only solve today's problems and friction points but also tomorrow's. We've worked on several iterations of the platform since day 1 and found that piloting our product with early adopters is key in terms of improving our product design and creating a great user experience - the feedback you get from those who are using it day to day in their business really is invaluable.
One of the lessons we have learned is to be less focused on features and releases and more refined in our approach around defining and delivering outcomes for customers that they can see value in from the beginning but also can "buy" into our vision over time. To do this, we have to invest very heavily in "knowing our customer" and committing to end-to-end CX (customer experience) as a competitive differentiator. This can be expensive and time-consuming but when we do it well, the impact on the customer is immediate and the team gets a real sense of satisfaction - we take a lot of pride in our product, and whilst mistakes are inevitable, we really try to minimize them by lost of upfront discovery, planning, and customer interactions before we even get to a delivery phase.
Once we have released a new outcome we try to understand through product and data analytics how we can continue to improve on our product overall and the newly released outcome specifically. It is a continual learning process and a journey that we are one with our customers and we are very grateful for all the feedback they provide us. We have a big vision, our product roadmap is incredibly ambitious and our feedback loops are crucial to our success.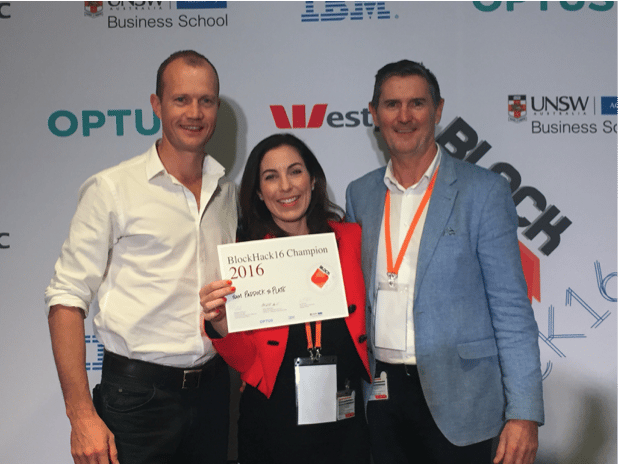 Co-Founders Ben Reid, Emma Weston and Bob McKay when AgriDigital won the Westpac Bank Blockhack in 2016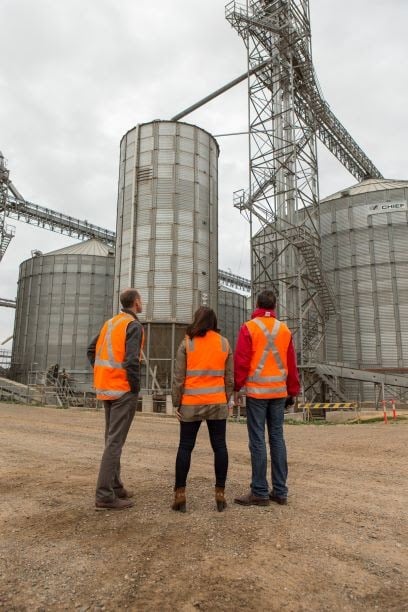 Checking out grain silos at first customer's (Fletcher International Exports) site in Dubbo, New South Wales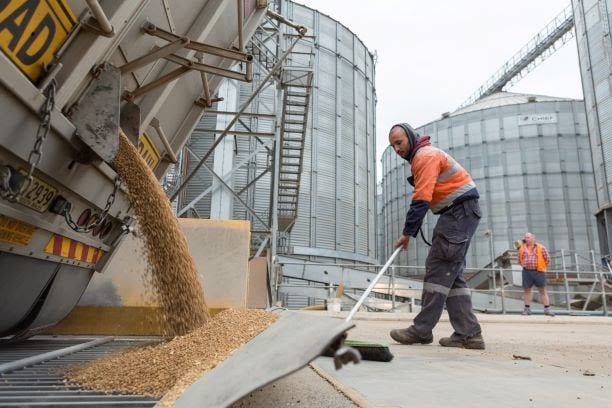 Fletcher International Exports - our very first customer. Dubbo, New South Wales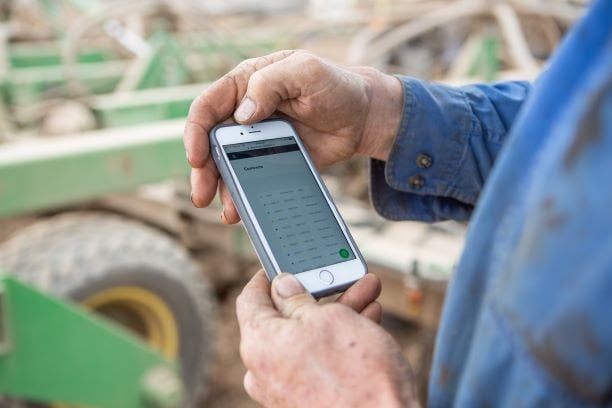 Farmer using the AgriDigital Platform (our first platform in the market) out in the field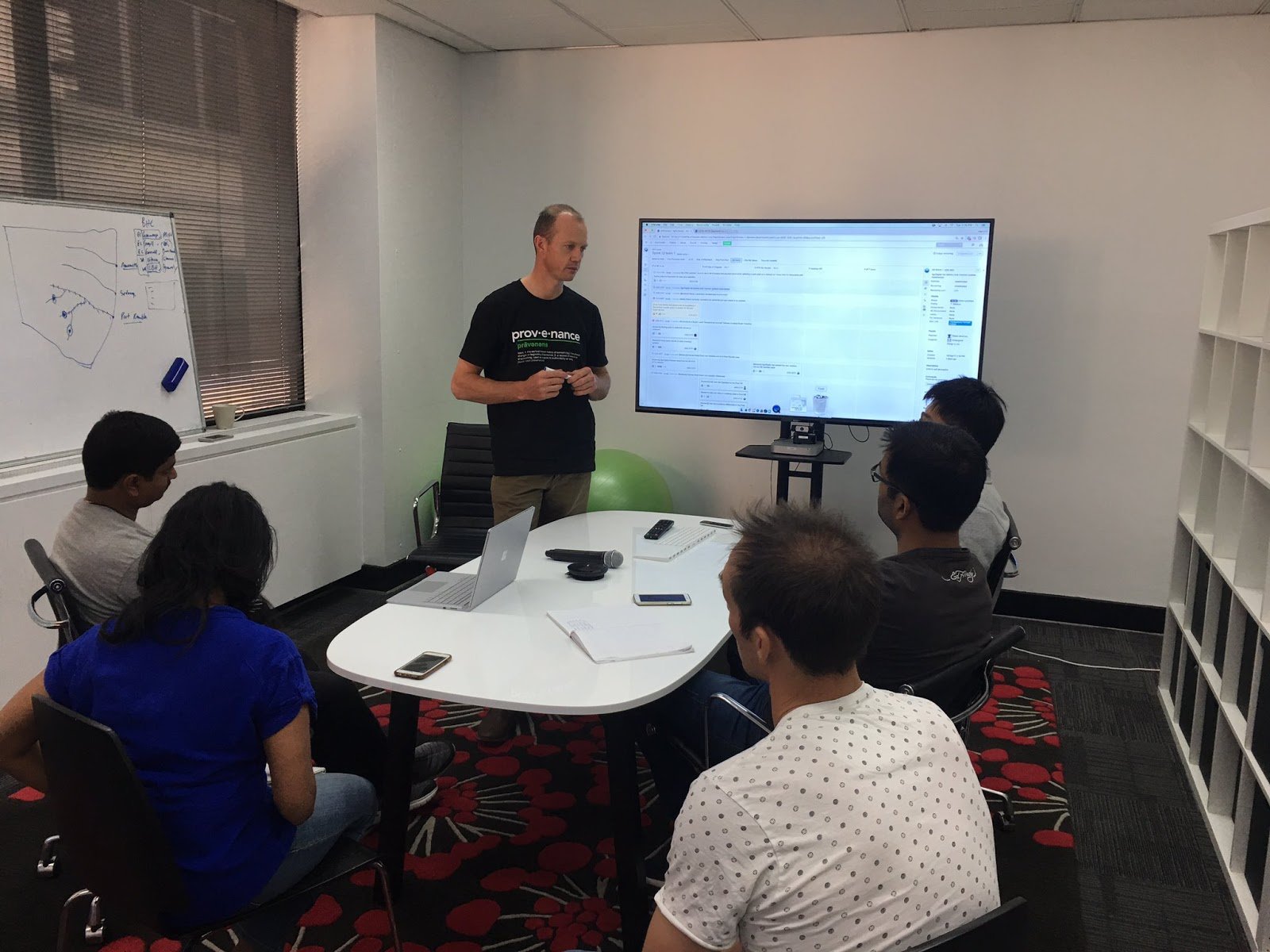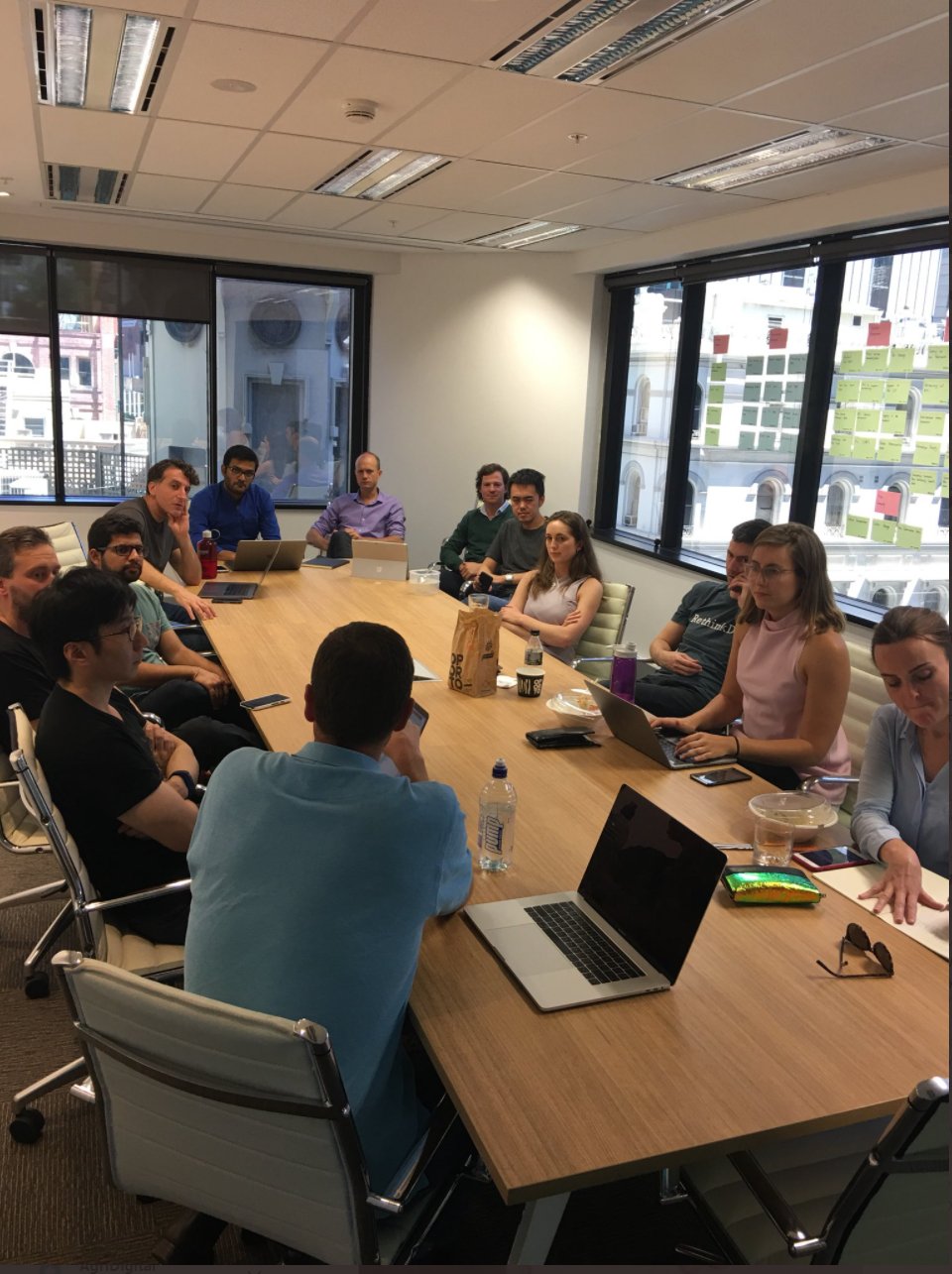 Team meetings
Describe the process of launching the business.
The launch of the business itself wasn't met with much fanfare, really. It was just the founders and a couple of team members working from a room in our house (very typical startup - it actually used to be the garage!). The launch of our first product, the AgriDigital platform was much more exciting! While we did have several pilot customers working with us who transitioned to paying clients we were obviously very keen to grow the business and keep the momentum going. We took a booth at one of the biggest agricultural events in Australia and really made our presence felt! Product demonstrations, great swag, crazy t-shirts - we did it all! On top of this, the launch was picked up by the local media which was fantastic. From there, we just kept at it in terms of growing sales and building a following around our brand. Social media was (and still is) really important as was building an engaging website.
We finalized our Series A funding round in the same year as our product launch which meant we were able to invest in sales and marketing to support our new product in the market.
Customers were keen to sign on however the year after we launched Australia experienced one of its worst droughts in a century which made it very hard to grow as fast as we had hoped. Despite this, our market share continued to grow, After 3 years of extreme drought, wildfires, and a global pandemic we are operationally very fit and lean - we have been forced to be. Whilst this experience after launch was not easy, it does mean that we are really conditioned to survive. Today, we are focused on moving from surviving to thriving. Improved market conditions, our new product, Waypath, and our focus on Australia and North America give us lots of scope for growth and we are starting to see results.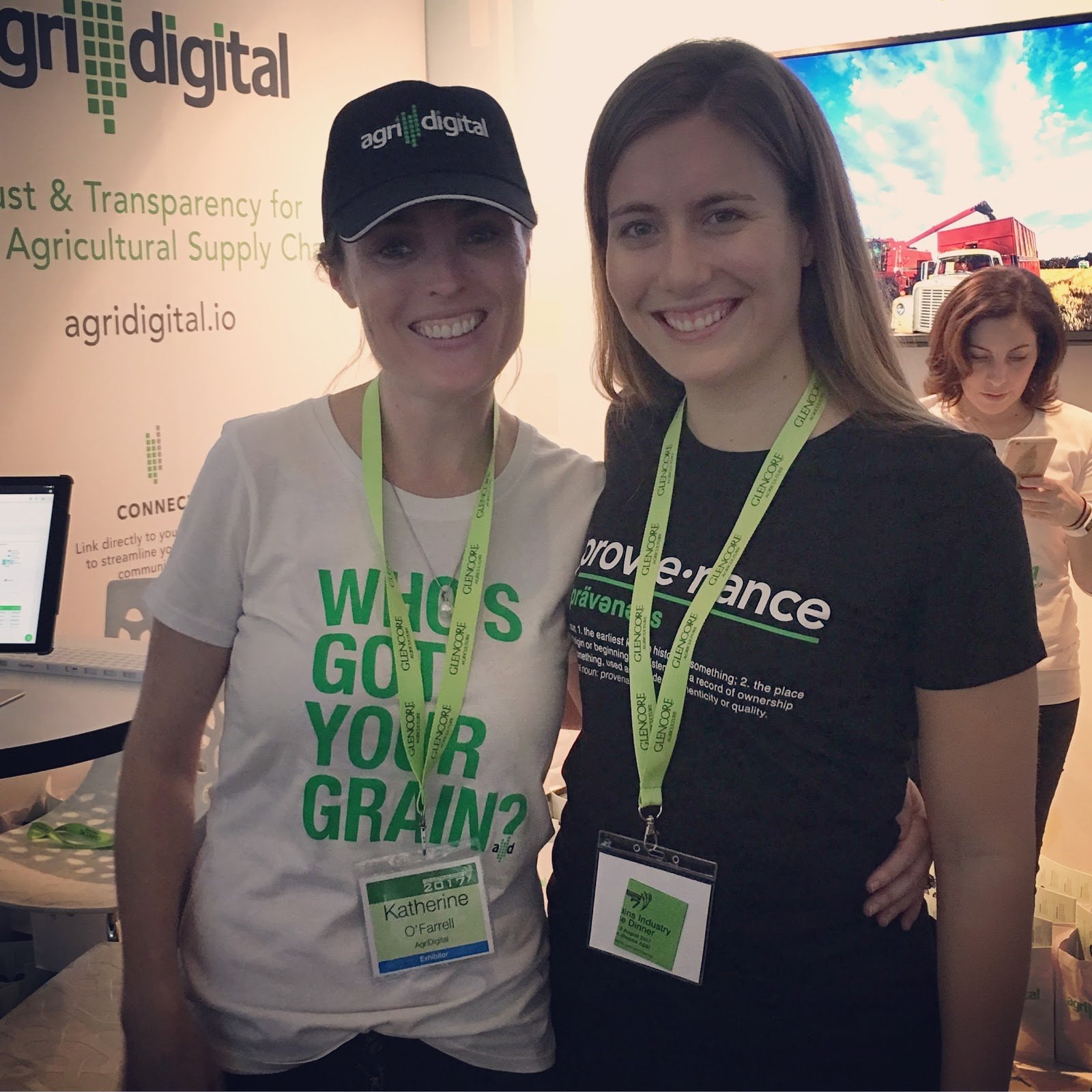 Launching the AgriDigital platform at Australia's biggest grain event - Australian Grains Industry Conference
Since launch, what has worked to attract and retain customers?
Since we launched our first product, the AgriDigital platform in 2017, we've implemented a whole range of initiatives to ensure we attract and retain customers. Given the geographical distance between us and our customers and the digital nature of our product, most sales are done online with very little face to face interaction. To ensure our customers feel supported in their purchase and ongoing use of the product, we like to keep in touch and ensure our customers feel supported by our customer success team. We send regular customer newsletters, release notes, and product enhancement updates, as well as maintaining an active social media presence and being part of industry events.
Before COVID, we would attend a lot of exhibitions, conferences, and events, often giving presentations or joining discussion panels, running product demonstrations, and taking the time to catch up with customers and industry contacts. We also run regular events ourselves including annual grower meetings (where farmers meet to discuss market conditions for the upcoming grain harvest). In 2019, we launched our own industry event, AMAC which brought together a range of thought leaders, agriculture pioneers, and other key players in the grains, oilseeds, and pulses industry. We really look forward to reinvigorating AMAC post COVID!
Of course, since our initial product launch, we've also developed and released Waypath which has been built specifically for farmers and has opened up a new customer segment for us. We've designed our website to make it quick and easy to sign up as a Waypath customer in just a few clicks.
One thing I've learned along the way is to observe your customers and their behavioral changes over time. When we first started, very few farmers or elevators had a social media presence, so there was little reason to market via this channel. Fast forward five years and they are all over it, Twitter particularly, and we've found it's a really effective way to communicate and build engagement. I guess the lesson is there is no such thing as a set and forget!
Exhibiting at our first event in the USA - Commodity Classic Conference in February 2019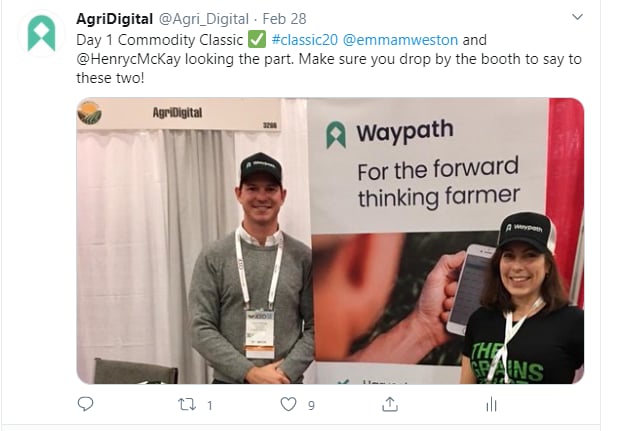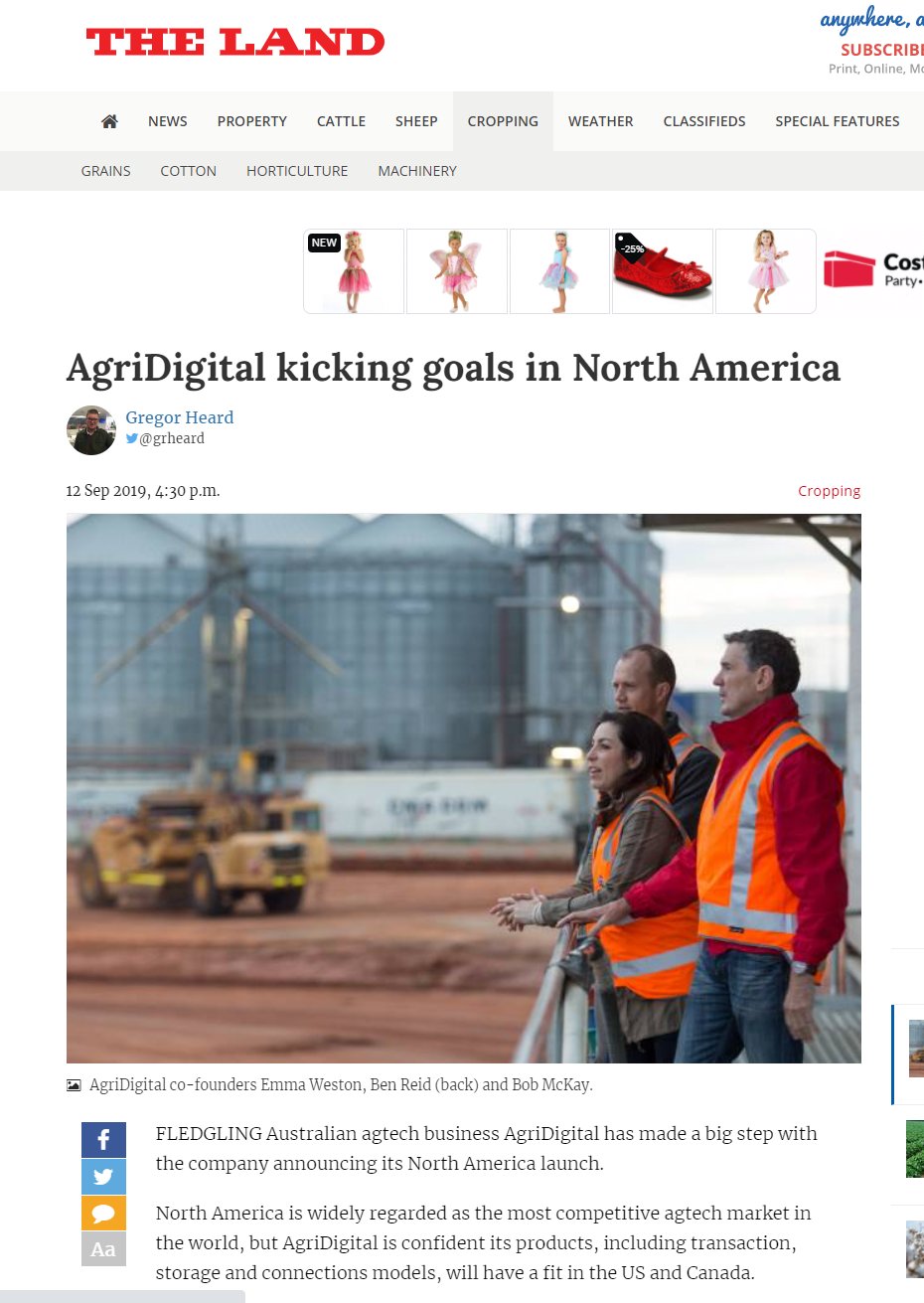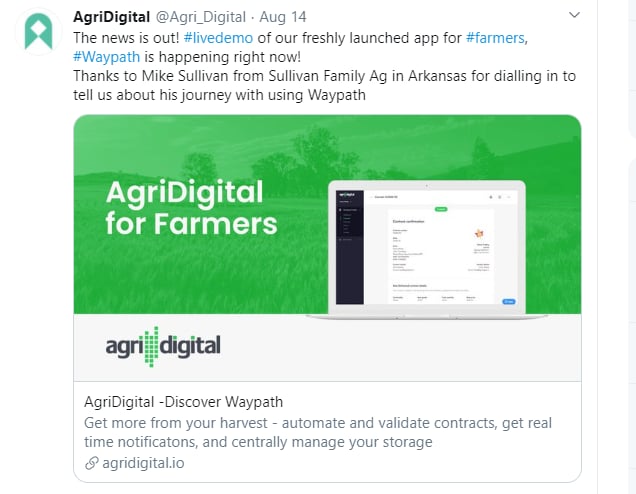 Launching the Waypath platform in August 2020
How are you doing today and what does the future look like?
While it's early days since the launch of Waypath we're excited with how it's been received by farmers both in North America and Australia. Our sales are all online but we do have a dedicated sales and customer success team. To date, most new customers sign up via our website and have heard of us through organic search or word of mouth. We do have a marketing strategy and this has mostly been executed via events, social media, and sales outreach rather than paid advertisements. Our blog, which we promote across our channels, also has a steadily growing readership.
Although spread far and wide geographically, agriculture is a tight-knit community and word of mouth and referrals are significant for us in gaining new customers and growing our brand in the industry. Before they invest, farmers want to know they can trust both the brand and the product. For this reason, we also attend several industry events and conferences to build up personal relationships with the industry. We are a product-led organization, but there are personalities and real people behind our products and we want to connect at a personal level as well as deliver a great product experience.
In 2019 we extended our technology platform to include supply chain finance. To help grain supply chain participants continue to grow their businesses they need access to technology and capital. Traditionally this capital has been provided by banks or by the business themselves. Our finance products enable our technology customers to access just in time, grain asset-backed finance meaning farmers and grain buyers can use their grain inventory as collateral when they need additional cash flow. Our finance product is another way we are trying to make the grain supply chain easy.
In the next 12 months our focus is to continue to grow our customer base both in Australia and in the USA. In Australia we aim to be the dominant provider of grain supply chain technology by 2022 and be the leading alternative grain financier (to the banks) by 2023. In the US, we have similar ambitions but need to focus on establishing our presence this year and continuing to grow our user base. We will also be building our team in North America in 2021 to support our growth. We do have global vision and ambition, but we have learnt the power of focussing our efforts and our resources.
Through starting the business, have you learned anything particularly helpful or advantageous?
I've learned that as a leader I can't do it all and I do not have all the answers or good ideas. It's really important to build a team of skilled and passionate individuals and to continue to invest in them so that together we can achieve more than just me or the founding team ever thought possible. I am definitely not the smartest person on our team, but I do have a strong sense of direction for the company. I've learned that my job is to resource, enable, and empower others.
Other lessons along the journey are not to be afraid of 'no.' Often it is what you say no to, how you refine and focus your efforts that actually makes the difference in execution.
We have made our share of mistakes, but we don't make very many twice. Mistakes are of course usually within our control but there are externalities which we have experienced such as drought - it is very hard to sell grain supply chain technology when there is no grain - which we have had to tough out. COVID has been a similar experience. What has enabled us to get through this has been that we have worked as a team. This has meant being very transparent as a leader about everything from our financial position through to our operational metrics. As a team, we've been able to navigate the hard times together and we are stronger for it.
What platform/tools do you use for your business?
My favorite communications tool is definitely Slack, particularly now as the majority of our team is working remotely due to COVID19 - it really helps us communicate and stay connected as a team and eliminates the need for countless emails and video calls.
We've also just implemented Hubspot which has been a game-changer across many teams from sales, to marketing and communications. We can now manage all our contacts, social media, marketing emails, and our blog all in one place, with stats on performance and metrics very easy to understand and access.
In terms of project management and keeping track of assigned tasks across different team members, we use Monday.com. It's a really clever visual tool that brings life to our strategic, product, and delivery planning.
As a productivity hack, I use the Pomodoro method and work in blocks for 30 minutes. I plan out my day at the start of every day and try to ensure I get the number 1 activity done first and then at least 80% of everything else I set out to do for the day. I find Pomodoro keeps me on track but also reminds me to get up and take the occasional break or leg stretch which is even more important now we are working from home so much.
What have been the most influential books, podcasts, or other resources?
I read very widely and there is no one book that I would recommend. I just think reading as widely as possible across multiple media is a good way to stay up to date, maintain and assuage curiosity, and bring fresh ideas to the table.
I do like podcasts and often share my favorite episodes with the team or certain team members. I am sure many people recommend The Twenty Minute VC but I do think Harry Stebbings runs a great general podcast for entrepreneurs, investors, and start-up team members. I really like hearing from other founders and reflecting on their lessons learned. There is no one way to build a successful startup.
I also enjoy the Future of Agriculture with Tim Hammerich. This is obviously focussed on our industry sector but is a great way of keeping up with the latest across the industry and particularly across the ag-tech sector globally. I often use this podcast to identify potential business and technology partnerships.
Advice for other entrepreneurs who want to get started or are just starting?
Know yourself and your passions; my determination to make AgriDigital succeed is fuelled by my own experience of life as a farmer and from years of working in the grains industry. Using personal experiences and drive will go a long way in helping you build the company you want to.
You'll also need a support network - everyone does, so find these friends, mentors, colleagues, sponsors as early in your career or journey as you can and know that they will change over time as you do.
Say yes to opportunities and seek them out too - don't wait for them to come to you or you'll be waiting a very long time!
Don't expect perfection - you'll be disappointed in the outcome. Despite successful launches of both our products, we are still iterating, developing, and modifying, and listening to our customers on their feedback. It's a dynamic process.
It can be scary out there but don't be afraid of being first. Backed by research, customer validation, and 'thoughtful' risk-taking, you can do it!
Are you looking to hire for certain positions right now?
We are always on the lookout for talented people to join our team particularly if you love our vision and also want to make agriculture a growth industry. If that sounds like you please email your resume to [email protected]
We are currently looking for engineers, product specialists and digital marketing/growth talent.
Where can we go to learn more?
If you have any questions or comments, drop a comment below!
-
Emma Weston, Founder of AgriDigital
Discover the best strategies of successful business owners
Join our newsletter and receive our handcrafted recap with the best insights shared by founders in Starter Story each week.
Useful, convenient, and free:
PROMOTED
Did you know that brands using Klaviyo average a 95x ROI?
Email, SMS, and more — Klaviyo brings your marketing all together, fueling growth without burning through time and resources.
Deliver more relevant email and text messages — powered by your data. Klaviyo helps you turn one-time buyers into repeat customers with all the power of an enterprise solution and none of the complexity.
Join Brumate, Beardbrand, and the 265,000 other businesses using Klaviyo to grow their online sales.
Starter Story
Wanna see 52 business ideas you can start with less than $1,000?
Join our free weekly newsletter and get them right now.