Thank you Klaviyo for sponsoring Starter Story ❤️
Turn one-time buyers into repeat customers. Try the platform loved by 265,000 brands
On Turning My College Side Hustle Into A Food Tech Startup
Start A Food Distribution Business
Hi! My name is Dan Kurzrock and I am the co-founder and "Chief Grain Officer" of ReGrained.
ReGrained is a sustainable FoodTech innovator focused on developing novel ingredients and delicious products that deliver nutrition with a mission. Our business model is to simultaneously reduce waste and feed people. We do this by rescuing high-value overlooked food supply chains, like the grain that has already been used to brew beer, from lower uses to create alternative "flours" that we sell through a partnership model with other businesses and in our own branded products. The ReGrained platform uniquely creates new foods from crops that have already been cultivated, harvested, and "used." This is truly found food—meaning that all the costs and impact have already been absorbed, yielding more from less.
We coined a term for this: Edible Upcycling. Upcycled food helps create markets that enable undervalued byproducts to realize their highest potential as sources of nutrition and revenue. We're all about leveraging technology, culinary creativity, and food science to build a food system that can do more with less. Our mission is to better align the food we eat with the people and the planet we love. We are a Public Benefit Corporation that creates tangible benefits for the environment, society, and shareholders.
When I started this business as a college scheme to fund my underage brewing by selling snacks made from my own byproduct, I never could have guessed it would lead to patenting technology with the USDA, partnering with some of the world's leading Food and Beverage brands, leading a global movement for upcycled food, and creating an award-winning consumer brand.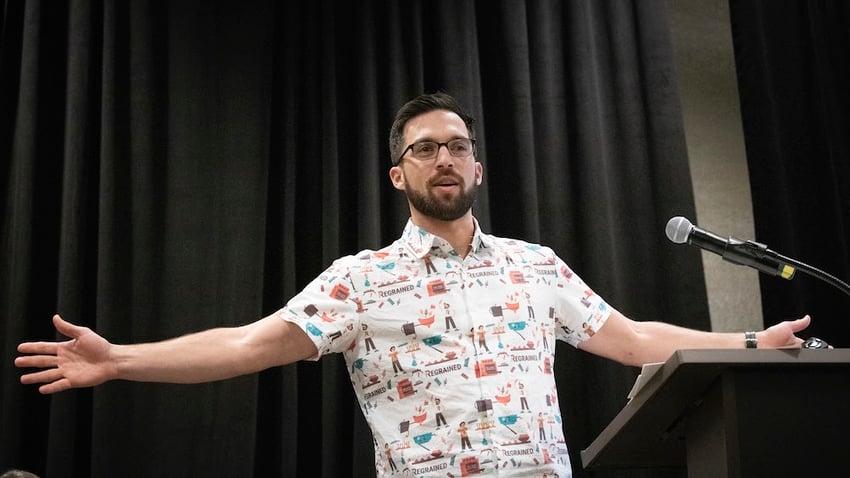 What's your backstory and how did you get into entrepreneurship?
In college, I learned how to make beer underage. Loved this hobby, but detested the waste is created. Every 6-pack we brewed left us with 1 pound of grain! We were hauling this grain, which after brewing was like a giant batch of porridge, out to the dumpster until inspiration struck. I tasted it--this was not waste, it was food. The research confirmed its latent nutritional value and I began to see some humble potential. Initially, I started saving the grains to bake into bread, which my vision was to then sell enough loaves to be able to brew for free. With each batch, the vision got bigger. It felt like I had struck gold with the ultimate opportunity to create a business that profitably contributes to building a more sustainable world.
Your passion is an emotional currency that you must be able to sustainably "fund" your concept through the ups and downs. Figure out how to invest in your energy and recharge.
Even before college, I had an entrepreneurial bend. In high school, I would design and produce merchandise like screen printed t-shirts and frisbees to sell at youth group events. I grew up in the San Francisco Bay Area, where I was surrounded by examples of people building successful businesses, and importantly, others failing. This normalization of both success and failure undoubtedly contributed psychologically to my willingness to put my own creative and crazy ideas into action.
After the original "a-ha!" but before coming up with the concept for ReGrained as an ingredient platform, I planned to open a craft brewery. Then that became a vision for a brewery + bakery combo. Then after speaking with some craft brewery owners, doing research, and brainstorming with my cofounder, we realized that the biggest opportunity was to try to connect the dots between the brewing industry and the food industry.
This opportunity was undoubtedly much bigger: if we could upcycle commercial brewery grains at scale into a "flour" for sale via a partnership model with leading food companies, this new supply chain could be the foundation for a sustainable and profitable food revolution. Think "Intel-inside" for upcycled food. This was a vision with seemingly limitless potential.
After a modest upfront investment to purchase some baking equipment, early on, we funded nearly everything with cash flow. The key was to actively sell our prototypes, first the bread, and later bars. This provided opportunities for revenue-generating learning. When we needed more money to buy packaging and such, we launched a rewards-based crowdfunding campaign, which financially speaking is still revenue. It was only years later that we took the plunge from recreational entrepreneurship to full-time that we raised outside capital.
Take us through your entrepreneurial journey. How did you go from day 1 to today?
ReGrained began with what I would describe as recreational entrepreneurship. We believed we had a "real" idea on our hands but we're pursuing it as a side hustle. This is in part because we were young and in part a strategy to decrease our individual risk and increase our collective probability of success. There were things we knew we needed to figure out before we could scale on the technical side. On the market side, our concept was also so novel that we wanted to confirm that we actually had a demand for this concept. Beer brewing after all originates around the same time as civilization itself...we figured there had to be a reason why this hadn't been successfully done before.
In our last quarter of college, my cofounder Jordan and I took an entrepreneurship elective as the capstone to our economics degree. In this course, we focused the project entirely on what we were calling "Brewin' Bread" at the time, a double entendre referencing our alma mater UCLA. During this course, we ideated a vision for what would become ReGrained.
We knew we needed a proof of concept for our ingredient platform, but felt bread was not ideal for the time and labor it took to produce, along with the short shelf-life of the finished product. We pivoted to nutrition bars because we could make more per batch by hand in a home kitchen, they would last months if packaged, and frankly--as avid outdoorsmen, we ate a lot of them. At the time, there weren't thousands of options available today. Plus, bars weren't the long-term vision, just a means to get to market and build demand.
After college, we got jobs and continued to produce bars and sell our bars on nights and weekends while working on the bigger business model. At a certain point, we hit the next of many inflection points. Our good idea had the makings of a great business but now needed our full attention to continuing to progress. I quit my job, started an MBA program, and poured all of my energy into ReGrained.
While in grad school, I worked on ReGrained in every course. The principal challenge to scale at the time was how to process the raw material (freshly soaked grain) into a safe, functional, and economical ingredient. This was well documented in the literature as the primary hurdle previously precluding a viable market for upcycled grain in the past.
This was when we first partnered with the USDA and had our breakthrough, which we ultimately patented. The goal was to overcome prior technical barriers and develop a scalable solution. Our partnership was structured as a collaborative research agreement known as a CRADA. Under a CRADA, we would co-own the intellectual property, but ReGrained would have exclusive commercial rights in perpetuity. Together we created ReGrained's exclusive patent-protected upcycling technology, which powers our business model and protects our market leadership position. ReGrained's technology is uniquely suited to safely, efficiently, and economically create novel upcycled ingredients like SuperGrain+ and others from oat milk residue, pressings from juice, etc.
After grad school, in 2016, we felt ready to raise capital and pursue the business full-time. By 2017 we had our first employees and early prototypes of our consumer brand distributed in the market. We had established ourselves as thought leaders and were frequently evangelizing the upcycling movement in the media, at conferences and platforms including the TEDx stage. We continued to secure innovation partnerships with big food companies including Barilla and Griffith Foods. These partnerships have been key in getting us to where we are today. Through them, we continued to learn about the various ways SuperGrain+ could be used and validated the real commercial potential. We were named Forbes 30 under 30 for Food and Beverage. We launched our first equity crowdfunding campaign that year, which we see as a strategic source of mission-aligned capital. Our customers and community could literally invest in us, disrupting the traditional VC model. We proved traction, developed momentum, and most importantly established our purpose--all of which would continue to carry us forward to today and the future.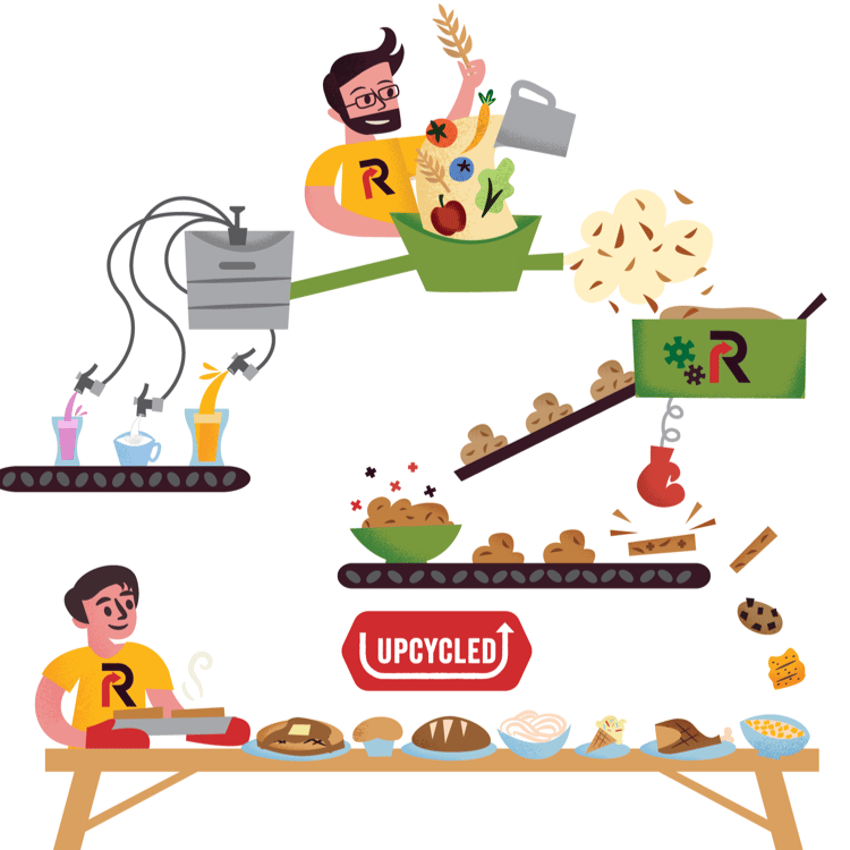 How are you doing today and what does the future look like?
Today as an ingredient and development partner, we upcycle at scale by actively collaborating with many of the brands you know and love. We would list them but attorneys insist on strict NDAs while in development. Suffice it to say that soon many of your favorite brands will be "Powered by ReGrained" and available wherever you shop. Picture everything from global snack brands to fast-casual restaurant chains to major retailer private label programs.
Our brand portfolio includes our recently released and highly successful snack puffs and our O.G. bars. These products help us develop the market for upcycled foods and capture tons of market data to inform our strategic development pipeline. They also generate near-term cash which helps us manage the long sales cycles that our ingredient partnerships require.
We are at the tail end of finishing the scale-up of our plant to meet demand and build on our Intellectual Property. We have many innovations to commercialize and are raring to accelerate and grow sales. This includes launching some of the additional ingredient streams beyond breweries that we have been working on.
As sales and demand for our ingredients grow, we will expand our production capacity through our co-located model and deploying additional "ReGraineries" closer to the point of production. The modular nature of our technology is perfect for this scale-up strategy which will reduce operational costs associated with freight, as well as environmental impact.
The best is yet to come. Soon upcycled product lines, powered by ReGrained, will be found in every aisle of the grocery store and be ubiquitous on menus around the world. As a result, we will disrupt the old ways and forge a new path to create a better, more resilient food system, and make out financially well along the way.
Through starting the business, have you learned anything particularly helpful or advantageous?
The first step is always taking action on your ideas. Don't let perfect be the enemy of good. Reject appeals to a tradition that dictates that things are the way they are because that is the way they have always been. This is a logical fallacy. Remember that all models are wrong, but some are useful tools.
Articulate your mission and define your purpose as a business. Your mission, like all things, should always be subject to evolution and improvement. This will help you determine what is in scope and where you should focus. Your mission is also a call to action that will bring in external support. When we had our struggles with compostable packaging, the mission was critical. More on that here.
Build a community around you to share your success and support you through your challenges. ASK FOR HELP. Investors, advisors, mentors, friends, peers, customers, suppliers, etc all are your stakeholders and can bring value. Most are interested in helping out if asked. they just need to know-how. It is your job to know who you can go to, and who you should go to depending on what you are working on.
Be transparent and let your operations be marketing. Not everybody cares about everything you do, but somebody cares about each thing you do. A commitment to transparency will not only help hold yourself accountable but also provide surprising benefits.
Never say no to an interview or an introduction. Speaking to the media is good practice, and the exposure (even within niche audiences) will pay dividends. The same goes for introductions. If someone you trust thinks you would benefit from meeting an individual within their network, take the 15-20 minutes for a call. You just never know where it will end up.
What platform/tools do you use for your business?
We use a lot of tools to run our business, no surprises there. These days, it is easy to overdo it with tools though, and if you aren't careful the costs can add up too. I'm not sure my insights are terribly valuable here, but the following is what comes to mind...
Our website is on Shopify, where we have several tools we use like JustUno and YotPo. We like that Shopify can be used by laymen like me, but also support higher-level development with freelancers. We use Klaviyo for email marketing, which we found to be much more powerful than Mailchimp.
For social media, we aren't terribly sophisticated here. We use a tool called Planoly for Instagram planning our organic calendar. We like that this tool makes it easy to layout a calendar for posting, drafting captions, and hashtags. Our paid social is handled by an agency partner. We use the Adobe suite for creativity.
Internally we use Slack for real-time communication. Important to set up expectations for how to use Slack as a tool, not a leash. For example, my team knows that if they hear from me in the evenings, I don't expect a response. For video conferencing, we use Zoom. For scheduling, we use Calendly. Great way to save time on back and forth for scheduling meetings. For project management, I have used Asana avidly in the past, but these days I only really use it with one service provider we use Asana for project management.
We use Gusto for HR and Quickbooks for Accounting.
On the sales front, we are not super active with any CRM. We used a Salesforce product called RelateIQ for a while. Robust CRMs are great for software businesses and larger companies, but the functionality is a bit over the top. Spreadsheets work just fine. We do sell on a B2B platform called Hubba for independent/smaller stores, which has a lot of promise. LinkedIn is also a powerful tool for sales and B2B marketing.
I would be remiss to not mention that we also proudly use old fashioned tools. I never go anywhere without my notebook, and use it to make lists and journals. I still use post-its and whiteboards for to-do lists. I've tried several apps over the years, but nothing beats the tactile experience.
What have been the most influential books, podcasts, or other resources?
I usually read 30-40 books per year, mostly fiction. I actually like to argue that I learn more from fiction. There is something about being transported to another perspective (or even world) that teaches me at least as much as non-fiction. Frank Herbert's Dune was a highly influential book for me in college in ways that are difficult to articulate. I love the way speculative fiction, science fiction, and fantasy enables you to imagine other worlds while simultaneously making you question your own. Kurt Vonnegut's catalog was highly influential. I also love the irreverence and intelligence of writers like Tom Robbins and Douglas Adams. I love more conventional "literature" too and typically read most of the Pulitzer shortlist as well as a few classics. The list goes on.
On the non-fiction front, I love reading founder stories too for companies that I look up to. I particularly enjoy consuming non-fiction as audiobooks, as a companion to endurance sports like long-distance cycling or trail running. Early on, I devoured books by brewery owners. When reading Brewing Up A Business by the founder of Dogfish Head Brewery, I was struck by a chapter where he described how one could order a burger at their brewery where the beef was raised on their grain, served on a bun made with that same grain.
John Mackey's Conscious Capitalism was an influential read as I was considering going back to business school. It is probably no surprise, but I also love sustainability-oriented texts. For example, Buckminster Fuller's Operating Manual for Spaceship Earth, Paul Hawken's Natural Capitalism, Janine Benyus's Biomimicry. I studied economics as an undergrad, and have always been fascinated by behavioral economics. You can't go wrong with Malcolm Gladwell, Daniel Pink, Daniel Kahneman.
Podcasts are great too. One of my all-time favorites is NPR's Planet Money. Like many other founders, I loved Gimlet's Startup and NPR's How I Built This. Making it onto the end segment of the show was a dream. In the food and beverage industry specifically, BevNet has a few great podcasts where they dive deep with founders and leaders. On a completely different front, music is an incredibly important part of my life too. I love music podcasts like NPR's All Songs Considered, and KEXP's Weekly Mix.
In the last few years, I have gotten a lot of value out of meditation apps. 10% Happier is a great resource for meditation, and the founder's book Meditation for Fidgety Skeptics is worth a read too.
Advice for other entrepreneurs who want to get started or are just starting?
Other than what I have already shared, one of the most important things I can stress is the importance of not letting yourself burn out. Your passion is an emotional currency that you must be able to sustainably "fund" your concept through the ups and downs. Figure out how to invest in your energy and recharge.
Your life outside of work will make you better at your job. You can't always take a vacation or a big trip when building a business, so build in moments of "micro" perspective into your week. Maybe that means going on a long bike ride or meditating or cooking an elaborate meal. You'll have your best ideas and feel most inspired when you give yourself this space.
Also, it is possible to create your own luck. To paraphrase the great John Wooden, luck is created where preparation meets opportunity. Your job as a founder is to be decision-ready and able to act on opportunities that present themselves. You can create opportunities for yourself to be lucky by embracing uncertainty. Say yes to more meetings and events, put yourself out there.
Where can we go to learn more?
-
Daniel Kurzrock, Founder of ReGrained
Want to start your own business?
Hey! 👋I'm Pat Walls, the founder of Starter Story.
We interview successful business owners and share the stories behind their business. By sharing these stories, we want to help you get started.
Interested in starting your own business? Join Starter Story Premium to get the greatest companion to starting and growing your business:
Connect + get advice from successful entrepreneurs
Step by step guides on how to start and grow
Exclusive and early access to the best case studies on the web
And much more!
PROMOTED
Did you know that brands using Klaviyo average a 95x ROI?
Email, SMS, and more — Klaviyo brings your marketing all together, fueling growth without burning through time and resources.
Deliver more relevant email and text messages — powered by your data. Klaviyo helps you turn one-time buyers into repeat customers with all the power of an enterprise solution and none of the complexity.
Join Brumate, Beardbrand, and the 265,000 other businesses using Klaviyo to grow their online sales.
Starter Story
Wanna see 52 business ideas you can start with less than $1,000?
Join our free weekly newsletter and get them right now.