Create A Case Study For Your Website: A Guide
•
Updated: September 24th, 2022
Create A Case Study For Your Website: A Guide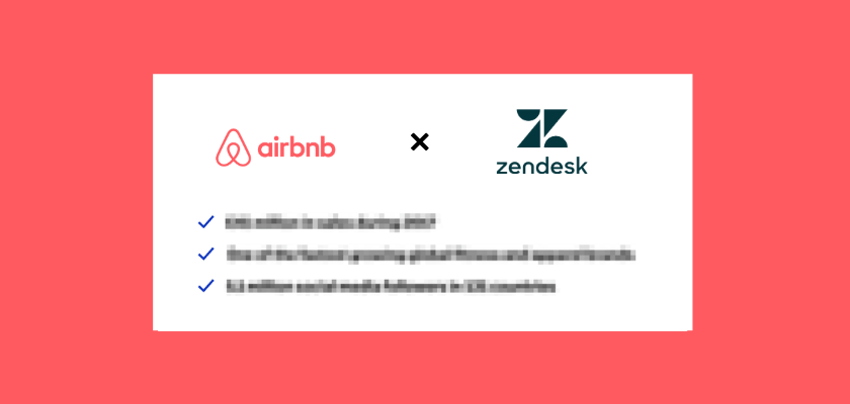 Result
Trust & Credibility
Cost Details
Case studies can be created on a simple word document or powerpoint. To create a powerful case study, all you need is time and focus.
Sure, you can tell your customers that your business is the best at what you do do, but until you're able to offer a compelling case, with examples and data, they may not believe you.
This little document can hold a lot of power - it persuades, it solves a problem in your customers mind, and it also gives you just a little bit of bragging rights.
13% of marketers say that case studies are the primary form of media used for their content strategy - making them the fifth most popular type of content.
The low-down:
Let's first get familiar with case studies and break down some of the basics:
What Are Case Studies?
Case studies are a great way to show your audience real-life success stories from other customers.
When a potential lead see's how your product/service made a difference for an existing customer, they are likely to have more confidence in your brand and convert into a customer.
Case studies are essentially used as social proof, which can be a very persuasive form of marketing.
So, when and where should you use a case study?
Website: Consider having a dedicated page just for case studies and success stories
As an independent PDF download: Use your case study in your web content or email marketing campaigns
On the homepage of your website: There are many ways to do this - you can include snippets of customer testimonials, a pop-out linking to your case study or a CTA that goes to your case study page.
On your blog: A great way to get your case study in front of your audience is to write a blog post about it.
Create a video: Turn your case study into a short video. Customers are more likely to watch a 1 minute video vs read an entire case study.
Real World Examples: Create A Case Study For Your Website
Zendesk - a CRM software business published a case study with Airbnb around building a powerful solution together.
When you first open the cas study, the design and photos immediately catch your eye. It's clean, the title is strong, and the imagery pops.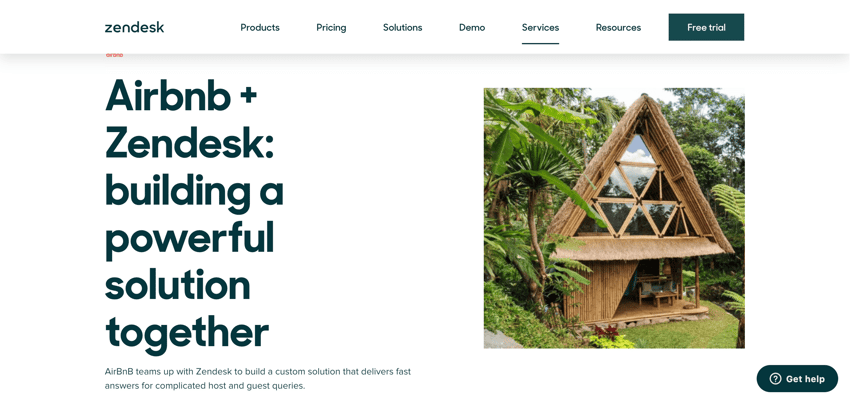 Beneath the title, the first thing they do is showcase two testimonials. Both testimonials are glowing reviews from higher ups at Airbnb.
The first testimonial captures more of the passion and emotion around the partnership, and the second displays statistics and data. Two very effective ways at conveying just how meaningful this partnership is:
The case study does an amazing job at equally pointing out the advantages of using both platforms.
Rather than Zendesk focusing solely on the benefits of their service, they more-so focus on Airbnb's interesting model and how they've overcome specific challenges:
Airbnb's support model poses an interesting challenge—the thousands of customer service agents, operating out of 20 physical locations around the world, serve both hosts and guests.
They go on to discuss the high call volume, stating that, "phone calls account for about 60 percent of Airbnb's millions of annual tickets, and the vast majority are answered in minutes during peak periods, and often in less than a minute. The remaining 40 percent of these come in through email are typically answered within 24 hours.
Then, they provide their immediate solution to this challenge:
"These millions of contacts are all recorded in Zendesk Support, even though Airbnb utilizes a custom-built phone system. Agents log calls in Zendesk, and link the call to the ticket via an integration between the company's phone system, Support, and Airbnb's data warehouse."
This is in part what makes such a compelling case for Zendesk's services - Real challenges. Real companies. Real solutions.

Zendesk has grown with us as we've grown," she said. "Initially, everyone just dog-piled on to support our early volume. Over time, we've gotten more savvy. We've gone through various optimizations with Zendesk over the years and gradually get more and more sophisticated." - Aisling Hassel, head of Global Customer Experience
Contributors
Contributors to this article:
Pat Walls, Founder @ Starter Story
Want to start your own business?
Hey! 👋I'm Pat Walls, the founder of Starter Story.
We interview successful business owners and share the stories behind their business. By sharing these stories, we want to help you get started.
Interested in starting your own business? Join Starter Story Premium to get the greatest companion to starting and growing your business:
Connect + get advice from successful entrepreneurs
Step by step guides on how to start and grow
Exclusive and early access to the best case studies on the web
And much more!
Starter Story
Wanna see 52 business ideas you can start with less than $1,000?
Join our free weekly newsletter and get them right now.