Lessons Learned From A Blogger Trying To Build A YouTube Channel
This is a follow up story for The Modest Man. If you're interested in reading how they got started, published almost 4 years ago, check it out here.
---
Hello again! Remind us who you are and what business you started.
I'm Brock McGoff, founder of The Modest Man, a digital publication that helps men improve their image and ultimately feel more confident.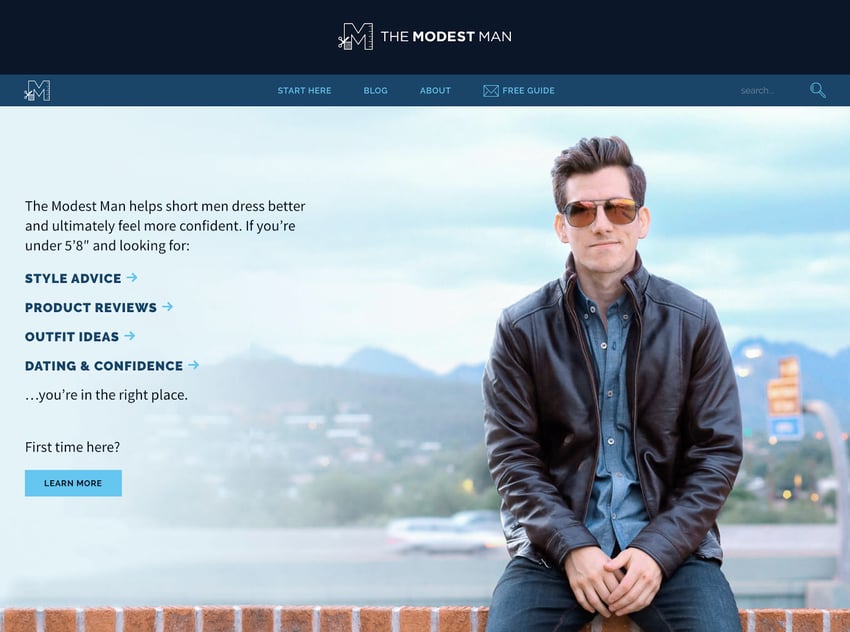 TMM mostly publishes on its website, YouTube and Instagram.
Tell us about what you've been up to! Has the business been growing?
Oh man...I've tried a lot of different things, chased a few shiny objects, made some mistakes and, ultimately, come back to what's always worked best: publishing high quality, helpful content on the internet and letting an audience grow organically.
But if you ask me, I'd rather be a wealthy nobody than a YouTube celeb.
I focused heavily on YouTube for the past two years. While it was great to see growth on that platform (almost 250k subscribers at the time of writing), it came at the expense of website traffic (which failed to grow for the first time since its inception in late 2012).

I don't think it's this way for every business, but for TMM I've learned that it's easier to gain reach on YouTube and Instagram, but website traffic is much more valuable.
For example, 500k monthly views on YouTube might generate $1,500 in Google ad revenue, while that many views on a website could easily generate $5,000 from an ad network like AdThrive or Mediavine.
YouTube can generate revenue in other ways, and if you're the face of your channel, it also produces other less tangible benefits (like "fame").
But if you ask me, I'd rather be a wealthy nobody than a YouTube celeb ;)
What have been your biggest lessons learned in the last year?
For the first time ever, my site took a small hit from a Google algorithm update (the March 12, 2019 update, which was pretty big).

I've never done anything remotely black hat, so this was purely collateral damage, but it was also a wake up call.
I needed to start focusing on the most important part of my business again: the website.
When you own a site that has a good amount of domain authority, the most impactful thing you can do is publish more content. Specifically, content that people are searching for.
The March 12 update caused a not significant drop in the number of keywords TMM was ranking for. It was very hard to watch this happen!
So I made a plan to publish more frequently, and to go after big topics - stuff I knew TMM could rank for.
Slowly but surely, this plan is working, and TMM is starting to rank for more keywords every week.

Organic traffic is on the uptick again! Phew…
What's in the plans for the upcoming year, and the next 5 years?
To keep up the momentum, I've hired two professional freelance writers and started building team of less frequent (but valuable) contributors.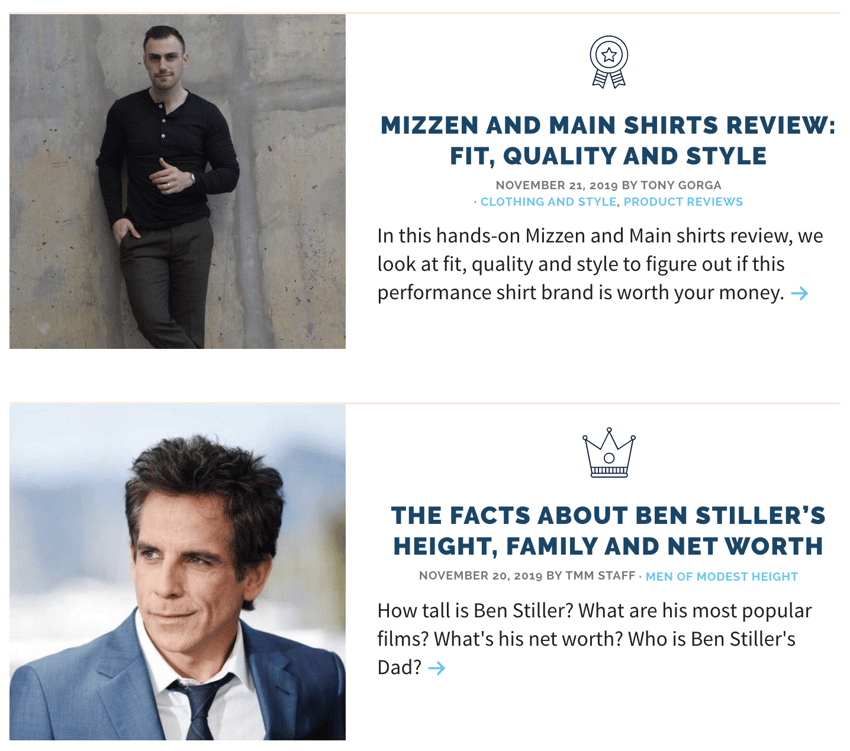 Some of these are amateur writers who love menswear and want to write products review. Some of them want to build their own reputation in the space.
Either way, my goal is to provide a platform and, if they want it, income for these content creators. My job is to guide them and make sure they're producing content that has the potential to bring in organic traffic, ad revenue and affiliate earnings.
Have you read any good books in the last year?
I've been listening to podcasts like Authority Hackers, Niche Pursuits and My First Million, in order to learn more about the business of buying and selling websites.
This is a really fascinating field, and so many website operators don't consider the end game.
I know that what I'm doing now won't be fulfilling (or fun) forever, so I'm trying to prepare for an eventual exit.
Also, I think if you approach running your site with the mentality that you may one day sell it, it causes you to build in smarter processes and sort of "e-myth" your operation. It's much harder to sell something that depends on you being there every day.
Advice for other entrepreneurs who might be struggling to grow their business?
If something is working, triple down on that, and ignore everything else.
Right now, for example, it's really tempting to jump on Tik Tok. I see people getting millions of views with brand new accounts.
But I don't know anything about that platform, and it's not where I should be spending time.
What I know is this: publishing great content that's backed by strong keyword research will grow my business.
So that's what I'm going to do.
Think about what's really important to you. Is it fame? Wealth? Legacy? Freedom?
Then do whatever it take to get more of that.
If you haven't started or are still trying to find the perfect idea - if you spend hours on r/entrepreneur reading about different business models - my advice is to stop researching and start doing.
Seriously, you know what's out there. You have all the info. This year should be the year of producing, not consuming!
Are you looking to hire for certain positions right now?
I'm looking for writers and video editors. Writers must have a passion for one of these topics: men's fashion, watches, food/drink, fitness or dating.
Video editors should be extremely detail oriented and familiar with the fast-paced nature of YouTube videos.
Where can we go to learn more?
https://www.youtube.com/channel/UClbfoD1o7sV0VxErpxTCpyw
https://fulltimeblog.com/
If you have any questions or comments, drop a comment below!
The Modest Man has provided an update on their business!
Over 1 year ago, we followed up with The Modest Man to see how they've been doing since we published this article.
6 months ago, we followed up with The Modest Man to see how they've been doing since we published this article.
Want to start your own business?
Hey! 👋I'm Pat Walls, the founder of Starter Story.
We interview successful business owners and share the stories behind their business. By sharing these stories, we want to help you get started.
Interested in starting your own business? Join Starter Story Premium to get the greatest companion to starting and growing your business:
Connect + get advice from successful entrepreneurs
Step by step guides on how to start and grow
Exclusive and early access to the best case studies on the web
And much more!