Brandon built a simple Instagram utility app as a side project and earns $2,700 per month in passive income.
•
Published: November 1st, 2017
Hi! Tell me about you and your business.
I'm Brandon Bayer, a 27-year-old developer, designer, and pilot.
Martin Holsinger (my co-founder) and I built Storeo, an iOS app for making Instagram Stories longer than 15 seconds. It's the first side project I've launched to the world.
The core function is very simple. It takes a video, splits it into 15-second segments, and finally saves it to your camera roll. After uploading each slice to Instagram, people who watch your Story will see it seamlessly transition from one to the next without any jarring transitions or cut off words.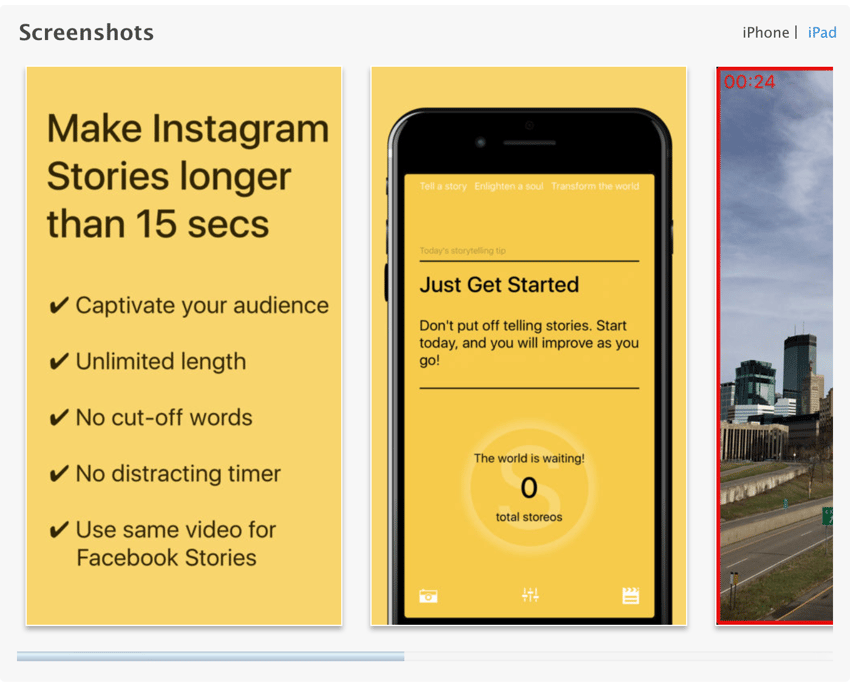 What's your backstory and how did you come up with the idea?
While stuck in a cubicle doing work I didn't like, I spent my free time learning all the skills I needed to build my own apps. Eventually, I wanted all my income to be from my own products, but I wanted to start that journey with side-projects.
That's when Martin Holsinger, a friend of mine who does marketing for construction contractors, came to me with an idea. When recording an Instagram Story, 15 seconds was never enough for him to say what he wanted. To get around this time limit, he would manually split up his videos with a desktop editing app. That worked but would take a very long time. He knew it could be easier and knew I could help.
I agreed it was a great idea and was confident I could make it. We agreed to split the proceeds 50/50. I'd build it. He would sell it.
Describe the process of building the initial product.
At the time I was an experienced software developer, but I had never built a real mobile app. I knew I would build the app with React Native because it enables you to build the UI in Javascript. I was great at Javascript, but I had to learn React Native.
It took me about 20 hours to learn the basics of React Native and build a basic prototype. Usually, when building something new, I'll code up the core concept without thought to UI design. I want to make sure the concept is feasible and that I know how to build it. Then I'll take a step back and properly design the product.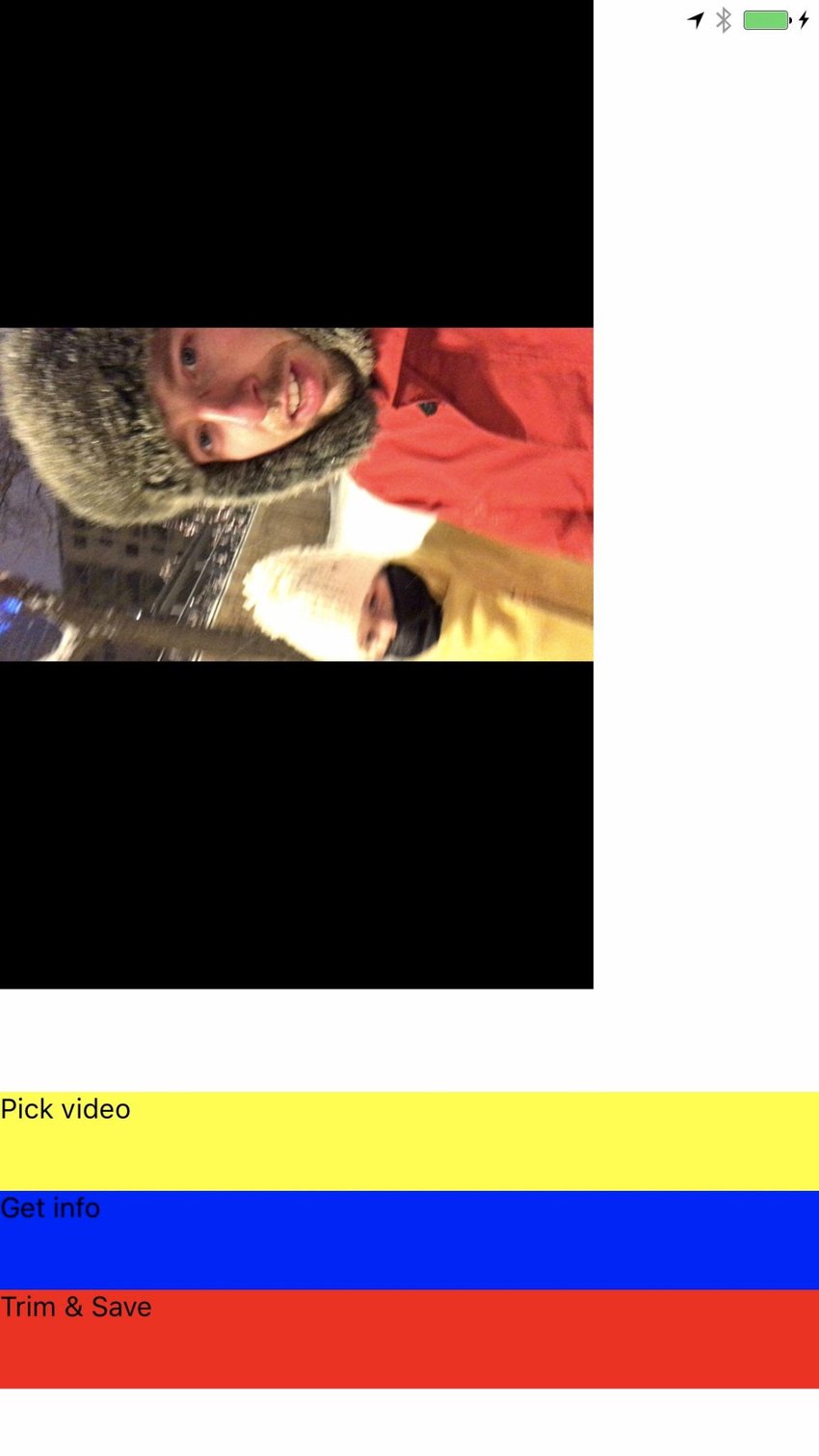 It took me an additional 130 hours to design and build the production version and launch it in the App Store. Before the launch, we ran a beta test with about 20 people. They all really loved the app and exposed a few bugs we didn't know about. I'll definitely do beta tests again for future apps.
The first time we submitted Storeo to the App Store, we got rejected. The app was named "Storeo for Instagram", but someone at Apple didn't like it. We removed Instagram from the name and finally got accepted! (We've since renamed it to "Storeo for Instagram" without any complaint from Apple. I think they didn't understand the app at first.)
While stuck in a cubicle doing work I didn't like, I spent my free time learning all the skills I needed to build my own apps.
We launched it on Thursday evening, announcing it to Martin's 12,000 Instagram Followers. That first weekend, Storeo was downloaded 100 times with 10 in-app purchases! Just like the beta testers, our customers kept telling us how much they loved using the app. By our standards, the launch was a success!
During development, we kicked around a few different pricing ideas before settling on our current model. It's a freemium app with a $9.99 in-app purchase for removing the watermark from exported videos. We liked this idea because it allows anyone to try it out for free. If a person doesn't want to pay, then the watermark serves as an ad for our app. If they pay, then we make money. So we win both ways. This has worked very well for us. We have an upgrade conversion rate of 10% which is quite high.
How have you attracted new users?
The short answer is by making an outstanding product.
At the beginning we experimented with a few different marketing tactics. We used a $100 credit from Apple to run an App Store ad. This put Storeo in front of a lot more people but failed to increase downloads and purchases.
Also, I tried messaging hundreds of people on Instagram to tell them about the app. I'd send as many messages each day as I could before Instagram would restrict my account. I browsed the Instagram search to find people who looked could benefit from Storeo. This gained us a few customers, but it didn't seem too successful either.
Martin has spent a lot of time developing relationships with influencers and people with large followings. This has been most effective at helping spread the word because many of these people have talked about Storeo on their Instagram accounts and blogs.
We eventually got featured on a few big blogs, including Buffer, Later, and SocialMediaExaminer! Buffer and Later featured us completely on their own accord.
Since our launch, we've had a number of competitors pop up, including a couple blatant copycats that use the same text throughout the app as Storeo. These competitors haven't worried us a bit because they just aren't as good as Storeo. I think they are all significantly cheaper, but it hasn't noticeably affected us.
What are you working on these days and what are your plans for the future?
We just executed the Product Hunt launch on October 31 and landed on the front page at #15!
Now I'm working on building the Android version. We've had people requesting this from Day 1, but I haven't had the time for it until now. Hopefully, this will bring a big increase in sales.
Don't be afraid of trying what others think is crazy (like charging $9.99 for a stupid simple app).
We have a lot of ideas for new features, but our customers seem quite happy with how simple it is right now. So we don't plan on adding anything major.
Many people have asked what happens if Instagram removes the 15-second limit? We'll delight in our success and move on to the next project. This is a risk we took on from the very beginning and are ok with it.
I'll soon be starting on my next project which has the potential to make 6 or 7 figures per year. GlutenProject.com will basically be Google for Certified Gluten Free products. This is needed by those with Celiac disease, which is 3 million people in the US alone.
Advice for other entrepreneurs?
Never stop learning.
Don't be afraid of trying what others think is crazy (like charging $9.99 for a stupid simple app).
Be patient. With your career. With your product growth. With everything.
Subscribe and listen to the podcast Startups for the Rest of Us.
Where can we go to learn more?
-
Brandon Bayer, Founder of Storeo
Want to find more ideas that make money?
Hey! 👋 I'm Pat Walls, the founder of Starter Story.
Get our 5-minute email newsletter packed with business ideas and money-making opportunities, backed by real-life case studies.
Together With Hired
You'd like to grow your engineering team, now what?
Having open roles is one thing, but getting qualified candidates to apply is another. That's where Hired can help.
Get instant access to a curated pool of responsive top tech and sales talent
Filter by what you need (skills, experience) and what they want (WFH, equity)
Trial Hired and pay nothing until you make a hire
See candidates now.