Thank you Klaviyo for sponsoring Starter Story ❤️
Turn one-time buyers into repeat customers. Try the platform loved by 265,000 brands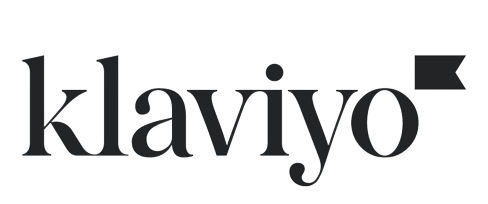 8 Tips To Write Emails Faster
•
Updated: March 17th, 2022
8 Tips To Write Emails Faster
Emails suck.
If you run a business or handle a lot of email at your job, then you probably have an inbox piling up every single day.
You can't stop doing email, but you can do a few things that will help you do email faster.
If you can spend less time on email, then you can spend more time on things that actually grow your business or get you that promotion.
What do I know about email?
I handle ~200 actionable emails per day running a media publication.
It wasn't always like this, but as the business scaled up, so did the email.
Today, I spend around 1–2 hours doing email per day. It's still a lot, but it used to be much more, and my goal is always to bring that number down.
Here are 8 steps to tackling email faster and spending less time, which have worked for me.
Tip #1 - Enable email shortcuts in Gmail
Did you know that Gmail has email shortcuts? You actually have to enable them in the settings, but once you learn them, it will make your life so much faster.
Here are just a few of them: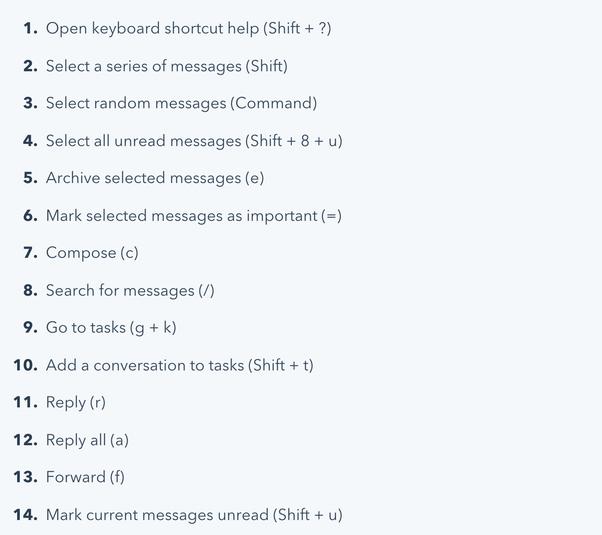 Find the full list here.
Tip #2 - Use canned responses
If you are finding yourself sending the same emails over and over, you should look into using canned responses.
Canned responses give you easy access to templates that you use over and over again. Gmail has a canned responses feature, but it's not very good.
For the fastest canned responses feature (using a keyboard shortcut) check out Pigeon for Gmail.
Here's a screenshot of how it looks in Gmail.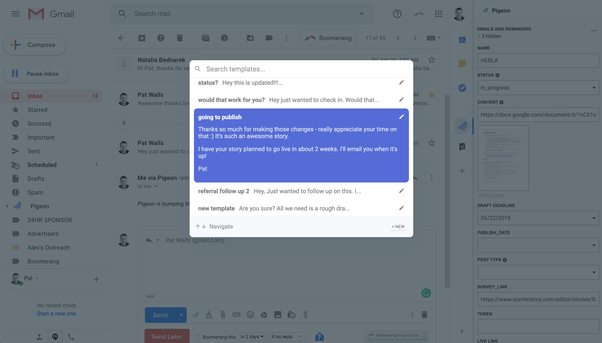 Tip #3 - Use automated follow ups and reminders
Do you find yourself following up with people often over email, or you want to email someone back, but at a later date?
With Pigeon for Gmail, you can set up sequences that will follow up with your recipients automatically.
And you can do all of this inside Gmail, like a sidekick to Gmail :).
Tip #4 - Learn and embrace Inbox Zero
Inbox Zero is the constant goal of getting your inbox to be empty. This means you are constantly archiving, deleting, and taking action on your email.
Just the act of trying to get your inbox to zero will make you more efficient - because you will always be working hard to get there. You will learn a lot through the process, what works for you and what doesn't - so I think that's a great place to start.
If you're new to Inbox zero, you can learn more here.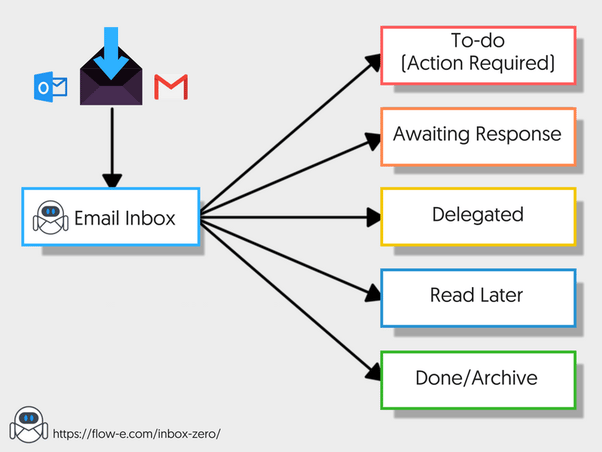 Tip #5 - Aggressively unsubscribe and filter emails
Do you really need to get those emails from Nordstrom? No.
Unsubscribe from EVERYTHING and turn off email notifications for things like LinkedIn, Facebook, etc.
If you can't or don't want to unsubscribe (hurt someone's feelings), then use filters.
With filters, you can do cool stuff like have messages from a certain email address automatically skip your inbox. Here's how it looks in Gmail: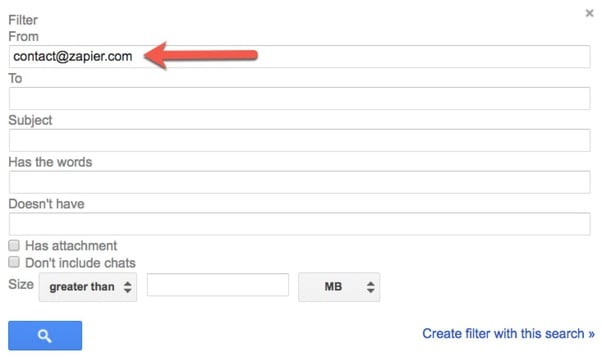 Tip #6 - Outsource / hire a VA
I hired a VA for $4/hour on Upwork and they help me every day to process incoming email and manage conversations with the hundreds of articles we are publishing at our media company.
Onboarding a VA takes time, but it is 100% worth it. If you can get even just one hour back per day on email, then you can use that time to grow your business or do more fun things than email.
Logistically, you can share your inbox with a VA, where they act as you - or you can even give them their own email where they act as an assistant.
Tip #7 - Identify inefficiencies and automate
Likely, you get similar emails all the time. When you notice this, try to think of ways where you can automate these tasks.
For example:
Do you get the same support request over and over? Then spend the time to develop a page that details out the answer. Now all you need to do is send that link out.
Do you need to follow up with someone often over email? Then use automated follow up sequences (which you can do with a product like Pigeon for Gmail, see screenshot below)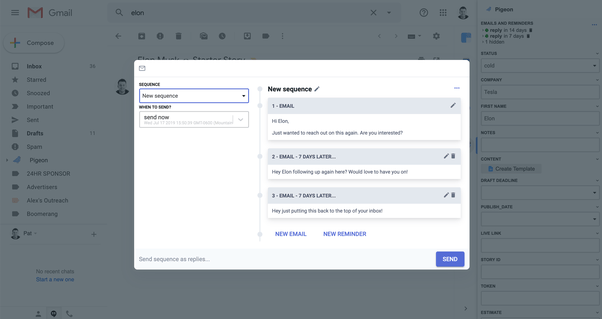 Tip #8 - Use a CRM
Lastly, if you have so many emails you might want to look into using a CRM to track things, especially if your email is your business.
With a tool like Pigeon for Gmail, you can track the status of your leads, emails, etc inside Gmail.
Having a CRM inside email will make you more efficient, as you won't waste time using another program outside of email that becomes out of date the moment you get a new email.
Here's what that might look like (see the data on the right!):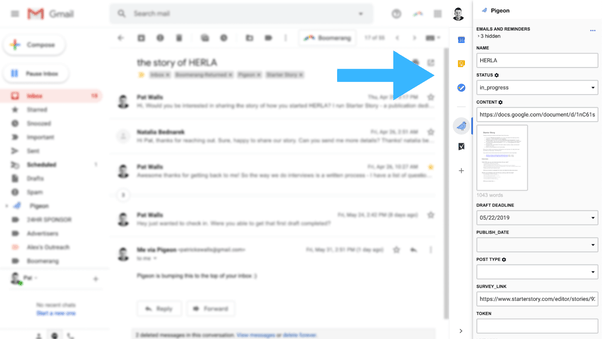 Those are my tips!
I built Pigeon for Gmail because I was so overwhelmed by email - and it has saved me countless hours every day, so I can work on the fun stuff :)
Discover the best strategies of successful business owners
Join our newsletter and receive our handcrafted recap with the best insights shared by founders in Starter Story each week.
Useful, convenient, and free:
PROMOTED
Did you know that brands using Klaviyo average a 95x ROI?
Email, SMS, and more — Klaviyo brings your marketing all together, fueling growth without burning through time and resources.
Deliver more relevant email and text messages — powered by your data. Klaviyo helps you turn one-time buyers into repeat customers with all the power of an enterprise solution and none of the complexity.
Join Brumate, Beardbrand, and the 265,000 other businesses using Klaviyo to grow their online sales.
Starter Story
Wanna see 52 business ideas you can start with less than $1,000?
Join our free weekly newsletter and get them right now.