296+ Best Summer Email Subject Lines [2022]
•
Updated: January 20th, 2022
296+ Best Summer Email Subject Lines [2022]
If you're looking to boost your email open rates and increase sales, your email subject line is the first (and most important) step in achieving those goals.
Did you know that 33% of email recipients open emails because of an engaging subject line?
That's why it's critical to craft a catchy email subject line that will get you the traffic and conversions you deserve.
We've put together a list of 296+ best summer email subject lines [2022].
Some are proven examples from other successful campaigns, and some are creative ideas to inspire you.
Creative Email Subject Line Ideas
AliExpress: Heads up: Get your hands on the hottest gadgets
These summer savings are too hot to handle!
Farewell, summer
Tory Burch: The Miller Sandal: Pick a new shade for summer
Torrid: Summer Layering 101
J. Crew: Your summer-after-summer uniform
NORDSTROM: Sun's out: [email protected] de Soleil
Don't miss the sweetest summer deals of the season
Surf's up…but prices are down
Tarte: Summer's not cancelled!
Summer breeze makes me feel fine
Ulta Beauty: Oh, hey summer 😎
Dive into summer with [brand]
Do something great this Father's Day
HUGE summer clearance starts now — up to 60% off
SHEIN: Summer shopping isn't complete without these picks
Summer Gets Better
Don't let your summer slip away!
Philosophy: Dear diary, this Summer… I'll be a little style hunter! 👗
Topshop: Kendall + Kylie swimwear has landed
Can you feel it? It's getting warmer.
SUMMER IS HERE! Swimsuits For All to the rescue
Hey teacher! Leave them kids alone!
Gap Kids: this is BIG (for sandcastles & pool parties)
20% off everything at [brand] for new graduates this July
Hey, Sunshine ☀️ Check Out the New Summer Arrivals
Summer New arrivals we know you'll love ? + 15% Off
Swim into summer this year
10 Dresses to Get Summer Started Right
Bobbi Brown: Summer Inspiration: Rosé Glow.
J.Crew Factory: Get extra 30% off these summer MVPs
Thank you Dad
Get a head start on summer – shop NEW styles on sale
Old Navy: 60% OFF your summer essential
Splash into Summer with our new collection!
Summer Has Arrived…and so has our new collection
Summer sale ends Saturday
Pura Vida Bracelets: What's hot this summer 🔥☀️🔥
Goodbye summer. Hello school!
Allbirds: Your Perfect Summer Sneakers
Summa Summa Time! ☀️ Shop Dresses!
LOFT: Summer's "It" color is…
Free delivery for summer lovers
Real Simple: How to Plan the Perfect Summer Getaway
DSW: Big brands. New sandals. $29.95 & under prices.
Dive into Summer with these new Looks!
Summer is Getting Closer: Grab a Deal Now
Back to school discounts all this September
Summer alert! 25% off every style for you, your family & friends
Aerie: Your new summer shorts are inside
Shop Our Summer Beauty Event
Planning your Christmas shopping yet?
Minibar Delivery: Red, White & Brews ?? ?
Pull&Bear: 🕶 + 👟 + ☀️ = Summer!
Hot promos for cool summer fun!
Up to 40% OFF Spring Summer hits: make them yours
Blaster Tag: Blaster Tag Summer Hours & Mobile Parties
Function of Beauty: A zero effort summer hair technique?!
Kate Spade: our best summer dresses are here
Del Mar Racing: Summer is Heating Up
Summer sale ends soon – everything must go!
Kate Spade: Your summer style muse (and her chicest secret weapon)
Pull&Bear: This summer's colour: lilac! 🍦
Don't Miss These Summer Steals & Deals ☀️
Don't leave us summer!
There's still time for summer fun! Book 'em before they're gone
Private Sale: enjoy 30% off our Spring-Summer Sale
Join [brand] for our exclusive members' virtual beach party
Happy Father's Day with the Zen Set
CustomInk: You could win a summer prize pack or an iPad!
Fire up the grill
Summer Deals | BOGO 50% Off
Banana Republic: Summer dresses to wear everywhere
Food52: The holy trinity of summer salad tricks.
Rip Curl: Earn Your Stars & Stripes
Hot promo codes for cool school leavers
Don't sweat it: we've got savings for you [name]
Summer is nearly here! Celebrate with [brand]
Anthropologie: Best Dress(ed) for Summer: YOU!
Get your top-to-toe summer glow!
FATHER'S DAY IT'S HERE
Whole Foods Market: 8 Summertime Sips That Sparkle
ShopBop: The Go-To Summer Shoe
What have you got your Dad, [name]?
Tailgate: The summer sale keeps shining.
REI: Make Summer Epic
Old Navy: These shorts are actually $10 & summer is actually here!
Are you ready for autumn? No!!!
MORI: Ta-da our Summer Sale has more pieces
Soak up the sun
Oh, hey summer! 20% off graphic tees & sandals!
RON ROBINSON: Swim Into Summer
Name Bubbles: Before you head off to that BBQ…
[name]: are you ready to go back to school?
Pottery Barn Kids: Summer-ready savings! 20% OFF all tabletop + more saving
Beach-body ready? Check out our members' only sale
Back to school savings from [brand]
The heat is on! 20% off everything [brand] this week only
Squeeze the last drops of fun out of summer
The Cutest New Arrivals are here for Summer
Function of Beauty: Is your hair ready for summer?
Our summer collection is here at last!
PatPat: Hear that? Summer's calling
THACKER NYC: The B I G B A N G Sale Starts Now! ??
Who's Your Daddy (Father's Day sale line)
Pharmaca: Shop EWG-approved sun care, on sale now!
You don't want to miss these summer deals!
Discounts that are too hot to handle
Who's the daddy?
Summer Fri-Yay! BOGO 50% off!
Summer Sale Ends Monday!
☀️ Summer Essentials ☀️ $15 or Less
Pull&Bear: Shorts + Tops + Sandals = Summer vibes 🖤
Summer is almost here…SALE starts today!
Summer is short. Get your XXX before it's over!
🌼 $10 off our summer beauty scents
Summer Savings Weekend Sale STARTS NOW!
Keep summertime rolling [name] with these [brand] savings
west elm: Take it outside 🌞 Up to 40% off Garden Furniture, decor & more
Pottery Barn: July 4th Savings + Free Shipping
Start of summer sale now on
Spending summer at home this year?
Chandon: Perfect Summer Party Day 1: Sparkling Red Snow Cone
Yelp: Rise and Shine, It's Beach Time
Summer never looked so good
AllSaints: Best of the Summer Sale
20% off your new summer wardrobe this weekend only
Our ☀ Summer Sale Event ☀ starts NOW! Save up to 75%
Hello, sunshine
Just another school year? Not quite…
lucy: Cool. Carefree. Capris.
Ralph Lauren: Summer Essentials
rag & bone: Summer Whites
Rent the Runway: A sale that's better than fireworks
Your Summer Checklist ☀?✔
Christmas in July
J.C. Penney: Under $10 summer styles for the family—polos, tees & more
Father's Day Special from [Brand Name]
Found! THE dress for your busy summer schedule.
Banana Republic: Just In: Effortless Summer Styles
Charming Charlie: NEW crossbodies & summer dresses. Yes & yes!
Bloomingdale's: Sun's Out! 10 Beach-Bound Essentials for Him & Her
Your Summer Checklist ☀🌸✔
Crate&Barrel: Summer clearance is so good this year.
JRINK: The Top 5 Flavors for Summer
Jump into summer
You're invited to our summer event
Tuft & Needle: Summer is here. So are big savings.
Sweaty Betty: The leggings made for summer workouts
Virgin America: Float away this summer with fares from $69 one way
Relax…and dive into summer with a special gift
Fathers' Day gift ideas
New Arrivals! + 30% Off Father's Day Gift
Monki: Trending now: Summer romance
ASOS: Summer, say 👋 to prints
How to make the most of the summer months
Join the party and get the most out of summer
Baby, it's hot outside
MORI: The safest way to sleep this summer
Be ready for Summer (with free shipping)
DAVIDsTEA: Your summer iced tea is on us.
The Land of Nod: Games for All Summer Long
What to get Dad this Fathers' Day
Starts today! 50% off tops perfect for summer
REMINDER! FATHER'S DAY IS [date]!
DSW: Sandals $29.95 & under = a happy closet
Get a Head Start on Summer
New Season, New Arrivals For Summer
One Kings Lane: Quick-ship outdoor furniture to enjoy all summer long
Stars, Stripes, and Sales
Summer weekend style – 25% off
Get ready for summer w/ an EXTRA 20% OFF!
It can't last forever: [brand]'s summer sale ends on Sunday
? Summer style is ON! Get Free Shipping
Stock Up On All Your Summer Clothes
SUMMER Sale: up to 50% off
Here's BOGO to help you get ready for summer!
Abercrombie & Fitch: Summer Sale is still ON.
🌞 Summer style is ON! Get Free Shipping
We know what you did last summer
Topshop: The big summer sale edit
Summertime and the livin' is easy
End of summer close-out sale now on
Don't let coronavirus spoil the summer vibe!
Guitar Center: Fun in the Sun Savings End Today
Crocs: Florals are in for SUMMER 🌸
The Stationery Studio: Up to $25 Off Patriotic Parties
Summer picks for everyone (a.k.a. you)
100s of NEW markdowns added to our Summer Sale!
Whole Foods Market: Beer Cocktails and Grilled Pizza? Hello, Summer!
Neiman Marcus: Try out a lighter palette for summer
This is it – 50% Off Summer favs
Summer Treats Start Today
A new class of 2021 – welcome to [brand]!
? $10 off our summer beauty scents
Summer arrivals keep on coming
Get Fathers' Day sorted
Food52: We pledge allegiance to the picnic.
Your back to school checklist
Get your garden fit for summer
Bath & Body Works: on the calendar: summer & sale. 🗓
Take a dip
Etienne Aigner: Everything You Need For A Stylish Summer Getaway
katespade.com: our take on beach essentials (plus, a present for you!)
west elm: Say hello to the summer sale ⛱️
Here Comes the Sun ☀ Save Now!
Blazing hot
We've got hot stuff waiting for you…
Nights are drawing in… More time to party!
Can you feel it? Hot deals for warm weekends
These Summer Styles are 🔥 🔥 🔥
Summer Weekend Style up to 30% off!
Who's your daddy!? – Father's Day Sale
Rip Curl: WAVE THE FLAG
Rip Curl: Made For Independence Day
Ulta Beauty: 🥅 Our summer goal 👇
Toms: Take your toes on an adventure | Beach-ready styles
Unison: Red White +Blue Cool
Crate and Barrel: Let the fireworks begin
Patagonia: Summer favorites
New styles just in time for Summer
Summer is almost over, and the heat is on
DAVIDsTEA: It's time for something exotic…
Morphe: 5 deals for a good-lookin' summer
Put the books away and get outside with [brand]
Gap Kids: rarely on sale! stock up on summer must-haves
Celebrate the end of school with [brand]'s summer discounts!
Topshop: The five shoes of summer
We're having a heatwave
Birchbox: What's Your Biggest Summer Beauty Bummer?
Kick off a summer to remember with [brand]
Abercrombie & Fitch: The ultimate summer must-haves.
Jane, Your summer savings will disappear soon
50% off Fathers' Day gifts from [brand] – sale ends Monday!
Surf's Up! 🌊
The Endless Summer
Monki: The best summer dresses out RN!
west elm: 😎 Summer Sale: Up to 50% off 😎
[name] – have a cold one on us!
Bye-bye beach…
Urban Outfitters: The 7 pieces you need this summer ☀️
Up to 40% off – but the days are getting shorter…
lucy: Summer's on sale. up to 40% off
Beat the heat
What everyone is ____ this summer
Macy's: 40-60% off that summer wardrobe refresh
Our Holiday Deals? Summer Pretty Good
Bath & Body Works: 🐥summer. semi-annual sale. it's back. 🐥
NYX: This NEW body oil is a summer essential!
Watermelon sugar
New lines added to our end of summer blowout!
Etsy: 4th of July decor
Summer is on the way: all spring lines discounted!
Banana Republic: Pursuit Of The Perfect Summer Pant
Supergoop: Summer Workout Goals
Your last chance for summer savings
CB2: jumpstart summer with these 3 hot offers
Cool off with …
Estee Lauder: Escape to Summer ☀️🌊
Hello sunshine! Don't miss these offers
Bloomingdale's: Quick! Save 50% on Women's Swimsuits & Cover Ups
Trade-in your old textbooks today for CASH
Make the good times last longer with this exclusive promo code
Midsummer madness
LOFT: Meet Your Summer Loves
Are you ready for the heat [name]?
American Eagle: Your guide to summer shorts (up to 60% off!)
Wet Hot American Summer
Chandon: Don't Miss Our Summer Party!
Surf's Up! ?
You did it! Here's our exclusive discount code
Rockets of Awesome: Bring the beach inside this summer! 🏖️
School's out for the summer
These Summer Styles are ? ? ?
Free People: re: The Heat Wave
20% off all your back-to-school needs
The Music Zoo: 30 Red, White and Blue Guitars & Basses for Summer
Dog days of summer
Summer in the city
Grads are rad! Check out our exclusive end of school offers
Our summer sale is coming…
Swimwear 365: Seas the Day
Bath & Body Works: summer suds. ✔️sunshine. ✔️virtual celebration. ✔️
If you can't stand the 🔥, get ready with these SUMMER deals
Lavish Alice: Summer Dresses You Need ☀️
Are you ready to chill?
Up to 70% off – summer is served
NEW Summer Colors Will Give Your Room A Breezy Vibe
Sloat Garden Center: Birds, bees, and warm weather color!
Summer New arrivals we know you'll love 💖 + 15% Off
School's out for summer!
Weekend Sherpa: Beaches & Beverages
Treat your Dad in style this Fathers' Day
Get Ready for Summer! Swimwear Sale ☼ Up to 30% Off
Kate Spade: Hello Sailor
Blue Apron: Get that instant summer feeling with $80 OFF.
GUIDE: How To Write A Great Subject Line
As we mentioned above, crafting a catchy subject line is critical to the performance of your email campaign.
While just a few words may seem like a small piece of your overall message, this is the first impression your audience will have before they decide whether to open your email.
If your subject line isn't engaging or appealing enough, there's a chance it could get buried in your reader's inbox.
Let's go over the proven tips on how to craft a subject line that boosts engagement:
What makes a great subject line?
First, let's discuss the fundamentals of creating a great subject line:
Spark interest and curiosity
A clear and urgent call to action
An offer/intriguing discount
Personalization (this can be done by sending out different versions of emails to subscribers based on their preferences)
Relevance - make sure your subject line covers the current trends and topics within your industry
5 Tips To Crafting a Great Subject Line
Now, let's dive into the specifics of how to create a great subject line for your next campaign:
1. Use a familiar sender name
Although this may seem obvious, it's a piece many marketers miss the ball on.
Your readers want to feel like your email is coming from a human and not a corporation or automated system.
One of the easiest and most effective ways to do this is by changing the sender's name to YOUR name or someone in the company that is well known.
Here's a great example of this from Marketing Examples

Pro Tip
Avoid the "no-reply" sender name at all costs. This makes your email feel unfamiliar, unapproachable, and less personable.
2. Keep your subject short and to the point
If your subject line is too long, it will get cut off, which could impact your reader's chances of opening your email.
The rule of thumb (for both mobile and desktop) is to keep your subject line under 50 characters.
3. Add personal touches to your subject line
If you have access to information about your subscriber (ie. name, location, etc), you can use this to benefit your subject line and catch your readers attention.
It's important not to go overboard here, but adding even the simplest touch such as their name can build trust and rapport.
Here's a great example of a personalized email + offer I received from BarkBox with my dog's name in the subject line: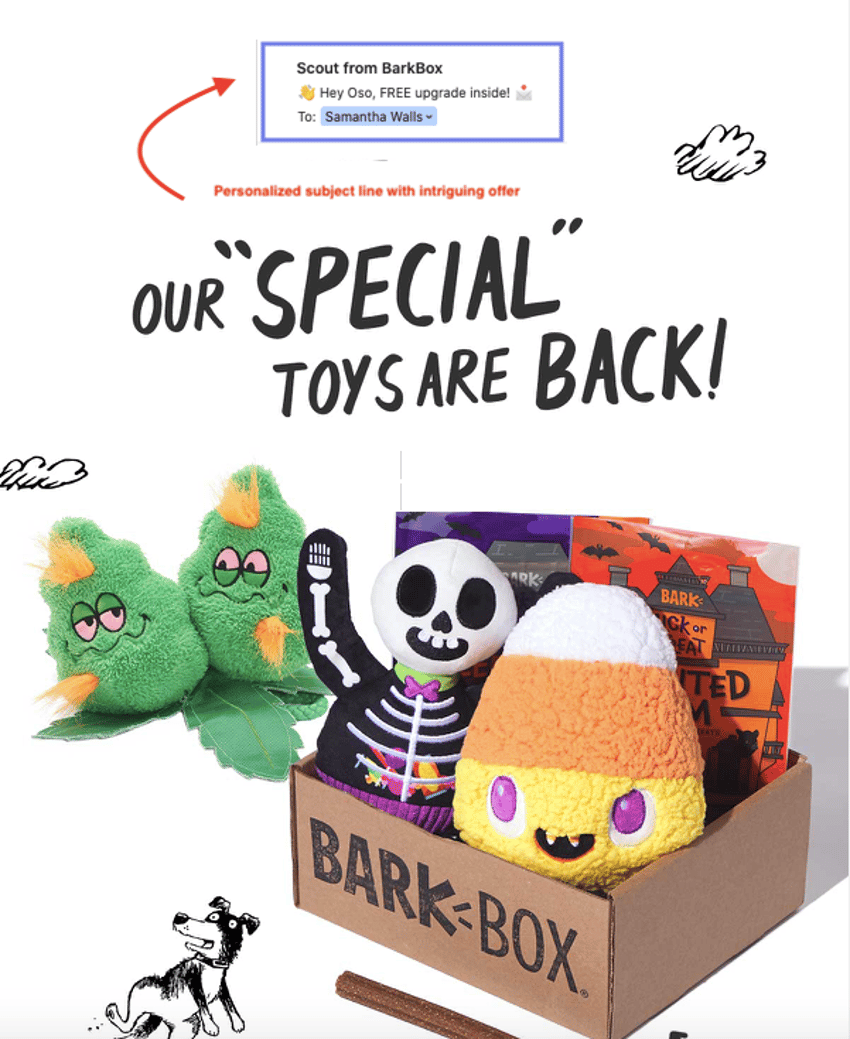 4. Avoid making any false promises
Your subject line makes a commitment to your reader, so it's important you don't stretch the truth just to simply get more opens and clicks.
In the grand scheme of things, making false promises will end up hurting your open rate as your readers will lose trust in you.
5. Give them a sneak peek of what's inside
Telling your subscriber what is inside helps with open and clicks.
For example, if you're providing your reader with a free guide or e-book, consider making your subject line something along the lines of:
"Your FREE marketing e-book awaits!"
Conclusion
If you want your email campaign to perform well, it all starts with your subject line.
Think about the emails you receive in your inbox and what makes you click vs what gets buried - odds are, the same habits go for your customer.
We hope you enjoyed our guide + list of 296+ best summer email subject lines [2022].
Want to start your own business?
Hey! 👋I'm Pat Walls, the founder of Starter Story.
We interview successful business owners and share the stories behind their business. By sharing these stories, we want to help you get started.
Interested in starting your own business? Join Starter Story Premium to get the greatest companion to starting and growing your business:
Connect + get advice from successful entrepreneurs
Step by step guides on how to start and grow
Exclusive and early access to the best case studies on the web
And much more!
If You Don't Rank In Google, You Don't Exist.
In order to be successful, you need to be visible online. If you're not, then your competitors might be stealing customers from you.
Semrush lets you quickly create content that ranks, and compete with the biggest brands in your niche.
Try Semrush Free Today ➜