User.com Update: We Removed Our Freemium Plan And 2.5x'd Revenue [$230K/Month]
Start A Marketing Automation Platform
This is a follow up story for User.com. If you're interested in reading how they got started, published over 2 years ago, check it out here.
---
Hello again! Remind us who you are and what business you started.
I'm still Mike Korba the co-founder of User.com.
If you haven't yet heard of us, the short intro is that User.com is a top marketing automation company.
Our focus over the last few years is to help companies dynamically transform their data and touchpoints into relevant experiences so they can communicate effectively with their users at scale.
We have customers in over 60 countries from around the world who are using us with their smart online businesses and applications - Some of our clients are at top of their industries, from education to eCommerce, and digital businesses.
Since the previous interview was more than two years ago, I thought it would be nice to give some updates and talk about where we've been since early 2020, since as you might be aware, we've had some major things happen globally.
As far as the financials and growth, when we last talked, we were doing about $90k, and since then we've seen User.com grow more than 2.5 times in the last 2 years. Right now we're hitting about $230k MRR, which shows that it's been a pretty good period for our company, especially since we achieved this growth sustainably, without any additional outside funding.
We are currently fully profitable each month and are generating revenue, not just income, which is not a normal situation in the SaaS industry.
The company has also grown internally from 30 employees to 50, seeing a ton of success in specific niches that we've been able to scale.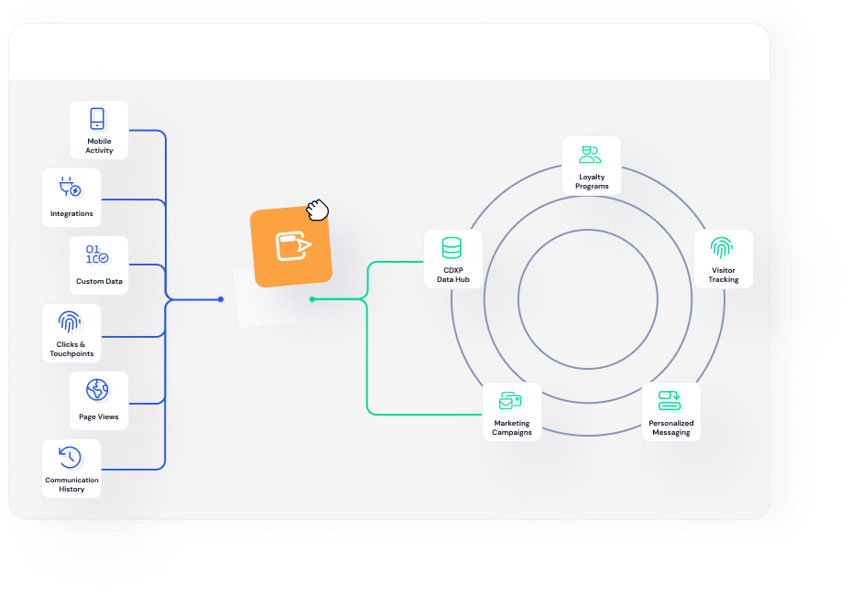 Tell us about what you've been up to. Has the business been growing?
Besides the company growth, we've seen many other changes within our company and in the industry, and have pivoted the business with a different target audience.
One of the bigger things we noticed once we expanded marketing in 2020 was that our new customers needed time to understand what they could do, since with a platform with a lot of potential and possibilities, at the cost of more onboarding, and education - we were finding that it wasn't something that fit well with smaller businesses, who didn't have the time or budget to focus on creating dynamic and personalized experiences for their users.
We wanted to try to still be able to reach these customers differently, so we built a product specifically for entrepreneurs, plus small and medium eCommerce businesses. We took the live chat functions of User.com and designed it as a stand-alone product with some additional social integration features that companies could use to connect their social chat around the web into one place.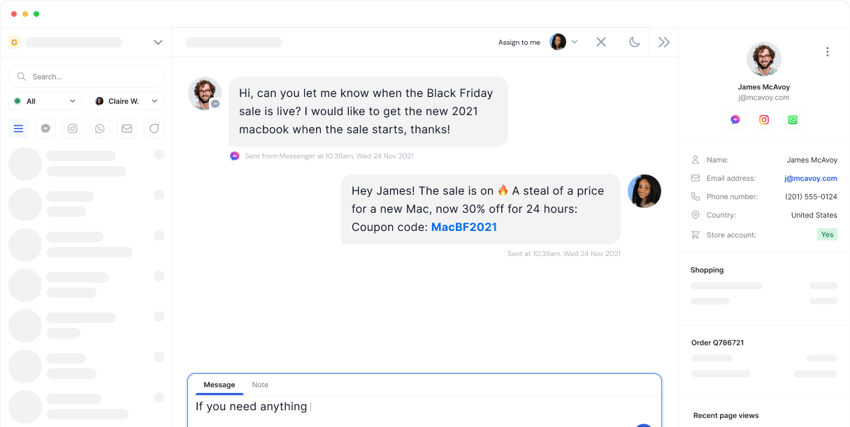 Sometimes when you're seeing a ton of success, you don't always grow, but this was one of the best learning experiences, especially with our team, we didn't find a ton of success in this area, and we were able to adapt and learn from it - we found that while people we talked with and did research with were requesting the product, they weren't interested in using it. As they say, you learn the most from your mistakes.
Failure is not always a bad or negative thing, more importantly, is what lessons are learned from it going through the situation and how you come out the other side
After this, we decided to switch the User.com approach to medium to larger businesses - the customers who we found valued us, and removed our freemium and the cheapest plan. Additionally, we changed our call to action from creating a trial to booking a demo so that when potential customers talked with us, it was something that we could show, and they would see the immense value, and spend the time to integrate us as part of their tech stack, rather than spend five minutes in the trial and leave because there can be some setup involved.
We see it as something sort of like Chess or Poker, where the barrier to entry takes a little bit to dive into, but then once you and your team understand the potential with the platform, as our customers say, "...the possibilities for automation with User.com is endless and feels like we've only scratched the surface of what we can do with the software."
What have been your biggest challenges in the last year?
One of the biggest things over the last year after the pandemic has been on "focus", and looking at a wider scale of things - what it takes to be profitable while maintaining or improving our company operations even looking at increasing growth in a potential market downturn.
Additionally, a big challenge even in the past few months is mentally switching from a concept of trying to satisfy everyone with a buffet-style of features, which we previously had and wanted to make everyone happy.
Now, we use a niche style of really finding who is our best-fit customers, those for who we can provide value for a long period, and that our combined shared benefits for these customers will be super useful for both them and us.
Our team did an intensive product positioning sprint at Section4 with April Dunford, (and a previous speaker at our SaaS Growth Summit), and after the course narrowed down some of these best-fit customers, based on the value and benefit they gain from us, and we from them, and their opinion of our platform based on NPS scores. Then we drilled down to group the industries they are in, and how to scale our growth in these niches.
As April Dunford has written extensively on, positioning changes with the maturity of the company, and early-stage startups can keep positioning pretty loose. Still, then as you grow you should tighten it up with your best-fit customers.
This is something that even recently and through this learning experience we've overhauled our target customer personas, and have thrown out a lot of prior expectations, as well as realizing that this is something we want to continue to tweak and come back to on a regular and quarterly basis.
What have been your biggest lessons learned in the last year?
Probably the biggest lesson is that failure is not always a bad or negative thing, more importantly, is what lessons are learned from it going through the situation and how you come out the other side - what you or your team can take away and grow personally from the experience.
I've learned that the most valuable asset for our business is our people, especially if you have a team who can self-manage and switch from one direction to another easily while collaborating has been invaluable.
Anything and everything can happen, and you never know what the next day may bring. Covid was very big for us, but maybe even bigger is having a war in Ukraine, since we are neighbors in Poland, and it has affected us in many ways.
Being able to adapt on the fly, validate quickly, keep up with new trends and still be agile in the face of uncertainty is key, to not only having your business survive but to thrive in general, not to mention unexplored situations or black swan events.
What's in the plans for the upcoming year, and the next 5 years?
One of the first things we want to do is nail our new personas, and new target niches, getting scalable channels of acquisition is probably the biggest goal we hope to achieve this year in 2022.
After that, we'd like to take these successful niches that we are finding success with and scaling, and then really dominate them, to become the most significant player and number 1.
Later on, over the next 5 years, we'd like to compete on a global scale with right now the biggest players in the marketing and automation industry, Salesforce Marketing Cloud, SAP Marketing Cloud, and Marketo Marketing Cloud, and even try to go beyond them.
What's the best thing you read in the last year?
I've read a lot over the last year. If I would have to pick between the top three books that I've enjoyed most, it would be these:
Advice for other entrepreneurs who might be struggling to grow their business?
I would recommend first optimizing everything in your life to be a happy person. At each stage of the entrepreneur journey, some struggles and problems come up, and being able to roll with the punches will help you as the problems only get bigger as you grow.
Regardless of what place you are in or the stage you are at, you will always think 1) you're not growing fast enough, 2) product development should be faster, and 3) churn should be lower. In my experience, these problems are constant.
Learning when and wherein are the right moments to push yourself and your team, this is always a balance and not something easy to get right.
Are you looking to hire for certain positions right now?
We're always looking to hire for a few different roles, that you can check out on our User.com jobs website, but specifically, we're looking to expand in our enterprise sales roles both for EU and NA:
Enterprise Sales in the US / Canada Market
Enterprise Sales in the CEE Market
If you think you would be a good fit, or know someone who has a background with experience selling to enterprises, please feel free to reach out and connect.
Where can we go to learn more?
We'd love to hear from you, feel free to let us know if you read our story on chat or through email. Here are some ways you can check out more about us:
-
Mike Korba, co-founder of User.com
Want to start your own business?
Hey! 👋I'm Pat Walls, the founder of Starter Story.
We interview successful business owners and share the stories behind their business. By sharing these stories, we want to help you get started.
Interested in starting your own business? Join Starter Story Premium to get the greatest companion to starting and growing your business:
Connect + get advice from successful entrepreneurs
Step by step guides on how to start and grow
Exclusive and early access to the best case studies on the web
And much more!