How We Landed a Deal With iHerb And Reached $6M In Revenue Last Year
•
Published: July 3rd, 2022
Start A Skin Care Product Line
This is a follow up story for Tree To Tub. If you're interested in reading how they got started, published over 3 years ago, check it out here.
---
Hello again! Remind us who you are and what business you started.
Hello, my name is Michael Koh, and I am the founder of Tree To Tub. We offer people with sensitive skin very gentle and natural skincare and body care products that help them feel safe, comfortable, and confident.
Our signature products are shampoos, body washes, and facial cleansers made from the Soapberry and other soothing botanicals.
Over the years, our sensitive skin-focused lotions and skincare line have become firm fan favorites!
Tell us about what you've been up to. Has the business been growing?
The business top line had grown to a little over $6M last year. Revenue growth is always welcome, but what we were the proudest of was building a solid, enduring business that welcomes more healthy future growth.
The supply chain shocks during Covid times and a few compliance-related problems forced us to look at our business differently. We realized that to grow sustainably, we needed to build a strong operation backbone and take risk mitigation seriously.
We built out a stellar operations team that's equipped to handle the toughest challenges, from product development, supply chain, and inventory management, to compliance defense - all necessary for our next stage of growth.
To achieve all that, we needed excellent management and a great team. We implemented proven business management systems like EOS. We also built a culture of relentlessly finding the best people for each position, and have grown to a team of 20+ strong!
All the above investments into business operations gave us the right setup to welcome big growth. At the beginning of this year, iHerb - one of our dream channels - approached us. We not only were able to seize the opportunity and say yes but also quickly became one of the top sensitive skin brands on the platform. We are excited to do the same on Target.com later this year!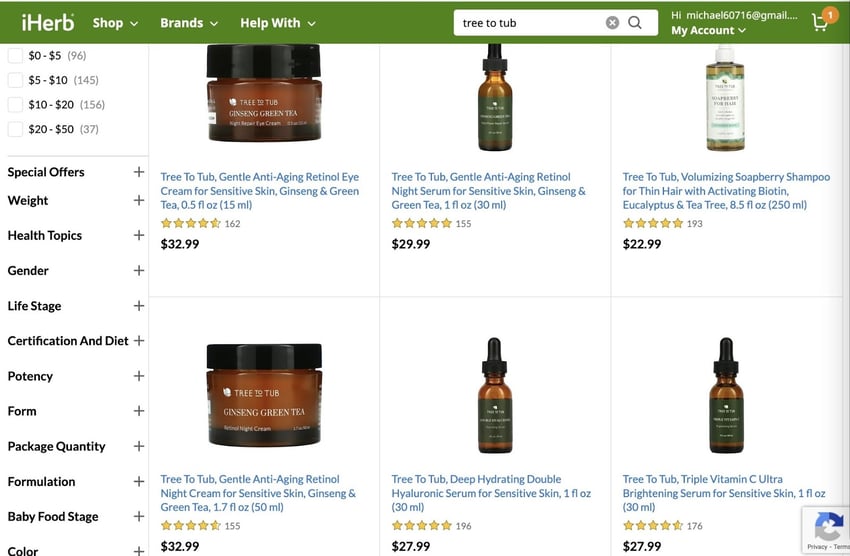 What have been your biggest challenges in the last year?
Aside from the logistical and compliance challenges mentioned above, the biggest challenge was our lack of clarity on how to grow, and which sales channels to focus on.
Amazon and its price-sensitive nature make it not the most favorable environment for a premium brand like ours to push significant further growth. We tried to crack the FB Ads code, but the iOS update and our low AOV made it an unsuccessful attempt. We hired an affiliate marketing agency without careful due diligence for Shopify traffic, and it ended up a waste of time and money.
We were lost, and our advisor came in at the right time to give us a much-needed wake-up call. She said it plainly, "whenever you don't know the answer, ask your customers".
We subsequently spent two precious quarters inviting our customers to share important insights with us through phone interviews and surveys. We were able to learn more about our customers and their journey: where and how they educate themselves, explore new products, and purchase.
It's like a cheat sheet! With that information, we were able to confidently define our growth direction and goals for this year.
Remember the end goal. It's rarely about business success. It's about success in life.
What have been your biggest lessons learned in the last year?
Summarizing some of the points above:
Investing in sales and marketing is great, but don't forget about building strong operations to support that.
Hire the best people you can. Make them your most valuable assets.
When in doubt, ask your customers (and advisors).
What's in the plans for the upcoming year, and the next 5 years?
Oh, we've got a lot planned for the year…
One of the insights we learned from talking to our customers was the importance of offering samples. Our sensitive skin customers have gotten burnt (literally) too many times by bad products, and they'd be much more open to investing in full-sized products when they could try them first.
That's why one of our goals this year is to make sampling more accessible by including free sampling sachet packets in most of our products and offering free travel sets on our website.
Another valuable lesson was the importance of the early stages of the customer journey. From our survey, we learned that many of our customers search on Google to educate themselves about their skin conditions and the best products to use before they shop.
Therefore, one of our main initiatives this year is to build a strong SEO presence by offering valuable, educational, and most importantly keyword targeted blog posts that our customers would appreciate. We're already an authority on all things soapberry, but we're also working hard to increase our social proof by getting mentions on third-party sites that discuss the best sensitive skin and scalp and natural skincare products.
Lastly, we want to continue to nurture our channels. We want to give as much fuel to our new channels like iHerbs and Target with marketing initiatives, and give our existing channels like Amazon a complete facelift with new keyword-optimized listing content.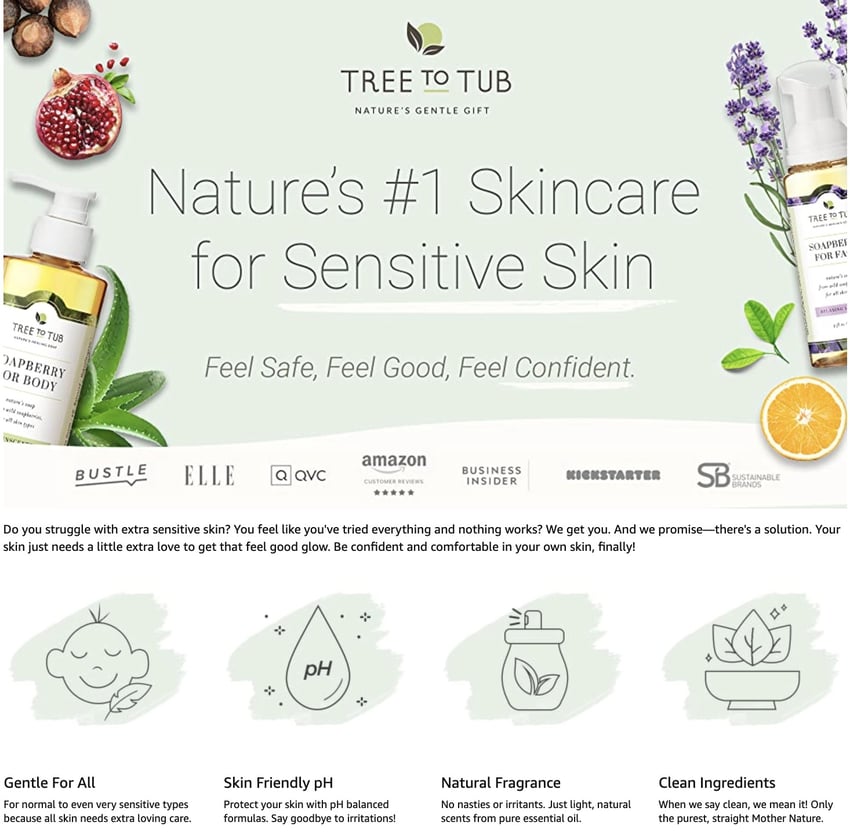 What's the best thing you read in the last year?
Not sure about "the best thing", but the book "Die With Zero" was a very good reminder of "Why" we often should NOT work as hard as possible to make as much as we can.
Many entrepreneurs I know are passionate, determined, hardworking high achievers that'd do anything to optimize their businesses, but few take the time to think about how to optimize their life. This book gives a practical yet unique perspective for anyone interested in maximizing life fulfillment rather than sheer earnings.
Advice for other entrepreneurs who might be struggling to grow their business?
This is not advice just for entrepreneurs who are struggling, but for everyone, including those that are killing it in their business or career.
Take a step back, and evaluate whether your business or career is, or will be optimally serving your ultimate goal, which for most people would be some variations of living a happy, fulfilled life.
If for you, a happy, fulfilled life means financial security, then ask yourself, is my business or career the best way to achieve that? If for you, learning and growth are important, then ask yourself the same question.
Remember the end goal. It's rarely about business success. It's about success in life. Treat your business or career as a means to an end, not the other way around, which unfortunately is the case for many people.
This way of thinking has helped my partner and I gain the necessary clarity to make important decisions in the areas of goal setting, growth strategy, and company culture. We care about learning and growth, so we make sure everyone in the company is constantly learning new things and upgrading their skillset.
We value work-life balance and health, so we try our best to prevent staff from working overtime, and encourage employees to take care of their health. Of course, we want to make more money, but who doesn't? But we refuse to take on overly ambitious goals and strategies that'd sacrifice other things we value in life.
What we're doing is not perfect, but this type of top-down clarity certainly helps serve as our northern star in critical moments. Don't live to work, work to live.
Where can we go to learn more?
If you have any questions or comments, drop a comment below!
Tree To Tub has provided an update on their business!
Over 2 years ago, we followed up with Tree To Tub to see how they've been doing since we published this article.
Want to find more ideas that make money?
Hey! 👋 I'm Pat Walls, the founder of Starter Story.
Get our 5-minute email newsletter packed with business ideas and money-making opportunities, backed by real-life case studies.