Reaching $40K In Revenue And 5M YouTube Views Despite The Pandemic
•
Published: September 23rd, 2020
Start A Woodworking Business
This is a follow up story for MTN SIDE BUILDERS. If you're interested in reading how they got started, published over 3 years ago, check it out here.
---
Hello again! Remind us who you are and what business you started.
My name is Cameron Vilcsak, a 24-year-old woodworker on the west coast of Canada. My business is a combination of YouTube videos, custom furniture, wood carvings, and log cabins. Essentially different ways I can monetize my favorite thing - the creative and hands-on practice of working with wood in different forms.
My customers range from the Fairmont Hotel to small family farms looking for a carved sign. Despite the challenges that COVID presented me with I just wrapped up my most lucrative quarter to date with 40k revenue and the milestone of 5 million YouTube views.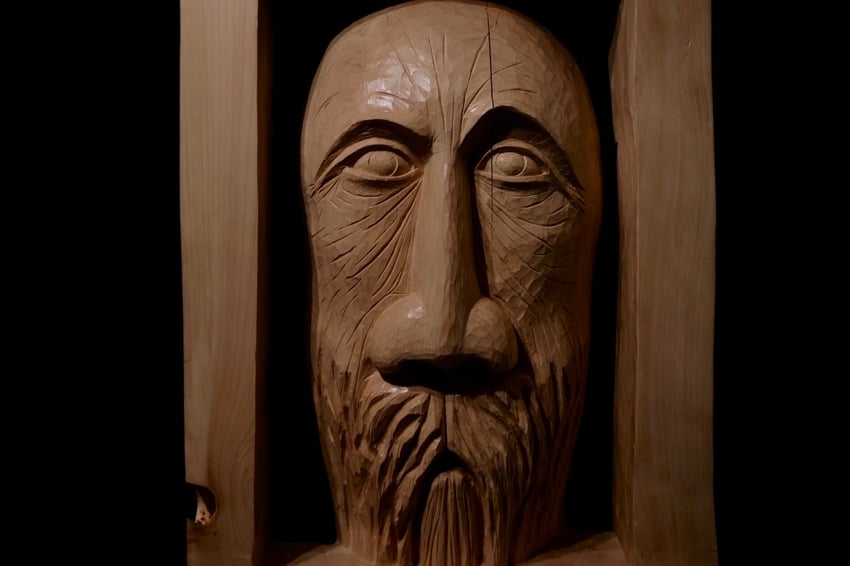 Tell us about what you've been up to! Has the business been growing?
This summer has been a whirlwind. After spending 2.5 months out of my shop due to COVID in mid-March I needed to make some moves to get business back on track. I returned to the cabin from the viral videos with some family members to install a veranda and upper balcony.
I built a picnic table for the veranda once it was finished and returned home a week later. I thought this might be a product worth building on spec and selling a few over the summer. I built a premium cedar picnic table and listed it for sale online. A few individuals bought them for their patio and then the flood gates opened. Vancouver passed legislation that restaurants could open temporary patios on the street in front of their restaurants.
Foster something you enjoy and watch it grow over time.
I think in 1 month I sold 60 picnic tables.
One order came from a chain that needed 24 tables by Friday morning - they called me on Tuesday evening, I worked back to back 18 hour days to fill the order. In a flurry of sawdust and excitement, I gained a very impressed client, which in turn led to another order for 14 from their neighbor.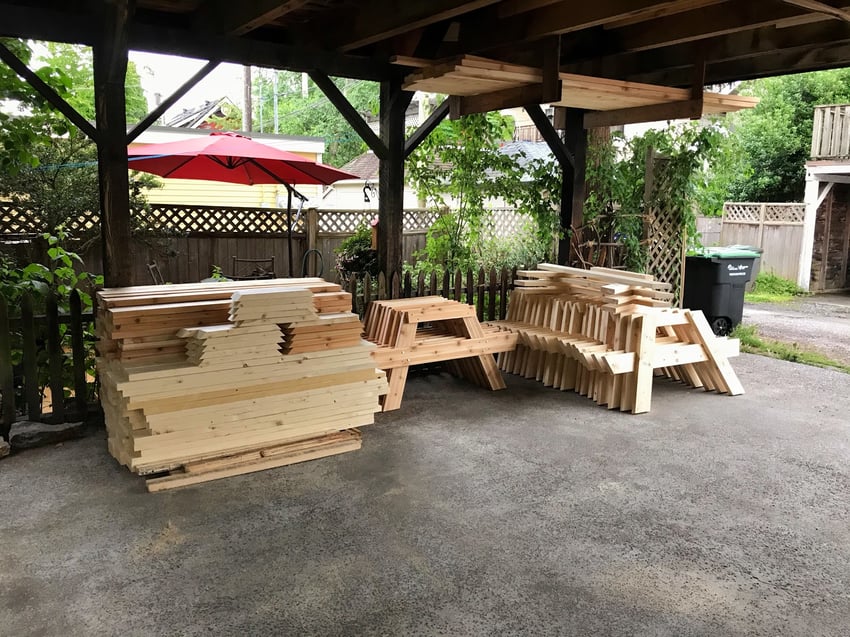 Aside from the picnic table mayhem of this summer business has been slowly but surely increasing month to month. I have started to see some repeat clients which means more to me than anything else in this industry. To succeed as a craftsman you must be in the business of bringing clients back for more.
What have been your biggest lessons learned in the last year?
This year the biggest lesson I continue to learn and improve upon is self-discipline. Everything Mountain Fire Woodworks does from quoting to video editing to website maintenance to graphic design is all done by myself. Sometimes I am overwhelmed by how many things I want to do and build and create that I seem to procrastinate.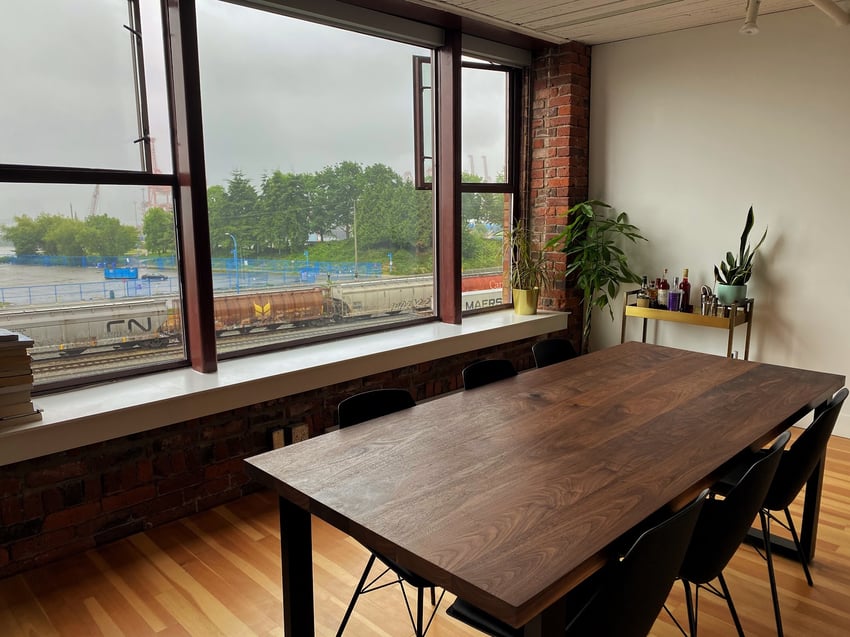 Lately, I feel more in control of these emotions and pushing through them. I have noticed a considerable dent appearing in the list of things I want to do, which in turn has led to more opportunities.
I am about to hit my first anniversary of renting space in a shared woodshop which is one of the best decisions I have made to date. The amount of knowledge that is shared within the shop walls is immeasurable. It also motivates you when you are around other people creating and working hard.
What's in the plans for the upcoming year, and the next 5 years?
This year I would like to hone my workflow. I am in discussion with a few major sponsors for my YouTube channel and having some sort of contractual agreement on how often I release videos would be a nice way to stay on course.
If everything goes well this winter I would like to hire a full-time employee for next summer to help in the woodshop. If that goes well I would like to rent my shop that isn't shared. If that goes well I would like to hire some videographers to assist with that side of things.
Ideally, in a few years, I will focus on designing and creating an emphasis on visual art. This winter I had my first taste of displaying a sculpture in a gallery and I did love it. A lofty goal of mine is to have art in an international galley in 5 years.
All of these mentioned above are goals, and it is important to have goals. However, I am happy with where I am at. If and when I hit a bump in the road or a rough patch in my personal life I will always have the ability to create and embellish an ever-growing skill set that can accommodate more possibilities.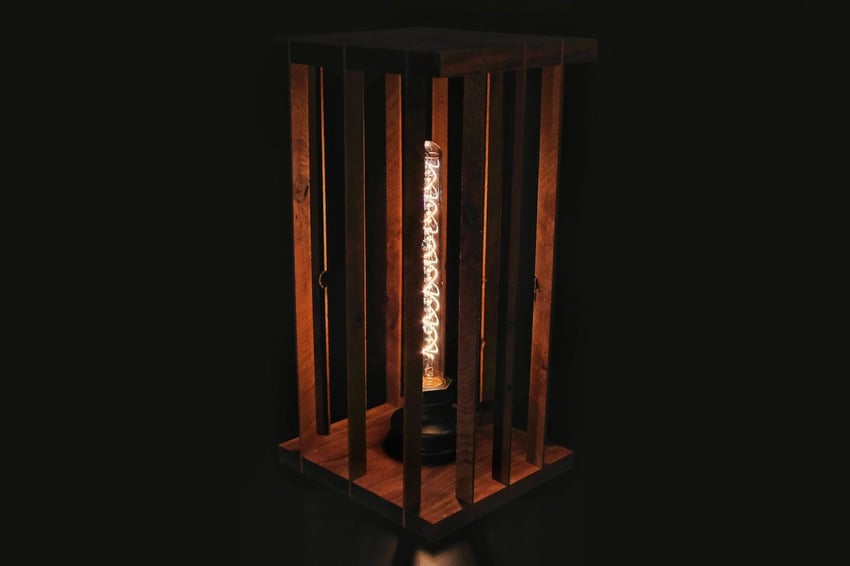 Have you read any good books in the last year?
I am a little late to the party but I read Malcolm Gladwell's Outliers which I thought was well written and thought-provoking. I am currently reading The Craft Of Log Building by Herman Phleps - which I have to say is not for everyone, it's probably not even for most.
When I am in the shop I am constantly listening to podcasts. A few I frequent are The Portal, JRE, The Tim Ferriss Show, and Side Hustle School. The last of which pushed me to start this business journey - after coming full circle I was featured on the show.
Advice for other entrepreneurs who might be struggling to grow their business?
The mantra of the owners of Patagonia - something I think about often - was this, "Make business decisions like we will be in business for 100 years." This is what led to them selecting the best materials and not moving production locations every chance somewhere cheaper popped up.
What that means to me is enjoy the gradual build of business. Foster something you enjoy and watch it grow over time. Respect clients as if you will be working together once a year for 100 years. Even though I have not been working at this full time, I can look back at the last 3 years and see all of the things I have created. Videos I have edited. People I have helped. It makes it easier to keep going forward.
Are you looking to hire for certain positions right now?
Not particularly. If the right videographer came along I would consider it.
I am mostly looking for other YouTube channels to work with, maybe collaborate on some larger projects.
Where can we go to learn more?
If you have any questions or comments, drop a comment below!
-
Cameron Vilcsak, Founder of MTN SIDE BUILDERS
MTN SIDE BUILDERS has provided an update on their business!
About 1 year ago, we followed up with MTN SIDE BUILDERS to see how they've been doing since we published this article.
Want to find more ideas that make money?
Hey! 👋 I'm Pat Walls, the founder of Starter Story.
Get our 5-minute email newsletter packed with business ideas and money-making opportunities, backed by real-life case studies.