Blacker Yarns Update: On Transitioning To New Ownership
This is a follow up story for Blacker Yarns. If you're interested in reading how they got started, published over 3 years ago, check it out here.
---
Hello again! Remind us who you are and what business you started.
Blacker Yarns is based in Launceston, Cornwall. We produce a range of contemporary, high-quality, breed-specific yarns in a large variety of color palettes, made exclusively from British sheep, demonstrating provenance to the environmentally-conscious consumer. Our yarn is made out of 100% pure and natural fibres including wool, alpaca, linen, and mohair. Our sister company, The Natural Fibre Company is the only spinning mill in the UK to scour, card, and woolen and worsted spin fibre under one roof and we are experts in all aspects of the process of turning raw fleece into high-quality yarn, some of it rare and highly specialized.
The Blacker Yarns company founder, Sue Blacker sold the business to the current owners, Colin Spencer Halsey and Graham Higgins in December 2019. The partners bring more than 40 years of business expertise with them and hold an impressive track record of strategic mentoring and turning around a range of businesses with their management, manufacturing, and accounting know-how.
Operations Director, Colin has attained many prestigious industry accolades and awards including business listings in The Manufacturer's Top 100 Businesses and South West Fast Growth 75. Commercial Director, Graham is a qualified chartered accountant and has a passion for and background in corporate finance.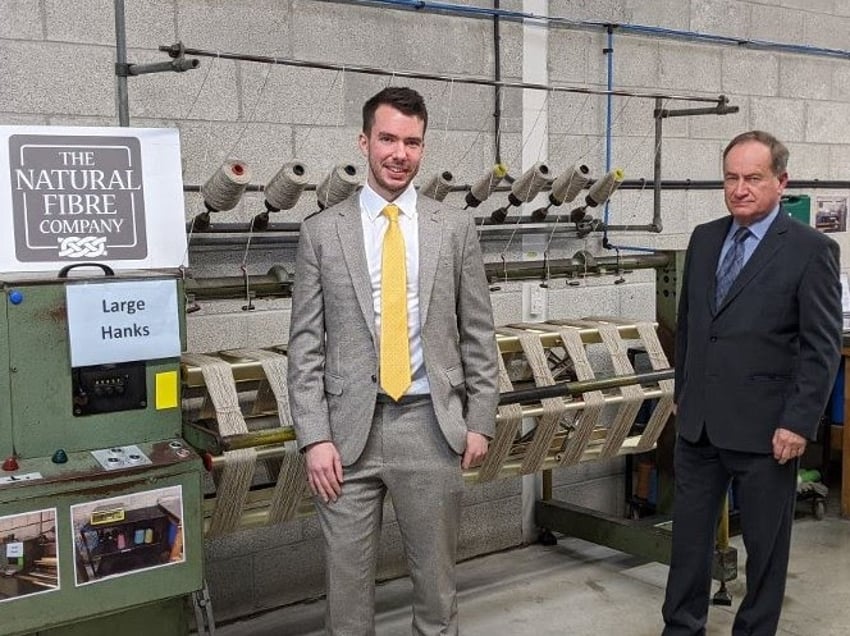 Tell us about what you've been up to! Has the business been growing?
Following the smooth transition of ownership Blacker Yarns and The Natural, Fibre Company continue to go from strength to strength.
Despite the challenges of trading during the COVID-19 pandemic, the new owners celebrated a successful first year of business, seeing an increased demand for luxury, British made products, and consumers' renewed interest in knitting and crocheting during the nationwide lockdowns, which has enabled the business to continue to grow further.
In March we took part in the very first Made in UK Day, a national campaign initiated by Kate Hills of Make it British, across social media platforms to promote products and services manufactured in the UK. We also celebrated the female employees within our workforce as part of the International Women's Day campaign on social media and will continue to engage with a range of awareness days to raise and maintain our online profile.
At the start of the year we added further expertise to our team by employing a new production manager with a wealth of experience, who will be focussing on enhancing and transforming our production systems and processes, improving our effectiveness as a value-added service, and investigating further improvements to our scouring extraction wool processability in downstream processes and developing an effective effluent management system.
We have been regularly posting short videos of our production processes which have attracted much interest on our social media channels, with approximately 1,500 views, and gaining new followers.
We are continuing to grow our network of industry partners and collaborators with a membership of associations such as Made in Britain, UKFT, and Campaign for Wool.
What's in the plans for the upcoming year, and the next 5 years?
With a focus on the upcoming year and the future, we have been expanding our research and development work by establishing links with university experts within the region, and expanding our fibre expertise, and developing new strands of work.
We're focusing on our environmental impact by continuing to source from local suppliers whenever possible, and we strive to support a greener and circular economy, reducing our carbon footprint and pollution impact.
We have been testing a wide range of materials such as Hemp for their compatibility when blended with wool and other natural fibres to extend our portfolio of processing services.
We also continue to plan, develop and extend our range of beautifully produced, breed-specific, 100% British wool yarn collections covering everyday classics to rare and luxury.
Where can we go to learn more?
Website: The Natural Fibre and Blacker Yarns
Twitter: @natfibreco and @blackeryarns
Facebook: @TheNaturalFibreCompany and @blackeryarns
Instagram:natfibreco and blackeryarn
Pinterest: blackeryarns
If you have any questions or comments, drop a comment below!
-
Blacker Yarns , Founder of Blacker Yarns
Want to start your own business?
Hey! 👋I'm Pat Walls, the founder of Starter Story.
We interview successful business owners and share the stories behind their business. By sharing these stories, we want to help you get started.
Interested in starting your own business? Join Starter Story Premium to get the greatest companion to starting and growing your business:
Connect + get advice from successful entrepreneurs
Step by step guides on how to start and grow
Exclusive and early access to the best case studies on the web
And much more!
Together With Semrush
If You Don't Rank In Google, You Don't Exist.
In order to be successful, you need to be visible online. If you're not, then your competitors might be stealing customers from you.
Semrush lets you quickly create content that ranks, and compete with the biggest brands in your niche.
Try Semrush Free Today ➜