Drink Shrub Update: On Growing Organically And Building A Community
This is a follow up story for Drink Shrub. If you're interested in reading how they got started, published about 3 years ago, check it out here.
---
Hello again! Remind us who you are and what business you started.
I recently turned 30. For years I've heard friends tell me what to expect, and the one that always scared me the most was that my ovaries would start twitching and I'd want a baby. Well, I can assure you I am still terrified of growing a human inside me, but, I was kinda lusting over something new. I felt like just one more thing in my life would make me feel complete before 30.
I met Aaron, the Founder of Shrub in 2018. I tried his drinks at a tasting demo and I was blown away. I had never tried something like this before. I started asking him so many questions and we both joked that with my outgoing personality/love of marketing and his engineering mindset/killer recipes, we could be so successful. Alas, it was not the time. I took a couple of bottles home and had my husband, Nick, try it. His initial reaction was similar to a lot of people - "Balsamic? Really? I'm not drinking that?". But with my powers of persuasion, he gave it a sip. "Oh shit, that's good!". Moral of the story: just do what I say and we'll both be happy.
When Nick and I opened Sisters Gourmet Deli in the Fall of 2019, we reached out to Aaron and told him we had to have Shrub in our cooler! Once the pandemic hit, Aaron told us he was being pulled in other directions and that Shrub was not getting the TLC it needed, and would ultimately be closing. Nick and I looked at each other and had the same thought: turkey sandwiches. After we ate we could think clearly. We called Aaron and told him we wanted to carry on with Shrub. He agreed to teach us everything he knows and set us up for success. We dove in and started doing deliveries the very next week. We are learning SO much, but that's a blog for another day.
So, yeah, some people want babies. I wanted another business. My businesses are my babies. I love them, I work hard to make them grow and keep them safe and secure, and I have room in my heart for many more. Of course, 2020 was one of the most difficult years we've ever had to survive, but there were some pretty rad parts too. Taking Shrub on was definitely a highlight.
We are so proud to sell an all-natural soda that might turn people off when they see "drinking vinegar" but after some quick persuasion the look on their face says it all and we love converting people into Shrub lovers. All four of our flavors have appealed to the sober community as it's a great way to be a part of the party without indulging in alcohol, but we also see Shrub being used as a base for fun mixed drinks. Serving the different communities has been so fun to be a part of.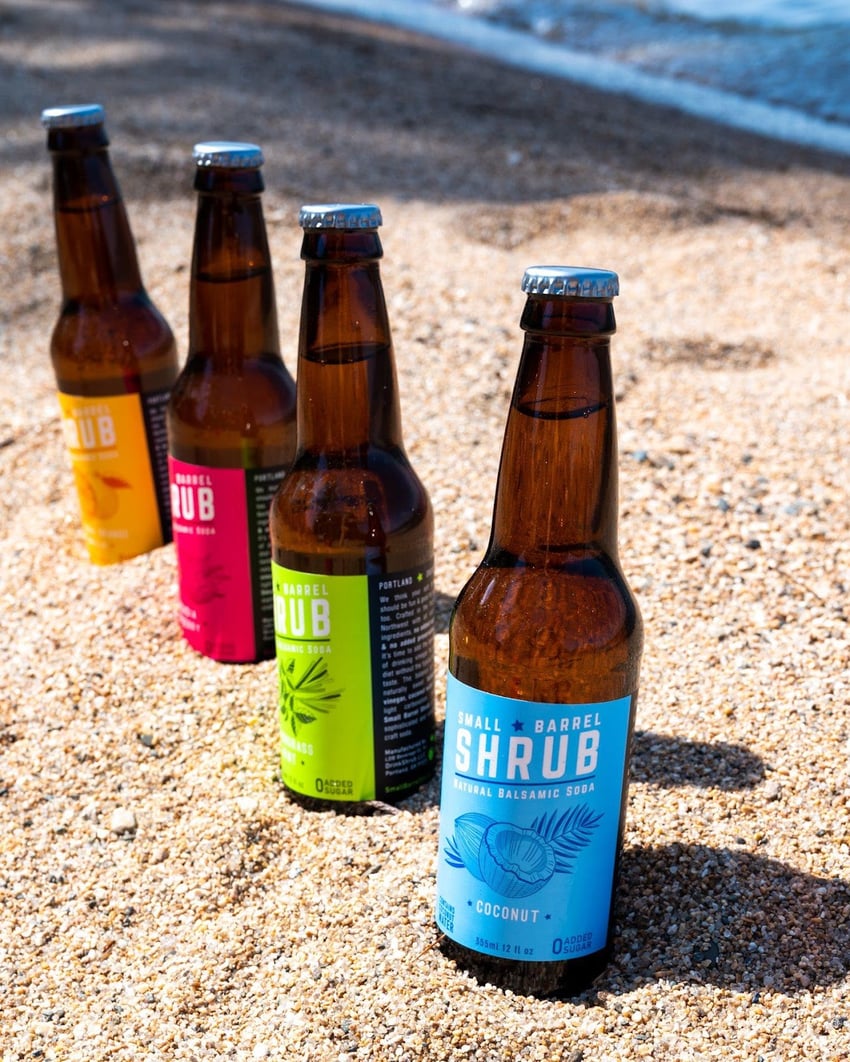 Tell us about what you've been up to! Has the business been growing?
Since working with Aaron to transition Shrub to us, it has been a lot of learning and a lot of fun! We brought in our marketing manager from Maine who works remotely to write blogs, take product photos, do email marketing and share about all things Shrub on social media. Being able to delegate and know that is something that is taken care of is a weight lifted off our shoulders so we can focus on being the best Shrub owners we can be. We also have some friends who love to talk about Shrub and have turned into our own mini sales team (any little bit helps!).
Taking it day by day and always being willing to learn, change course and shift perspective is the key to keeping your spirits up and finding success.
While we haven't yet launched any new flavors, we are working with the core 4 flavors that Aaron has created but have shifted the narrative to be inclusive of those who enjoy alcohol as well. We appreciate the initial mission and purpose of creating Shrub wholeheartedly, and we truly hope that we do an amazing job of including the sober community in the posts we create for mocktail substitutions, but we have added an increased emphasis framing Shrub as a great cocktail mixer, too. We think opening up that idea while remaining as a "zero proof" non-alcoholic option can create a wider community of interested buyers.
One of the highlights of our Shrub transition was being a part of the AM Extra segment on Koin6 (we wrote a blog about it here where you can also watch the video)!
We are strong believers in organic growth and community building, so while we haven't dabbled in paid ads, we have spent substantial time engaging with Instagram accounts to help garner an increased following and brand awareness. Also owning Sisters Gourmet Deli has given us an amazing opportunity to continue to serve Shrub in the Deli and create a built-in partnership where we use Shrub in our featured drinks, encourage our Sisters Gourmet Deli following to engage with Shrub, and really make sure that there's tons of cross-promotion happening.
We also partnered with Al's Produce to include Shrub as an add-on option to a weekly produce box and other local markets and restaurants, like Helvetia Farm Market and the 1905.
What have been your biggest lessons learned in the last year?
Here's a link to us stocking shelves.
We are sandwich people, but we're excited and enthusiastic sandwich people. That's what we know how to do. When we took on this business from the amazing foundation that Aaron built for us, we knew we were set up for success but we had to learn a whole lot about execution.
Production has been the biggest learning curve for us. It was filled with long days, SO many heavy boxes, and created just an entirely new perspective and appreciation for the hustle.
Being mainly a 2 person show with some helping hands on a day-to-day basis it can be incredibly draining to stay committed, but we have the passion to carry us through any ebbs and flows (especially with every curveball the pandemic has thrown our way).
We have started to increase our marketing efforts, posting more consistently on social media and actively engaging with the Portland, Oregon community and beyond. What we've found in our businesses is that putting yourself out there, sharing behind the scenes, the struggles, the long days - that's what people resonate with. Sure, the perfectly polished photo is amazing, but taking the time to share what leads to that photo and all the process behind that is what gets people to fully understand that it's not just a bottle on the shelf. Authentic, topical, and real posts are what people look for, so we encourage that to any entrepreneur trying to navigate the always-changing world of social media.
What's in the plans for the upcoming year, and the next 5 years?
Our goal is to just continue to build brand awareness and expand as far as we can go! One of our biggest pain points is the cost of shipping and making it reasonable for our customers to buy a 4 pack of Shrub and not have to pay $100 for shipping (slight exaggeration, but it seems like that's the cost sometimes!).
Taking it day by day and always being willing to learn, change course and shift perspective is the key to keeping your spirits up and finding success.
We plan to find a shipping solution to get Shrub in the hands of as many people as we can, so that's an exciting next step in accessibility. At the very least, a stepping stone would be to build awareness up and down the coast and be able to stock and deliver to an expanding radius around Portland, Oregon.
Growth is our number one priority, but we want to do it right. Since we are new to this, we want to make sure we aren't shooting ourselves in the foot by making business decisions because we're just so excited, but really make sure they're sustainable in the long run.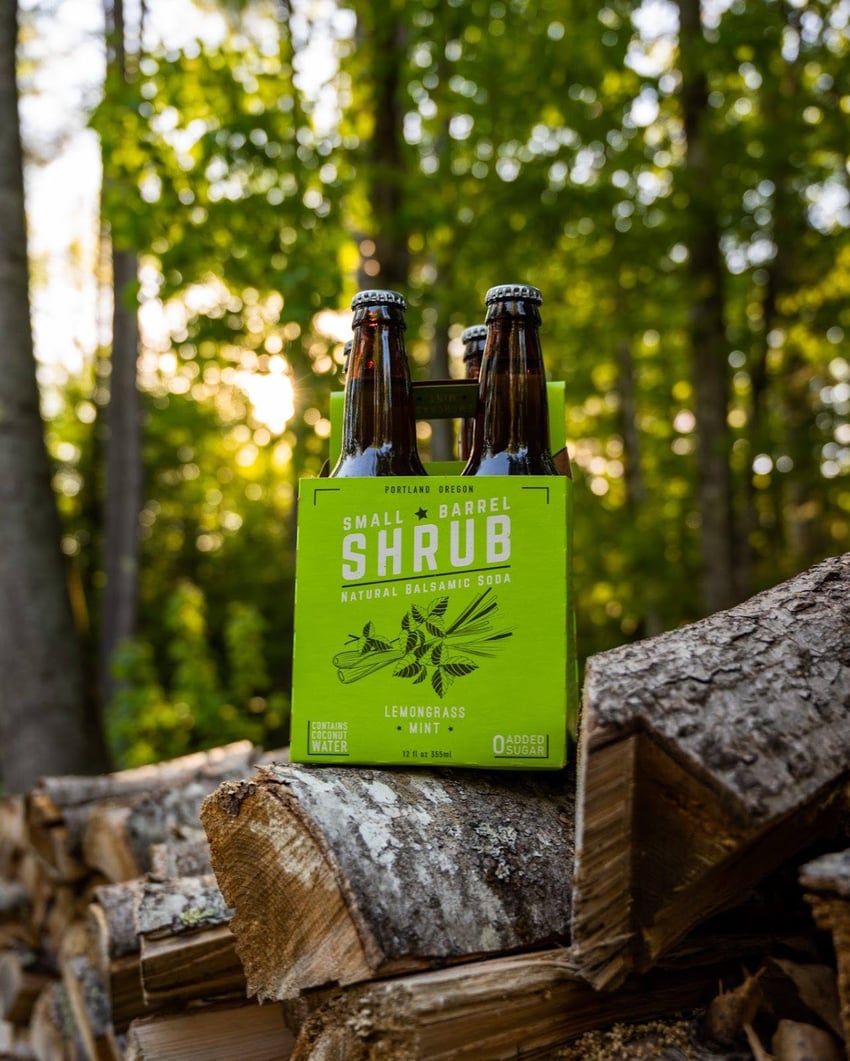 Have you read any good books in the last year?
I recently read The Power of Habit by Charles Duhigg and it provides amazing insight into how habits are formed and how marketers play a role in forming those habits with specific well-known products. Definitely a worthwhile read to shift your perspective on why we do the things we do from a personal and business perspective!
Advice for other entrepreneurs who might be struggling to grow their business?
If you take a look at the past 14 months, how is it not hard to get discouraged? The whole world was put on pause and flipped upside down from a business perspective. The thing that keeps us going is the community of supporters that we have built around us that we know is always going to show up for us. Make sure you have a core group of people who trust you, love your brand, and want to see you flourish.
We are not afraid to share that we had a 12 hour production day and it really took a toll on us and we feel defeated to the people who follow us on social media. The not-so-glamorous side of owning a business is something that other small business owners can relate to and also just any person can take a look at that vulnerability and say, "Hey, I feel like that, too."
Taking it day by day and always being willing to learn, change course, and shift perspective is the key to keeping your spirits up and finding success. As I'm sure most small businesses have learned (and if not yet, they soon will), nothing really ever goes according to plan, and there will be setbacks, changes, and a whole slew of things that are totally out of our control (have we mentioned the pandemic yet?). You just need to take a look at your scenario and find ways to pivot without it getting you down.
Are you looking to hire for certain positions right now?
We are always looking for an extra set of hands whether it's for a production run or sales, send [email protected] an email to have a chat and we can determine if there's a home for you with Shrub!
Where can we go to learn more?
If you have any questions or comments, drop a comment below!
-
Michaela McVetty, Owner of Drink Shrub
Want to start your own business?
Hey! 👋I'm Pat Walls, the founder of Starter Story.
We interview successful business owners and share the stories behind their business. By sharing these stories, we want to help you get started.
Interested in starting your own business? Join Starter Story Premium to get the greatest companion to starting and growing your business:
Connect + get advice from successful entrepreneurs
Step by step guides on how to start and grow
Exclusive and early access to the best case studies on the web
And much more!
Together With Food Foundry
Do you want $75k in funding to grow your startup?
Food Foundry is an accelerator program built by Relish Works & Gordon Food Service for early-stage startups disrupting the foodservice industry. Applications are open now through October 23rd! Apply today if you're looking for:
$75K in funding
Specialized early-stage curriculum and resources
Dedicated mentorship from investors and foodservice experts
Highly supportive community to help grow your business
Food Foundry's 2023 cohort will kick off in January in Chicago and end with a final invite-only showcase for companies to pitch to investors and the broader Food Foundry community.
Apply NOW [It only takes 10 minutes!]