On Starting A Magic Manufacturing Business [Worked With Over 250K Magicians]
•
Published: September 30th, 2021
We are Joshua Jay and Andi Gladwin, best friends and professional magicians. Together, we formed Vanishing Inc 12 years ago, and have since grown into the largest magic manufacturer and online shop in the world. We design all types of magic tricks for everything from the stage to the screen, and for anyone interested in magic.
We remain guided by the very simple core value of making the art of magic better. To do this, we regularly ask ourselves, is this magic trick something we would do onstage?
We've been lucky enough to build a team full of talented magicians and to work with some of the best magicians in the industry to create and produce world-class magic tricks.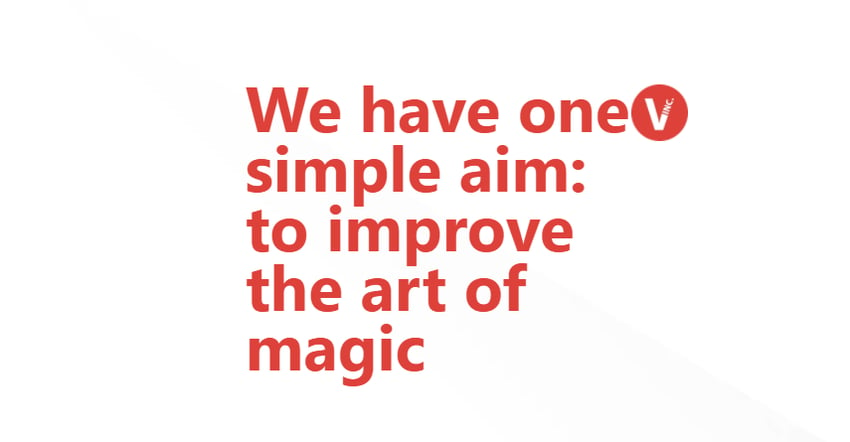 What's your backstory and how did you get into entrepreneurship?
We met on the filming of a television show with Lance Burton in the late 90s as kids. We've been best friends ever since. Andi worked in tech for some years and I was touring as a professional magician. One day we realized we wanted more control over our lives and work. So, we formed Vanishing Inc.
We learned that quality relationships are far more important, and we're now a clear industry leader in what we pay our creators.
We came up with our tricks to market to other magicians and started out selling at magic conventions and expos.
In our industry, most magicians sell their ideas to companies who buy out the rights. Vanishing Inc. works with creators on a percentage basis. We want to do whatever we can to support magicians and help them become the best versions of themselves.
Take us through your entrepreneurial journey. How did you go from day 1 to today?
In the beginning, we did it all. We were two best friends starting a business. But that forced us to wear every single hat in the company. Later those roles would be filled by team members—all of which are magicians themselves. But, to start, we each used to do all the inventing, marketing, packaging and even shipping, ourselves.
This meant we only had the bandwidth to produce one book and about two tricks per year. Now, we produce upwards of 12 books, 20 tricks, and 60 download tutorials per year on top of hosting a variety of live events and conventions.
How are you doing today and what does the future look like?
The first years at Vanishing Inc. Magic were lean. We mostly relied on the revenue from our performing careers to live outside the business since Vanishing Inc. wasn't generating enough money for us to live on.
Every penny we made was reinvested into growing our company. We purchased two warehouses and set up shipping operations in Europe and the United States, and a creative division in Asia to help us develop new material.
As our business began to grow, we hired a marketing specialist who worked in other industries with expertise in ad design and implementation, as well as a social media specialist with an extensive background in public relations.
Now, we have over 250K magicians in our database. We don't share information on specific metrics of our customers, but, during the pandemic, we implemented a "plus" subscriber model called "VI+" where magicians pay $70 per month to receive weekly lessons, free shipping worldwide, and live online virtual shows from some of the greatest magicians in the world—An offering that's well over $100 if each part was purchased separately.
One key to our success is that our entire team is composed of magicians. By working with a team united in our love for magic, we find everyone works particularly well together and is committed to our core goals. We are, so to speak, brothers and sisters in arms, in that we all love making and producing, and delivering quality magic. So our team meetings often have magic tricks or industry gossip talk before we cover day-to-day matters.
Later, we added live events into the mix, including a Retreat model for our highest-priority customers. At this retreat, we brought in our team members as well so that we could be in an exotic setting (Costa Rica) to enjoy their company surrounded by other magicians.
Through starting the business, have you learned anything particularly helpful or advantageous?
Hindsight is always 20/20 but one thing we remain proud of and committed to is that we never really intended to operate as a business. We are, at our core, two best friends who love magic--are obsessed with magic--and we make most decisions based on the quality of magic or what we think is most interesting.
While it sounds trite, we aren't concerned with the quick profit path or what is financially best. We think just as much about image and positioning in the industry, and what the "integrity" choice will be.
In the beginning, like any new company, we wanted to save as much money as possible, which often meant paying our magician-creators less. But we learned that quality relationships are far more important, and we're now a clear industry leader in what we pay our creators.
What platform/tools do you use for your business?
Our entire team operates on Slack, which is handy since we have team members in time zones that allow us to cover the entire globe. Our entire website was custom-designed and coded by my co-founder.
We also manage all of our Support Wizard (customer service) operations through Zoho.
What have been the most influential books, podcasts, or other resources?
We are ardent fans of Seth Godin (who is also a customer and an ardent magic fan) and Tim Ferris. We both found the Malcolm Gladwell masterclass on writing particularly insightful as well.
Advice for other entrepreneurs who want to get started or are just starting out?
The pervading wisdom is to never mix friends and business. Well, I've worked with my best friend for the last 11 years and we've never, ever fought. We disagree nearly every day, but there's an unspoken trust, and with that trust comes implicit understanding. Neither of us is precious about getting our way.
We're VERY selective about who we work with. We avoid anyone who brings drama or tension or tempers into our business. We are compulsive workers, and we love what we do, so we gravitate toward like-minded people.
The other quality I admire about my business partner is his flexibility, and I believe he would say the same about me. We don't care one bit about being right or who came up with what idea. We instead focus on staying nimble. We like to be able to change gears or stop a new idea or start another new idea based on new information, or unexpected results.
Are you looking to hire for certain positions right now?
We are always looking for the right team member, but we also thrive on keeping our team lean and focused.
When we do have specific job openings, they appear on this website.
Where can we go to learn more?
The best way to learn more about us, our charitable efforts, our products, or to find something to amaze your friends or coworkers, is to visit us. If you're not a magician, but fascinated by cool puzzles and decor, you can also check out our "Vanishing Inc. Wonders'' brand at vanishingincmagic.com/wonders.
-
Andi Gladwin and Joshua Jay, Founder of Vanishing Inc. Magic
Want to find more ideas that make money?
Hey! 👋 I'm Pat Walls, the founder of Starter Story.
Get our 5-minute email newsletter packed with business ideas and money-making opportunities, backed by real-life case studies.