Thank you Klaviyo for sponsoring Starter Story ❤️
Turn one-time buyers into repeat customers. Try the platform loved by 265,000 brands
On Creating An IT Consulting Company [With 60+ Specialists]
Start A Custom Oil And Gas Software Application Business
Hi, I'm Michael Grebennikov, I'm a co-founder and co-CEO of Digiteum. We are a mature software development and IT consulting company from Poland with over 60 top-tier specialists on board and a decade-long experience in the IT services market.

What's your backstory and how did you come up with the idea?
I co-owned and co-founded three successful IT companies during my 25 years in IT. Digiteum is my latest brainchild and also my biggest pride.
You need to analyze what you do, define what you do best, and then think again about who might need it. And always listen to your clients.
Officially, we kicked off in 2010. By that time, my business partner Katherine Lazarevich and I had already worked together in the same IT company for a while and carved out a clear vision of how to create and lead a software development company. At some point, we analyzed the market and understood that there was a serious gap, and also an opportunity.
The problem was that the majority of small and medium IT companies in Eastern Europe were focused on outstaffing, and outstaffing only. This business model, despite being successful, lacks a very important component — service itself. A typical software house at that time didn't help clients make tech decisions, ideate products, or understand how to better solve their challenges. They simply provided engineers and other IT specialists on an hourly basis.
We wanted to do things differently. Having a pretty solid experience in product development, we started our company with one idea — we need to understand our clients and their business first and help them make the right technical decisions. To do that, we start every project by delving into the client's business environment and making a competitor analysis. Only after figuring out what business requirements we are dealing with, we can suggest relevant technical solutions, engage our engineering team, and begin the development process.
Take us through the process of starting your company.
We started with an 8-people strong team and one big client on board. Back then, the mobile market was still vibrant and prospective, so in our early days, we focused on building up our competence in custom mobile app development.
Katherine had hands-on experience in product design and ownership. She knew how to work with clients and present and negotiate technical solutions. She was also great at leading projects and development teams. I took on legal matters and business development, and later also got involved in the management and consulting. I should mention that I already had a very strong business network that we could build on.
We have always been a great tandem. Katherine knew how to raise products from the ground up, and I knew how to sell them. I can tell it was a real business precedent. We were a small boutique company, yet we had the skill and competence to consult our clients and help not only with people but also with brainpower.
Describe how your brand evolved and how Digiteum emerged.
VolcanoSoft was our first and perhaps the most creative brand. Everyone was talking about the erupting Eyjafjallajökull in those days, and somehow we could associate ourselves with it. Just like a small but powerful volcano in Iceland, we had massive energy, drive, and ambition. We made decisions fast and enthusiastically and knew what corporate culture and business ethics we wanted to create.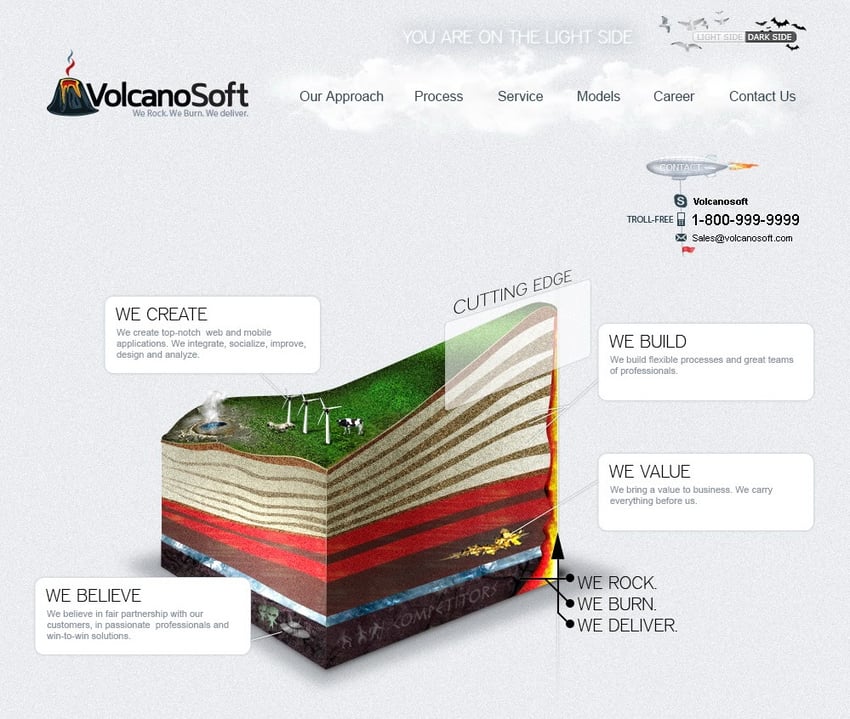 Later we figured that the name VolcanoSoft didn't reflect our services. I suggested a more descriptive brand name Migrate2Mobile, and it caught on immediately. By 2013, we had already worked with many companies across Europe and the U.S. developed myriad applications and received a few awards. Most importantly, our expertise outgrew mobile or tablet applications.
In 2014, we felt that we had enough technology and business experience to move on. We rolled out a tender for rebranding and ended up with an offer from a UK creative agency True. We fell for it right away, and this is how Digiteum came to life. Our brand image and materials have evolved since then, though one thing that perfectly speaks our truth remains: "Business understanding creates great software."
Since launch, what has worked to help your company grow?
We got off to a good start with business development. Our network was expanding because we were contacting people all the time. At some point, we began losing focus. My son was born, and I devoted more time to my family. Kate was immersed in one of our large projects — these things led to a slowdown. But sales should never stop; it is a continuous process. If you stop contacting people, it sets you back to at least 3 or, in my experience, even 6 months due to a long sales cycle in IT.
We were searching for the right strategy to get back on track — set up a marketing department, and establish a sales process. It took some time till we found the right people who could take business development off our shoulders. And even when we had the team and infrastructure, it took some more time to get it up and running.
Another strategic step we made was to enhance our service and refine our message. Our goal was to ensure we are not perceived as another outsourcing company but as a business and technology consultancy. Essentially, we decided to compete on an entirely new level as a company that provides a different level of service compared to software houses.
We planted this idea into our rebranding in 2014, and it was a success. After we sent over the news, we ended up getting more clients. Since then, we have been training our project managers, sales and marketing teams to translate this idea to our network and potential clients.
This also affected our approach to growing revenue. We always knew that we could set higher rates for the service we offer. We work with top-tier engineers and senior specialists who have deep industry knowledge across several business domains and know how to turn an idea into a top-notch product. So we have to make sure our rates allow us to pay competitive salaries to our people. After all, people and clients are the most important assets for any IT company.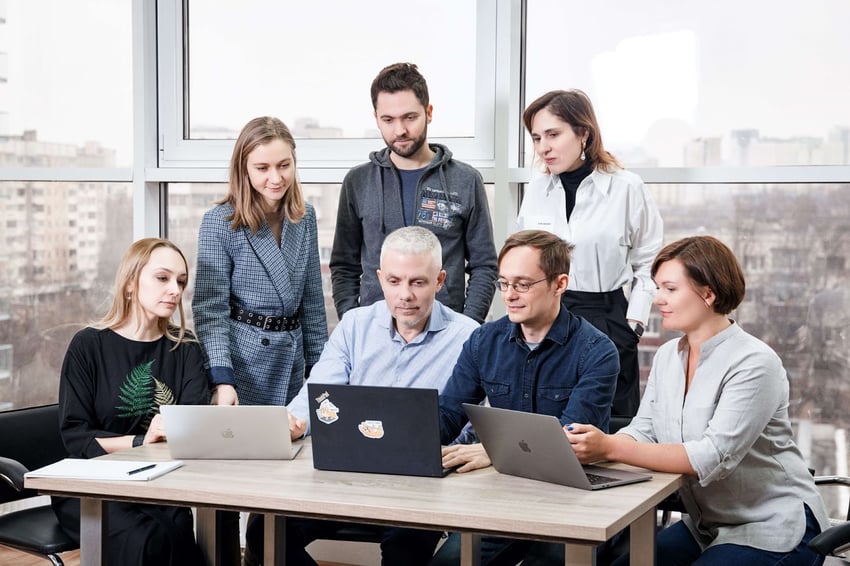 So, we started with relatively low hourly rates and gradually went up. Clients who could no longer afford our prices were replaced by others who could. Soon we developed a stable and profitable client base. They were satisfied with our offering and, at the same time, we increased our revenue and could afford to hire the best people on the market.
Finally, one of the biggest steps for us was to open a new office in Poland in 2020. We moved closer to our existing clients and got an opportunity to reach new ones in the DACH and NORDIC markets. Today, we are actively putting together a team in the new location and hiring specialists in Poland.
How are you doing today and what does the future look like?
The previous few years were very dynamic. We made a leap in 2020, grew significantly in size and geo, and continue adding more talented people to our team in 2021. Right now we work on expanding our sales, management, and engineering teams.

From a strategic standpoint, we singled out our core tech competencies and services to keep our sales efforts focused. Having well-defined processes and infrastructure in place, we now can monitor their efficiency and adjust if needed.
Through starting the business, have you learned anything particularly helpful or advantageous?
There are a few takeaways worth mentioning. The first and probably most important one is to understand what exactly your company does best. In our case, we found out that our unique selling point was not the strong expertise in software development practices and technologies — these are the general requirements on our market. Our USP was the ability to find the right technical solution for every business situation.
The second point is simple though takes time to implement. Once you understand what your company does best, who needs your service, and how you could sell it, you need to establish an effective and measurable sales process and find the right people to manage it.
Like many other services companies, we not only provide but also use professional services. We put a lot of time into building a strong network of partner companies that help our business work more efficiently. We use their services when we need to scale up our teams quickly and add engineers to our projects.
We hold strategic sessions to keep our focus on the strategic business goals. Katherine suggested that once a month we leave the office, get together, and talk strategy. This is a fantastic experience. It helps us not to get bogged down in the routine of everyday operations but to work with a perspective in mind. When we first started these sessions, it gave us the drive we needed and helped us move much faster.
And of course, you need to have the right business partners, the team that shares your vision and can make it happen. At the same time, you should build a network of clients who will help you grow your idea into a profitable business. I am happy to have a business partner who is a tried-and-true professional and who I trust completely. We have put together a stellar team; we are proud of and have full confidence in our people. And this is the biggest advantage one could ever wish for.
What platform/tools do you use for your business?
I can't advise on any tool because, in my opinion, it's all a matter of preference. Every tool has its pros and cons, and there's no such thing as a one-size-fits-all solution.
We used to work with Slack and Dropbox which, at some point, we decided to replace with more cost-efficient solutions.
We have been using Zoho CRM for a very long time. This platform has everything we need for our processes in accounting, recruiting, sales operations. It is flexible and customizable. Over the years we could tune it and fully adjust to our needs.
What have been the most influential books, podcasts, or other resources?
More than 20 years ago I attended a two-day business training which revealed a brave new world of marketing and communications for me. Moreover, it explained how important it is to embrace change. The coach of the course suggested that we put our watches on the right hands for a week. I ended up wearing mine on my right hand for about 5 years since then. This simple trick showed me I was ready to change.
Generally, I took part in many training courses, including Carnegie Mellon, because I knew I needed to learn how to better do my job.
I learned from Peter Drucker (e.g. Management by Peter H. Drucker) about the very fundamentals of management. David Maister and his book Managing the Professional Service Firm also made a big impact. These books are not new, but they give robust knowledge that won't break over time.
Advice for other entrepreneurs who want to get started or are just starting out?
The smartest advice I have ever read or heard was to understand who your clients are and learn what exactly they need.
You need to analyze what you do, define what you do best, and then think again about who might need it. And always listen to your clients.
Repeat this exercise often. Only then can you provide better service and create a better product. Often, companies have a skill or certain competence but don't know how to leverage it.
Are you looking to hire for certain positions right now?
We are looking for talented senior engineers for several projects and continuously expanding our sales team. You can learn about current job opportunities on our Career page or contact our Talent Manager directly at [email protected].
Where can we go to learn more?
-
Michael Grebennikov, Founder of Digiteum
Want to start your own business?
Hey! 👋I'm Pat Walls, the founder of Starter Story.
We interview successful business owners and share the stories behind their business. By sharing these stories, we want to help you get started.
Interested in starting your own business? Join Starter Story Premium to get the greatest companion to starting and growing your business:
Connect + get advice from successful entrepreneurs
Step by step guides on how to start and grow
Exclusive and early access to the best case studies on the web
And much more!
PROMOTED
Did you know that brands using Klaviyo average a 95x ROI?
Email, SMS, and more — Klaviyo brings your marketing all together, fueling growth without burning through time and resources.
Deliver more relevant email and text messages — powered by your data. Klaviyo helps you turn one-time buyers into repeat customers with all the power of an enterprise solution and none of the complexity.
Join Brumate, Beardbrand, and the 265,000 other businesses using Klaviyo to grow their online sales.
Starter Story
Wanna see 52 business ideas you can start with less than $1,000?
Join our free weekly newsletter and get them right now.