On Creating A Platform To Manage & Automate Contracts
•
Published: December 12th, 2021
Start A Smart Contracts App Business
My name's Richard Mabey, and I'm the co-founder of Juro, alongside Pavel Kovalevich. Juro's an all-in-one contract automation platform that helps visionary legal counsel - and the teams they enable - to agree and manage contracts in one unified workspace.
Pavel and I founded Juro in 2016, to help the world agree more. We're headquartered in London, with an office in Riga, Latvia, and work with high-velocity businesses like Deliveroo, Trustpilot, and Cazoo to streamline the contract workflow and gain better insight into contract data.
Recently, Juro was commended in the Best Technology Product category at The Lawyer Awards and voted the #1 startup to work for in London in 2022 by Tempo.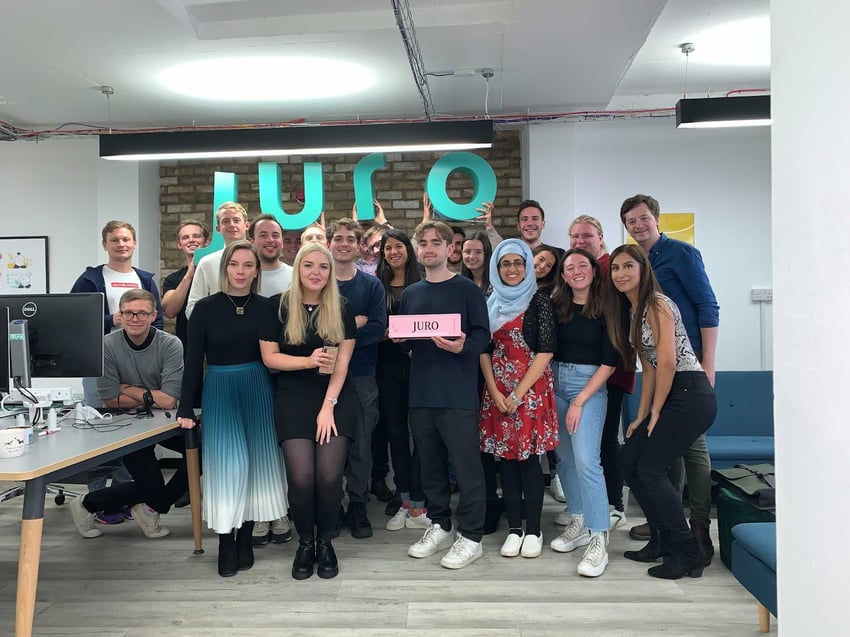 Juro's London team
What's your backstory and how did you get into entrepreneurship?
The journey to becoming CEO and co-founder of a legal tech scaleup wasn't as straightforward as people may imagine. If I look back to the point when I graduated and was ready to join the working world, I had no idea what I wanted to do with my life.
I had graduated with a philosophy and languages degree from Edinburgh University and was looking for a job, without really knowing what appealed to me. I remembered work experience with criminal barristers and found it interesting, so it seemed as great the next step as any.
I ended up experiencing my first real flavor of law at the building that would, one day, become Juro's office. At the time it was Tooks Chambers, one of Britain's leading civil rights barristers' chambers; the experience pushed me in the direction of a law-focused career, and I began applying for City training contracts.
Freshfields Bruckhaus Deringer accepted my application, and in August 2010 I joined their fantastic training scheme. By the time I qualified, I was lucky to have a solid corporate foundation to work from. My focus was on mergers & acquisitions (M&A) and private equity deals, which in particular are fast-paced, aggressive transactions, with seemingly impossible deadlines.
The work was always challenging and interesting, but not without its frustrations - I never got to see the results of all my hard work. I was also irritated with our tech stack at the time: w, email, and PDFs, which cornered us into process work instead of the high-value legal work we had trained to do. I decided to solve the problem, and the concept for Juro was born.
Having a concept was exciting enough, but it was when the concept won the INSEAD venture competition, and I could build a minimum viable product (MVP), that I knew I was really onto something that could change the way we agreed and managed contracts.
Take us through your entrepreneurial journey. How did you go from day 1 to today?
Getting from an MVP to a 53-strong team, across several countries, working to automate contracts for some of the largest brands in the world, involved a lot of hard work, dedication, and perseverance. Many founders can relate to this - creating a product that has demand is only the first step of the journey. Here are a few key points that were pivotal for Juro's journey from concept to scaleup.
Commercial experience: after creating an MVP I realized that there was still so much I didn't know. There were clear gaps in my commercial knowledge - how do I refine the concept? How do I tackle distribution and strategy? How do I build a product that people want to use? How do I code? I went to INSEAD to complete an MBA, before joining the team at LegalZoom to learn more about the inner workings of a business.
Meeting Pavel: I met my co-founder, Pavel, at INSEAD. Pavel was working as a researcher at the time, and we started working together on the Juro idea, trying to identify the exact problem we were solving with our product. His knowledge and experience in programming and the back-end of how the product should function meant that we were perfectly balanced to co-found Juro, with Pavel leading product and engineering teams in Riga, while I led the commercial team in London. We officially launched Juro in March 2016 (from my kitchen!), leaving our full-time jobs behind.
Our first customer: businesses usually fail because they don't solve a problem. We had proof that Juro was solving a huge problem, and this was also evidenced by the fact that we secured our first customer at an early stage of the business. Not just any customer - food delivery unicorn Deliveroo, one of the UK's fastest-growing businesses. They're still a customer to this day. Being able to secure a customer at such an early stage meant that we could get feedback on our product much earlier than expected. And this feedback was invaluable - everything we assumed was a good idea ended up proving otherwise in the hands of our customers. It helped us iterate and improve with the end-user in mind.
Funding: it's always great when investors see the potential of your idea and want to see it succeed - especially in such a traditional industry, like legal, where change seems to take gradual steps. In 2017, we completed a seed funding round with Point Nine Capital, Wise (formerly TransferWise) co-founder Taavet Hinrikus, Gumtree co-founder Michael Pennington and Indeed co-founder Paul Forster.
We then secured $2m in a second seed funding round led again by Point Nine Capital - and then in 2020 completed a $5m Series A with Union Square Ventures; the same firm that had backed giants like Twitter, Stripe, and Etsy.
A fantastic team: as co-founders, Pavel and I can't do everything forever! We need to hire the best people to join our startup - and that's a tricky task when those talented people could just as easily be working for Google. When hiring, we decided to focus on curiosity as a defining trait - people who could demonstrate a rapid learning curve, people who were curious enough to ask why and challenge us on decisions, people who could work independently to resolve a problem. Curiosity was key, especially at a small company, with limited resources and aggressive deadlines. I'm thankful that we've managed to hire some of the best people in our team, all of whom go above and beyond to help Juro succeed and keep our customers happy.
Launching a 'freemium' product: The COVID-19 pandemic brought the world to a standstill - companies like Juro that were fortunate enough to remain in business had to navigate a challenging environment. We saw an increased demand from our community to be able to collaborate remotely on contracts; one customer saw their contract volume managed in Juro increase by 300 percent, week on week. Another customer brought their entire HR function into Juro so they could handle the painful task of drafting and sending furlough letters.
Getting business contracts agreed remotely was a top priority for thousands of people - a priority that had never really existed before the pandemic. Pavel and I decided that Juro was in a prime position to help, and we decided to launch a free version of our product. Our Basic plans were up and running in a week, with the sole aim of helping businesses heavily impacted by COVID.
It was such a pivotal moment for Juro, for many reasons. Firstly, and most importantly, we were able to help such a wide range of businesses - from food delivery platforms to healthcare providers, to ride-sharing apps. Our monthly active users tripled in the first month of lockdown as a result.
Secondly, this influx of users was invaluable when it came to stress-testing the product. The insights we gathered were incredibly useful, and are still being used today to influence our product roadmap.
How are you doing today and what does the future look like?
Presently, Juro has powered over 100,000 contracts in 65 countries. Customers include Cazoo, Trustpilot, Secret Escapes, Habito, and more.
Undoubtedly it's important to think carefully about the choices you make, but if you get too wrapped up in analysis it can become paralyzing, and your business might never get off the ground. Push yourself to become more comfortable making quick decisions if you aren't already.
We launched a community for in-house lawyers and legal operations teams in 2020, which recently exceeded the 500-member mark. This community consists of legal teams at some of the world's fastest-growing tech companies, like Hopin, Stripe, Klarna, Coinbase, and many more, who join for our exclusive events and content.
We get to collaborate with our ideal customers, who are in-house scaleup lawyers, every day, through various marketing channels:
Our blog, which reaches 20k in monthly organic traffic
Our fortnightly newsletter, which is distributed to over 2800 legal professionals
Our weekly community newsletter, which goes out to over 500 in-house lawyers and legal operations teams at scaling business
Our customer success updates, which reach over 7000 Juro users
Through starting the business, have you learned anything particularly helpful or advantageous?
One of my biggest learnings through starting Juro is the importance of seeking meaningful validation for your idea or product. It's easy to have confidence in a product or service that resonates with your personal experience, but you aren't representative of your entire target audience.
It's one of the most common mistakes made in startups. Even if you know you need to gain insight from your users, it's possible you haven't figured out how best to do so yet. In the early days, we approached user feedback by hosting unstructured chats with our users. The truth is, we're all too busy for this today. The business has taught us all about the value of having structured interview processes, and the need to directly ask people about their specific pain points to receive actionable insights.
There's a trap of believing that more education will provide you with everything you need to know, but I believe you can learn more from ten interviews with prospective customers than you can from ten years of further education. If you're focusing on a problem, you need to talk to the people experiencing it first-hand.
Based on what we heard in our interviews with customers, we started to question whether or not Microsoft Word was the most effective way to manage contracts. We found out what they liked and what they didn't, and we mapped a customer-centric solution from there.
What platform/tools do you use for your business?
We love using tech and tooling that makes our jobs easier and helps us dedicate more time to high-value work. Many of the platforms we've implemented are also high-growth scale-ups that are working to automate routine tasks, like:
Of course, for knowledge-sharing and company comms, you can't overlook:
Notion: an all-in-one workspace where all our company info lives; from team playbooks to company objectives, to career pages, employee reviews, and more
Slack: the go-to platform for internal company comms. We also use it to communicate with our community of in-house legal and legal operations teams
What have been the most influential books, podcasts, or other resources?
In terms of books, I've found The Startup Owner's Manual by Steve Blank and Bob Dorf to be particularly valuable. It details the mistakes to avoid when founding a startup, how to find the perfect product-market fit and a step-by-step description of how to create a successful startup. This is great because most startup founders are embarking on the journey for the first time, and hearing about the best practices and tips for success is a great form of guidance.
More specifically for the world of contracts, Creative Contracts Clients Love by Verity White has been an influential book. It's all about how we can re-design contracts to make them more human, accessible, and optimized for speed. We put a lot of emphasis on legal design at Juro, so her teachings are both well-aligned and interesting.
There are also a few blogs that I've found highly influential in my career thus far. Firstly there's Ask Awesomely, which compiles a wide range of support on everything from strategy to customer success and lead generation. I also find myself reading Jason Lemkin's blog posts often, as he's a fellow SaaS founder and delivers a lot of like-minded and insightful content.
Advice for other entrepreneurs who want to get started or are just starting out?
The first piece of advice I have for fellow entrepreneurs is to find inspiration from your own experience. If you've experienced and encountered problems or pain points in previous roles, the likelihood is that you're not the only one. For instance, when I worked as a solicitor, I realized how manual, time-consuming and repetitive the work lawyers do is. From there, I began thinking about the core problem that needed solving, what the friction points lawyers experienced were, and what would fix this. That's how Juro was born.
I'd also say to prioritize the wants and needs of your customers and to do so by listening to them. A lot of the assumptions we had originally made when crafting the first version of our product turned out to be misconceptions. To develop a product that our customers wanted, we needed to hear their feedback, think deeply about it and then action these changes. Too often start-ups dismiss user feedback, but it's often free and the most useful kind.
One of the most common things holding aspiring entrepreneurs back is their lack of confidence, and their inability to make hard decisions when it's needed most. The people behind startups are typically very analytical, and they believe that behind every decision is lengthy deliberation. Undoubtedly it's important to think carefully about the choices you make, but if you get too wrapped up in analysis it can become paralyzing, and your business might never get off the ground. Push yourself to become more comfortable making quick decisions if you aren't already.
Are you looking to hire for certain positions right now?
All our roles exist on our careers page - we're currently hiring a financial controller to join the team in London, and we have a few engineering roles available with our team in Riga. Interested candidates can apply here - and here's a bit more information about our latest financial controller position.
Financial controller: we're in a solid cash position today, and scaling fast. Apart from our obligation to produce accurate monthly and annual financial reports to our investors, we're also gearing up to be audited at the end of 2022. We'll need someone who is autonomous above all else and doesn't need much teaching to execute in the role. Instead, you'll teach us, and level up financial processes across the company.
Where can we go to learn more?
If you're interested in subscribing to our newsletter, for contract management know-how, top picks of jobs from the hottest companies, and the latest from the legal world and beyond: subscribe.
-
Richard Mabey and Pavel Kovalevich, Founder of Juro
Want to find more ideas that make money?
Hey! 👋 I'm Pat Walls, the founder of Starter Story.
Get our 5-minute email newsletter packed with business ideas and money-making opportunities, backed by real-life case studies.