Thank you Klaviyo for sponsoring Starter Story ❤️
Turn one-time buyers into repeat customers. Try the platform loved by 265,000 brands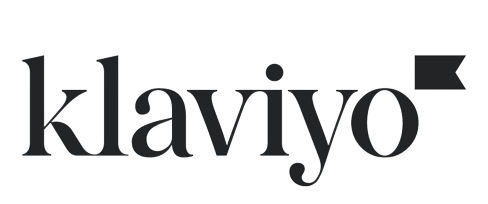 On Building A Subscription Analytics Platform With 1000+ Subscribed Businesses
Start A Software Business
My name is Nick, I'm the founder and CEO of a business called ChartMogul. We make a subscription analytics SaaS product used by over a thousand subscription businesses, many of whom are other SaaS businesses like Webflow, Buffer, Whereby, and Typeform. ChartMogul helps these businesses measure, understand, and grow their recurring revenues.
Also worth mentioning is that our product is completely free if your business has less than $10,000 in Monthly Recurring Revenues ("MRR").
ChartMogul was founded in late 2014, and we recently hit 50 employees. We've been fully remote since 2018 and are highly distributed across around 15 countries. We do retain three WeWork offices in Berlin, Toronto, and Seoul (where I'm based), though using them is optional.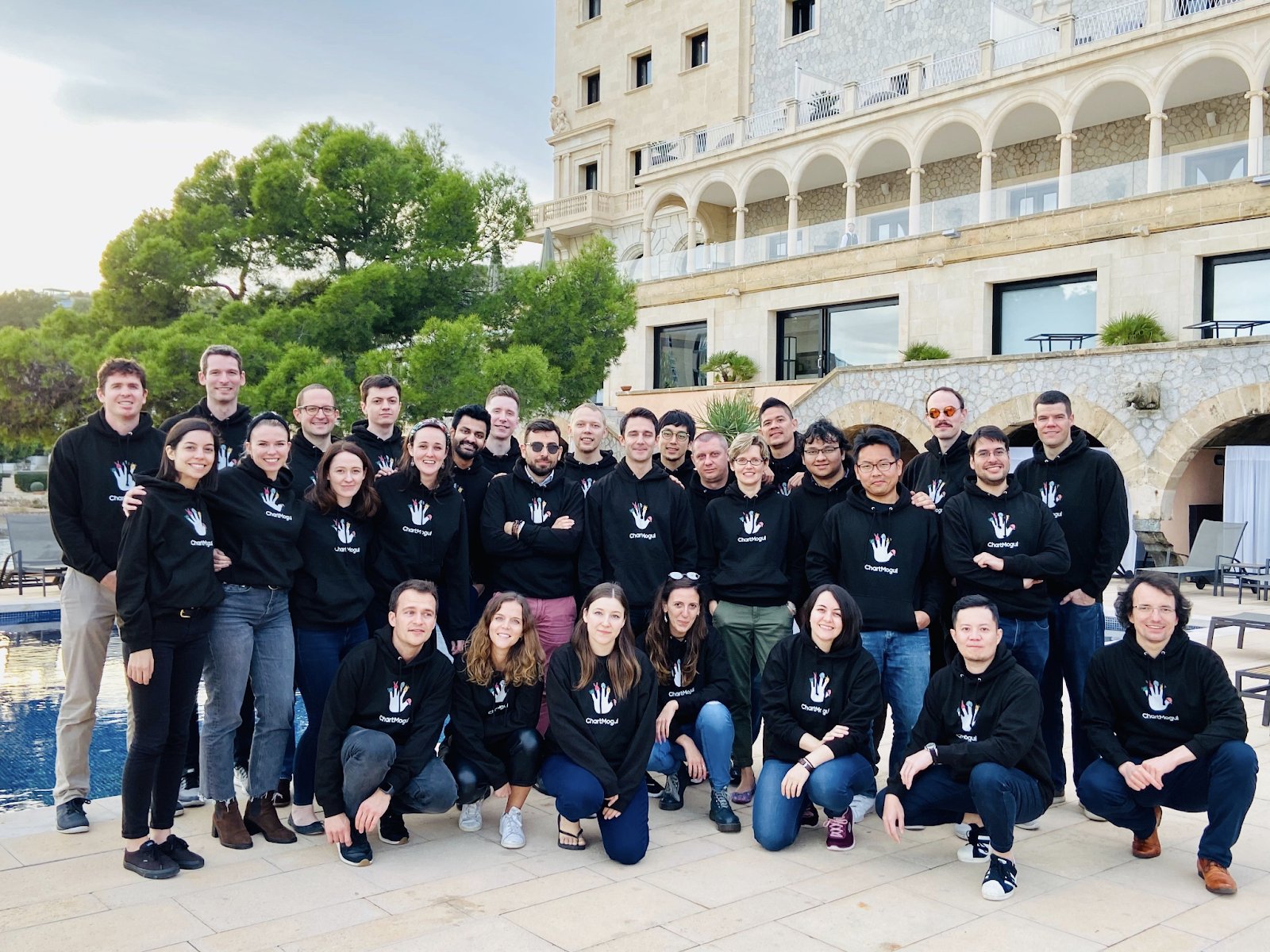 The team in Majorca, Spain, the last time we could all meetup - December 2019
What's your backstory and how did you get into entrepreneurship?
I grew up in Oxford, England. I dropped out of high school before the final year and used that time to work on some self-directed animation work (which was a passion at the time) and make some money doing part-time jobs.
Stay focused on what's working, and see if you can expand on that and maybe over time it can turn into a great business.
I used my animation portfolio to apply for and secure a 'partial' scholarship to attend art school in San Francisco and study computer animation, so I spent a year or so there in my late teens. While in California I interned at a local startup company that was doing some work in computer vision (this is 2003/2004). This is where I got my first exposure to software development, and played around with C++ and some other languages. I wasn't very good at it, but I started to understand that software was something that could be built and not just used – it sounds obvious now but I had no exposure to software development before this.
My partial scholarship only took me so far in US college, so I returned to the UK and studied Illustration at Lincoln. Getting restless with my course I decided to launch a social network for Illustrators and taught myself enough PHP and MySQL to launch the site AmateurIllustrator.com (long ago closed down). This was my first attempt at starting a sort of business. AmateurIllustrator grew to around 10,000 members and made a little bit of money via Google AdSense, it also had a writeup on TechCrunch which was cool.
After uni I got a job at a startup called True Knowledge (later renamed to Evi), who were working on an AI question answering system. Amazon later acquired Evi and it became Amazon Alexa. I only spent 18 months there, but it was there that I discovered my love for designing products. After True Knowledge I spent around 5 years at Zendesk, leading their international expansion in Europe and Asia. I joined Zendesk right after their Series A funding when there were still less than 10 people, and stayed until after they went public with 700+ employees.
The motivation behind starting ChartMogul came from a few things; a desire to get back into building products again (after a 5 year break while in sales at Zendesk), as well as wanting to see if I could make a successful startup myself. The idea for ChartMogul came from my time at Zendesk. We spent a lot of time looking at different SaaS metrics, but there were no dedicated tools designed to track and analyze them, so I figured I could design and make something that specialized in subscription analytics.
ChartMogul was the first time I'd gone "all in" on a startup, quitting a well paid job at a public tech company to focus 100% on launching a company.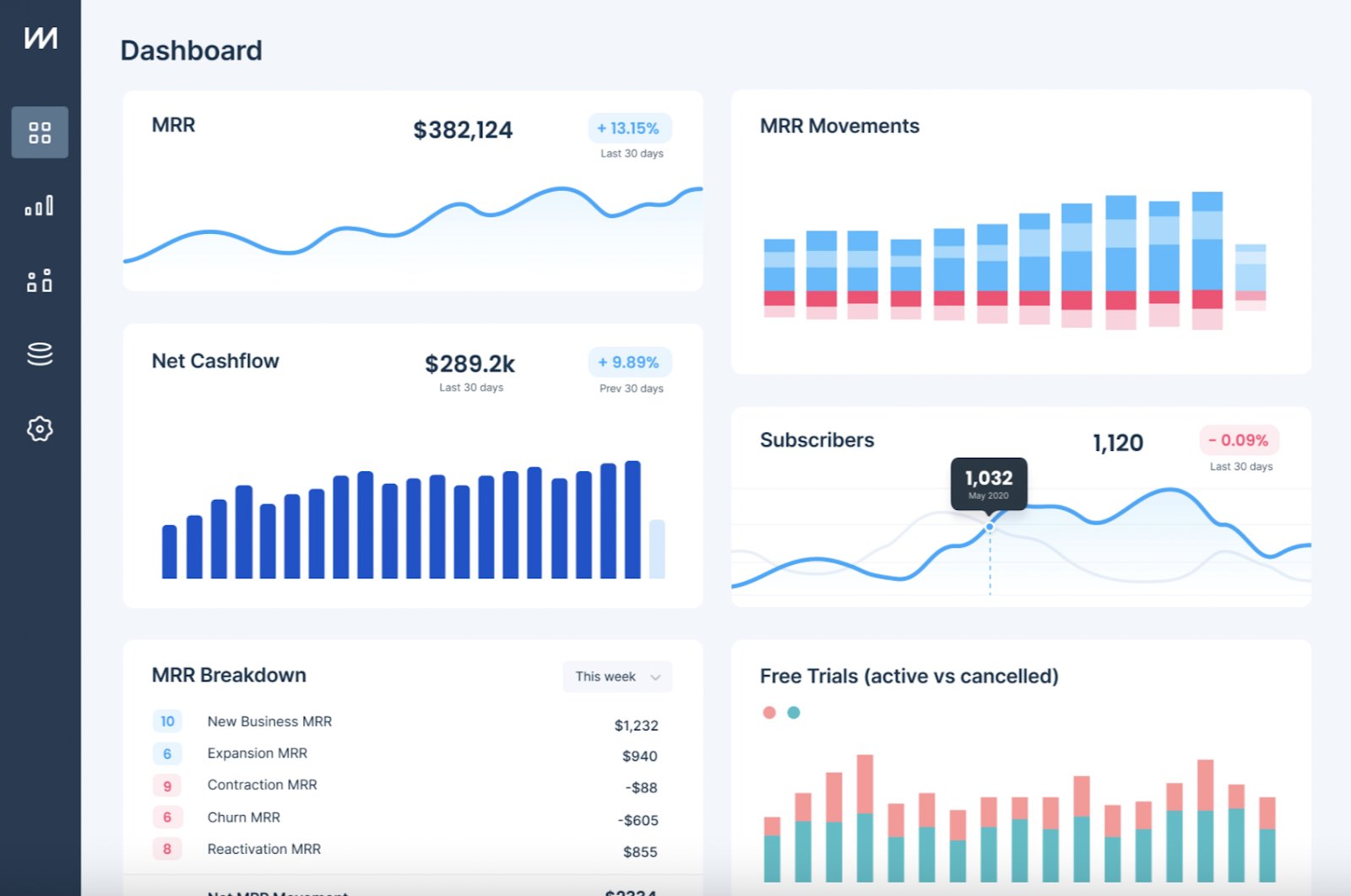 ChartMogul's Subscription Analytics Dashboard
Take us through your entrepreneurial journey. How did you go from day 1 to today?
So for the first few months I self-financed the development of the initial app, I coded some of it myself but also paid engineers I found on UpWork to help. I moved to Berlin around this time (from Manila where I'd been based while opening Zendesk's office there) and met Chrisoph Janz and the folks at Point Nine Capital. They were very helpful in introducing us to some of their portfolio companies who became early beta testers.
We launched on ProductHunt in December 2014, and the reaction was very positive, we acquired customers from that launch that are still with us today. We also closed our first seed round of funding ($600K) that month with Point Nine leading. A few weeks later in January 2015 we started charging for our product and acquired our first paying customers.
Since that time it's really just been six and a half years of building the team, improving our product/service, winning customers, and basically just putting in the work. I've made tonnes of mistakes over the years, from making the company lose focus by pursuing non-core verticals, to making hires that weren't a good fit. Being a startup CEO is a rollercoaster of emotional ups and downs and learning experiences, it's a stressful and humbling journey for sure.
But we've landed in a great place. Thanks to the hard work of our team we've built the market-leading subscription analytics product and have a great vision for where we're taking ChartMogul. We did raise more funding (for a total of $3.7M) but since our last round in 2017, we have mostly grown by reinvesting all of our revenues back into the business.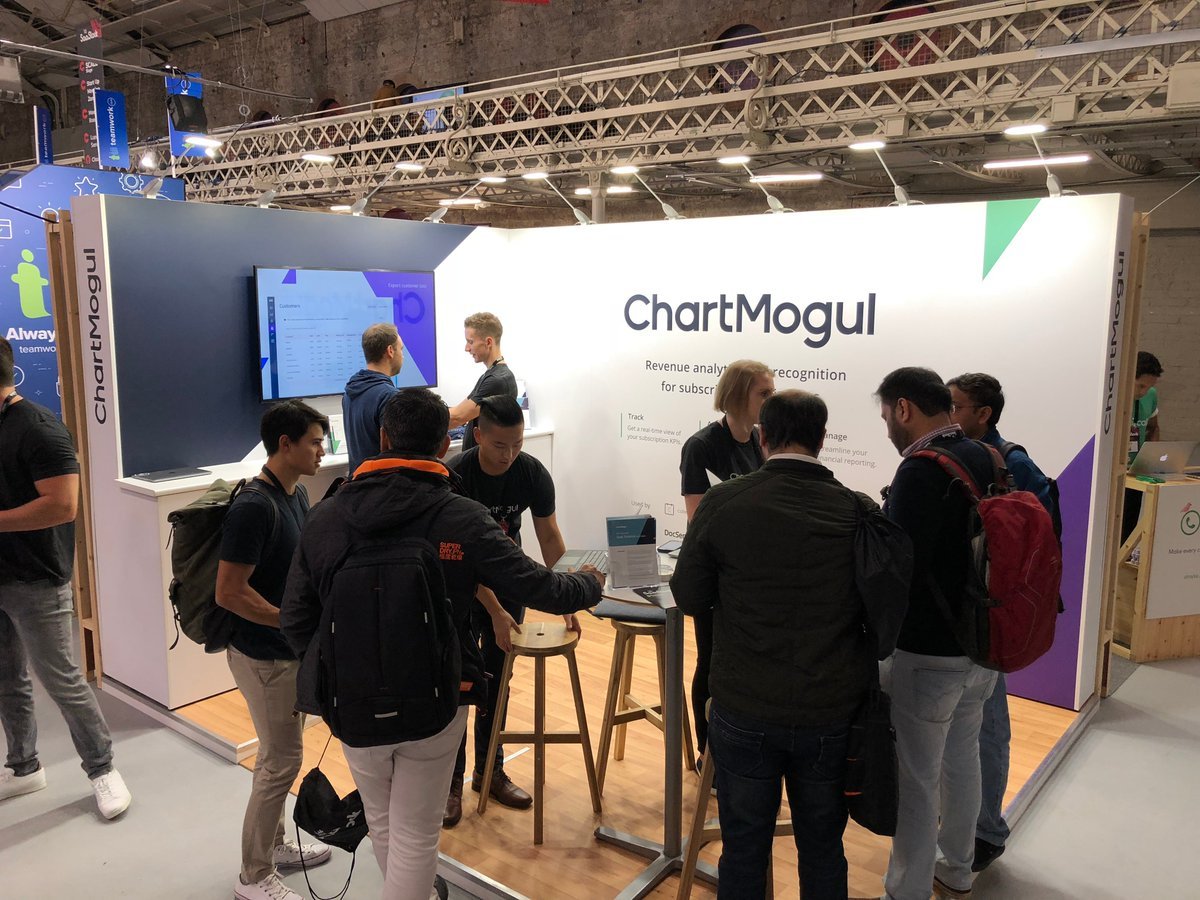 ChartMogul's booth at SaaStock, Dublin, 2018
How are you doing today and what does the future look like?
For the past year or so we've been operating the business at break-even, so have an unlimited runway (the concept of runway has started to become a bit alien), and are growing customers and revenues at a healthy rate.
We have around 50 people today and are looking to grow to around 62 before the end of the year. We'll probably hit 100 people by the end of 2022.
Our primary short-term goal is to reach a level of 'feature completeness' of our Subscription Data Platform ("SDP"), which is what we call our platform category. Subscription analytics is one of the primary things you can build on an SDP, but there are other use cases.
Around two and a half years ago we came up with this new extended product vision of building a subscription data platform, and sketched out all of the features and components a SDP should have. We've been building against that plan for the past couple of years, and are still around a year away from having built all those different parts.
No SaaS company has yet truly nailed productizing subscription analytics, but we're the closest. Our primary competitor is really the internal engineering/data team, so "build vs buy". So our main focus is on building out our platform so that it becomes just really obvious that you shouldn't build this stuff in-house, but rather focus your technical resources on your core differentiators and use ChartMogul to take care of your subscription data management and analytics. Subscription billing went through a similar transition. Around 6 years ago companies still considered building their own subscription billing logic in-house. Today, thanks to solutions like Recurly, Stripe Billing and Chargebee, that idea is as crazy as trying to build your own datacenter. It's become very clear to the industry that you shouldn't build your own subscription billing. So we want to bring about that shift but with subscription data.
Through starting the business, have you learned anything particularly helpful or advantageous?
I think my two biggest learnings, which I'm sure sound cliched, but I had to live these things to really internalise them, are (1) just how important, and how hard, it is to assemble a great team. That's 90% of the challenge in company building once you have your first few customers. And (2) the importance of focus. Having a clearly defined vision for what you want to build and what you want to achieve.
I think as the CEO if you can do these two things well, set a clear vision and strategy, and build a team of smart people who like working together, that's when magic can happen.
Most mistakes I've made over the past years can probably be attributed to not doing one of these two things well. E.g. making a poor hiring choice, or not hiring the people we needed sooner, or setting us down a path that took us away from our core focus area.
I've also made plenty of good decisions and had plenty of good luck too. For example we launched in 2014/2015 around three or so years before SaaS and mobile subscriptions really started to take off in a massive way. There was a market for our product when we launched but it has expanded in the past two or three years at a rate that I don't think anyone quite predicted.
Finally, I've also learned to be a bit more selfish with my time. I guess I've also aged 7 years since starting the company and time is finite, so these days I try to only spend my time on important things, make a real impact or make me happy, and I try to just not do anything else.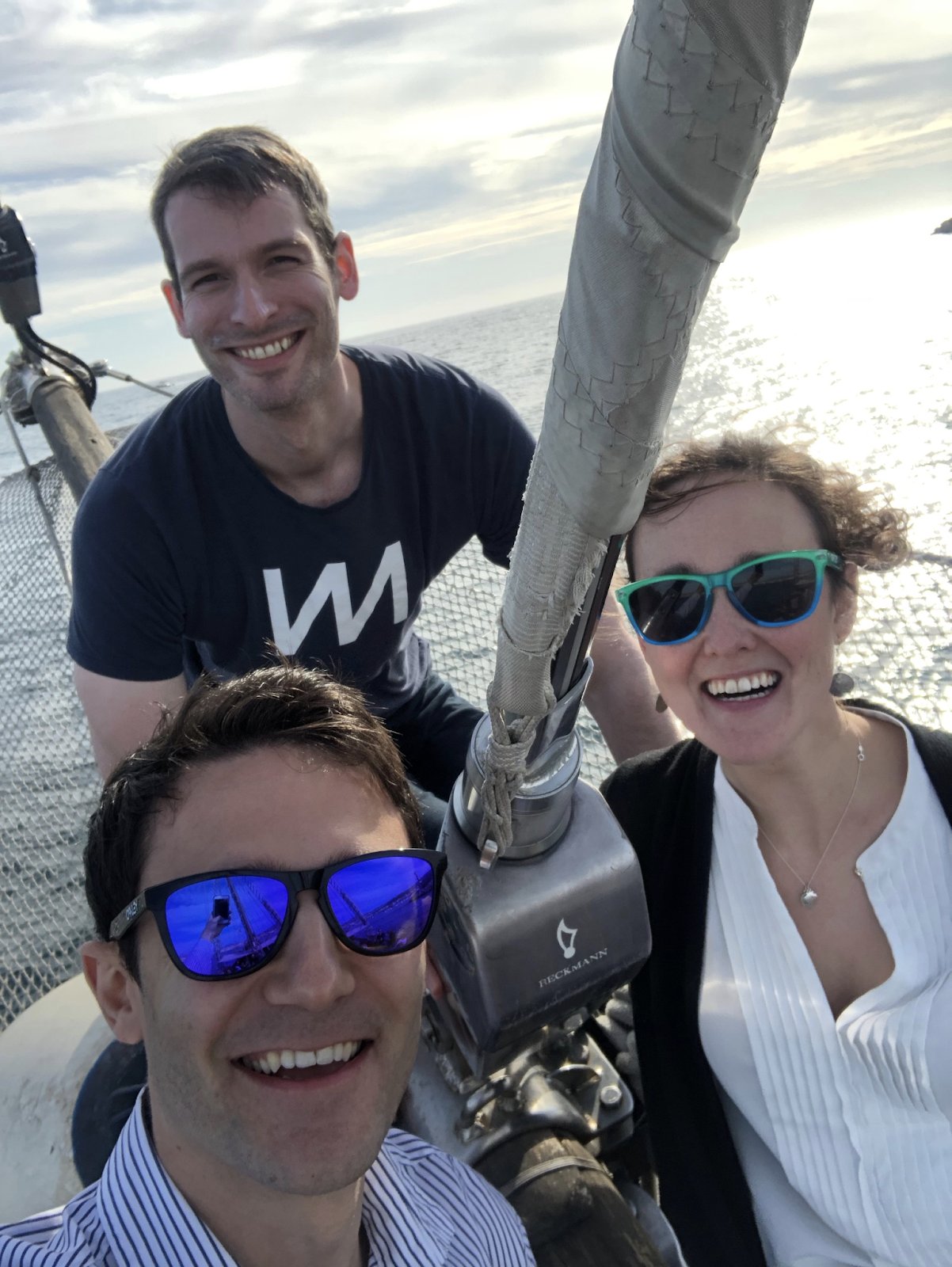 Nick, with ChartMogul's VP Customer Success (Ingmar) and Head of Sales (Sara)
ChartMogul's 5 year anniversary dinner party
What platform/tools do you use for your business?
The tools I use most are Whereby for video calls, Notion for internal knowledge sharing/storage, Humaans for HR, Google Docs/Apps, Slack, and of course ChartMogul. But if you're in sales or success you use tools like Zendesk Support, Zendesk Sell and Custify. And in Engineering there are so many tools it's hard for me to remember them all.
What have been the most influential books, podcasts, or other resources?
I've read a bunch of popular business books like High Output Management, The Hard Thing About Hard Things, Traction, etc. There are interesting lessons in all of them, but they're also highly contextual to the era, market, culture, etc. that those authors operated in. I like the book Play Bigger, which talks mostly about category creation and is worth a read.
My favorite books as a teenager were the Hitchhiker's Guide to the Galaxy series and those are all about adventure, futuristic technology, and self-discovery. Maybe we're on a similar adventure, that sounds cheesy.
Advice for other entrepreneurs who want to get started or are just starting?
The main thing is just to start building something that you think some other people will find useful (or entertaining or whatever).
If you haven't started yet, then this is really the only thing you need to do. If you don't know how to build what you want to build then the internet is a huge place and you can learn about almost anything.
If you've already started and had a bit of traction (users/revenue) then I guess the most useful advice I can think of is to stay focused on what's working and see if you can expand on that and maybe over time it can turn into a great business.
Also, no one else in the world has run your business, so filter all advice and learn to trust your inner voice. You know better than anyone else about how you should build your business.
Where can we go to learn more?
-
Nick Franklin, Founder of ChartMogul
Discover the best strategies of successful business owners
Join our newsletter and receive our handcrafted recap with the best insights shared by founders in Starter Story each week.
Useful, convenient, and free:
PROMOTED
Did you know that brands using Klaviyo average a 95x ROI?
Email, SMS, and more — Klaviyo brings your marketing all together, fueling growth without burning through time and resources.
Deliver more relevant email and text messages — powered by your data. Klaviyo helps you turn one-time buyers into repeat customers with all the power of an enterprise solution and none of the complexity.
Join Brumate, Beardbrand, and the 265,000 other businesses using Klaviyo to grow their online sales.
Starter Story
Wanna see 52 business ideas you can start with less than $1,000?
Join our free weekly newsletter and get them right now.