On Building A Cloud-Based Software And Growing Users By 30% This Year
Start A Project Management Tool
Hey, my name is Maxim Kamyshev and I am co-founder of Flowlu, cloud-based software for business management. Our clients include IT companies, marketing, and consulting agencies, legal firms, architecture, and manufacturing companies. Flowlu offers functionality for managing different business processes, from sales to financial accounting.
But the most important feature that makes people choose our software is a project and financial planning management. With Flowlu, you can review current work progress across all projects from one single page. You can also monitor deadlines and time spent, plan and view the profitability of each project. Today our platform is used in more than 120 countries around the globe. The largest number of users is from the United States and Russia.
During this year, the growth of active users has increased by 30%. This is actually an excellent result for us taking into account the fact that we did not use paid advertising and PR articles. Such growth was triggered by our affiliate program and SEO promotion. And after we launched on AppSumo, the number of our active users tripled.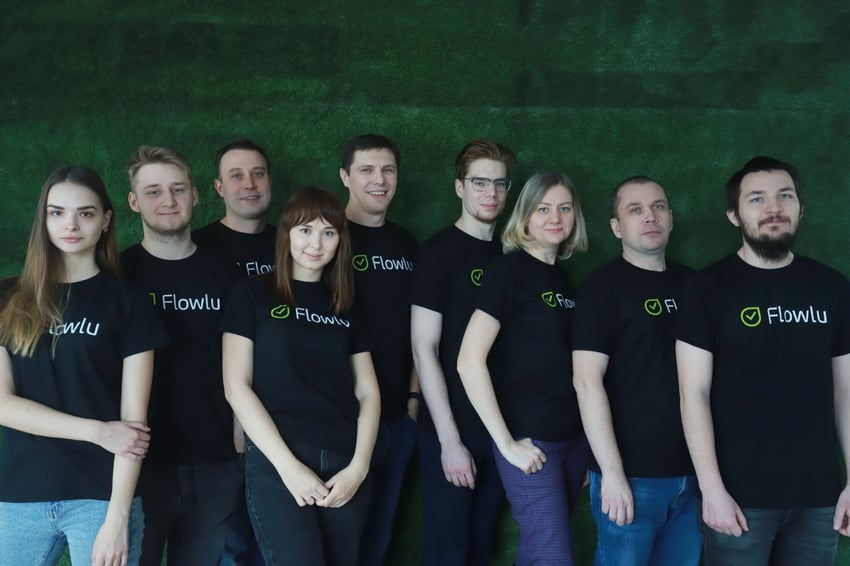 What's your backstory and how did you get into entrepreneurship?
Before Flowlu, I used to manage the development and marketing of large online stores. And my co-founder Alexey was leading his own web development agency. One thing we both had in common was that we couldn't find project management software that satisfied all of our business requirements in one place and didn't cost a fortune.
Be prepared for challenges, rapid change, and uncertainty.
Unfortunately, everything we came across was too limited or too cluttered for our needs. We looked at a lot of project management software and found that many lacked tools for comprehensive project management. What we were offered, had either tools for task planning, or collaboration, or financial accounting. So we decided to create our own project management tool, which would include a set of all these tools. That's how the idea to create Flowlu was born.
Take us through your entrepreneurial journey. How did you go from day 1 to today?
At the beginning of our journey, we had to find solutions to tons of different challenges. And no information or help could be found either on the Internet or with experienced colleagues. We studied documentation of many different platforms and read plenty of articles about handling complex IT projects. From time to time, we still face a lot of challenges for which the right solution is not always easily found.
It was also very problematic to find the right employees who could fit into the team and grow quicker than a regular specialist. We had to learn to identify the true needs of clients who were not yet established in a growing industry like ours. We often almost gave up, but thanks to the well-coordinated teamwork, we always found a solution to the most complicated problems.
While developing our product, we moved from simple to complex. For example, the first thing we did was to release the basic version of the Projects module, which had the simplest project templates, payment and expense management, and profitability tracking. Even with such a simple functionality, we started to get a lot of feedback and suggestions for product development. Then we started to build the software in which the Projects would be the major module – the core of the platform.
We developed several applications (CRM, Finance) right away and integrated them with the Projects module. Later we also added such applications as Agile, Knowledge Base, Mind Maps, Messenger. Today Flowlu is used not only for project management but also as CRM, financial management, and invoicing.
Currently, the main challenge is to maintain such extensive functionality with limited resources. A large amount of time is spent on testing, bug fixes, and UI/UX improvements. The key here is to set the right priorities. You should have a clear understanding of what functionality is crucial to focus on right now as it will allow your business to excel.
How are you doing today and what does the future look like?
At the moment we utilize SEO promotion, affiliate, and content marketing. Thus, the marketing costs are minimal. Due to our successful SEO promotion, we got our first customers. The average monthly number of visitors to our English website is currently over 10,000. Among the visitors are entrepreneurs from different segments. And this figure is increasing every month by an average of 20%.
Other important numbers:
The average visit time on our website is 3 min 57 sec
Average conversion rate to sign up - 12.6%
The number of email subscribers at the moment is 38 307
Today we are successfully selling Flowlu in the United States, Russia, India, Canada, England, Spain, Australia, France, Germany, the Philippines, Italy, Singapore, Thailand. Our mission is to make teamwork and interaction with clients as comfortable, fast, and flexible as possible. Even if they all operate in different parts of the world.
Therefore our immediate goals are to implement multiple currency functionality, as well as the Client Portal where users will be able to track their projects, add new tasks, and much more. You can see the full list of planned features and what we're working on at the moment on our roadmap.
Through starting the business, have you learned anything particularly helpful or advantageous?
At the initial stage of product development, we did not build enough flexibility into the architecture and did not document everything we could. It includes, for example, the basic principles and requirements for the development of apps and components, API, use cases. Moreover, we did not consider how tough it is when many things depend on one leading developer. Now we have a team where everyone can replace each other whenever needed. Each member is an equal part of the team and bears equal responsibility for both successes and failures.
We have also established a process of rapid exchange of knowledge among staff. Everyone shares and documents what they learn, e.g. about the market, customers, users, competitors. We also conduct sprint planning and retrospectives at the end of each sprint.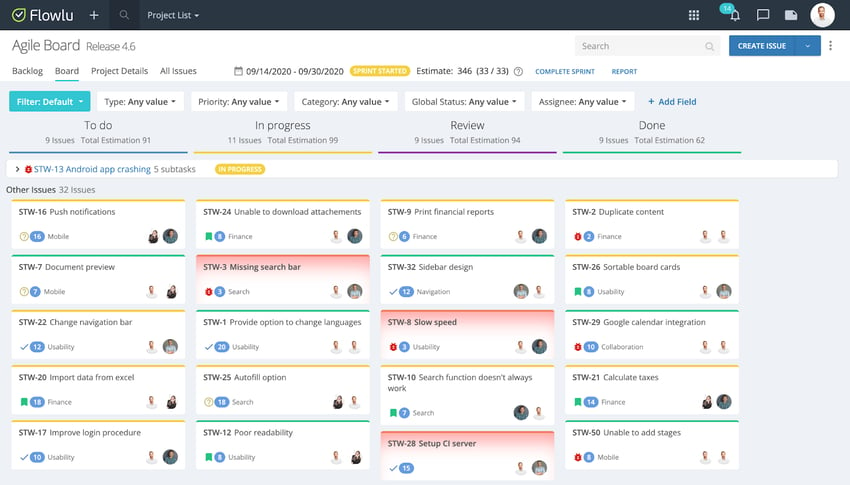 What platform/tools do you use for your business?
We use our own Agile app to manage Flowlu product development. It helps us to manage the backlog, categorize and prioritize issues, and run sprints. This provides maximum transparency and accelerates the speed of work. With the Agile module, all teammates are aware of all development details and don't have to waste time passing on this information.
The marketing team also uses Agile along with the classic Projects module when the project involves specific deadlines and a predefined end goal. Intercom is used for customer support and email campaigns. Features such as user segmentation, time, and event-based email sequence, help us keep professional communication with customers at the highest level.
We also run a Knowledge Base in Flowlu and capture all product development requirements, business processes, marketing team principles, customer care best practices, useful knowledge about competitors, and more. Paddle acts as our official merchant of record and relieves us of the burden of handling VAT and sales tax. We measure user interaction with our website using Google Analytics. We use Camtasia to edit video training materials. And for design purposes, we utilize Figma and Adobe Photoshop.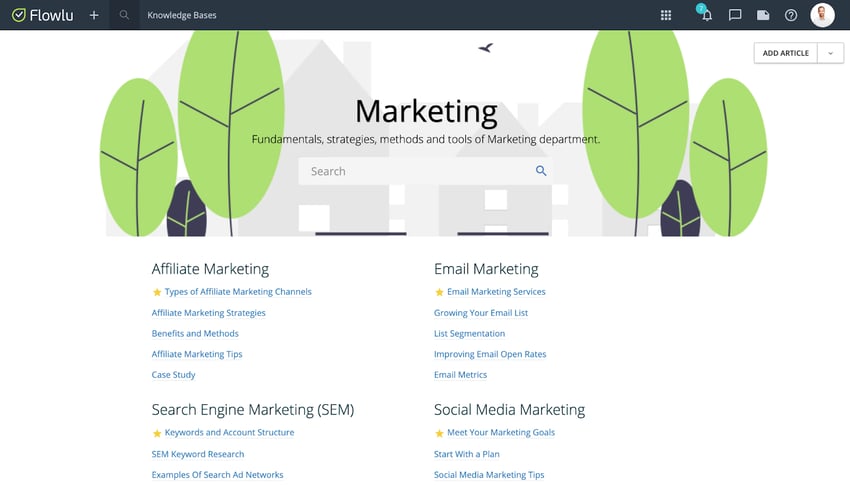 What have been the most influential books, podcasts, or other resources?
The most influential book for me is Scrum: The Art of Doing Twice the Work in Half the Time by Jeff Sutherland. It is a must for each manager of any industry. This book taught me how to deliver projects in less time and in a more effective manner. Books like The Mom Test: How to talk to customers & learn if your business is a good idea when everyone is lying to you by Rob Fitzpatrick, The Four Steps to the Epiphany: Successful Strategies for Products that Win by Steve Blank help me understand how to discover the most useful information about people's needs and create a truly relevant product that people will actually use.
The Black Swan by Nassim Nicholas Nicholas Taleb, and Lean Analytics: Using Data to Build a Better Startup Faster by Alistair Croll are also beneficial for IT startups.
Getting Things Done: The Art of Stress-Free Productivity Paperback by David Allen helps you understand how to be more efficient. We even implemented our task module based on this method.
Advice for other entrepreneurs who want to get started or are just starting?
Be prepared for challenges, rapid change, and uncertainty. Learn to evolve faster than the market and always take action. Be sure to communicate directly with your customers and ask them the right questions to find out their true requirements. Always believe in yourself and make the most of what you have learned. Take user criticism as an invaluable benefit that helps you grow.
And always believe that you are the one who can make the world a better place. Keep working hard and believing in what you create. Only under these conditions a competitive and successful product that knows no boundaries can be built.
Where can we go to learn more?
-
Maxim Kamyshev, Founder of Flowlu
Want to start your own business?
Hey! 👋I'm Pat Walls, the founder of Starter Story.
We interview successful business owners and share the stories behind their business. By sharing these stories, we want to help you get started.
Interested in starting your own business? Join Starter Story Premium to get the greatest companion to starting and growing your business:
Connect + get advice from successful entrepreneurs
Step by step guides on how to start and grow
Exclusive and early access to the best case studies on the web
And much more!
Starter Story
Wanna see 52 business ideas you can start with less than $1,000?
Join our free weekly newsletter and get them right now.