Mahiya Update: How SEO Helped Grow Revenue To $1M/Year
•
Published: April 10th, 2021
Start A Fashion Accessories Brand
This is a follow up story for Mahiya. If you're interested in reading how they got started, published almost 3 years ago, check it out here.
---
Hello again! Remind us who you are and what business you started.
Hi Guys, we are Ryan and Alex Hutchinson from Mahiya. A husband and wife team who reside on the Gold Coast in Australia. We have a line of Bohemian leather and fashion products including hand-tooled leather purses, handbags, footwear, Baby Bags, knits, organic tees, accessories, and clothing. We have a successful online store but also have our flagship store in Currumbin on the Gold Coast and have stockists all over the world.
Our best selling products are definitely our purses and handbags all designed by Alex but recently we have started a range of organic tees that have also been super popular. Our target market is women aged 25-45.
Our business is unique as we are a 2 man team, Alex does all of the designing, photography, social media, and website and Ryan takes care of the business side. We have 1 staff member who ships all of our orders and works with our wholesalers.
In 2020 we were averaging $87,000 sales per month.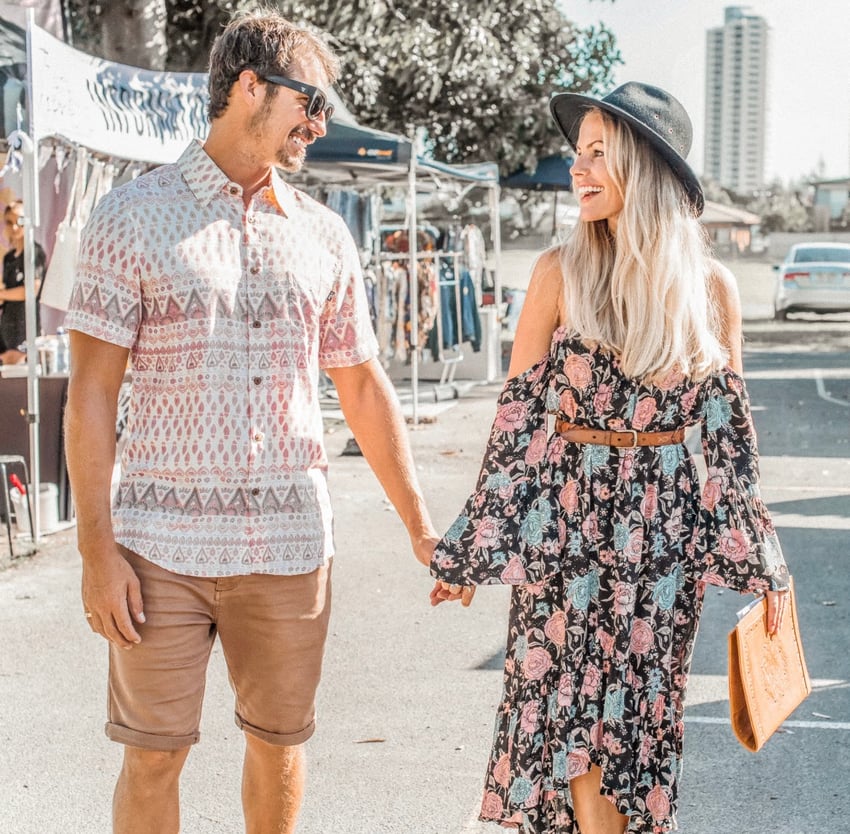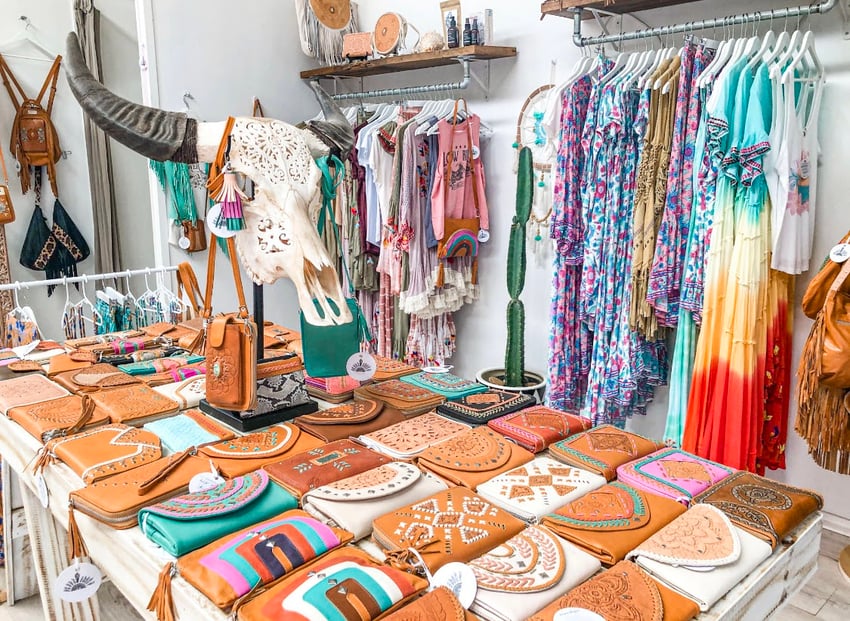 Tell us about what you've been up to! Has the business been growing?
Well, it was only 2 months after chatting to you that Covid 19 changed the world and changed things for everyone. Initially, there was a decline in turnover and we were very concerned as I think most people were so we started coming up with a plan to downscale if things were to continue. We did have a downturn in sales initially but come April things started to ramp up and we couldn't believe how much business we were getting with what was happening in the world. At this point, all the stores were closed so online shopping started booming. At that point, we were 7 months into our new marketing contract where they had been working heavily on our SEO and online advertising so I think we were in a good position online and started seeing higher % increases in search results than we already had been.
While the lockdown was happening we had no staff so Ryan and Myself were juggling looking after our 2-year-old and also working online and sending out all of the orders. It was a blessing as it kept us super busy and lockdown went pretty fast. During this time Alex also had a lot of time to be doing new designs and our knit collection was a sell-out over winter which was amazing. We have had a few issues with shipping delays and increased shipping fees but we have had to adjust and make it work.
Recently our SEO contract finished and we have decided to give another company a go to see what they can do as they have a bit of a different approach than our last team even though they had great results.
We have seen a small downturn in our physical shop sales as the majority of our customers were from overseas but luckily our wholesale and online has been great.
What have been your biggest lessons learned in the last year?
I think the biggest lesson was to never take things for granted, you never know what can happen and in instant things can be very different. Always have a backup plan if things were to change you want your eggs in lots of different baskets. Most importantly work towards creating a financial safety net.
We feel very lucky that we chose to go down the SEO path as I think this definitely got us seen online and without this things could have been very different for us.
What's in the plans for the upcoming year, and the next 5 years?
We are definitely looking at ways to boost our sales overseas. Unfortunately in this climate and with what's happening financially all over the world, it may be hard but we are definitely in talks about how this can be achieved.
Always have a backup plan if things were to change you want your eggs in lots of different baskets.
We are going to put more focus on the products that we are known for and phase out some things we feel there is too much competition with. We have loads of new designs currently in production so we are super excited for the coming year.
Have you read any good books in the last year?
Unfortunately with a 3-year-old, there isn't any time for reading books at the moment.
Advice for other entrepreneurs who might be struggling to grow their business?
Make sure you are passionate about your product and be prepared that it will take time to grow. With online becoming so competitive you will have to have some sort of marketing and advertising budget to see results faster.
Unfortunately, social media doesn't work as it used to and you have to spend money to make money. Depending on the business don't be scared to get out there and do your local markets and meet the locals, word of mouth goes a long way and it's a great way to get the word out. Invest in great product photography and content creation.
Are you looking to hire for certain positions right now?
At the moment we still only have one staff member who covers everything from packing orders, customer service, and managing wholesale accounts. Unfortunately don't have any positions available at present.
Where can we go to learn more?
If you have any questions or comments, drop a comment below!
-
Alex and Ryan Hutchinson, Founder of Mahiya
Want to find more ideas that make money?
Hey! 👋 I'm Pat Walls, the founder of Starter Story.
Get our 5-minute email newsletter packed with business ideas and money-making opportunities, backed by real-life case studies.