How We've Focused On Email Marketing And Increased Revenue
Start An Online T Shirt Business
This is a follow up story for The Foodnited States. If you're interested in reading how they got started, published over 3 years ago, check it out here.
---
Hello again! Remind us who you are and what business you started.
My name is Chris Durso, co-creator of The Foodnited States and owner of FoodnitedStates.com. Our project is a series of the U.S. States made of food.
My website sells a range of t-shirts, stickers, coffee mugs, fridge magnets, and posters, currently offering products specific to 13 states.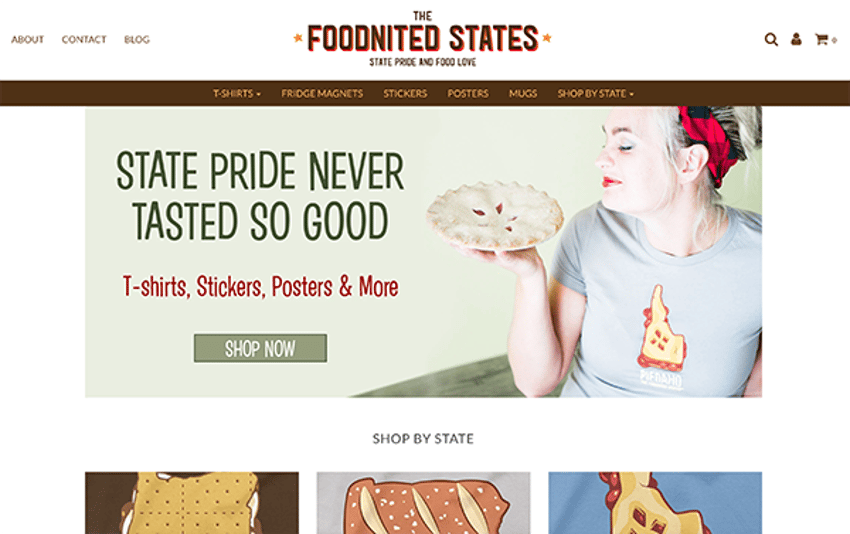 The Foodnited States is still one of my side projects, so it provides steady supplemental income while it grows steadily. My marketing and creative background have helped when it comes to making adjustments when necessary, and the long-term future looks good.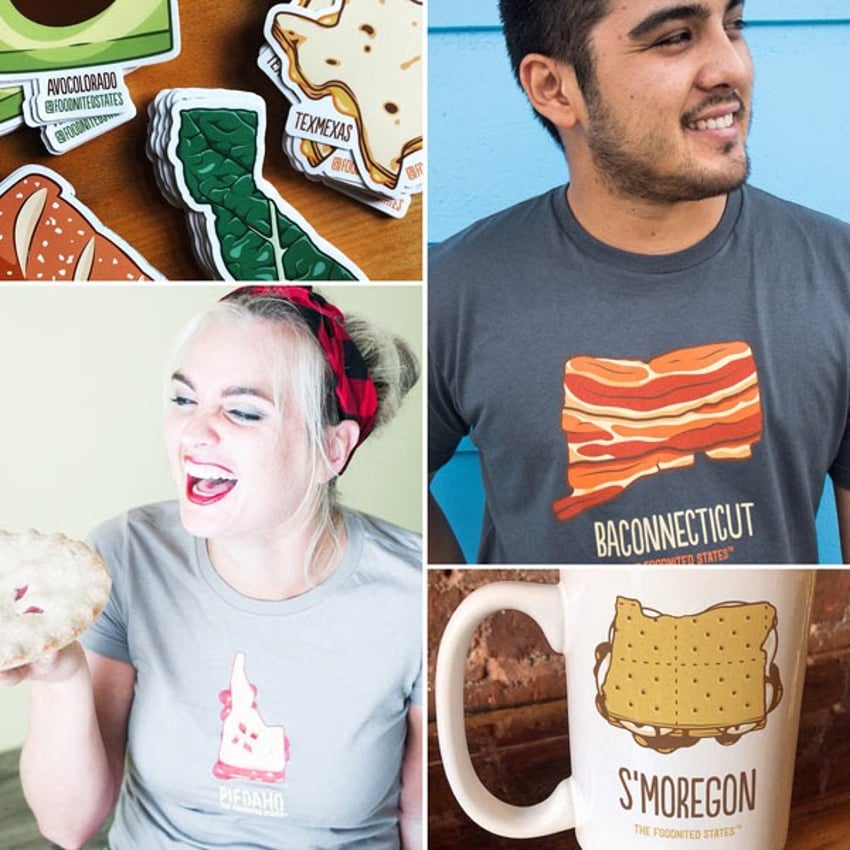 Tell us about what you've been up to! Has the business been growing?
The Foodnited States saw a small increase in sales over the last year, about 5%. I decided to focus a little more on email marketing and Facebook ads for traffic rather than conversions. Facebook ads for conversions, i.e., Add To Cart and Purchase, tend to be a bit expensive for products with our price point, and the ROAS just wasn't working. Paying for traffic is a bit more cost-effective as the site grows.
Success can be attributed to minimizing, strengthening the core and then expanding slowly.
The re-focus helped increase email subscribers and Instagram and Facebook engagement. I'll then create targeted ads towards visitors to the site and those who've engaged on our Facebook and Instagram accounts. Instagram is becoming the site's best revenue stream.
This year we'll focus a bit more on producing some new photography through brand ambassadors. Last summer, we saw some success with a Philadelphia-focused giveaway with a food-influencer wearing our Pretzelvania T-shirt.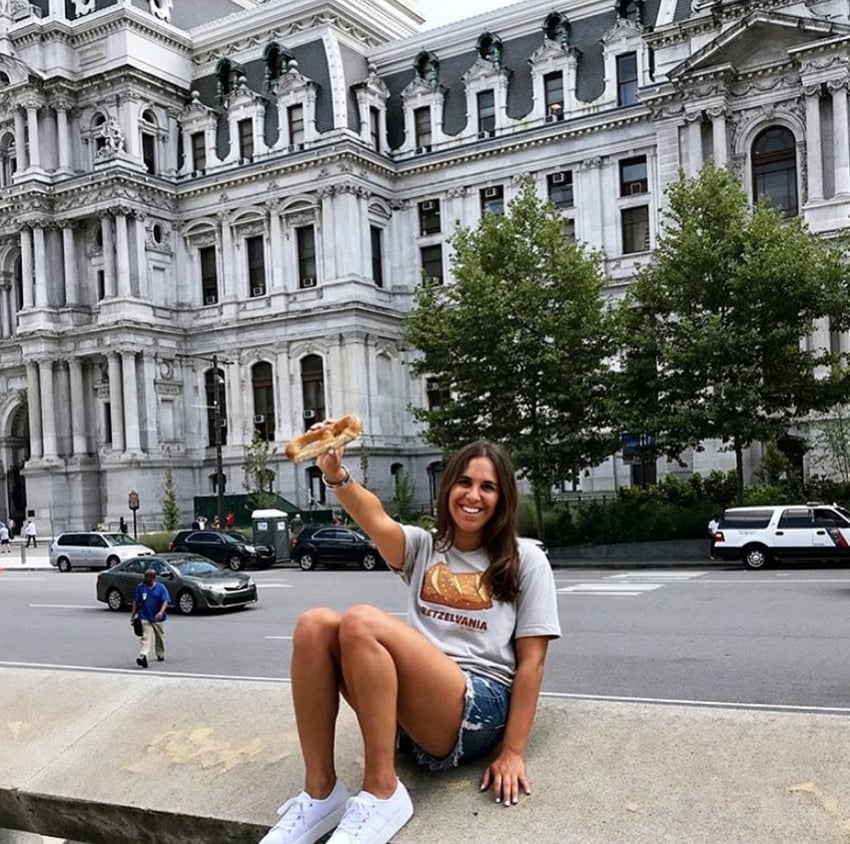 What have been your biggest lessons learned in the last year?
The best lessons learned this year were to concentrate on what's been working. I redesigned and launched a few of our most popular t-shirts and pushed our sticker bundles. We also offer stickers as an incentive to join our mailing list.
I'd like to see our stickers continue to show up on water bottles and laptops across the country and shared them on Instagram. We recently started a movement to increase photo shares, "Show Us Your Stickers," with hashtag #imfoodnited.
What I learned this year is to know when to expand and when to streamline. The focus on a few core states proved to be more effective than spreading it out to regions that weren't selling.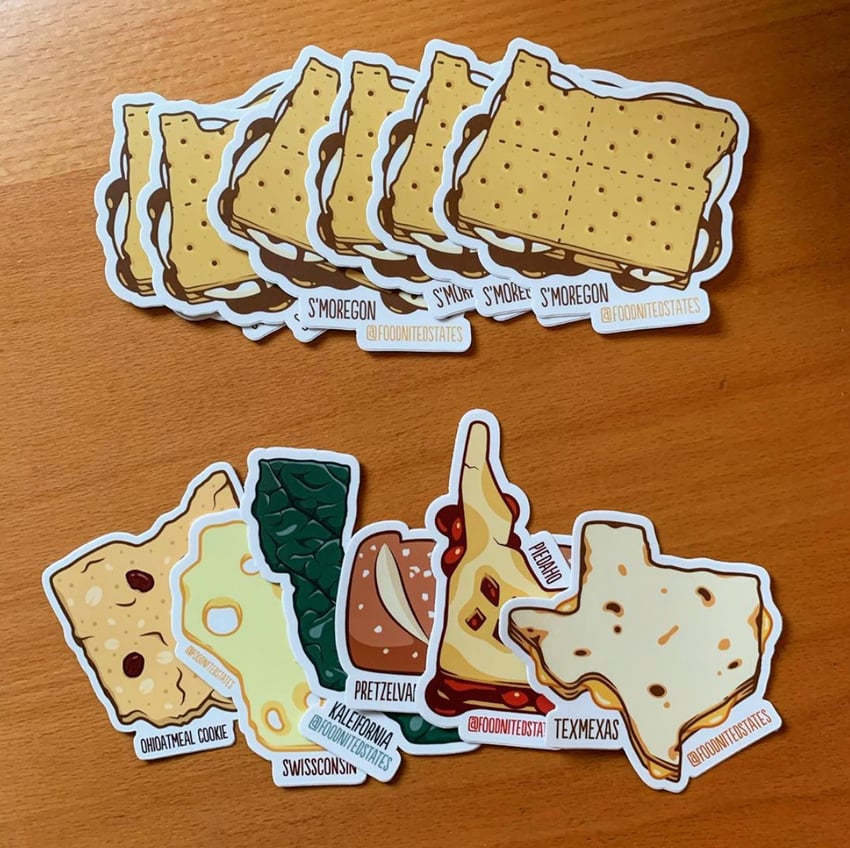 What's in the plans for the upcoming year, and the next 5 years?
The Foodnited States will continue with our redesign of tees and adding more stickers slowly over the next few months.
I'd love to start seeing our stickers become a mainstay on water bottles, especially within the co-ed and outdoor enthusiast community.
Have you read any good books in the last year?
No books worth mentioning, but a few podcasts. Best for small businesses on Shopify is Kurt Elster's "Unofficial Shopify Podcast."
Advice for other entrepreneurs who might be struggling to grow their business?
What I've learned since launching FoodnitedStates.com is that you can't please everyone. This is especially true when your product is regional and state-specific.
I receive a lot of requests for states that we do not currently produce, but my success can be attributed to minimizing, strengthening the core and then expanding slowly. There's nothing worse than a product sitting around that isn't moving and populating my shop with all 50 states right out of the gate would have been a colossal mistake.
Where can we go to learn more?
If you have any questions or comments, drop a comment below!
-
Chris Durso, Founder of The Foodnited States
Want to start your own business?
Hey! 👋I'm Pat Walls, the founder of Starter Story.
We interview successful business owners and share the stories behind their business. By sharing these stories, we want to help you get started.
Interested in starting your own business? Join Starter Story Premium to get the greatest companion to starting and growing your business:
Connect + get advice from successful entrepreneurs
Step by step guides on how to start and grow
Exclusive and early access to the best case studies on the web
And much more!
Together With Semrush
If You Don't Rank In Google, You Don't Exist.
In order to be successful, you need to be visible online. If you're not, then your competitors might be stealing customers from you.
Semrush lets you quickly create content that ranks, and compete with the biggest brands in your niche.
Try Semrush Free Today ➜