How We Plan On Launching Sponsored Ads And Reaching 100K Page Views/Mo
•
Published: April 6th, 2021
This is a follow up story for Remote Tools. If you're interested in reading how they got started, published almost 3 years ago, check it out here.
---
Hello again! Remind us who you are and what business you started.
Hey! I am Hrishikesh and I am building Remote Tools & Remote Clan along with my 2 co-founders, Suvansh & Karthik.
Remote Tools helps you discover top, new remote-first products. We currently have 1500+ remote products, the website receives 55K+ pageviews/month & we have an engaged newsletter audience of 5K+ people.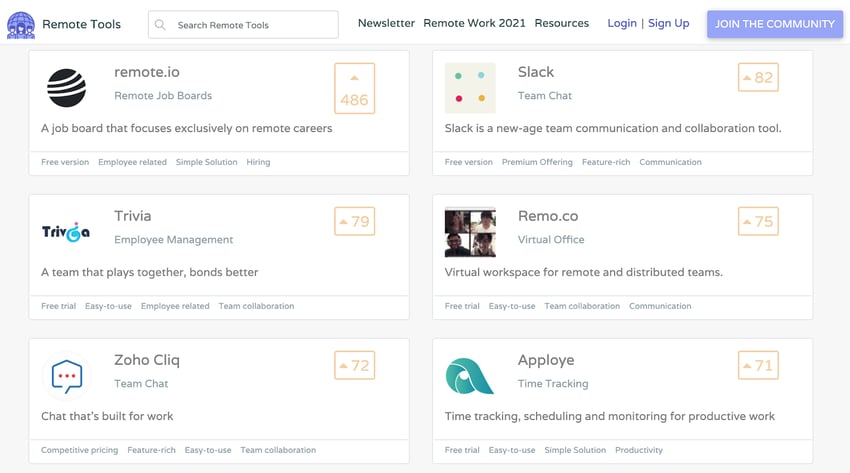 Remote Clan is an exclusive community, launched in mid-2020, for remote workers to learn, network & grow with each other. We have 1500+ members & our weekly engagement is typically 150+ comments & 500+ upvotes.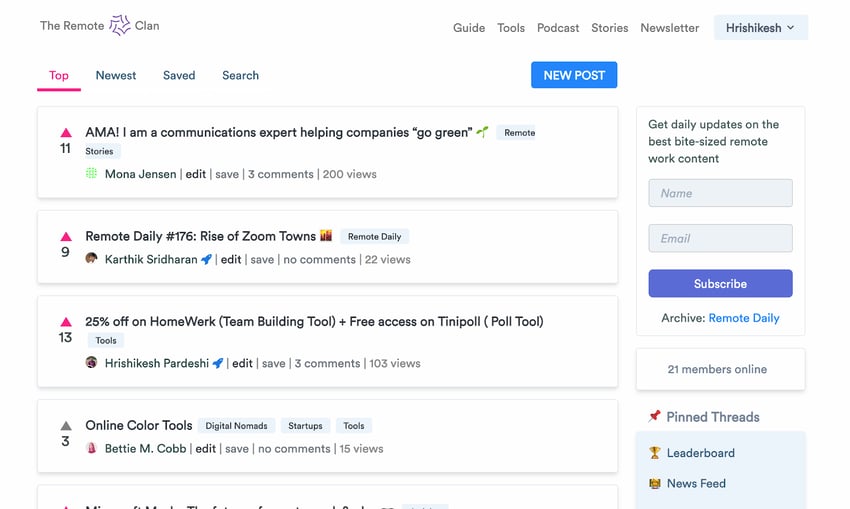 As of now, we haven't monetized either Remote Tools or Remote Clan, however, we plan to launch sponsored ads for Remote Tools in 2021.
UPDATE: We actually preponed our sponsorship launch to help with India's COVID relief efforts. We opened up sponsorships at $300/week and got booked for 8 weeks in a single day with a waiting list of 20 people!
Tell us about what you've been up to! Has the business been growing?
Remote Tools benefited heavily due to the push to remote working by the Covid-19 pandemic. In March 2020, we saw a spike of 355% in the # of unique users & 258% in the # of pageviews!
We wanted to make the most out of this trend and also help people adjust to the new ways of working. We launched multiple resources specific to Covid-19 and our starter guide for remote working was recommended by Google in their 'Discover' section. We also preponed the launch of our remote work community and went live in June 2020.
2 major focus areas for us towards the end of 2020 & in 2021 are:
1) Social Media - I started writing regularly on both LinkedIn & Twitter, and reached 11000 & 2000 followers respectively on both platforms. This was an untapped opportunity earlier and we get a good number of users from social media now.
2) SEO - We had set up the basics right for SEO on Remote Tools, however, we weren't writing content with organic traffic in mind. We switched to the heavy focus on SEO in late 2020 which will hopefully help us drive sustained traffic & add diverse content to our website. For instance, we now don't just have content specific to remote working but also generally around tools & digital products like these extensive guides on Discord text formatting, Chrome components & Best subreddits. In fact, we have been able to create keyword clusters around products like Discord (eg. blog 1, blog 2, blog 3), Google Chrome (eg. blog 1, blog 2, blog 3) etc.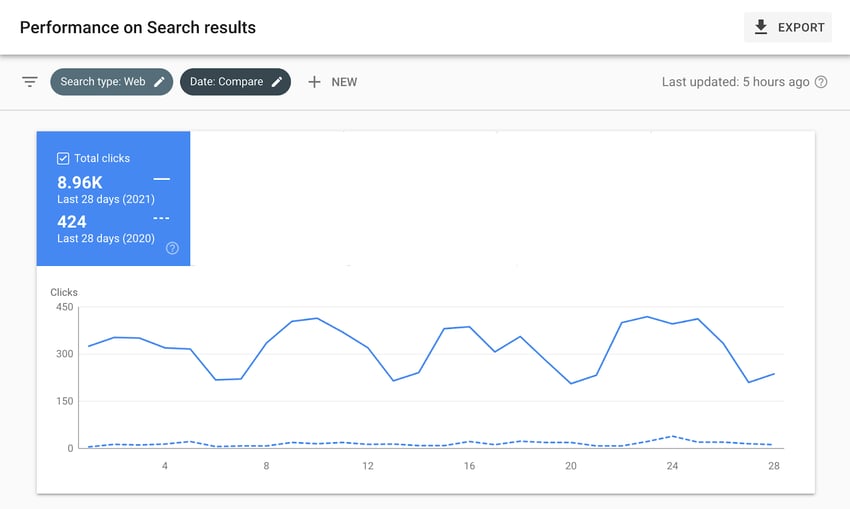 What have been your biggest lessons learned in the last year?
1) Diversify your bets - We relied heavily on one-time launches & only on one platform - Product Hunt (after we received initial success). This meant we had to create side-projects specifically for PH, which may or may not do great due to forces out of our control. So the biggest lesson was to diversify our best - try out all possible channels or types of content and see what works. Our shift of focus to social media was in part a consequence of this.
2) Serendipity happens, but you need to also leverage the initial push - Remote work got a huge sudden push last year and it worked great for us. Similarly, we launched our newsletter on Reddit and it went viral. We realized such fortunate events can be a common occurrence if we keep trying different channels & ways of distribution. But more importantly, it's necessary to leverage this initial push & act upon it. For instance, we created resources for people new to remote working due to Covid-19 very early on as soon as we saw the trend.
3) Social media is very important for founders - In the 2020s, you can't afford to ignore social media. None of the 3 of us co-founders were active on social media earlier. In fact, we didn't even have our Twitter accounts before 2020. But we realized that we are missing out on a large audience if we don't use social media.
What's in the plans for the upcoming year, and the next 5 years?
For Remote Tools, we are targeting to reach 100K pageviews/month and open up sponsored ads thereafter. In terms of the product, we are working on adding exciting metrics & filters for the tools listed so that the website is more dynamic & engaging for users.
Hiring is key and you must not expect yourself to do all the heavy lifting in your startup. It is important to delegate and trust your team members to do the job.
For Remote Clan, we are launching an exciting, new offering for remote jobs which has never been done before - a new paradigm to compare remote companies objectively and consequently, find the best remote jobs.
In the long term, we envision Remote Clan becoming the one-stop destination & network for remote workers.
Have you read any good books in the last year?
MAKE: Bootstrapper's handbook by Pieter Levels: This is one of the most fantastic books for entrepreneurs who are just starting. Pieter actually covers some advanced SEO ideas he's implemented in his own websites, in the later chapters. I found this particularly useful for Remote Tools.
Everyone can build a Twitter audience by Daniel Vasallo - This is a 2-hour long course on how to get started with Twitter. There are some really useful nuggets of information in the course.
Tailwind CSS official website: I learned Tailwind CSS while using it to build Remote Clan. The framework & their website is absolutely fantastic. I would recommend Tailwind without a doubt to anyone who's trying to have a custom design. Adam Wathan (creator of Tailwind) also has an amazing design book called 'Refactoring UI', which is on my to-do list.
Advice for other entrepreneurs who might be struggling to grow their business?
I have learned a lot of things the hard way while building our businesses over the last 4 years. I am trying to religiously document my experiences & journey on Twitter but to quote a few specific things:
1) Founders tend to focus too much on building (product) or creating content vs. marketing & distribution. Before you work on any new initiative, you must know how you're going to reach your audience. We usually lay out a detailed plan documenting channels, expectations & actions/steps before building something and start working on it in parallel.
2) Hiring is key and you must not expect yourself to do all the heavy lifting in your startup. It is important to delegate and trust your team members to do the job.
3) Hiring is also extremely competitive. It's a great time to leverage the advantage of remote working and to hire the best people from anywhere in the world.
Are you looking to hire for certain positions right now?
We aren't hiring for Remote Tools right now, but we are looking for community managers (fully remote) for Flexiple. If you're interested, drop me a line at [email protected]
Where can we go to learn more?
If you have any questions or comments, drop a comment below!
P.S: I also work on a SEO project on the side to drive passive income - Writer Alpha :)
Want to find more ideas that make money?
Hey! 👋 I'm Pat Walls, the founder of Starter Story.
Get our 5-minute email newsletter packed with business ideas and money-making opportunities, backed by real-life case studies.